Editor's note: Seeking Alpha is proud to welcome Dilantha De Silva as a new contributor. It's easy to become a Seeking Alpha contributor and earn money for your best investment ideas. Active contributors also get free access to the SA PRO archive. Click here to find out more »
China's growth story
Undoubtedly, China was the leader of economic growth in the last decade. Numbers, sentiment and the economic power all indicate the same. The rate of economic growth in China was so stellar that it could become one of the most powerful economic powers in the world in less than two decades. China's annual GDP grew at a staggering rate of above 8% for the best part of last 20 years which itself is an unimaginable achievement.
This exponential growth phase began when China initiated a revolutionary act to open their economy partially to the outside world.
Chinese stock markets boomed twice within the last decade based on this hyper-growth, and foreign exchange reserves posted record highs.
Annual GDP growth rate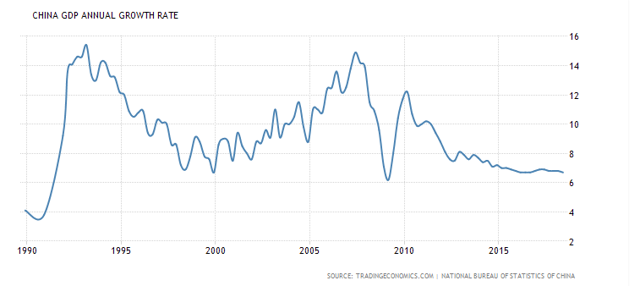 (Source - TradingEconomics)
The question is, whether such economic growth is sustainable and would China be able to grow at the pace that it has for the last two decades.
Drivers of the Chinese economy vs. sustainability
Economic shift to manufacturing and services sectors
From being a country focused on agricultural products, China shifted its focus to the manufacturing and services industries and has never looked back since then. Following the lead from developed countries, China was able to time the economic shift wisely to benefit the most from global economic expansions in the recent past.
The economic growth of China directly coincides with China's decision to reform their major economic activities in 1980s.
While the GDP contribution from the agricultural sector fell steadfastly during the last decade, the industrial sector and the services sector picked up which can be observed by studying the following graphs.
GDP contribution by sector (2006-2017)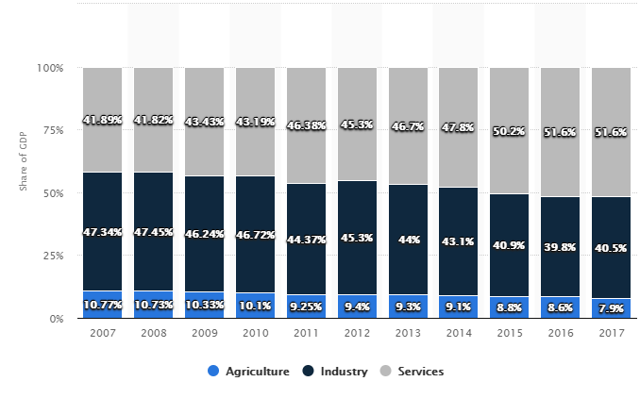 (Source - Statista)
Agricultural sector: value added as a percentage of GDP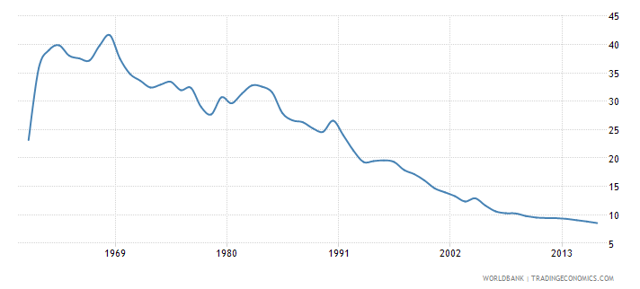 (Source - TradingEconomics)
Industrial sector: value added as a percentage of GDP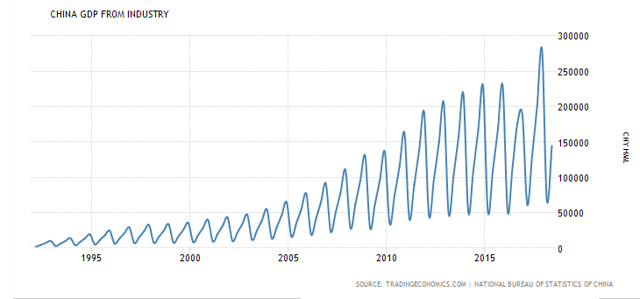 (Source- TradingEconomics)
Services sector: value added as a percentage of GDP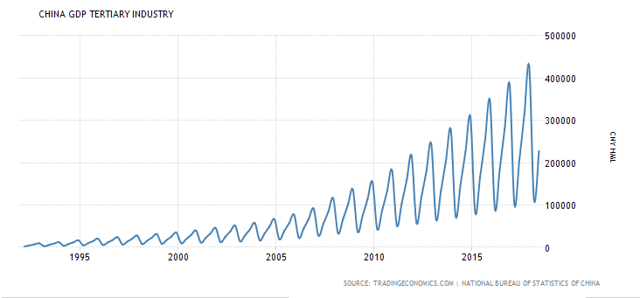 (Source - TradingEconomics)
In understanding how the Chinese economy will perform in the future, a thorough analysis should be conducted to identify how it grew in the past.
Evidently, growth was driven by shaping its economy to reflect the economic needs of the world. This led China to focus more on industrial sectors such as steel and cement at the beginning of 1990s and automobile manufacturing at the beginning of the 21st century. More recently, the economic focus has shifted to the services sector, including telecommunications and Internet of Things (IoT).
The Chinese economy is eventually reaching its mature stage at present. Similar to all the other developed countries that were once emerging countries, China reported exponential growth at break-neck levels in the last two decades.
However, China's economy might now settle for a more sustainable rate in the coming years as disruptive growth is peaking out.
Export oriented economic structure
Upon partially opening China for trade with the rest of the world, Chinese companies took the most from the opportunity by exporting all their stockpiles to global consumers who on the other hand embraced Chinese products over products from other counter-parties due to cost savings. Exports grew substantially after the Chinese economy was partially opened for trade in the 1980s.
Exports eventually became one of the integral components of Chinese economic growth ever since and China has run current account surpluses with other developed countries on a constant basis.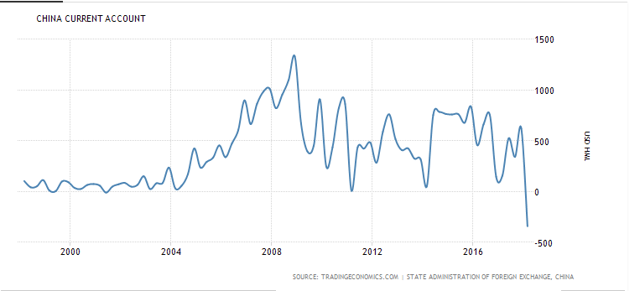 (Source - TradingEconomics)
In order to compensate for this current account surplus, China has invested billions of dollars as capital in both developed and emerging countries.
China has never reported a current account deficit other than in the first quarter of 2018, which raises the concerns whether the shape of the Chinese economy is changing once again.
The current account surplus of China has increased sharply leading to 2008 and thereafter has descended at a steady rate to eventually report negative figures in the first quarter of 2018.
This could be the first warning sign of a slowdown in the Chinese economy. Geopolitics had a role to play in this in the form of trade war tensions, but clearly, the trade surplus was already coming down for years.
Effective core inflation rate management
The effective management of the core inflation rate has played a pivotal role in the economic growth of China in the last decade. Even though inflation had spiked in 2010, this was brought down to sustainable levels and, in fact, the core inflation rate has decreased from 2011 to 2016. Inflation should neither be too low nor too high in order to achieve greater economic rewards and China has been able to do just that.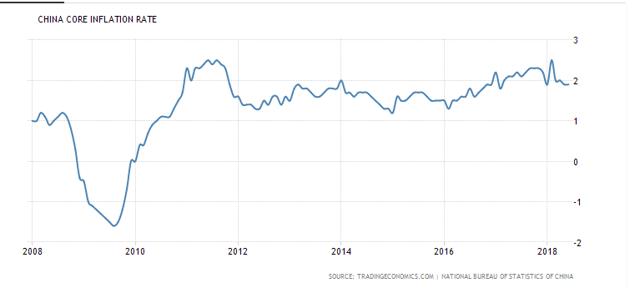 (Source - TradingEconomics)
While the Chinese economy grew substantially, inflation rate has always remained at a sustainable level below 2%.
The recent dip in the inflation rate is a suggestion that the Chinese economy might be slowing down. Economic growth is closely linked to inflation and it tends to tick higher by each quarter in an environment where the economy is growing.
Despite the optimism voiced by Chinese officials, the core inflation has abruptly declined in 2018 which shows that demand for goods and services might have reduced. Core inflation could be attributable to the following two sources.
Cost-push inflation
Demand-pull inflation
During the first half of 2018, cost-push inflation might have been positive since tariffs on certain inputs and increasing fuel prices would have played their roles. However, the core inflation dropped which suggests that demand-pull inflation should have been negative.
This is an accurate indicator of reduced demand for Chinese products. Low inflation caused by reduced demand is always a warning sign of a cooling economy. China has been the hottest economy on earth for so long but facts suggest that the economy might cool down in the coming years.
Stock market performance
Corporate earnings drive stock markets in the long run and there was no exception in China. Corporate earnings grew substantially during the last two decades as China, from being an agricultural, self-serving economy, became the second largest economy in the world. In line with this, stock market performance of China was clearly second to none.
Shanghai Composite Index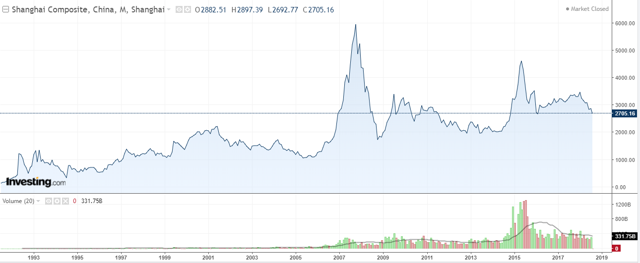 The first peak in 2008 was driven by relatively low volumes than the one in 2015 which was supported by high volumes. Early investors in the Chinese stock market would have realized gains of more than two-folds.
Since 2015, markets have started to retract, but another relatively low-scale upward movement was seen in 2016 and 2017. Even though the Shanghai Composite is down by more than 20% in 2018, it could drop further supported by the tensed geopolitical situation and a possible economic slowdown.
Stock markets will follow corporate earnings in the long run and corporate earnings might decline due to a pending economic slowdown. No country can grow at a constant rate forever and evidently, China has reached the stage where the economy cannot expand without incurring costs to the consumers as a whole.
One could argue that China's stock markets are not as much as linked to the real economy compared with U.S. and other developed markets. This is partly true since Chinese companies do not depend on capital raised via IPOs and secondary equity issues to facilitate their growth. The major source of financing for Chinese companies remains credit facilities provided by banks and other financial institutions.
However, this leads to a more compelling case against China as credit growth is cooling down.
Credit growth slowdown
The China Banking and Insurance Regulatory Commission has been implementing strict policies to curb the credit growth in the country in order to liaise with guidelines provided by the International Monetary Fund. These guidelines were issued to protect China from an imminent economic bubble resulting from bad lending policies. Regulators in China intend to address issues such as poor corporate governance policies adopted by lending institutions in the country and violation of lending policies.
All loans overdue for more than 90 days should now be classified as "non-performing loans" and this is expected to result in a significant increase in non-performing loans. As a result, banks are now being more conservative in their loan approval process.
If credit growth slows significantly - which is inevitable due to new rules - interest rates would spike and borrowing cost for companies would inch higher. This will eventually lead to lower corporate profits and the economy will start to feel the effects gradually. In addition, companies would be forced to hold back their expansion plans to avoid obtaining loans at higher rates and this again will lead to lower than expected economic growth in China.
Below chart demonstrates the declining growth of outstanding loans in China.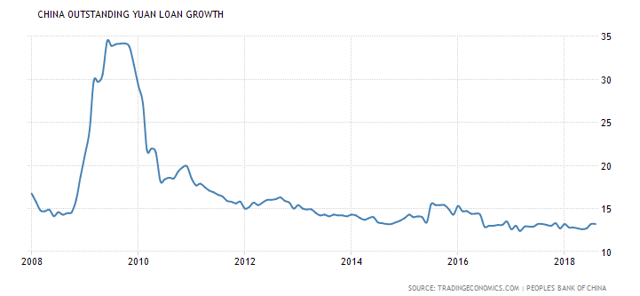 (Source- TradingEconomics)
Is it time to look beyond China?
Macroeconomic indicators suggest that the economy of China might slow down in the coming years. However, this is no exception to other developed countries and this should have been expected all along. Even though the economy is faring well at the moment, prudent investors will now look for other regions that could experience faster growth than China.
For an example, India grew its economy at a faster rate than China in the last few years and Turkey has been growing at a much faster rate than China in 2017. We should not jump to the conclusion to invest in Turkey (especially with an ongoing currency crisis) or in India by looking at these standalone GDP growth figures. Nevertheless, it sure is a sign of other regions experiencing faster growth and an early signal for investors to shift away from China gradually to look for other alternatives.
Disclosure: I/we have no positions in any stocks mentioned, and no plans to initiate any positions within the next 72 hours.
I wrote this article myself, and it expresses my own opinions. I am not receiving compensation for it (other than from Seeking Alpha). I have no business relationship with any company whose stock is mentioned in this article.