On Saturday, September 15, 2018, it was officially 10 years since Lehman Brothers filed for Chapter 11 bankruptcy amid the 2008 subprime mortgage bubble collapse and consequential financial crisis and "Great Recession."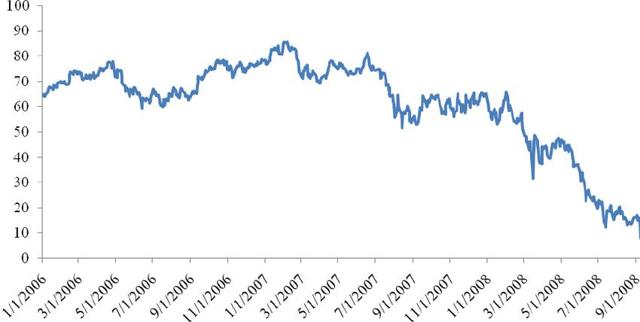 (Source: ResearchGate)
Looking at the markets now, it would seem on many metrics that the markets and overall economy have recovered. However, that would be an oversimplification, as while on many raw metrics they are at or have greatly exceeded the highs in the mid-2000s' lead up to the financial disaster, the fundamental structure around which much of our markets and economy function has shifted quite significantly.
Let's look at some metrics:
S&P 500:

September 15, 2008: 1,192.70
September 14, 2018: 2,904.98

Dow Jones Industrial Average:

September 15, 2008: 10,917
September 14, 2018: 26,154

U.S. GDP:

2017: $19.386 trillion
2007: $14.477 trillion

U.S. Unemployment Rate:

August 2008: 6.1%
August 2018: 3.9%

Assets of U.S. Commercial Banks:

2008: $12.32 trillion
2016: $15.63 trillion
Even total outstanding mortgage debt, the key contagion domino that started the whole mess, has now returned roughly to its old highs.

(Source: Federal Reserve Bank of St. Louis)
A New Financial World: Regulation, Markets, And Products
Yet that seeming "return to normalcy" belies the dramatic structural differences between now and then. Yes, the market and economy have seemingly returned to their old levels by raw metrics, but the market, particularly financial services, now sees a far greater framework of regulatory oversight which is preventing the abuses and excesses that led to the original financial crisis.
Dodd-Frank capital stress tests now regularly check banks for their potential to collapse and cause an escalating spread of dominoes falling. Europe's MiFID II is advancing financial regulations forward in even more ways. These reflect the importance of the financial system to the entire market and broader economy, as we saw firsthand as in 2008 when the mess on Wall Street began to have deep and real impacts on nearly every industry that, well, utilizes the industry's product - money.
Banks are now far more sensitive to transparency concerns and risks from regulatory, business, and investor standpoints. Admittedly, not all is perfect - there remain some information blockades still and continued scandals that weaken consumer trust in the financial system, such as with Wells Fargo's (WFC) legendary march.
Governments are also much less hesitant to intervene, at least in the financial services sector. In fact, nowadays governments see it almost as their right and prerogative. Interventions, orders, and takeovers of banks are now done without much notice, while prior to the crisis each would have been seen as an extraordinarily market intervention.
Beyond the financial sector and looking at the broader investment market, we see the biggest players in the market have dramatically changed. If we look at the largest U.S. public companies at the end of 2007, we see that they were a large mix of varied companies in different industries, but leaning heavily towards energy and financial services.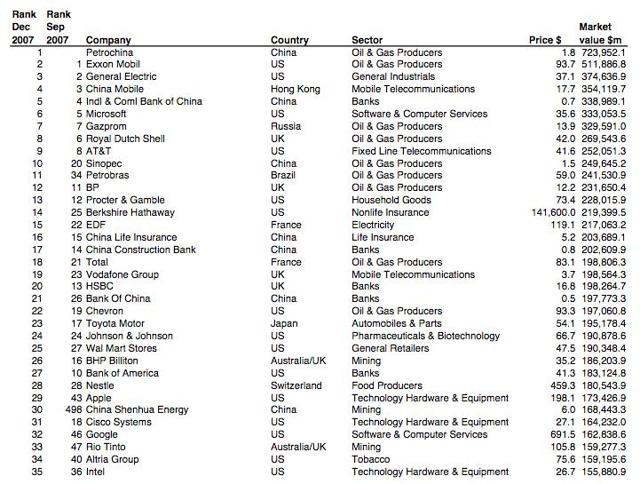 (Source: Financial Times)
With Apple (AAPL) now surpassing $1 trillion, it is hard to imagine it so long ago as just a $173 billion company. Amazon (AMZN), now one of the world's largest publicly traded companies at $960 billion, was then only #254 at a mere $38 billion. Some companies have even declined since then, such as AT&T (T), which now stands at a $244 billion market capitalization compared to its then $252 billion.
In terms of the instruments available on the market, despite the complex network of derivatives and swaps being a major reason behind the escalation of the financial crisis, we have seen them become far more normalized and prevalent. In 2018, the notional outstanding contract amount of derivatives is estimated at $542 trillion, while the actual asset value of those derivatives is estimated around $12.7 trillion. In comparison, at the end of 2007, the total notional outstanding contract amount of derivatives was $393 trillion with a market value of "only" $7.2 trillion.
Beyond just the few financial instruments considered derivatives, financial products innovation has actually grown significantly, albeit with regulators taking a more active role in monitoring carefully their nature and system-wide effects. ETFs have become extremely popular, even if some compare them to subprime loans in their potential to escalate or create the next financial crisis. Cryptocurrency has had its rise and fall.
Ironically, structured products, namely those complex financial products that are so complex in their precise investment nature that it is very difficult to properly analyze them and their benefits and risks in the same way as a normal asset, have exploded in issuance and use. While subprime mortgage loan securities and "tranche" products were the big craze in the 2000s, now we have everything from exchange-traded notes to index-linked annuities to complex life insurance products and more.
Conclusion
Indeed, the world has returned to the prosperity before the 2008 financial crisis in many ways. However, it is also extraordinarily different, as the nature and structure of our markets have changed dramatically. Ironically, many of the product deficiencies that led to the financial crisis have not been abolished but actually have become more popular, with more oversight and control managing their risks and defects.
Lehman Brothers' collapse undoubtedly began the modern financial era. It will be exciting, and as well as worrying, to see what other event is that which pushes us towards a new economic stage.
At Tech Investment Insights I discuss specific companies and investment products that I believe are especially poised to gain in the market, as well as the one to avoid.
Focusing on technology, in particular, I provide you updated risk/reward ratings of dozens of companies, price targets on potential worthwhile investments, portfolio strategies, and alluring risks to avoid. I hope you will give it a look.
Disclosure: I/we have no positions in any stocks mentioned, and no plans to initiate any positions within the next 72 hours.
I wrote this article myself, and it expresses my own opinions. I am not receiving compensation for it (other than from Seeking Alpha). I have no business relationship with any company whose stock is mentioned in this article.