After a brief and nostalgic return to 1.20 levels, EUR/CHF has rapidly tumbled. 1.20 is significant as it was the level the Swiss National Bank (SNB) had pegged the CHF to the EUR, before it was forced to dissolve the peg in 2015 as the commitment got increasingly expensive with the European Central Bank's (ECB) efforts to weaken the EUR via quantitative easing. The SNB had to burn through its reserves buying EUR/CHF to defend the 1.20 level, and it thought "enough was enough" on 15th January 2015.
Fast forward to 2018, where a combination of a dovish SNB and a hawkish ECB finally sent EUR/CHF back to the nostalgic 1.20 level, as I correctly forecasted in "EURCHF: Nostalgic Return To 1.20?" when the currency pair was trading just above 1.13. The divergence in monetary policies for both central banks did the trick for EUR/CHF, with Draghi aiming to half bond purchases to EUR 15 billion a month from October, and finally ending the programme in December.
EUR/CHF's reunion with 1.20 was as sentimental as it was brief, with the CHF strengthening inordinately during the middle of 2018, sending the currency pair back down to current levels below 1.13. The currency pair is currently trading at a confluence of technical supports, and I shall now flesh out the main reason that is hampering EUR/CHF's ascent - the Italian budget 2019.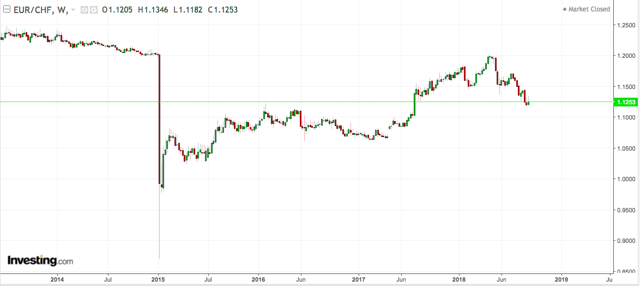 EUR/CHF's fall from 1.20 this year coincided with the rise of populist, far-right parties in Italian politics. The Five Star Movement, led by Luigi Di Maio, and the League (Lega), led by Matteo Salvini, pulled in the votes with their ideologies, and have since formed a coalition to govern Italy.

Both parties are now locked in discussions with Economy Minister Giovanni Tria to come up with a national budget by 27th September to present to parliament. The Draft Budgetary Plan will then be submitted to the European Commission by 15th October before the budget law can be sent to parliament to be signed in by the end of the year.
The problem is that the Five Star Movement and the League managed to pull in votes with their populist campaign promises, and are pushing for them to be realised in the national budget. The Five Star Movement wants at least EUR 10bn in spending to cover a universal income for the poor, while the League is looking for sweeping tax cuts. Italy's debt is the highest in the Eurozone after Greece however, with its debt notching more than 130% of the country's GDP, and Tria is very well aware of that.
Under EU rules, no country should have a budget deficit larger than 3% of its GDP, or debt that is above 60% of its GDP, and Italy looks set to fall foul of these guidelines. Goldman Sachs estimates that if Italy accommodates each of the party's requests, the deficit would widen to as much as 7.4% of GDP in 2019.
Negotiations have not gone smoothly thus far, with Giovanni Tria even threatening to quit, which further pours doubt on the governing capabilities of Italy's coalition government. The markets have reacted to the changing landscape of Italian politics, sending 10-year government bond yields to highs of above 3% since the Election in March, a level not seen since 2014.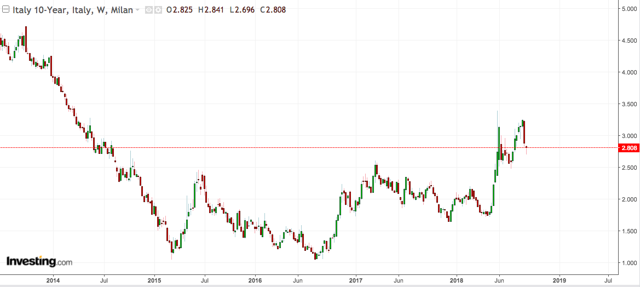 The spread between Italy 10y and Spain 10y yields have spiked to almost 200bps, a level only matched by the European Debt Crisis. Keep in mind Spain is no darling poster-child of the Eurozone, and to fare this badly against Spain speaks a lot about the market jitters surrounding Italian politics.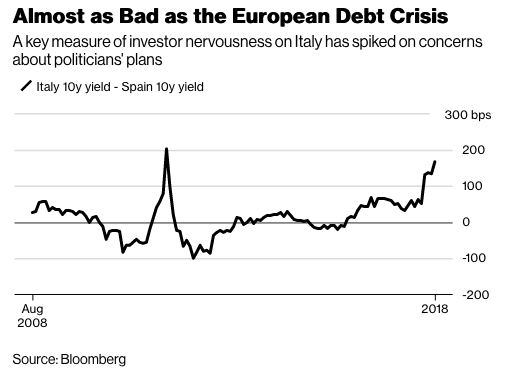 This nervousness has weighed on EUR/CHF, and is the main reason for the currency pair's fall from 1.20 levels. Divergent monetary policies employed by SNB and ECB should see EUR/CHF trading at 1.20, but Italian politics has taken its toll in the shorter term, weighing down on the EUR and giving rise to safe haven demand CHF.
Looking at the technical chart below, EUR/CHF is currently trading at a confluence of support levels around 1.11-1.12, and I believe it is an opportune moment to reinstate a long position, with a take profit at 1.20 and a stop loss below 1.10.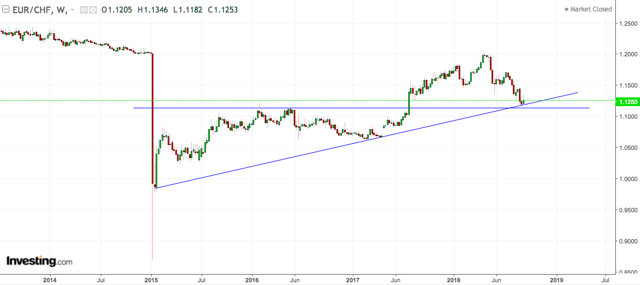 The market is perhaps overly nervous with the noise coming out from the boardroom. Luigi Di Maio and Matteo Salvini might be currently involved in a verbal power play to fight for the best interests of their voters, but they would know their voters are also assessing their abilities to govern Italy. The national budget appears to be one of their first tests as coalition partners, and if they fail to reach a sound consensus or somehow strive to isolate Italy from the rest of the EU, Italian voters will not take too kindly to that misstep.
While Italy's interest rates have gone up in response to the issue, rates in its Eurozone partners have been relatively unaffected by the fracas. If the situation continues to remain contained, this bodes well for EUR/CHF to climb higher.
Draghi has weighed in on the issue, saying the words coming out from Italy has hurt the economy so far, and implied those words are just noise for now, by stating: "What we are now waiting for is facts". Once details of the budget have been thrashed out, the market might realise that in politics, the bark might often be worse than the bite.
Disclosure: I/we have no positions in any stocks mentioned, and no plans to initiate any positions within the next 72 hours. I wrote this article myself, and it expresses my own opinions. I am not receiving compensation for it (other than from Seeking Alpha). I have no business relationship with any company whose stock is mentioned in this article.