SilverCorp Metals Inc. (SVM) is headquartered in Canada but conducts the majority of its mining operations in China. It's the single largest silver producer in China. While China is one of the top ten silver consumers, the presence of SVM's mining assets in China present the prospects of low cost transportation. SVM has six mines in its portfolio, of which four are located in the Yang Ming district, another one in the Guangdong province (GC Mine) and the last one in Hunan province (BYP mine) of China. However, the company has suspended its operations in the BYP mine since 2014.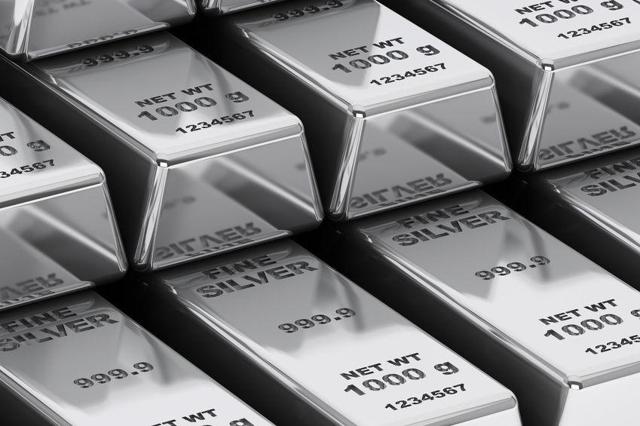 Figure-1 (Source: Ebay)
Investment thesis
SVM has witnessed growth in revenues and earnings over the past 5 years. This trend continued during the Q1 2019 despite depressed metal prices. The company maintains low-cost production with stable ore grades and recovery rates, and that helps offset the impact of declining production. The company also expects to deliver increased production Y/Y during the FY 2019. With low-cost operations that could increase earnings further. Moreover, a financial analysis indicates average prices have actually improved for lead and zinc and these two metals would turn out to be SVM's savior even in case of declining silver prices. Finally, a technical analysis and analyst opinion is also favorable on the company and indicate potential upside. This upside will be largely amplified in case of a hike in silver prices.
Strong Q1 2019 results indicate growth:
According to SVM's reported Q1 results, the company beat on earnings by $0.03/share and on revenue by ~$10.1 MM, denoting a strong quarter. The strong quarter was supported by a 14% increase in revenue and 5% increase in GP margin Y/Y.
Besides silver, SVM also produces significant quantities of base metals (lead and zinc). As seen in Figure-2 the prices for these metals have only declined during the past 6 months, which means the revenue growth witnessed during Q1 resulted from increased production Y/Y.

Figure-2 (Source: Infomine)
Operational performance review suggests improving costs despite decreased ore volume:
SVM delivered strong operational performance during FY 2018 (ended 31st March 2018) with majority of operational performance metrics exceeding guidance for its YMD (read: Yang Ming District) and GCM (read: GC Mine). Have a look at Figure-3 (click to zoom in).

Figure-3 (Source: MD&A FY 2018)
The following discussion reveals that strong operational results also helped derive higher profit margins. Let's consider the individual metrics in some more details. [Note that green circles depict better than expected results and red circles depict otherwise.]
Ore processed: Processed ore remained ~40,000 tonnes below guidance. Nevertheless the other metrics are positive indicating operational efficiencies.
Head grades: SVM observed better silver head grades from both YMD and GCM. Moreover, better head grades were observed for lead (in YMD) and for zinc (in GCM).
Production: Silver production beat guidance by ~0.3 MM oz supported by stronger output from both operations (YMD and GCM). The total lead production was also positive compared with annual guidance. However, the total zinc production leveled with guidance. Overall, this metric was a big positive.
Costs: Even though the production cash costs exceeded guidance by ~$8/ton of ore; the AISC (read: All-in-sustaining cost) remained well within guidance. Actual AISC stood at $3.27/oz against expectations of $5.40/oz of silver.
Other indicators of growth: An analysis of the historical silver production profile indicate production growth since 2014 (Figure-4). It can be spotted in the chart that the actual production exceeded the annual guidance in FY 2017 and FY 2018. Moreover, for the FY 2019 SVM expects to produce ~1 MM oz of silver in excess of the FY 2018 production (encircled below):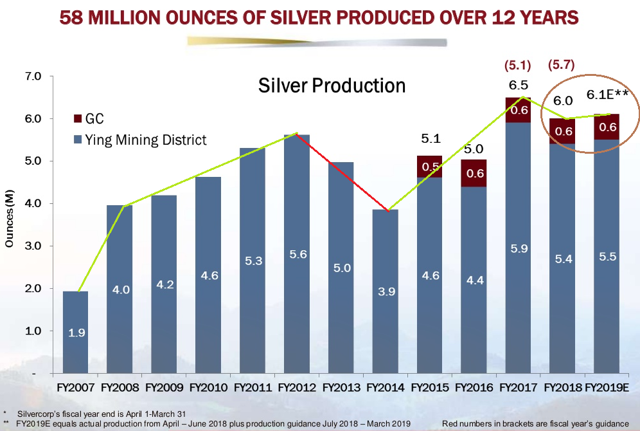 Figure-4 (Source: August Presentation)
Same goes for lead and zinc production (Figure-5) where FY 2019 production is expected to exceed FY 2018 production by ~2.2 MM lbs.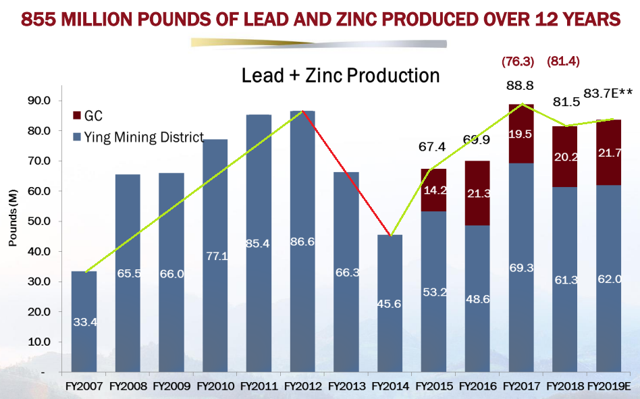 Figure-5 (Source: August Presentation)
Since the actual production exceeded the annual guidance for the past 2 years, it could be reasonably argued that the silver, lead and zinc output for FY 2019 may exceed the target of ~6.1 MM oz (silver) and ~83.7 MM lbs (lead and zinc).
Declining ore volume did not turn out to be a problem:
As indicated in Figure-6, the company experienced growth in ore production during the past 5 quarters ; with the exception of Q4 2018 when ore production significantly declined from both YMD and GCM. However, the impact of declining production was largely offset by head grades, recoveries and AISC.

Figure-6 [Prepared by Aitezaz Khan for Seeking Alpha]
As shown in Figure-7 the head grades for silver and lead remained fairly stable during the said period while zinc grades actually improved; helping a decrease in production cost. For silver, the grades averaged around 300 g/t and 100 g/t for YMD and GCM respectively. For lead, they stood at ~4.5% and 1.4% respectively. As for zinc, they improved from 0.8-1.0% and 2.6-2.9% for YMD and GCM operations respectively.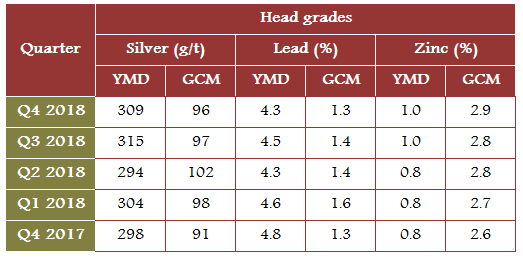 Figure-7 [Prepared by Aitezaz Khan for Seeking Alpha]
Likewise, Figure-8 shows the recovery rates for the three metals from YMD and GCM operations. It shows that strong silver and lead recovery rates were observed in YMD with comparably lower rates for zinc. However, the GCM operations depicted strong recovery rates for both lead and zinc (with silver as an exception).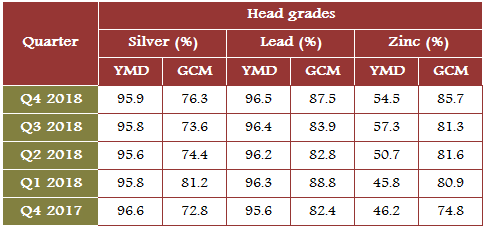 Figure-8 [Prepared by Aitezaz Khan for Seeking Alpha]
Besides sustainable head grades and recovery rates, SVM also witnessed declining AISC from both operations. Figure 9 shows the declining AISC/oz of silver (net of by-product credits) in Q4 2018 compared with Q3 2018. Further, the AISC from GCM is actually negative, and the magnitude of reported negative AISC has actually increased Q/Q, which is excellent and helps offset the impact of declining ore production.
Figure-9 [Prepared by Aitezaz Khan for Seeking Alpha]
Going forward, it may be expected that SVM can reasonably maintain the operating margins thanks to the stable head grades and recovery rates and the declining AISC.
SVM's financial performance at a glance:
Apart from healthy operational performance discussed in the preceding section, SVM also scored well on the financial performance metrics as indicated in the following table (Figure-10).

Figure-10 (Source: SilverCorp)
Revenues and profits: During the past 5 years, SVM experienced 56% revenue growth at a CAGR of ~11.3%. This resulted in a growth of ~81% in gross profits at a CAGR of 16%. Surprisingly, the GP growth has outperformed revenue growth during the past 5 years as reflected by the increase in GP margins. Besides, the company has also improved its liquidity position over the years from ~$73 MM to $106 MM. This looks impressive for a stock having a market cap of ~$440 MM (liquid assets are ~25% of market cap).
Earnings profile: The company has entirely transformed its earnings profile during the last 5-years (Figure-11), which naturally followed from declining costs. The EPS has transformed from negative to positive experiencing a 200%+ growth during the half-decade.

Figure-11 (Source: SilverCorp)
Moreover, the small difference between basic and diluted earnings indicates the existence of very few convertible options and the opportunity of earnings growth that will largely accrue to equity holders.
Impact of changing metal prices: An analysis of the average prices of metals (Figure-12) mined by SVM indicates that silver has weakened over the years. On the other hand gold, lead and zinc grew stronger. Since SVM has negligible gold production, the real charm comes from lead and zinc prices (particularly zinc).

Figure-12 (Source: SilverCorp)
If we consider the Y/Y sales trend per metal-type then silver has witnessed overall growth in production. Same goes for lead and zinc (Figure-13).

Figure-13 (Source: SilverCorp)
Due to the impact of declining silver prices, the sales revenue from this shiny metal actually declined during the FY 2018 on a Y/Y basis (Figure-14).

Figure-14 (Source: SilverCorp)
Nevertheless, the impact of any revenue lost from silver is largely overcome by strong revenue growth from lead and particularly from zinc. Considering the growth trend in zinc (and also lead) prices and the fact that these metals witnessed Y/Y production growth; one may expect that lead and zinc will play a significant role in steering SVM's growth in future.
Back in 2011, silver prices climbed ~$47/oz and SVM was a ~$16 stock. Currently silver trades at ~$14 and SVM is valued at ~$2.6/share. This leads to a linear correlation factor of ~1.8% rise in SVM's price for every 1% increase in silver prices. Based on this factor if silver moves within range of $16 (14% increase from current levels) then we may expect the company's stock price to jump within range of $3.3/share.
SVM's technical analysis and the untapped story
A technical price chart (Figure-15) suggests that SVM is currently in the mid-point range of the price pattern for the past 12 months. However based on the specific pattern since the start of calendar year 2018 (and not SVM's FY 2018) it could be reasoned that share could move up from the current $2.6 mark. I believe it may find resistance within range of $2.8-2.9.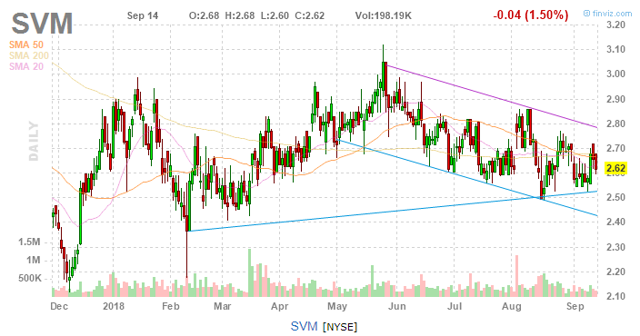 Figure-15 (Source: Finviz)
Moreover other analysts also suggest potential upside from the current levels with a target price of $3.80 (Figure-16). Although I think such a target price is too high, nevertheless the stock can easily explore the $2.8-2.9 range.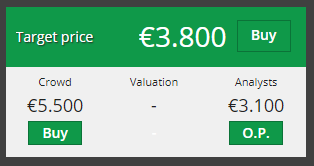 Figure-16 (Source: Sharewise)
Finally, the more significant indicator of a turnaround in stock is the short data. The following diagram (Figure-17) suggests that only ~0.15% of the market float of SVM is shorted; and that amounts to ~243,000 shares.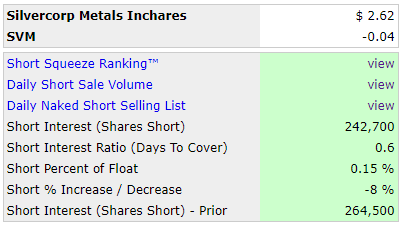 Figure-17 (Source: Shortsqueeze.com)
These numbers are significantly lower than the ~26.6 MM shares shorted for one of SVM's competitor named First Majestic Silver (AG). In my opinion the very short proportion of shorted shares also indicates that the market expects SVM's price to increase from the current levels.
Conclusion
SVM has improved silver, lead and zinc production Y/Y during the past 5 years. The attraction of the stock is in terms of increased revenues and earnings Y/Y. However, the real growth driver will be low-cost production, helped by sustainable head-grades and recovery rates. Another factor that supports SVM's growth is increased lead and zinc production that is met by increased average metal prices Y/Y. Finally, a technical analysis also reveals upside to the stock.
Disclosure: I/we have no positions in any stocks mentioned, and no plans to initiate any positions within the next 72 hours. I wrote this article myself, and it expresses my own opinions. I am not receiving compensation for it (other than from Seeking Alpha). I have no business relationship with any company whose stock is mentioned in this article.