Reed's (NASDAQ:REED) is a soft drink company with about $37million in sales. It was founded in 1987 by Christopher J. Reed who grew the company from scratch to a $46 million revenue business in 2015. From 2016 onwards the company is changing, bringing in more professional management and raising money to fuel its growth initiatives.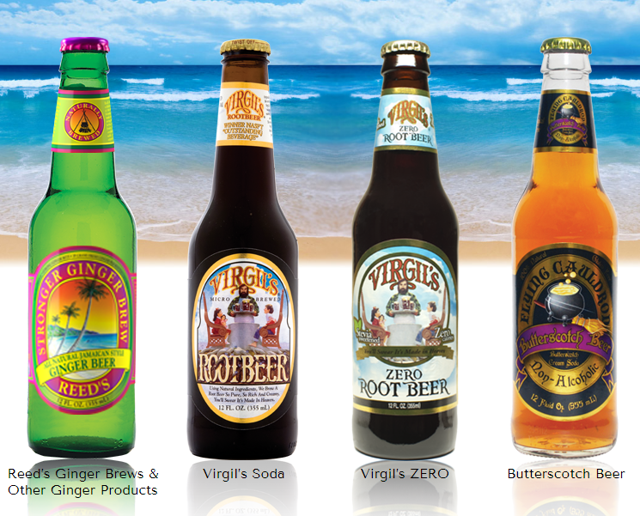 Source: Reed's company website
The company's main products are the "Reed's Ginger Brew" varieties and "Virgil's Root Beer" varieties. The company has a decent distribution channel and shelf space in many major retailers: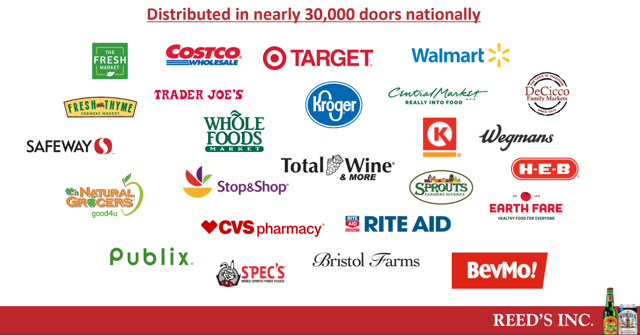 Source: Company's June 2018 investor presentation
Reed's ran into financial troubles during the end of 2017 and was forced to issue a lot of shares and warrants. This raise helped cover overdue payables and future expansion costs, as the company needed to build up inventory in order to move smoothly to a less capital-intensive model.
The company is selling its production plant and equipment to a consortium which includes the company's founder and has moved to outsource production. The total benefit from the sale will be about $2.72 million as the company will receive $1.25 million in cash and will transfer $1.47 million of liabilities along with the plant.
Val Stalowir, the company's newly hired CEO, seems to have a clear vision for the future of the company and outlined the company's strategic plan going forward during the company's Q4 2017 earnings call:
Val Stalowir - CEO

[...] we have received a letter of intent relating to the sale of our beverage manufacturing facility and private label business and is a significant step in our transition to an asset-light business model. [...]

[...] There are five key components to our transformation plan. The first phase includes new leadership, which is now in place; a new strategic focus, which is also in place and complete; optimizing our business model, which we are in the process of now completing; and improving our capital structure, which is well underway.

And the second phase of the plan will be investments in sales and brands to transform our great products and good brands to great brands and drive sales growth and brand value. [...] We are now directing 100% of our resources to growing Reed's and Virgil's.

The SKU rationalization during 2017 has been completed, and the benefits are evident in our fourth quarter sales growth of core brands. [...] Year-to-date, in 2018, our Top 5 SKUs account for 73% of total sales, up significantly from the 31% those 5 SKUs represented in 2016.

Our focus will continue to be on higher-margin products and our core brands. We are also refocused on obtaining better margins from new packaging, including our launch of Virgil's Zero Sugar in 12-ounce cans in April. The third leg of our transformation, and we're well underway in this portion, is optimizing our business model. The strategy is to transform from a capital-intensive, self-production model to an asset-light sales and marketing-driven business model.

We've already established multiyear contracts with Owens-Illinois (OI) to be our exclusive glass supplier and R.C. Moore as our new logistics partner. We're in the process of expanding our strategic co-packing partnership on both coasts for both bottles and cans and are identifying and negotiating improved vendor relationships to further lower our cost of goods sold.

The final and most critical part of this transformation effort will be complete when we complete the sale of our Los Angeles manufacturing facility and secure a continuing co-packing agreement to supply our branded West Coast needs moving forward with this new partner and buyer. [...]

The fourth pillar of our transformation plan is to improve our capital structure, and we've completed the most significant aspect of this effort with the oversubscribed $14 million rights offering we completed this past December. We will use the proceeds to pay our stretch payables and secure improved commercial vendor terms. We're in the process of seeking better terms and market rates on our asset-based working capital line and we look to further restructure our debt following the plant sale.

[...] Now this all-important second phase is the fifth pillar of our transformation plan where we will invest in sales and our brands. We've already added marketing and sales resources, including new broker relationships, that have increased our sales and feet on the street 10-fold, and we see significant opportunities moving forward, [...] The Virgil's refresh really is nearly complete, and the Reed's refresh is well underway.

[...] Our tagline is Believe the Unbelievable, and now that people have had a chance to try our products for themselves, we're adding new believers every day. And finally, we're in the process of adding to our licensed distributor network to expand our presence in the on-premise and liquor distribution channels.
During the latest 2 quarters, things have gone according to plan for the company. According to management in the Q2 2018 earnings call everything is going well. Consumer response to the company's new zero calorie root beer is great, and they are waiting for repeat sales in order to judge if the product has the chance to gain a more permanent foothold in consumers' minds.
The company also paid off a large portion of its short-term obligations to suppliers and built inventory up as planned in order to transition to a mode of operation where production is completely outsourced.
The Management Team
I believe that Reed's success relies heavily upon one major factor:
MANAGEMENT EXECUTION
This is a case where the company's products are clearly well-received by the public. Otherwise, the company would have closed years ago and wouldn't have rising sales for decades. However, the challenge for Reed's going forward is that it must make its products known to consumers while being careful to not overextend itself in the process.
It is quite easy to sell a lot of product by overpaying on marketing and customer acquisition. It is a whole different game though to do it while making sure you are profitable. The current management team seems well-suited to the task. All of them have extensive experience in the beverage industry and the company's Chairman, the Chief Executive Officer, and the Chief Innovation Officer are founders of successful businesses. The Chairman and the CEO have also background with private equity shops making them well-suited to respond to acquisition offers. The COO has many years of solid operational experience in Coca-Cola, Dean's Food, Dr. Pepper and Pepsi.
I also really like the fact that Reed's founder was given the position of Chief Innovations Officer. Chris Reed is a guy that has proven a lot of times that he can create successful, quality products and given the company's history, I think that this will be an excellent fit for his abilities.
I urge you to read the full bios of the company's key management personnel in its 2017 10-K in Part III - Item 10 - pages 30 through 33. Below are the top highlights:
John Bello is Reed's Board Chairman and sales and marketing expert. Mr. Bello is the founder and former CEO of South Beach Beverage Company, the maker of nutritionally enhanced teas and juices marketed under the brand name SoBe. The company was sold to PepsiCo in 2001 for $370 million. [...]

Valentin Stalowir is Reed's Chief Executive Officer since June 28, 2017.

[...] In 2011, Mr. Stalowir founded Global Restaurant Group, LLC (GRG) in Kyiv, Ukraine, a privately held, international quick serve restaurant operator and platform that is now YUM! Brands' lead KFC franchisee in Ukraine. [...]

Stefan Freeman is Reed's Chief Operating Officer since June 28, 2017.

[...] From 2011 through 2014, Mr. Freeman was the Regional Vice President of Manufacturing for Coca-Cola Refreshments, managing eight manufacturing plants located throughout Southern California, Arizona, and Hawaii. [...] In 2014 Mr. Freeman was promoted from within Coca-Cola Refreshments to Vice President of Fleet Operations in Atlanta, Georgia where he managed one of the five largest fleet operations in North America through April 2016. [...]

Christopher J. Reed, founded our company in 1987.

[...] Mr. Reed has been responsible for our design and products, including the original product recipes, the proprietary brewing process and the packaging and marketing strategies. Mr. Reed received a B.S. in Chemical Engineering in 1980 from Rennselaer Polytechnic Institute in Troy, New York.
Risks
Reed's future is far from certain. Although the management team is well pedigreed and very experienced, even the best plans can go awry due to unforeseen factors. This is something you should have in mind if you decide to build a position in this stock.
After the massive capital raise Raptor/Harbor Reeds SPV LLC owns 8,443,334 shares (27.27%) according to its latest SC 13D filing. These include 3,143,333 shares in warrant form and 2,266,667 shares as part of a convertible note with a face value of $3.4 million. Total share count with full dilution is about 31 million shares.
Honestly, I don't see more dilution down the road for existing shareholders given that the company has already arranged the refinancing of its $6.2 million of debt and has $1.8 million in cash along with a $2 million available credit line.
Furthermore, as I mentioned earlier the company stands to receive $1.25 million in cash from the sale of its manufacturing plant and transfer $1.47 million of liabilities to the plant's buyers.
With liquidity being out of the picture as an immediate risk, the only danger left in Reed's stock is plain-old execution risk. The company's products may have an already established consumer base but its success going forward lies mostly in its ability to continue its brand-building efforts without overextending.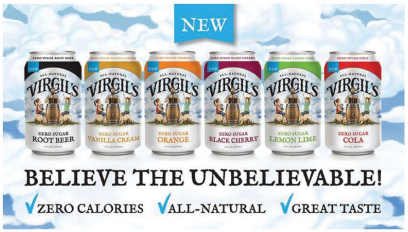 Source: Company's June 2018 investor presentation
Valuation and exit strategy
I don't expect the company to turn significantly profitable (at a net income level) any time soon, as I expect management will invest as much in marketing, brand building and advertising as they can without running into financial trouble. As a result, I believe Reed's should be valued using a price-to-revenue or a price-to-operating profits multiple.
This serves two functions. We can better keep track of the company's growth and we take into account the two key metrics a potential acquirer would use. And I mention this because there are four potential end-games for this stock.
Management fails to balance promotional expenses well and the company dilutes shareholders further or goes into bankruptcy.
Consumer preferences change and the company's sales plummet. This will probably lead the company straight to bankruptcy.
The company grows revenue above $100-$150 million and gets acquired by a bigger soda company.
The company manages to grow to scale and carves out a significant part of the soda market for itself. Scale efficiencies start to kick in and the company becomes one of the bigger players in the soda market.
In the first two cases, shareholders lose significantly if not all of their investment. In the latter two though, the company will be worth multiple times what it is worth now.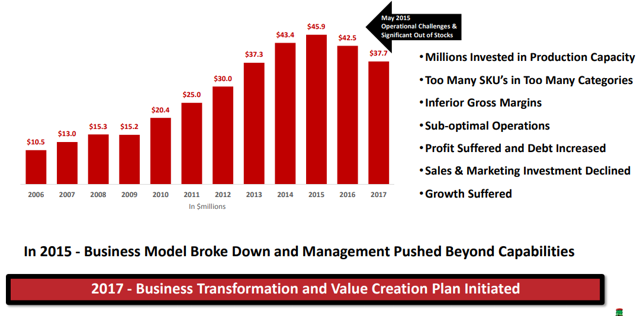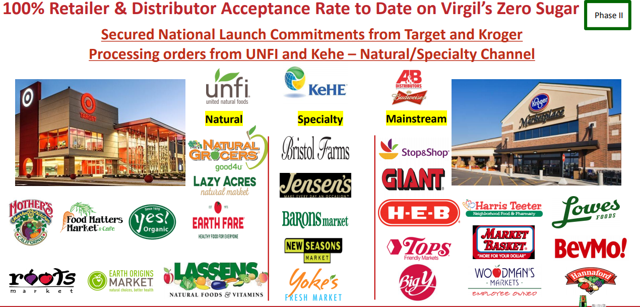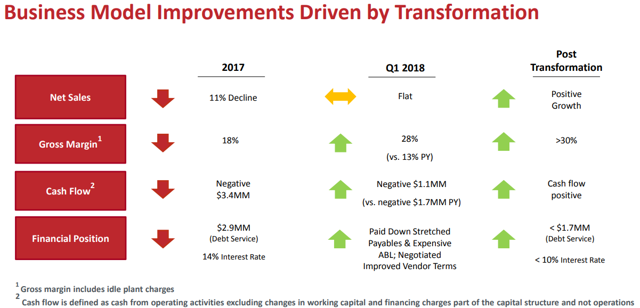 Source: Company's June 2018 investor presentation
Reed's trades currently at an $80 million market cap. If the company manages to just regain its 2015 level of sales (which is highly probable especially with the launch of the new product line) we are talking about $45 million of sales at a minimum 30% operating margin given the company's business model change. In this case, I think that the company would be worth at least 10 times its operating profit of $13.5 million.
This is a good base case valuation and is about 75% higher. If the company manages to regain its 2015 growth trajectory of 20% annual revenue increases then we are talking about hitting that $100 million revenue target within the next 5-6 years. And $100 million revenue corresponds to about $30 million of operating profits or a conservative $300 million market cap. This is about 290% higher from now in a 5-6 years time frame.
My take
Unfortunately, as much as I like the story, Reed's is too risky an investment for my taste. There appears to be a potential 3X return, but execution risk will remain a critical issue until the company is big enough to benefit from economies of scale in marketing and advertising.
The possibility exists that it gets acquired at some point but if it is before it hits $100 million in revenue, investors now will probably not see a greater return. If it gets acquired after it hits $100 million in revenue, we are talking about an event at least 5-6 years into the future and it is too far ahead to consider now.
So, I am putting Reed's in my potential buy list in case I can get it 30% to 50% cheaper at some point. I will also give it another look if I can feel confident enough that the risk of the company failing or diluting shareholders is mostly off the table.
I am open to discussion about Reed's prospects and I would love to hear other perspectives, so don't be shy and share yours in the comments! Cheers!
Editor's Note: This article covers one or more microcap stocks. Please be aware of the risks associated with these stocks.