In my recent article, I showed how a large year-over-year gasoline stock surplus. The EIA reported that, for the week ending September 7th, U.S. gasoline stocks were in fact 17.6 million barrels higher than a year ago.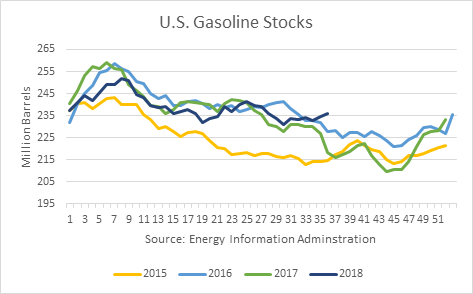 My figures in that article were based on a 5-year average from 2012 to 2016. In this article, I take a closer look at recent gasoline supply and demand trends.
Production
U.S. refinery and blender net production of finished gasoline surged to a new record high in June 2018 of 10.326 million barrels per day (mmbd).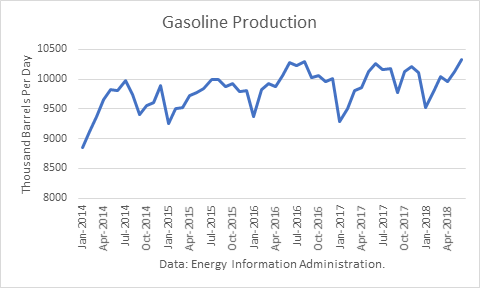 Furthermore, total refinery inputs have remained elevated into September, are far above year-ago levels when Hurricane Harvey flooded the U.S. Gulf Coast and are at historic seasonal highs.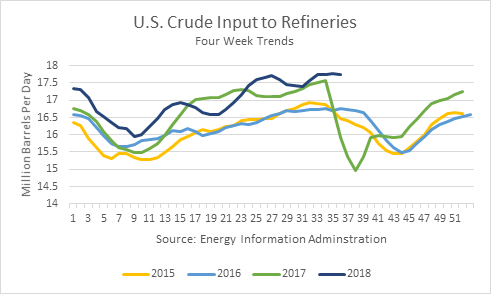 While gasoline production will be dropping due to refinery maintenance, current trends imply that it will remain well-above any prior year.
Imports/Exports
Imports of finished motor gasoline and blending components averaged 933,000 b/d in June, the highest in years.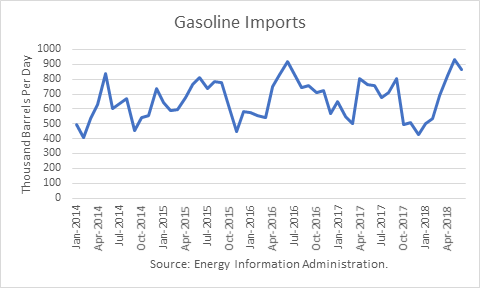 Last year, gasoline exports to Mexico surged as a result of refinery issues in that country. This year, the situation has improved modestly.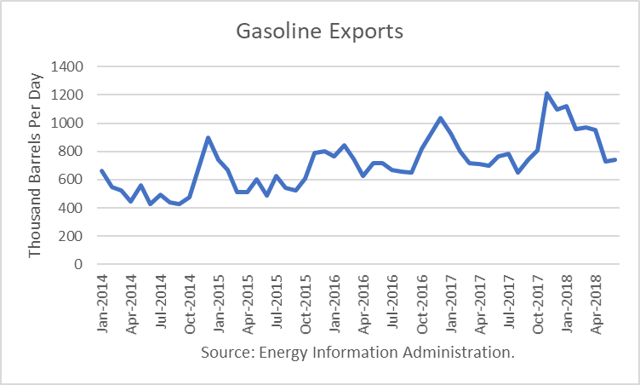 Longer-term, the new government would like to invest at least $5 billion in the development of new refinery capacity.
Demand
The EIA's weekly gasoline "product supplied" (i.e., demand) figures have been misleading. Through August 3rd, they show a year-to-date gain of 1.4%. EIA weekly data are based on EIA's estimates of gasoline imports and exports, and that could be a major source of error.


The more accurate EIA Supply Monthly data, which is based on survey data, not estimates, reveal a year-to-date cumulative gain through July 2018 of just 0.1%. Moreover, the year-over-year change from July 2017 to June 2018 show no gain whatsoever v. the same 12-month period in the prior year.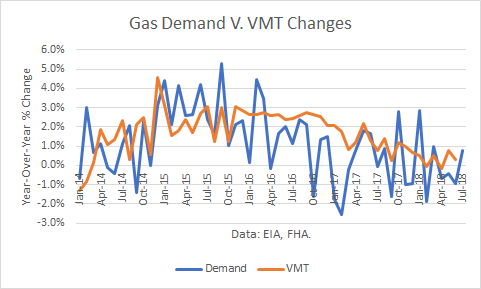 Data from the Federal Highway Administration measure Vehicle Miles Driven (VMT). Dividing VMT by Miles Per Gallon (NYSE:MPG) measures gallons consumed. The MPG of the U.S. fleet of gasoline-using vehicles changes at a slow pace, and so VMT is also a good proxy for changes in demand.
As may be seen in the graph above, year-over-year gains in VMT have been on the decline. In the 12-months ending June 2018, the cumulative gain was just 0.6%. Assuming a small gain in MPG, the VMT data confirm that there was basically no gain in U.S. gasoline demand.
One factor may be the rise in gasoline prices. Pictured below is the year-over-year changes in average retail U.S. gasoline prices, which showed a rise of 21% in July 2018 year-over-year.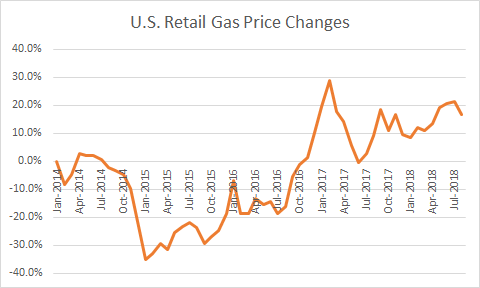 Decreases in gasoline prices have spurred demand, with a lag, and increases in prices correlate with smaller demand gains, with a lag. Traditionally, demand was thought to be highly inelastic to price but this data implies a greater sensitivity.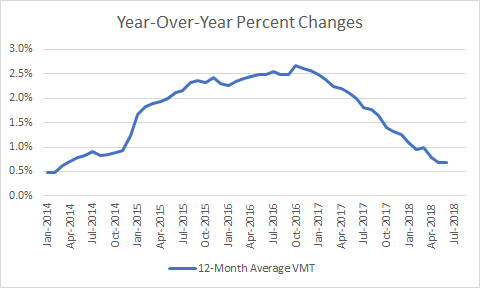 Another possibility is that technological and demographic changes related to gasoline use are occurring faster than generally assumed. Young adults of driving age locating in cities with public transportation, more people are working from home and do not commute to work, and communications on phones keep people connected without having to physically meet as often.
Automotive News reported that U.S. August auto sales were off 0.2% from a year ago, and that sales were hampered then by Hurricane Harvey. "That means these next four months are shaping up to be a tough slog to the finish line for automakers… The economy may be peaking right now, but the vehicle market likely peaked two years ago," it said.
Conclusions
Domestic gasoline production is at record levels while refinery operations remain strong. Gas imports and exports are also supporting higher gas supply numbers.
The weekly gas demand data has been misleading the market. Monthly data trends show that gas demand growth is weakening if not totally flat. The aftermath of Hurricane Florence will likely compromise demand in the short-term.
Together, these supply/demand trends could mean we will see a gasoline inventory glut develop in the weeks and months ahead as driving trends recede seasonally.
To guide investors who are interested in profiting from outstanding opportunities in the energy sector, I provide a service on Seeking Alpha's Marketplace oriented toward individual investors, Boslego Risk Services. A long/short Model portfolio is continuously updated, along with on-going analysis of the oil market.
I am now accepting new members to Boslego Risk Services and invite you to sign-up. There are monthly and annual pricing options as described here. You may also read reviews posted by members here.
Disclosure: I/we have no positions in any stocks mentioned, and no plans to initiate any positions within the next 72 hours. I wrote this article myself, and it expresses my own opinions. I am not receiving compensation for it (other than from Seeking Alpha). I have no business relationship with any company whose stock is mentioned in this article.