Introduction
Back in March, I was charmed by BASF (OTCQX:BASFY) (OTCQX:BFFAF) and its performance in 2017. As the volatility levels on the European markets returned and cyclical sectors like the chemical sector have been under pressure, BASF's share price is now trading approximately 10% lower than where the company was trading at when I published my previous article in March. Even if you'd exclude the dividend that was detached and paid, BASF lost approximately 2B EUR in value.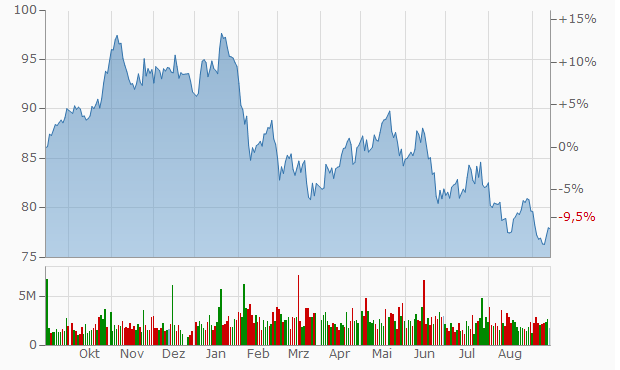 Source: finanzen.net
The average daily volume of BASF's OTC listing (OTCQX:BASFY) is just over 260,000 shares per day. That's reasonable, but the Deutsche Boerse listing is obviously more liquid, and there are option chains available on BASF in Germany. Writing options could be a useful tool to generate an additional cash income and this, combined with the higher trading volumes (2.25M shares per day) make me prefer the German listing.
A strong performance in the first half of the year
In the first half of the year, BASF reported a 1% revenue increase to 33.4B EUR , and a corresponding 2% increase in its gross profit as the higher revenue was achieved without a noticeable corresponding production cost increase. The EBIT increased by 4% to 4.8B EUR despite a lower income from equity accounted investees. In fact, BASF's first semester appeared to be quite boring as there were no specific or noteworthy changes. The lower interest rate environment resulted in a 16% lower finance expense, but as the average tax rate increased, the net income decreased by 1% to 3.16B EUR or 3.44 EUR per share.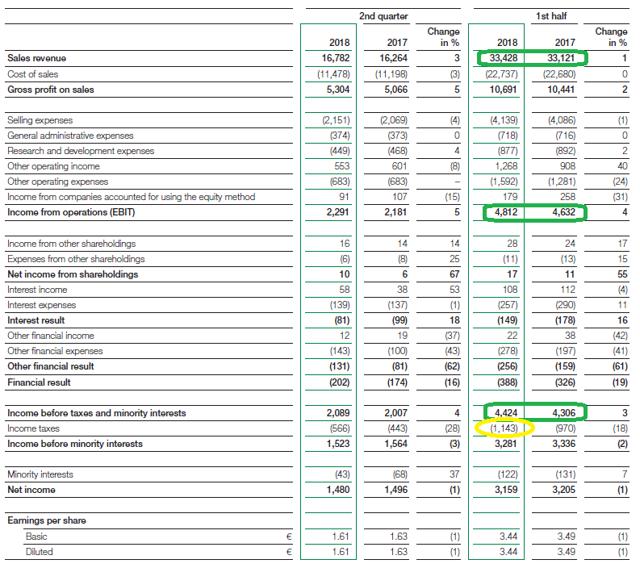 Source: half-year report
Is this alarming? Not really, considering BASF's financial statements show an improved result on all accounts, and it really is just the higher tax rate that's causing the net income to decrease. The higher taxes were due to a higher pre-tax income in Norway, where the tax pressure is relatively high.
BASF's operating cash flow was also pretty weak at just 3.46B EUR despite a lower investment in its working capital position. Unfortunately the lower depreciation and amortization charges add less money back to the cash flows. On top of that, BASF saw its 'investments' in miscellaneous items increase by in excess of half a billion dollar (see later). On the flip side, the capex also decreased which means the adjusted free cash flow (including the miscellaneous items but excluding the working capital changes) was approximately 3.23B EUR in the first half of the year.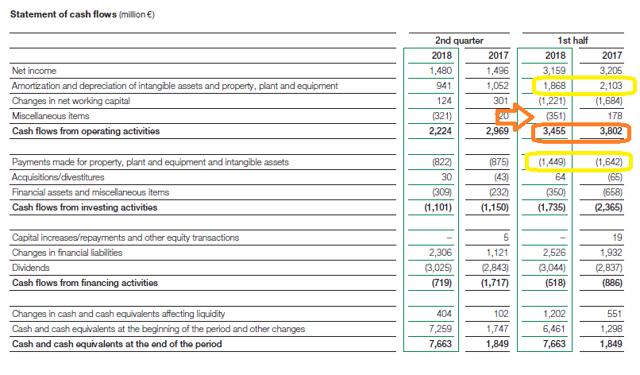 Source: half-year report
That's approximately 600M EUR lower than the free cash flow result in H1 2017, and almost 90% of this could be explained by those miscellaneous expenses. Taking the top-up payments to the pension deficit out of the equation, the normalized free cash flow would be approximately 7B EUR per year (excluding the contribution from the recently announced acquisitions, see later)
The investment in 'miscellaneous' is interesting, and it just seems to be a pile of stuff BASF is spending money on without fully disclosing the details, but the company does mention 'a large part of these payments are related to pension provisions and defined benefit assets'. So it looks like this included the top-up payment in the pension scheme.
The balance sheet remains strong, allowing BASF to pursue aggressive growth
Back in March, I was also positively surprised by how BASF was protecting its balance sheet against potential economic shocks. In 2017, BASF reduced its pension deficit by 1.9B EUR thanks to a 1.1B EUR top up payment. That top-up payment was expected to be non-recurring as the company mentioned it was planning to wire 'just' 200M EUR to the pension fund in 2018. We will have to wait for the full-year results to see how much BASF has effectively deposited considering the payment for miscellaneous items in the first half of the year seems to be a bit higher than expected.
BASF had a pretty strong start of the year as it was able to reduce the pension deficit by an additional 3% (from 6.29B EUR to 6.08B EUR) in the first semester. This means that over a 12 month period, BASF reduced its pension deficit by 13% and that's definitely a strong sign the company doesn't want to let its pension deficit spiral out of control.
The gross debt increased to approximately 20.2B EUR but after deducting the 7.66B EUR cash position, the net debt increased only slightly to 12.5B EUR. BASF was very likely 'cashing up' for the transaction with Bayer (OTCPK:BAYZF) (OTCPK:BAYRY) which closed last month. As a reminder, BASF is forking over 7.6B EUR in cash for a bunch of assets that will be part of BASF's crop protection unit. That's a hefty price for a division with an EBITDA result of approximately 600M EUR, but let's not forget this is a fast growing market segment, and there will undoubtedly be quite a few synergy advantages.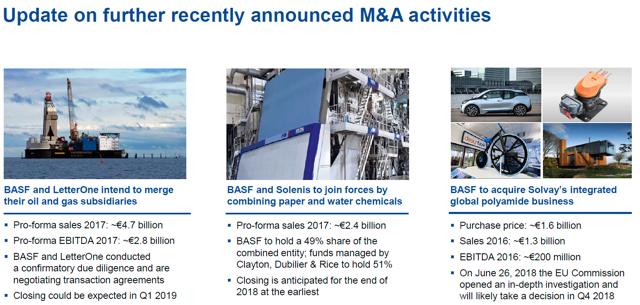 Source: company presentation
And BASF is planning to continue to grow. It's still awaiting the green light from the European Commission before it will be able to close the purchase of the polyamide business from Solvay (OTCQX:SVYSF)(OTCQX:SOLVY) (OTCPK:SVYZY). The commission will have to provide an update on its investigation by the end of October, which would put the acquisition on track to be completed in the final quarter of the year.
BASF is now also looking at China as part of a $10B investment plan to open new plants by 2030. These plans are still in its infancy, but it would be interesting to see BASF spreading its wings and increasing its market share and exposure to fast-growing markets.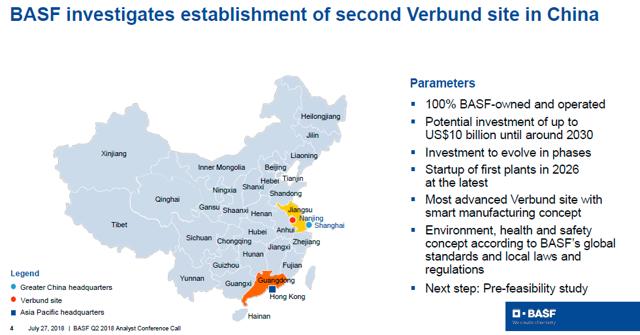 Source: company presentation
After completing the Bayer and Solvay transactions, I expect BASF's year end net debt to be approximately 20B EUR. That sounds like a lot of money, but with an anticipated EBITDA of in excess of 14B EUR (including the full-year EBITDA results of the newly acquired businesses) the net debt/EBITDA ratio will remain below 1.5. Even if you would add the pension deficit to the total indebtedness, the debt ratio will remain below 2.
Investment thesis
Granted, BASF's financial results in the first semester weren't too exciting at all, but the company continues to generate tonnes of free cash flow. Excluding the pension payments out of the equation, the full-year free cash flow result could easily be 6.5B EUR (assuming a higher capex in the current semester), representing approximately 7 EUR per share per year.
The acquisition of the Bayer and Solvay assets should increase the free cash flow result although these cash transactions will have a temporarily negative impact on the debt levels and interest expenses.
As the company is currently trading at an adjusted free cash flow yield of 8.5-9%, I think BASF offers a lot of value for money, even taking a slowdown of the economy into account.
Consider joining European Small-Cap Ideas to gain exclusive access to actionable research on appealing Europe-focused investment opportunities, and to the real-time chat function to discuss ideas with similar-minded investors!
Disclosure: I am/we are long BASFY. I wrote this article myself, and it expresses my own opinions. I am not receiving compensation for it (other than from Seeking Alpha). I have no business relationship with any company whose stock is mentioned in this article.
Editor's Note: This article discusses one or more securities that do not trade on a major U.S. exchange. Please be aware of the risks associated with these stocks.