The MLP sector has been the ugly stepchild of the CEF space over the last few years. The total return price index of the sector says it all - the energy price crash and sector underperformance exposed an unsustainable business model, which ended with the sector giving up nearly all of its post-GFC gains.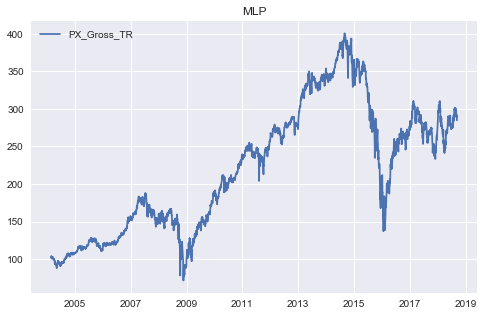 Source: ADS Analytics, Bloomberg
Since the energy crash, the sector has begun to slowly restructure and address the factors that led to the previous buildup. These factors included weak governance, a broken funding model, skewed incentives and a high cost of capital.
A number of entities have moved away from repeated equity issuance towards self-funding - that is, retaining cash and using it to fund projects rather than paying it out as distributions. Part of this has to do with still-depressed equity prices and hence high cost of capital. Another reason has to do with investor loss of appetite for continued dilutions as well as the lack of market focus on growing distributions with management teams no longer being rewarded for doing so.
Another key component of the sector reorganization has been simplification, that is collapsing multiple entities and elimination of IDRs. Conceptually, IDRs make sense as they incentivize the GP to grow distributions. However, with time IDRs can become a burden, particularly when the LP is giving up the bulk of marginal distributions to the GP. Eliminating IDRs reduces the need to issue equity and ultimately reduces the cost of capital. It is also attractive to the GP as it increases the transparency around the value of the LP.
While the sector reorganization is well advanced, corporate valuations are still attractive with high cashflow multiples and increasing balance sheet deleveraging. The Q2 reporting season saw many companies beating expectations which we take as another sign of positive fundamental dynamics.
On the macro front, record production of hydrocarbons and record exports support demand for existing and new industry assets.
From a cycle perspective we think MLPs are attractive given their relatively low correlation to other sectors and bonds in general as well as the tendency of commodities to outperform in a late-cycle environment.
On the risk side, policy changes can be damaging as we saw this year with the initial FERC tax proposal. The relatively high correlation between MLPs and equity prices poses another potential risk particularly in a market environment of full equity valuations. Finally, the sector reorganization is still ongoing and investors are liable for potential management missteps or a slowdown in this process.
MLP Cross-Sector Overview
How do MLPs compare to other income sectors in our CEF coverage? For a quick cross-sector overview, we check in on our weekly CEF sector table. What can this tell us?
MLPs are by far the best-performing sector on a 1-year NAV basis
MLPs narrowly edge out Emerging Market bonds on a past-12M distribution rate basis - however, we don't give a lot of weight to this metric given the volatility in distributions in both the MLP and EM sectors.
The sector is trading at a -5.5% discount which is a very attractive -1.4 Z-Score since 2000.
14-day RSI is a low 32 suggesting recent underperformance
Correlation to Equities is a relatively high 49% while correlation to Bonds is pretty flat.
NAV Pairwise correlation - which is the average return correlation to all other CEF sectors is a relatively low 14%
3Y DVD Ratio of 74% suggests that the sector has cut distributions by 26% in the last 3 years.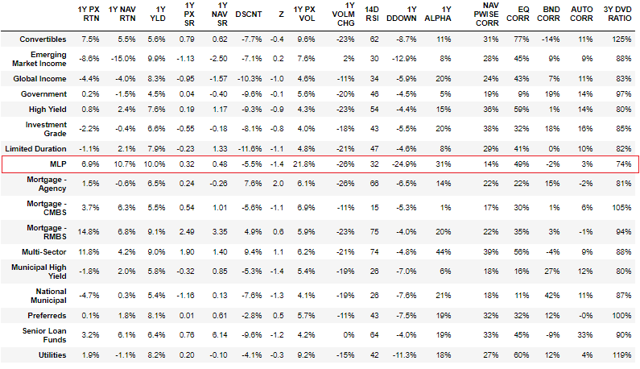 Source: ADS Analytics, Bloomberg
Potential Catalysts
Many investors have lost faith in MLPs through the difficult price action of the last few years and now demand to see real improvements and catalysts for outperformance before committing capital. What are these potential catalysts?
After 7 quarters of underperformance relative to the S&P 500, AMLP has now begun to outperform which argues for improved flows into the sector.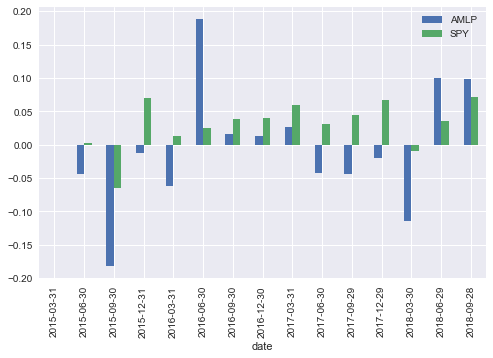 Source: ADS Analytics, Bloomberg
The stabilization in price volatility is another key metric for investors to grow their allocation.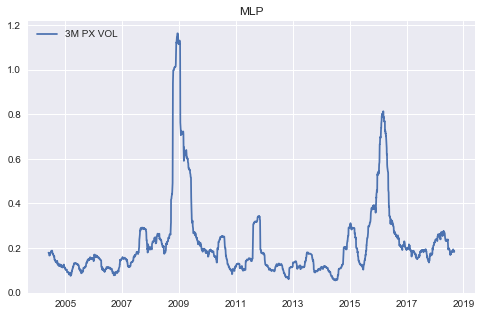 Source: ADS Analytics, Bloomberg
The sector ETF Benchmark - Alerian MLP ETF (AMLP) has given up a third of its distributions since the crash. Some of this is due to changes in the index but the bulk is due to cutting distributions to support a new funding model. The recent stabilization in distributions suggests the sector may finally be turning a corner.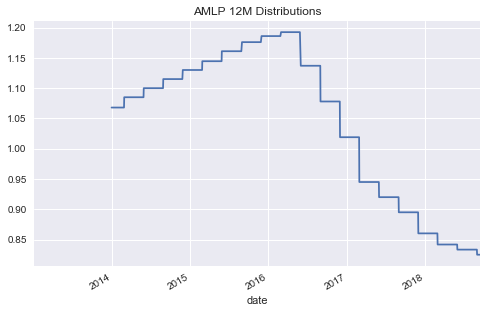 Source: ADS Analytics, Bloomberg
MLP Sector Valuation
Checking in our favorite sector valuation metrics - the benchmark AMLP distribution rate has stabilized around 8% which is less than we have seen over the last few years but it is linked to a more sustainable distribution stream in our view.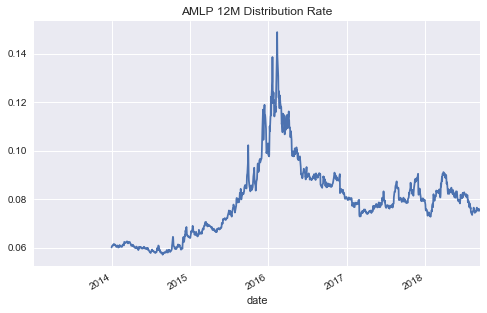 Source: ADS Analytics, Bloomberg
Sector discounts have recently widened and look attractive to us although they remain off the double digit levels seen during the energy crash period.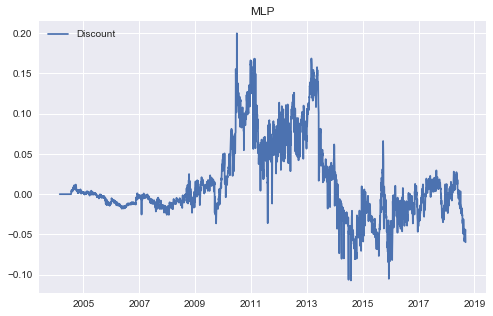 Source: ADS Analytics, Bloomberg
The spread between the MLP distribution rate and the average of other sectors has remained fairly wide. The chart shows that the sector has gone through a secular change where the recent energy crash and the ongoing process of corporate restructuring has moved MLP distribution rates from well below that of other sectors to well above currently. We think the stabilization in sector distributions and the ongoing sector restructuring will allow this spread to tighten in the coming quarters.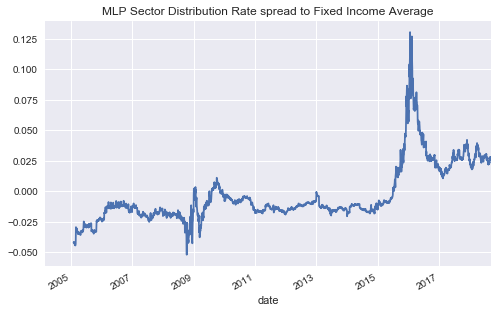 Source: ADS Analytics, Bloomberg
Sector Screen
We put the MLP sector through our usual sector screen which crunches a number of fund valuation and price metrics. The funds at the top of the table are most attractive.
It's interesting to see the wide dispersion in 3-Year Fund Alpha (calculated as volatility-adjusted total price return vs. AMLP) with most funds in the green.
The majority of funds have a very high beta relative to the benchmark, which is not surprising.
Drawdowns and NAV volatilities are fairly comparable.
Discounts and Z-Scores tend to vary based on distribution rates and offer potential opportunities for investors willing to look past yields.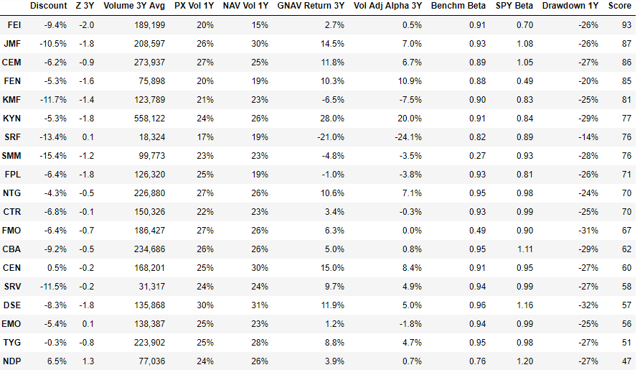 Source: ADS Analytics, Bloomberg
Conclusion
Overall, we continue to like the MLP sector due to its ongoing restructuring, solid macro fundamentals and attractive valuations, however, care should be taken in sizing the allocation to the sector given its high volatility and potential policy drivers.
Good Luck!
Disclosure: I/we have no positions in any stocks mentioned, and no plans to initiate any positions within the next 72 hours.
I wrote this article myself, and it expresses my own opinions. I am not receiving compensation for it (other than from Seeking Alpha). I have no business relationship with any company whose stock is mentioned in this article.
Additional disclosure: This article is for information purposes only and does not constitute investment advice or an offer or the solicitation of an offer to buy or sell any securities. Past performance is not a guarantee and may not be repeated. Investment strategies are not suitable for everyone and you should always conduct your own research or speak to a financial advisor. Although information in this document has been obtained from sources believed to be reliable, ADS ANALYTICS LLC does not guarantee its accuracy or completeness and accept no liability for any direct or consequential losses arising from its use. ADS ANALYTICS LLC does not provide tax or legal advice. Any such taxpayer should seek advice based on the taxpayer's particular circumstances from an independent tax advisor.