Project $1M is the concentrated portfolio that I am running with the aim of growing a ~$275k base into $1M over a 10-year period.
My broader investment focus with Project $1M is the purchase and long-term hold of a clutch of high growth, cash generating businesses that are powered by secular tailwinds. The advantage of these secular tailwinds should be to allow the selected businesses to grow under any economic conditions that may be experienced over the life of the Project $1M portfolio (a decade or more).
Markets may move the prices of Project $1M businesses around, here and there, depending on sentiment; however, I am focused on the long-term returns on invested capital that my businesses can generate and the opportunity to deploy that invested capital at high rates of return over a long-term horizon. For those that are new to the Project, here are Part 1, Part 2 and Part 3 of the initial investments in the portfolio.
August Review
August saw the crash in value of some of my Chinese internet holdings. Alibaba (BABA) and Tencent (OTCPK:TCEHY) both declined by 10% or more in value over the month. While in BABA's case I attribute this purely to negative market sentiment, Tencent appears to have some real underlying issues concerning Chinese regulatory approval for new gaming titles. In spite of the poor performance of my Chinese internet holdings, I was able to grind out slight outperformance compared to the S&P 500 last month. Since inception, Project $1M has recorded annualized returns of just under 20%, exceeding what I thought it would be possible to deliver to this point.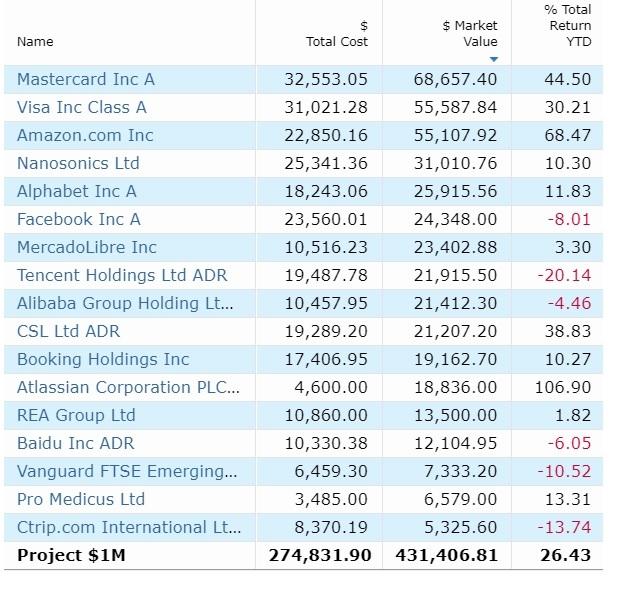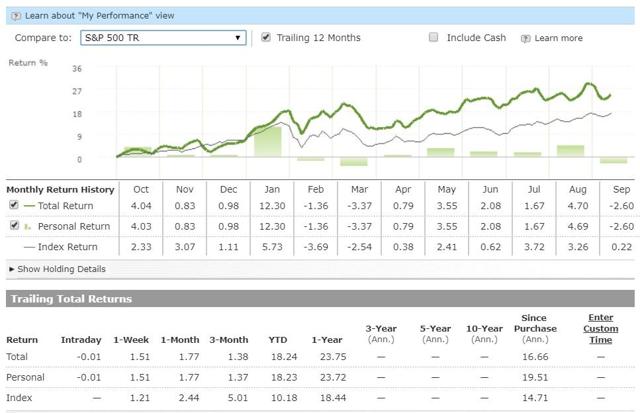 While my Chinese holdings have been sent to the woodshed, I am playing the long game with Project $1M. Though I've changed the weighting of some of my positions along the way, I've maintained close to 50% of the value of the positions that I have had since inception. Positions in emerging market economies are always subject to considerable volatility. This can be the result of patchy demand due to rapid changes in the underlying economies themselves, sharp changes in exchange rates or changes in investor sentiment.
In the case of Alibaba and Tencent, one must throw into the mix the threat of tense tariff negotiations between the US and China. I maintain the view that the eventual resolution of this trade dispute will not have any economic impact on either of these businesses, one way or another. Both continue to ride long-term secular market forces strongly that are in favor of digital commerce and rising consumption in the local Chinese economy.
Reduction in Booking Holdings weighting
While Booking Holdings (BKNG) delivered a pretty good result for the last quarter, I slightly lightened my holding. I believe that the business will continue to deliver fairly good performance; however, what's become increasingly evident from its quarterly guidance is that business has become heavily dependent on performance based advertising via Google to achieve revenue growth. Performance based advertising drives revenue, but at the expense of margins. Booking Holdings is in a constant drive to balance revenue growth with expense management. Lower than expected guidance from Booking Holdings appears driven by a desire to better manage margins, hence the throttling back on the advertising necessary to drive revenue. The secular tailwinds propelling online travel bookings should comfortably continue through the next decade. However, I feel that Booking Holdings has become more dependent on Google and performance based advertising to sustain growth as the business becomes larger and growth more difficult to come by.
Increasing Tencent, Baidu weighting
While I had previously said that it would take a fall in the share price of Tencent below $35 to get me interested to top up my holding, the reduction in weighting of my Booking Holdings position created some additional capital which I was able to deploy. I topped up my holding of Tencent at $46 a share. In hindsight, I could have likely added to my holding at well below this price; however, I believe this will end up a very prudent purchase at the end of the my holding period. Tencent owns some very strategic assets in what will be an increasingly mobile first era for consumption in China. WeChat is still in the very early stages of monetization, and I want to participate further in this growth.
I had been rather indifferent to Baidu's (BIDU) growth prospects after a cancer related healthcare advertising scandal saw a regulatory backlash from Chinese authorities in 2015. However, Baidu has since recovered well, and has been on a steadily growing upward trajectory since then. With revenues in the recent quarter growing almost 20%, Baidu's forward PE of <20x was proving too tempting to ignore. I topped up my Baidu holding slightly at ~$220 just recently.
Concluding thoughts
The past few months have been extremely volatile for markets in general, and specifically volatile for Project $1M. Nonetheless, at the conclusion of the most recent reporting season, what is apparent is that the Project $1M holdings are generally in good underlying health.
I'm now less than one quarter away from my 3-year anniversary since the launch of Project $1M. Overall, I'm more than satisfied with the performance of the portfolio since launch. It has exceeded my expectations.
Disclosure: I am/we are long ALL STOCKS MENTIONED.
I wrote this article myself, and it expresses my own opinions. I am not receiving compensation for it (other than from Seeking Alpha). I have no business relationship with any company whose stock is mentioned in this article.
Editor's Note: This article discusses one or more securities that do not trade on a major U.S. exchange. Please be aware of the risks associated with these stocks.