IBM (NYSE:IBM) made an all-time closing high of $200.66 on March 5, but had since pulled back as of March 8.
Is that a fair value? That's a very subjective question and I will admit that I'm biased because I own the stock. So to me, $200 is fair, but should a new investor buy here?
I wish we could ask Watson, IBM's artificial intelligence computer (which beat humans at Jeopardy!). According to Bloomberg, IBM is selling Watson to Wall Street to advise companies on financial matters.
Well this is a financial matter. Could Watson provide an unbiased view on IBM's stock? I'm not sure. I asked Siri (on Apple's iPhone) about the IBM, but she says she doesn't make stock picks - even about AAPL.
So using all the non-artificial intelligence I could muster, I took a look at a few metrics to put its valuation in context.
PE Ratio Near 15
I don't necessarily believe that you can compare separate stocks based on their PE ratios, but you certainly can compare a stock's PE ratio with where it has been trading recently.
Here's a look at IBM against a ratio of 10, 12.5, and 15 times trailing 12 month earnings. ( I smoothed out the lines a bit.)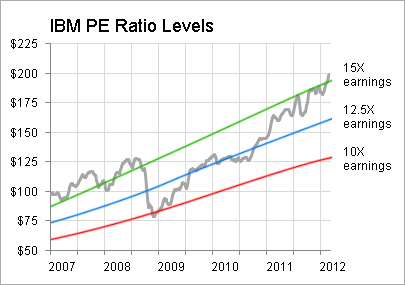 Trading near a 15 PE seems steep. Believe me, I'm not knocking IBM. I like owning IBM and will continue to own it. I'm just not sure I can make a convincing case that buying it for $200 is a great deal based on current PE.
I don't think you'll get a chance to buy it for 10 times earnings soon, but 10 times its earnings a few years from now? Possibly. IBM could easily earn $20 per share by 2015. That would seem to justify a $200 price, but you'd have to decide how much you want to pay now for potential future growth later.
Besides, if the overall stock market pulls back sharply, I can easily see the stock trading in the 180s. I'm just not sure you'll get a pullback that far in IBM.
Dividend Income: Tripling Payments in Five Years
IBM has been paying dividends every quarter for decades. Here's a look at how the stock has traded recently against current market yield.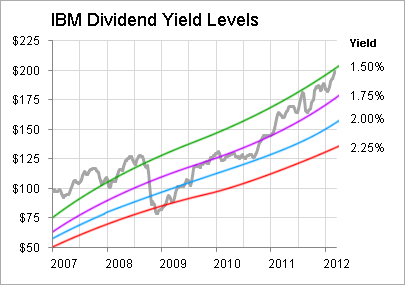 When the world was going to fall apart in 2008, you could get IBM at a yield well more than 2%. If you want 2% today, you'd have to buy it for $150 (based on its $3 annual payout).
But IBM has tripled its dividend over the past five years as you can see on this chart: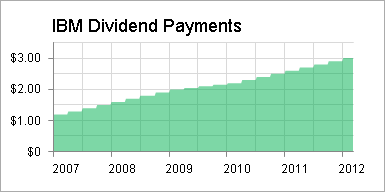 What if the dividend "only" goes up by 50% in the next five years? Well, that would mean an annual payment of $4.50 per share in 2017. That's a 2.25% yield on today's price, but once again, there's no guarantee the company will raise the dividend by that much.
Healthy Return on Invested Capital
Finally, here's a chart showing the company's return on invested capital.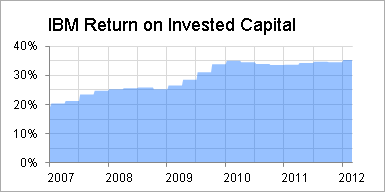 I used data provided by Ycharts.com, which defines ROIC as "net income that a company earned as a percentage of all of the capital given to a company by shareholders and debt holders" - or in plainer language for YCharts:
It is a ratio that tries to answer the question: "If I gave $1 to this company, how much money could the company earn by investing that $1?" A ROIC of 5% means that the company can return $0.05 per dollar invested.
IBM's ROIC has averaged well above 30% for more than two years - a very healthy return - and I expect that trend to continue.
It's difficult for me to convince myself to buy more IBM now. So it's difficult for me to make the case that others should do so. It's a great stock, but a lot more of its future potential has already been priced in at $200.
According to Bloomberg, Watson is going to help financial companies with portfolio risk management issues, but not for picking individual stocks.
Too bad, because Watson is likely far better at it than I am.