But Are They Open On The Weekend?
Say you're interested in internet banking because you believe that technology is making many bank branches obsolete. Perhaps you think that the technology-savvy younger generations will flock to these competitive financial services. The efficiency ratios that banks can obtain if they don't have to worry about maintaining and staffing a physical building is certainly appealing.
For those of you not terrified by the above statements, it's time to figure out which online entity is better to invest in at this time. For me, it comes down to BofI Holding, Inc. (BOFI) or Ally Financial (ALLY). For the purposes of this article, outside comparisons to peers will be kept at a minimum, as we've decided to look at the differences between these two stocks.
Growth
In the second quarter of 2018, Ally continued its stellar growth trajectory, not necessarily due to a big revenue gain, but due to improved margins, especially in their auto loan portfolio. Q2 earnings came in at $0.83 a share, compared to $0.68 QoQ and $0.58 YoY. There were also 7 million less outstanding shares from Q1 due to the aggressive buyback in place. This helped juice numbers a little on a per share basis. Since Q3 2016, the total share count has been reduced by ~12%, and Ally is not done yet.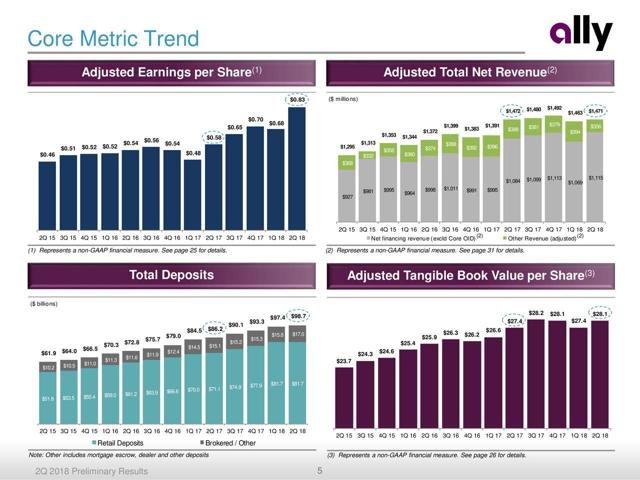 Image from Ally's earning call slides 7/8/18
The customer retention rate has been at or near 96% for the past several quarters now, and retail customer deposits has increased steadily, adding 41,000 accounts in the most recent quarter. Brokerage accounts also have been trending upwards and represents $17 billion worth of the $98.7B in total deposits.
BofI, on the other hand, has been more of an explosive growth story. In their most recent quarter, the company saw net income increase by a staggering 14%. The rest of the numbers are gaudy as well. They don't even include the growth via the recently announced acquisition of $3 billion worth of deposits from Nationwide Bank.
Three Months Ended

June 30,

(Dollars in thousands, except per share data)

2018

2017

% Change

Net interest income

$

87,048

$

78,527

10.9

%

Non-interest income

$

16,977

$

13,533

25.4

%

Net income

$

37,117

$

32,548

14.0

%

Net income attributable to common stockholders

$

37,040

$

32,471

14.1

%

Diluted EPS

$

0.58

$

0.50

16.0

%
Table from BofI press release 8/7/18
Deposits grew by over a billion dollars, 15.7% YoY, and they did it through purely organic growth. Competitive rates from low efficiency ratios are helping drive in customers seeking better interest rates than their local, physical banks. If these trends continue, and I don't see why they cannot, then it would not be unreasonable that both banks have long runways for growth.
Operating metrics - NIM, efficiency ratio
Ally and BofI have better than normal efficiency numbers due to having fewer expenses from overhead. Unfortunately both of the companies are seeing their efficiency advantages dwindle over time as the big banks are reducing their physical footprints and shifting to a more internet and app-based service.
For those that don't know, you calculate a bank's efficiency ratio by dividing their non-interest expense (overhead) by their net income. This number tells you how much money the company needs to spend on earning their profits. Ally sports a 47.7% efficiency ratio, and BofI comes in at a whopping 39.58%. That ratio for BofI is the best that I have seen anywhere in banking, yet the company was disappointed because it was up from 32.4% in the prior quarter.
Ally's net interest margin (NYSE:NIM) was a meager 2.74%. That's roughly in-line with Wells Fargo (WFC) and worse than many traditional banks. Bank of Internet has a much more impressive NIM of 3.71% which is once again the best that I have seen among the banking sector. BofI is therefore achieving higher spreads on their deposits, and should be in a much better position should we see interest rates and spreads decline.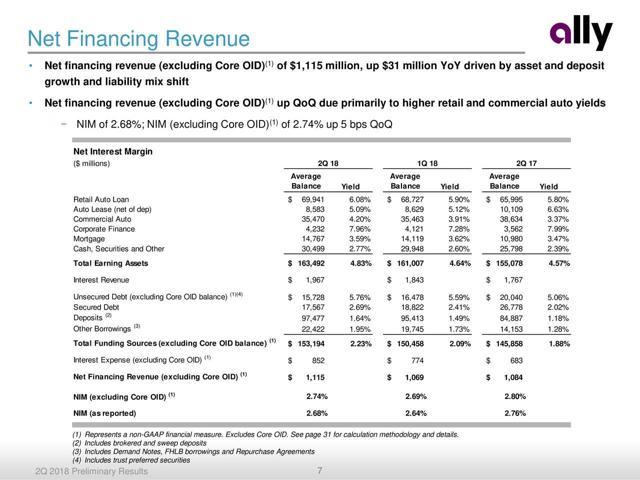 Image from Ally's earning call slides 7/8/18
Range of services
Banks these days like to have diverse offerings as a way to lure customers and promote "stickiness" that retains them. JPMorgan Chase (JPM) is a poster child of this ecosystem, providing every service imaginable along with fantastic phone apps and virtually free brokerage trades to customers. While Ally is just now joining the race to 0% commissions on ETF products, they do have a wonderful phone and brokerage product. BofI also has a phone app, but lacks a brokerage functionality, which is perhaps a growth avenue in the future for the company (if there's any money to be made in it). Outside of brokerage ability, both internet banks offer the same suite of products and services so they are essentially tied on that front.
Dividend and Buybacks
As a dividend lover, it pains me to see that BofI does not pay a dividend. I do not like having to sell shares in order to realize gains. Ally pays a $0.60 per year (0.15 quarterly) dividend that has a current yield of 2.21%. While that's better than banks such as JPM, you're effectively staving off inflation at that level.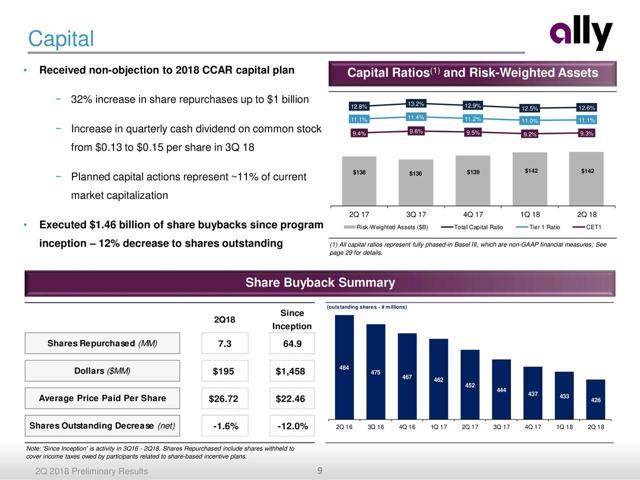 Image from Ally's earning call slides 7/8/18
Ally, as previously mentioned, has been whittling down the share count, which is helping drive earnings higher. This makes more sense for them because they operate a more mature company that has largely left their growth phase. Ally has become more of a value and income (some is more than none) stock. They have set a target for $1.2 billion in capital returns to shareholders over the next year. When subtracting the dividend, that leaves roughly a billion for stock buybacks. 1 billion divided by the current share price would lead to a reduction of approximately 37 million shares, or ~8.6% of the float. This should help ensure continued EPS growth even if revenue growth is stagnant.
BofI's share count increased by only 600,000 YoY which is directly due to employee stock compensation. Instead of buying back shares while the share price has shot up, the company is using funds on making acquisitions for further growth. I can't fault them for that strategy, as many companies have destroyed shareholder value engaging in buybacks at the wrong time.
Summary
When I began researching the companies in order to write this article I was certain that the winner would be Ally due to the dividend, share buybacks, and brokerage product. What I quickly discovered, was that those were the only strengths of the stock compared to Bank of Internet, and that I could not ignore the substantially better operating metrics. Ally will have problems competing with the big banks and brokerages like Vanguard, BlackRock (BLK) and JPM in an increasingly zero commission realm. This is why I believe that BofI has the edge over Ally Financial at this time. I suggest looking to pick up shares on sector pullbacks, such as when hurricane fears over physical damage cause share price decline in internet-only banks.
Disclosure: I/we have no positions in any stocks mentioned, but may initiate a long position in BOFI over the next 72 hours.
I wrote this article myself, and it expresses my own opinions. I am not receiving compensation for it (other than from Seeking Alpha). I have no business relationship with any company whose stock is mentioned in this article.
Additional disclosure: I have an Ally Financial brokerage account.