Retail stocks have come roaring back in 2018, but one stock that has been left out of the rally is female oriented mall retailer Francesca's (FRAN). Year-to-date, FRAN's stock is down nearly 50%, while the SPDR S&P Retail ETF (XRT) is up nearly 15%. Most of this underperformance in FRAN's stock has to do with the fact that despite robust consumer strength and a broad retail resurgence, Francesca's continues to report negative comparable sales growth, gross margin compression, and SG&A deleverage, a trio of headwinds which investors never want to see in the retail space.
There is a possibility that Francesca's follows in the footsteps of struggling retailers before it and gets squeezed out of the retail game entirely by rising e-commerce threats. But, we think the likelihood of that happening is small. Meanwhile, we think the likelihood of Francesca's stabilizing operations and returning to an era of positive comparable sales growth, gross margin expansion, and SG&A leverage is much more likely. All things considered, we like the risk-reward of FRAN's stock below $5, and think this stock has an opportunity to hit ~$7 by the end of the year.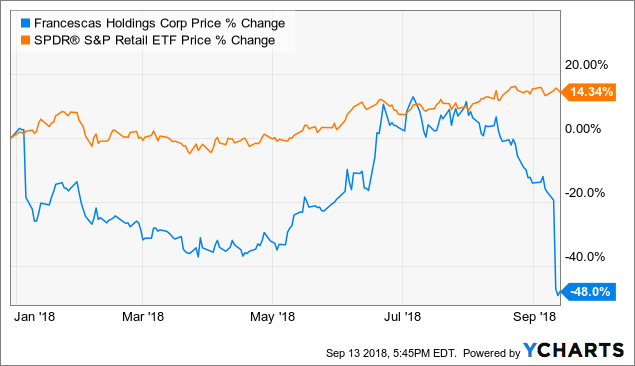 Once upon a time, Francesca's was the envy of every other mall retailer in the world. From 2009 to 2012, Francesca's could do no wrong. Comparable sales growth was consistently in excess of 10%, and hit 16% in two separate years, as the company rode trendy women's clothing and arts and crafts related tailwinds to huge gains in consumer popularity. Huge comparable sales gains were accompanied by massive improvements in gross profits, which were soaring above 50%. Meanwhile, operating expense growth significantly lagged revenue growth, and operating margins were soaring, too.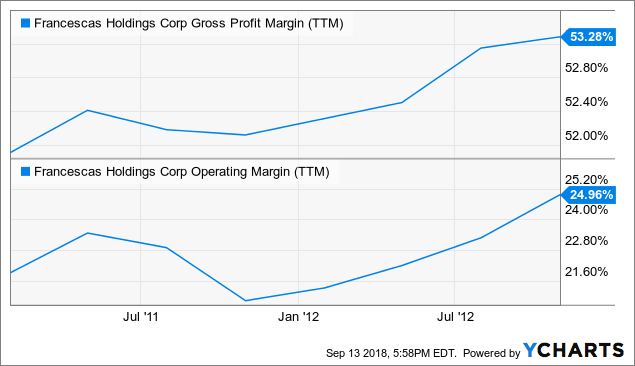 But, that was a long time ago. Now, the tide has turned, and Francesca's envies everyone else in mall retail. While seemingly everyone in the mall retail sector from Abercrombie & Fitch (ANF) to Tilly's (TLYS) to Urban Outfitters (URBN) has bounced back lately, Francesca's has not. Almost everybody else we follow in this space is reporting some combination of reinvigorated comparable sales growth, recovering margins, and/or renewed profit growth. None of those things are happening at Francesca's.
In fact, things are only getting worse. Last quarter, comparable sales dropped 13% against a fairly easy down 3% lap, gross margins fell back 730 basis points, merchandise margins dropped 330 basis points, the SG&A rate went up, and profits got chopped from $7.3 million a year ago to $0.5 million. As such, investors have identified Francesca's as the eyesore in a resurgent retail sector, and this is reflected appropriately in the stock price.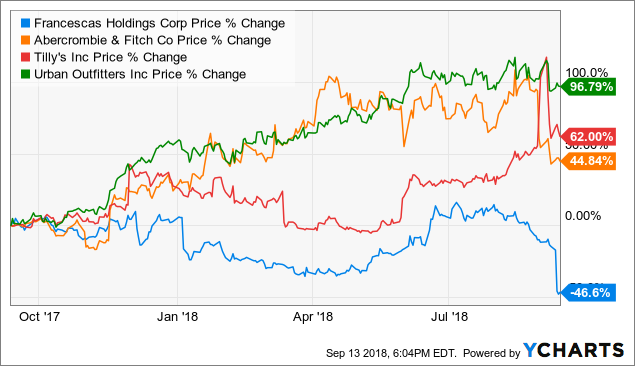 Why are things so bad at Francesca's? A few reasons. First off, the company is struggling to reconnect with its core consumer (trend-oriented female shoppers with an upbeat, summer bend), many of whom are likely migrating to other retailers and/or marketplaces like Urban Outfitters, Express (EXPR), Hollister, and Etsy (ETSY). Second, management continues to open stores at a healthy pace, and while that may serve the company well in the long run, it is hurting margins in the near-term as payroll growth is significantly outpacing sales growth. Third, the product assortment got out of trend with the company's core demographic, and many of those shoppers left and simply haven't come back.
But, not all is bad in the Francesca's kingdom, and we think that at current levels, the valuation on FRAN's stock looks compelling. Certainly, there is a sizable risk that this company continues to mess up on product assortment and fails to re-capture lost customers and sales. But, the likelihood of that happening seems relatively low considering that conversion rates are improving on a month-to-month basis, AURs are stabilizing, the e-commerce business is growing at a double-digit rate, and social media engagement is healthy with nearly 400,000 followers on Instagram. In other words, there are signs that while FRAN's business is a mess now, it won't be a mess forever because certain key metrics are improving and there is still a fairly large and loyal core consumer base.
Moreover, stores we have visited appear to have largely nice presentations. The dresses and other apparel offerings seem to fit the trend of what many women are wearing these days. Prices are reasonable. On the financial side, the balance sheet is good with no debt and $23 million in cash. The company expects to be free cash flow positive this year, even amid huge operational struggles. And, there is a track record of this company once being immensely popular and profitable.
Put it all together, and we think the likelihood of FRAN's stock going to $0 is quite low, and that the probability of this company turning things around is quite high. The positive risk-reward on FRAN's stock comes from the fact that at currently depressed prices, all this stock needs is one good quarter to bounce way higher. We believe that such a good quarter will happen in the back-half of the year because: 1) management guided very light for the year, calling for a 9% comparable sales drop against a down 11% lap last year, 2) laps in the back-half of the year get really easy, and 3) the economy is healthy right now and the consumer is strong, naturally implying a big holiday shopping season in November/December. As such, we think there is a fairly high probability that FRAN's stock reports a good quarter in 2H18, the likes of which could propel this stock way higher considering how far it has dropped.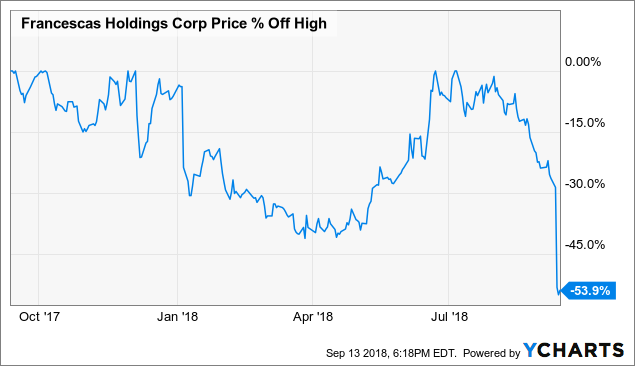 From a valuation perspective, we think FRAN's stock could easily rally towards $7 by the end of the year in the event that Q3 earnings are good. The logic here is that if Q3 earnings are good, investor sentiment will shift from "FRAN is going bankrupt" to "FRAN is finally rebounding". As that shift happens, analysts will raise estimates and hike price targets, while investors will start to price in rebound potential. The pathway for this company to grow sales at a steady 2-3% clip over the next several years will become clearer, as will the pathway for gross and operating margins to rebound back to at least 2017 levels, if not higher.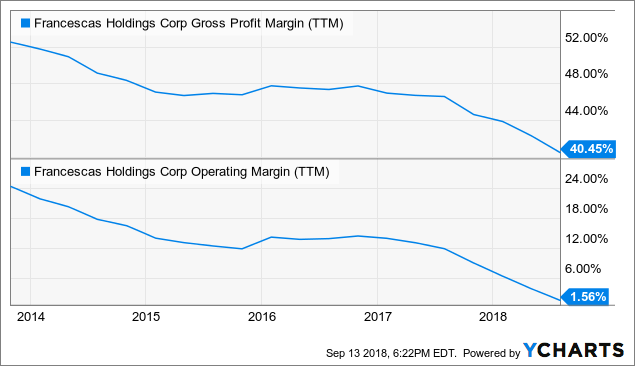 Under those assumptions, we think that it is reasonable to forecast $0.60 in earnings per share in five years, assuming the company executes on its turnaround strategy. Considering consensus one-year forward estimates called for $1-plus in earnings per share not too long ago, projecting $0.60 in five years seems very conservative to us. Nonetheless, a market-average 16X forward multiple on those $0.60 earnings implies a four-year forward price target of $9.60. Discounted back by 10% per year, that equates to a year-end price target of over $7.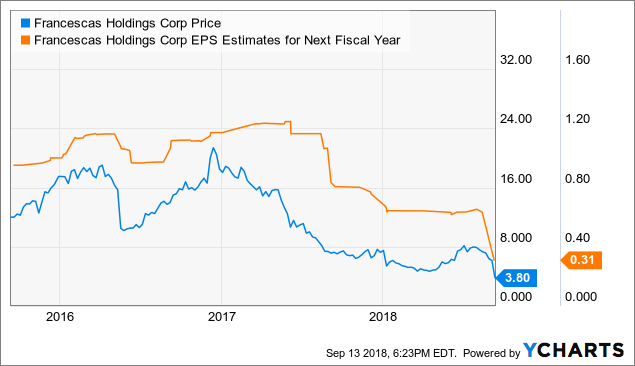 Thus, if Q3 earnings are good and support a long-term operational turnaround, we think a reasonable year-end price target for FRAN's stock is $7. The risk here is that there is no guarantee Q3 earnings will be good, despite the aforementioned signals. We think there is a 60% chance Q3 earnings are good and FRAN's stock heads towards $7 by the end of the year, and a 40% chance FRAN's stock continues its bleed and drops to $2 by the end of the year. Assuming those odds, we think FRAN's stock is fairly valued today around $5. Thus, under $4, we think the valuation is compelling.
Overall, we think FRAN's stock is a favorable high-risk, high-reward play in the red-hot retail sector. Things at the company are a mess right now, but there are signs that things are improving, and there is still potential for a surprise 2H18 turnaround. At current levels, all investors need is one good quarter to send this stock skyrocketing, while downside risk seems mitigated due to an already compressed valuation. Consequently, we think valuation is compelling, and believe this is a dip worth considering.
Disclosure: I am/we are long ANF, TLYS, FRAN, URBN, EXPR. I wrote this article myself, and it expresses my own opinions. I am not receiving compensation for it (other than from Seeking Alpha). I have no business relationship with any company whose stock is mentioned in this article.