Spotify (SPOT) is a Swedish on-demand music streaming giant with the world at its feet. After all, after first bursting onto the scene in 2008, Spotify now rules the industry across the globe.
This audiophile darling went public in April. Yet, 72 trading hours after the company's first quarter print posted on May 2, the stock slid almost 12%. Discounted subscriptions saw a dip in average revenue per users. Revenue outlook proved another weak spot for Spotify, underwhelming Wall Street for the second quarter.
That said, the company still hit 75 million paying members for its first public quarter. Moreover, while the guide led SPOT shares to stumble, second quarter results tapped recovery. A new high for Spotify was unlocked: ad-supported monthly active users towers between 83 and 101 million paid subscribers.
Present-day, the stock is now a comeback kid of the Street. Since Spotify's IPO, shares have recovered their losses, and then some- climbing almost 22% by September 12.
Here, we turn to TipRanks' powerful market data to get a better sense of Spotify's outlook. How? Let's dive into recommendations from the top analysts on Wall Street:
Newest Bull: Top Analyst Sings the Praises of Industry Leadership
Top analyst Brian White at Monness (Track Record & Recommendations) recently initiated coverage on Spotify with a Buy rating.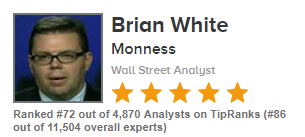 How high does White believe SPOT shares can reach? The analyst sets a 12-month price target of $265, which implies a monster 45% in upside potential for Spotify.
While the music universe is "rapidly changing," the shining point for White is a well-acknowledged recognition: Spotify reigns as "the #1 music streaming service on the planet. It certainly doesn't hurt that by the close of its second public quarter, Spotify hit 180 million monthly active users (MAUs) and 83 million Premium Subscribers.
Between its worldwide presence and brand recognition seeing wildfire growth, this "industry leader" is in strong standing. "…we believe Spotify is uniquely positioned to benefit from the rise of music streaming around the world," continues White.
In a nutshell, the platform that has offered music streaming for a decade now has cultivated a powerhouse worldwide "digital music ecosystem." Spotify "offers users a unique listening experience that nurtures the art of music discovery, while also providing musicians with a powerful platform to expand their global fan base and reach higher levels of stardom," contends White.
This Bull's Argument Gets More Fuel
In his latest research note, MKM analyst Rob Sanderson (Track Record & Recommendations) became even more confident on SPOT shares.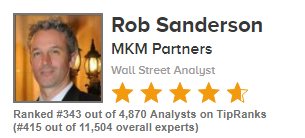 Notably, the five-star analyst rates SPOT a Buy and boasts an 80% track record of betting profitably on the stock. In other words, Sanderson sees an average of 9.2% in profits when rating Spotify. Sanderson just boosted his price target from $200 to $245 on Spotify, calling for a robust 34% in upside potential ahead.
Spotify exhibits "great monetization potential" in spaces extending beyond core music streaming, argues Sanderson. Data and other services revenue is anticipated to yield EUR 450 million- and Sanderson is now factoring this into his long-term expectations.
Specifically, Sanderson spotlights the company's stellar opportunity to monetize "data, analytical tools, tour marketing and support, ticketing, merchandise sales and other ways that SPOT can help artists in the industry."
"We believe [Spotify] is becoming the primary platform to connect music fans and artists," highlights Sanderson, who believes: "We think this opens several incremental monetization opportunities in data, analytical tools, tour marketing and support, ticketing, merchandise sales, etc."
Evolution and Growth Still Sounding Good
When media analyst Amy Yong of Macquarie first initiated coverage on Spotify at the end of June, she already was upbeat on Spotify's story.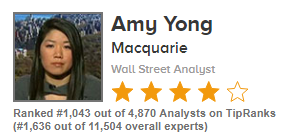 The analyst started with a $225 price target and a positive forecast. Yong's first bullish note saw a "global mobile/digital evolution… underway, positioning Spotify for years of growth."
Now, Yong rates an Outperform rating and believes Spotify shares will reach $245.
Last month, the analyst saw both Spotify as well as fellow Internet streaming king Pandora (NYSE:P) "eyeing" a $15 to $17 billion "ad pie" in the U.S. If these companies even captured 25% of this, Yong calculates it "could equate to US$3-5bn of incremental revenue."
Spotify exhibits a powerhouse one-two punch: a "growing sub base" along with a "solid" approach to monetization. Keep in mind, "Spotify launched its self-serve platform in the US in 2H17 and later in the UK/Canada as proof of its success," adds Yong.
Like Pandora, Spotify also offers "features like registered users, location-based tech, and contextual targeting capabilities which should help attract ad dollars," continues the analyst.
Another strength: Spotify's "US$13 bundle with Hulu," an alliance which is poised to "expand reach."
As relationships strain between Spotify and the music industry, Yong commented to Bloomberg: "It's a strange relationship because the record labels want Spotify to succeed, but not too much. It gives them too much leverage."
Spotify's in a pretty good place when the industry fears its power.
The Sidelined
Top analyst Peter Stabler at Wells Fargo (Track Record & Recommendations) first initiated coverage on Sidelines back in May.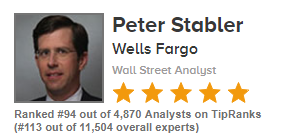 While Stabler appreciates the company's "strong product and brand positioning in the online music streaming category," his sidelined apprehensions boil down to the following: 1) valuation 2) competition 3) churn, and 4) growth prospects.
The analyst rates SPOT a Market Perform with a $180 price target.
Even so, Stabler's neutral thesis still underscores SPOT as "as the clear leader in sub-sector (digital audio streaming) with a strong multi-year growth opportunity." It simply comes down to the fact valuation looks "adequately" balanced when sizing up the risk/reward factor.
Additionally, Stabler recently conducted a survey that points out a key weak link for Spotify that continues: high churn rate. The analyst projects "tens of millions of users" have left Premium, content to be using the ad-supported platform. In that same survey, 92% of Premium users along with 79% of ad-supported users say they feel satisfied with the service.
The Lonely Bear
Even Loop Capital's Alan Gould just became a bit more constructive on Spotify's narrative.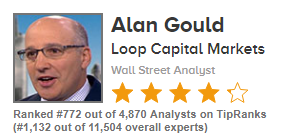 The company's second quarter print had this bear boosting his price target on SPOT from $120 to $150. Why? More robust gross profit margins along with a bit of an improvement in subscriber growth- at least, more than had been expected.
All the same, Gould holds tight to his Sell rating on SPOT for valuation that towers at 5.5X the anticipated revenue- it's simply too lofty. This analyst argues valuation is expensive considering "lack of exclusive content, declining ARPU, strong competition and fear that the music oligopoly will capture most of the incremental profits."
Bigger Picture: Wall Street Votes…
Top analysts give their verdict: this music streaming giant is a 'Moderate Buy' on Wall Street. In the last three months, 11 best-performing analysts issue bullish recommendations on SPOT stock. Four analysts play it safe on the sidelines with one bear circling. Yet, how do these consensus expectations play out? Ultimately, Wall Street is positive on Spotify. The 12-month average price target stands at $211.73, marking over 17% in upside potential ahead.

See SPOT Price Target and Analyst Rating Details
Disclosure: I/we have no positions in any stocks mentioned, and no plans to initiate any positions within the next 72 hours.
I wrote this article myself, and it expresses my own opinions. I am not receiving compensation for it. I have no business relationship with any company whose stock is mentioned in this article.