Baidu (NASDAQ:BIDU) is China's biggest digital search empire- so it makes sense that investors fear Alphabet (NASDAQ:GOOGL) one day chasing at BIDU's heels. Rumor has it Alphabet is planning a comeback to China.
Baidu CEO Robin Li wrote on his verified WeChat account his giant is ready to do tech battle: "Google decides to return to China, we are very confident we can just PK and win again." What does PK mean? It's Chinese gaming slang for "player-kill."
It is as simple as game-over for Google should the tech titan return to the Chinese market? Consider that much like Google, BIDU is a behemoth that surpasses more than just a search engine. Especially recently, the company has had eyes on fierce expansion to artificial intelligence.
As far as Li is concerned, the tech universe is China's game to lose: "Chinese tech companies have already taken the lead… The whole world is copying from China."
Yet, what does Wall Street make of this $75.65 billion tech giant? According to TipRanks' Analysts' Top Stocks investor tool, Baidu is a top-recommended stock; Google fears or not. All recent top ranked analysts' ratings on Baidu are a Buy- even though the stock has seen a roughly 20% dip over the last three months.
Let's explore why top analysts remain so upbeat on BIDU:
BIDU Wins a New Bull
Susquehanna's Shyam Patil (Profile & Recommendations) – a five-star analyst on TipRanks – just initiated coverage on Baidu – and the Chinese internet giant's bullish camp just got bigger.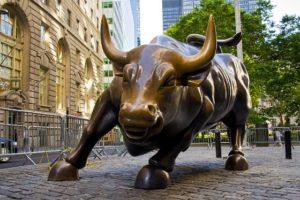 Patil initiates on BIDU with a Positive rating, anticipating shares could spiral up to $325. In other words, the new bull sees a massive 50% upside potential ahead for the "dominant player in the China search market."
Consider the tech giant "a key player in the emerging feeds market, and majority owner of one of the top video assets in the country," continues Patil, who sees "several initiatives underway that can drive upside over the near- to intermediate-term."
The analyst adds, "On top of that, the company's longer-term AI projects (DuerOS and Apollo) represent significant incremental opportunities for which little credit is given today (attractive call options). At the same time, we don't see much downside from current levels."
While the risk factor posed by obvious rival Alphabet is "the elephant in the room," Patil remains unfazed. "We don't see much of a near-term threat."
All this analyst sees is a stock poised as a "20%+ grower with room for estimates and the multiple to move higher."
BIDU's AI Growth- It's Only Just Beginning
Top analyst Fawne Jiang at Benchmark (Profile & Recommendations) stands as one of Wall Street's best-performing analysts: ranked #100 out of over 4,800 analysts we cover on TipRanks. Notably, this analyst bats for the bulls in Baidu's corner- especially as the company turns its wheels to become an "AI-first" corporate giant.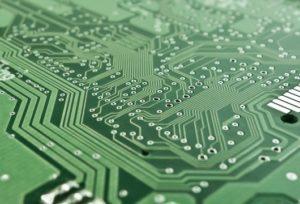 Jiang is becoming more upbeat on the company's artificial intelligence metamorphosis. Baidu dished out its second quarter print at the end of July one with an earnings beat and a strong third quarter revenue guide. The analyst attributes this strength to Baidu's core ad business showcase as well as iQiyi (NASDAQ:IQ).
Worthy of note, Baidu is a leading shareholder of Beijing online video platform iQiyi, owning 93.3% of its voting power. This is a company also on the growth rise, having added close to 17 million paying subscribers just for the year- one of the biggest online video sites in the globe.
Baidu's "transformation to an AI-first company" is one to watch- and Jiang sees BIDU as only in the opening steps of its multi-year AI growth narrative.
As such, the analyst maintains a Buy on the stock with a $300 price target (almost 39% upside potential).
A Well-Oiled 'Twin-Engine' Machine
Top analyst Jason Helfstein at Oppenheimer (Profile & Recommendations) cheers BIDU stock's "undervalued" opportunity. A standout bullish point for Helfstein: the Chinese internet giant's "attractive" valuation.
This marks another top analyst keyed into Baidu's market prospects. Helfstein is ranked top #50 on Wall Street and earns 12.4% in average profits when betting on BIDU stock.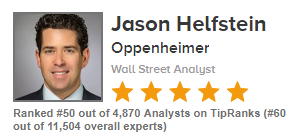 How Bullish is Helfstein on Baidu? The analyst rates BIDU stock an Outperform with a $295 price target. In other words, Helfstein spotlights over 36% upside potential ahead.
"2Q Exceeds on Lower TAC and Content Costs, Google Re-entering China Possibility Low, Valuation Attractive"
Not only was Baidu's last quarterly print robust, it marked the company's "third consecutive quarter" beating out Street-wide expectations. The star of Baidu's second quarter: stellar margins.
Still, Wall Street is apprehensive as Google re-approaches China- and commentary circling higher traffic acquisition costs (TAC) has dragged shares. In reaction, BIDU shares have taken a roughly 11% beating in the market in 2018.
That said, take Helfstein sees the possibility of Google re-entering China as "low." Street fears here simply "make BIDU valuation attractive."
"However, GOOG 'headline' has consistently surfaced almost annually since 2010, and government is supporting Baidu on innovations (smart road for autonomous driving). We believe Google does not have support, especially during the trade war; state-owned media Securities Daily quoted government official comment: 'not true,'" highlights the analyst.
Ultimately, Helfstein dismisses concerns: 1) corporate shake-up with former COO Qi Lu stepping down in July (for personal and family reasons) 2) higher TAC and 3) the GOOGL factor. All these concerns do is give bulls a compelling investment opportunity in BIDU.
"We believe Baidu is executing well on twin-engine (search+feed) strategy and gaining traction on Apollo/DuerOS," contends Helfstein.
Bottom Line: The Bulls Roar
Bigger picture, this Chinese tech giant is a Wall Street darling. TipRanks analytics showcase a 'Strong Buy' stock. All three best-performing analysts polled in the last three months have rated Baidu a Buy- without a bear in sight. Consensus expectations also align with the bullish camp. The 12-month average price target rounds out to a confident $306.67, marking nearly 42% in upside potential on tap.

See BIDU Price Target and Analyst Rating Details
Disclosure: I/we have no positions in any stocks mentioned, and no plans to initiate any positions within the next 72 hours.
I wrote this article myself, and it expresses my own opinions. I am not receiving compensation for it. I have no business relationship with any company whose stock is mentioned in this article.