Any "true believers" in Bitcoin (BTC-USD) and other cryptocurrencies the past few months have seen their faith challenged, as consistently positive institutional and regulatory news has been balanced with steady declines in cryptocurrencies across the board. The total market capitalization of all cryptocurrencies now stands at roughly $204 billion, a level last seen in the first few days of November 2017.
Yet, among cryptocurrencies, it appears that Bitcoin, despite having hovered around the $6,000 range for the past few months, has actually been the safe harbor as other cryptos - including the much-hyped Ethereum (ETH-USD) - have seen far greater declines.
All this leaves one wondering if this is the new, stagnant future for cryptocurrency or whether a rebound may someday soon come. I remain optimistic to a degree on the cryptocurrency sector as a whole and for a few particular cryptocurrencies that I believe have found worthwhile niches.
It seems like the technology and institutional infrastructure is bit-by-bit being built out to be sufficient for longer-term stability as a technology and investment product. In the next year or so, I think well-positioned cryptos will experience a rebound, even if at the moment, it seems they are bottoming out with no one wanting to touch them.
Yet, as they say, it is darkest before the dawn.
Cryptocurrency Looks Like a Mangled Mess Right Now
Cryptocurrencies are all looking quite wounded at the moment. At $6,570, Bitcoin is but 33% of its almost $20,000 levels last December. Non-Bitcoin cryptos have fared even worse, as their total market capitalization stands at just $90.5 billion or roughly 16% of their high of $544 billion in early January 2018.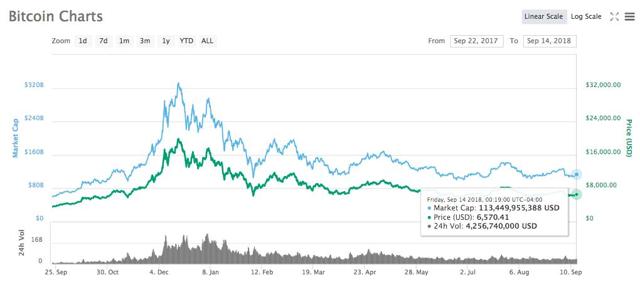 (Source: CoinMarketCap)

(Source: CoinMarketCap)
Amid this, Bitcoin's market share has increased dramatically again in a reversal of its prior decline amid the rise in market shares of other cryptocurrencies. I've previously described how I believe a maturation of the cryptocurrency market would mean a decline in Bitcoin's market share even as its price may increase, and I still believe that to be so.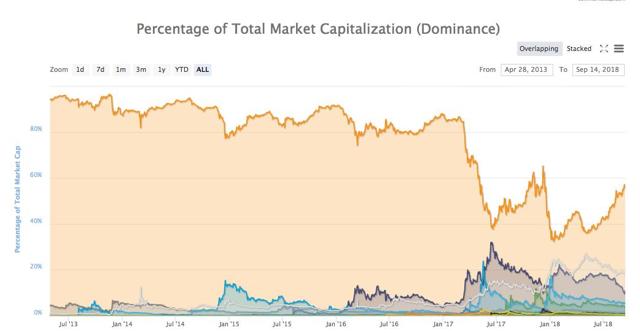 (Source: CoinMarketCap)
The change in that trend means at the moment, it seems the cryptocurrency market, despite a slew of regulatory approvals and institutional infrastructure now being built around it for investing and use, is at a very nebulous and immature stage in terms of how the market views it.
If we look closely at the performance of the still-growing, despite the decline in prices, now almost 2,000 cryptocurrencies out there, we see that the much famed Ethereum has been a particular contributor behind the decline in non-Bitcoin market caps. Hitting a low of just around $174 a few days ago before rebounding, that level was just a mere roughly 12.6% of its high of $1,373 in January.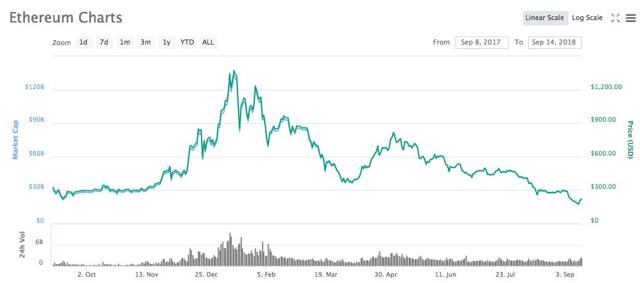 (Source: CoinMarketCap)
The price action in Ethereum is worth noting for both Bitcoin and other cryptos overall because it was, and still is, the crypto many have looked to as a "mature" version of Bitcoin and that would eventually grow rapidly, supplant Bitcoin, and capture much of the "general use" crypto market growth.
I personally still believe Ethereum is designed rightly for such, due to both its technological upgrades compared to Bitcoin in terms of a whole variety of transaction mechanisms and its use as a base kit for the development of increasingly numerous tokens, other cryptocurrencies, apps, and much more.
That a high-quality and high-potential technological product like Ethereum is at such historic low shows that we really may be at a crypto-bottom, as all the breath has been pulled out of the asset class.
Indeed some are saying this might be the point of overselling, as there are no fundamental risks to the entire crypto industry, such as widespread regulatory bans that justify such low prices and market capitalization levels for products that could well capture much of the transaction flow, as I've discussed with my subscribers at Tech Investment Insights in how to value a cryptocurrency, for a variety of industries.
Conclusion
It is dangerous to call a bottom and many have done so with both cryptocurrency and other companies or sectors, or the market as a whole, only to be rapidly burned soon enough. However, amid my coverage of cryptocurrencies, I have purposely never called a bottom even amid the turbulence of this past year because I believed the deflation may have reason to continue.
However, now I am leaning more on the side of many legitimate cryptocurrencies possibly having reached their price bottom, as it seems everyone, or at least the "market money," has left the asset class even while the asset class is experiencing very positive signs for its long-term stability, infrastructure, technology, and growth.
A year from now I think cryptos will be mildly to significantly higher than their current levels. I would be very, very surprised, based on current circumstances and trends, if the reverse were true.