Key Points
We see a repeat of the global financial crisis as unlikely, yet new risks and some old ones deserve investors' attention.
The prospect of fresh China-U.S. trade talks eased nerves in markets. Turkey's central bank raised rates, triggering a rally in the lira.
This week's European Purchasing Managers' Index data are in focus as markets look for signs of stabilization in the region's economy.
The global economy appears to be humming along 10 years after the collapse of Lehman Brothers, a pivotal moment in the global financial crisis (GFC). Are we better prepared for a crisis today? We see the odds of a repeat of a similar crisis as low, as many problems exposed then have been addressed. Yet, we believe new risks and some old ones deserve investors' attention.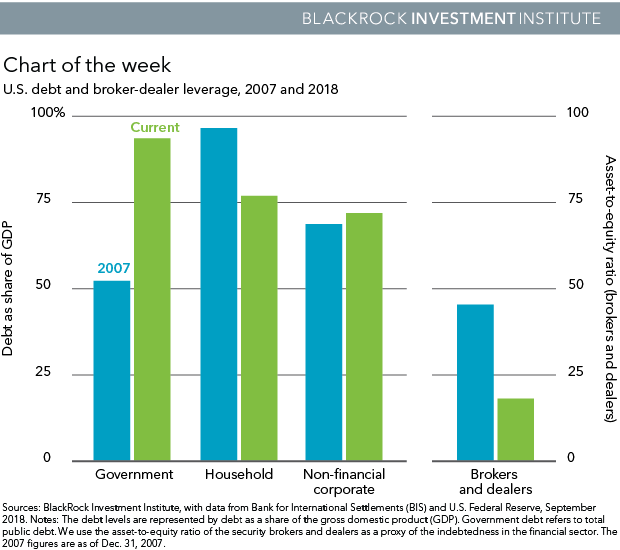 We illustrate the dynamic by showing leverage in different parts of the U.S. economy in the chart above. Debt levels in the household and financial sectors have both declined from pre-crisis peaks. Recall that high leverage in those two sectors was at the center of the global crisis. But new risks have emerged. Sovereign debt is on the rise. Government debt has jumped to nearly 94% of U.S. GDP from 52% in 2007 - and is headed higher. Rising sovereign and non-financial corporate leverage is a global phenomenon. Debt levels of non-financial corporates have risen above the pre-crisis levels after a period of decline. And smaller financial sector balance sheets have reduced liquidity in credit markets. The silver lining: Lower interest rates make the cost of servicing this debt much cheaper than a decade ago, and maturities have been lengthened, providing resilience to rising rates.
Proceeding with caution
We have come a long way since 2008. Banks have larger liquidity buffers, are better capitalized and are under greater supervisory scrutiny, though European banks have made less progress than their U.S. peers. The global financial system in general is on a firmer footing thanks to post-crisis regulation that has bolstered the ability of financial institutions to absorb shocks. The lack of extremes in markets, such as very high valuations and very low risk premia, is even more encouraging. We do not see excessive investor crowding in risky assets. The last financial crisis amplified an aversion to taking risk, resulting in higher precautionary savings.
The caveats to this rosier picture? The Federal Reserve and European Union (EU) authorities now face legal limits in their ability to rescue troubled banks. Monetary policy has less room to maneuver with global interest rates still at historically low levels and some major central banks yet to start winding down their post-crisis asset purchase programs. Sovereign debt loads have ballooned, curtailing the scope for fiscal stimulus. There has been greater concentration of assets in the largest banks, and those with cross-border operations would be no easier to resolve in a doomsday scenario. Central counterparty clearing houses have helped boost transparency in derivatives trades - the lack thereof was blamed as a trigger of the last crisis - yet their ability to weather a crisis is untested. Reduced market liquidity creates the risk of spillovers if investors are forced to sell the more liquid parts of portfolios. High corporate sector debt and opaque lending in China are potential sources of financial vulnerability. And the concerted global efforts required to contain the last crisis may be harder to come by for the next one amid a global wave of populist and nationalist sentiment.
Bottom line: The vulnerabilities that plagued the global financial system a decade ago have been reduced - but have not disappeared. Coupled with rising macro uncertainty, we believe this warrants a heightened focus on portfolio resilience. Yet, overall we retain a pro-risk bias - and believe investors are being compensated for the equity risk they take in today's environment of steady growth and strong corporate earnings.
Week in review
Global equities edged up as China and the U.S. were poised to resume trade talks. Benchmark Brent crude oil prices hit the highest since late May after a larger-than-expected drop in U.S. crude inventories and further supply reductions from Iran and Venezuela. Italian stocks rose as fears over a clash with the EU on its budget submission eased.
Turkey's central bank raised interest rates more than anticipated, driving a sharp rally in the Turkish lira. Russia raised rates unexpectedly. The European Central Bank and Bank of England kept policy unchanged as expected.
August activity data in China, including robust retail sales growth, indicated resilience in the economy. U.S. retail sales rose modestly in August. Consumer prices rose less than expected, but inflation is expected to stay firm and pave the way for the Fed to raise rates later this month.
Week ahead
| Date: | Event |
| --- | --- |
| Sept. 18-20 | Inter-Korean summit |
| Sept. 19 | U.S. current account; Bank of Japan monetary policy meeting concludes |
| Sept. 21 | Japan Nikkei Flash Manufacturing Purchasing Managers' Index (PMI), Consumer Price Index (CPI); eurozone, Germany, U.S. composite PMI |
Markets are likely to focus on European PMI data, seeking signs of a stabilization in economic activity after a marked deceleration in the first half of the year. The BlackRock Growth GPS points to room for consensus expectations on 12-month forward eurozone GDP growth to adjust lower. This contrasts with the U.S., where our GPS points to potential for upward revisions in growth estimates. An informal meeting between European Union leaders and UK Prime Minister Theresa May could provide clues on the progress toward a Brexit deal.
Global snapshot
Weekly and 12-month performance of selected assets
| Equities | Week | YTD | 12 Months | Div. Yield |
| --- | --- | --- | --- | --- |
| U.S. Large Caps | 1.2% | 8.7% | 16.4% | 1.9% |
| U.S. Small Caps | 0.5% | 13.1% | 22.4% | 1.2% |
| Non-U.S. World | 1.4% | -5.0% | 0.1% | 3.3% |
| Non-U.S. Developed | 1.8% | -3.4% | 1.7% | 3.4% |
| Japan | 1.9% | -2.6% | 7.1% | 2.3% |
| Emerging | 0.6% | -9.5% | -4.3% | 2.9% |
| Asia ex-Japan | 0.8% | -7.3% | -1.0% | 2.7% |
| Bonds | Week | YTD | 12 Months | Yield |
| --- | --- | --- | --- | --- |
| U.S. Treasuries | -0.2% | -1.5% | -2.0% | 3.0% |
| U.S. TIPS | -0.3% | -0.7% | -0.2% | 3.1% |
| U.S. Investment Grade | 0.1% | -2.4% | -1.1% | 4.1% |
| U.S. High Yield | 0.5% | 2.3% | 3.3% | 6.2% |
| U.S. Municipals | -0.2% | -0.2% | 0.0% | 2.8% |
| Non-U.S. Developed | 0.1% | -2.3% | -1.8% | 1.0% |
| Emerging Market $ Bonds | 0.6% | -4.2% | -3.5% | 6.6% |
| Commodities | Week | YTD | 12 Months | Level |
| --- | --- | --- | --- | --- |
| Brent Crude Oil | 1.6% | 16.8% | 40.8% | $78.09 |
| Gold | -0.2% | -8.3% | -10.1% | $1,195 |
| Copper | 0.7% | -17.6% | -8.1% | $5,973 |
| Currencies | Week | YTD | 12 Months | Level |
| --- | --- | --- | --- | --- |
| Euro/USD | 0.6% | -3.2% | -2.5% | 1.16 |
| USD/Yen | 1.0% | -0.6% | 1.7% | 112.06 |
| Pound/USD | 1.1% | -3.3% | -2.5% | 1.31 |
Source: Bloomberg. As of September 14, 2018
Notes: Weekly data through Friday. Equity and bond performance are measured in total index returns in U.S. dollars. U.S. large caps are represented by the S&P 500 Index; U.S. small caps are represented by the Russell 2000 Index; Non-U.S. world equity by the MSCI ACWI ex U.S.; non-U.S. developed equity by the MSCI EAFE Index; Japan, Emerging and Asia ex-Japan by their respective MSCI Indexes; U.S. Treasuries by the Bloomberg Barclays U.S. Treasury Index; U.S. TIPS by the U.S. Treasury Inflation Notes Total Return Index; U.S. investment grade by the Bloomberg Barclays U.S. Corporate Index; U.S. high yield by the Bloomberg Barclays U.S. Corporate High Yield 2% Issuer Capped Index; U.S. municipals by the Bloomberg Barclays Municipal Bond Index; non-U.S. developed bonds by the Bloomberg Barclays Global Aggregate ex USD; and emerging market $ bonds by the JP Morgan EMBI Global Diversified Index. Brent crude oil prices are in U.S. dollars per barrel, gold prices are in U.S. dollar per troy ounce and copper prices are in U.S. dollar per metric ton. The Euro/USD level is represented by U.S. dollar per euro, USD/JPY by yen per U.S. dollar and Pound/USD by U.S. dollar per pound. Index performance is shown for illustrative purposes only. It is not possible to invest directly in an index. Past performance is not indicative of future results.
Asset class views
Views from a U.S. dollar perspective over a three-month horizon
Asset Class
View
Comments
Equities
U.S.
Unmatched earnings momentum, corporate tax cuts and fiscal stimulus underpin our positive view. We like momentum. We prefer quality over value amid steady global growth but rising uncertainty around the outlook. Financials and technology are our favored sectors.
Europe
Relatively muted earnings growth, weak economic momentum and heightened political risks are challenges. Its value bias makes it less attractive absent a growth story. We prefer higher-quality, globally-oriented names.
Japan
The market's value orientation is a challenge without a clear growth catalyst. Yen appreciation is another risk. Positives include shareholder-friendly corporate behavior, solid company earnings and support from Bank of Japan stock buying.
EM
Attractive valuations, along with a backdrop of economic reforms and robust earnings growth, support the case for EM stocks. We view financial contagion risks as low. Uncertainty around trade is likely to persist, though a lot of it has been priced in. We see the greatest opportunities in EM Asia on the back of strong fundamentals.
Asia ex Japan
The economic and earnings backdrop is encouraging, with near-term resilience in China despite slower credit growth. We like selected Southeast Asian markets, but recognize a worse-than-expected Chinese slowdown or disruptions in global trade would pose risks to the entire region.
Fixed Income
U.S. government bonds
We see rates rising moderately amid economic expansion and Fed normalization. Longer maturities are vulnerable to yield curve steepening but should offer portfolio ballast amid any growth scares. We favor shorter-duration and inflation-linked debt as buffers against rising rates and inflation. We prefer 15-year mortgages over their 30-year counterparts and versus short-term corporates.
U.S. municipals
Solid retail investor demand and muted supply are supportive, but rising rates could weigh on absolute performance. We prefer a neutral duration stance and up-in-quality bias in the near term. We favor a barbell approach focused on two- and 20-year maturities.
U.S. credit
Sustained growth supports credit, but high valuations limit upside. We favor investment grade (IG) credit as ballast to equity risk. Higher-quality floating rate debt and shorter maturities look well-positioned for rising rates.
European sovereigns
The ECB's negative interest rate policy has made yields unattractive and vulnerable to the improving growth outlook. We expect core eurozone yields to rise. Valuations in the periphery appear tight. The exception is Italy, where spreads are reflecting simmering political risks. The upcoming end to the ECB's net asset purchases could dampen appetite for the asset class.
European credit
Increased issuance and political risks have widened spreads and created some value. Negative rates have crimped yields - but rate differentials make currency-hedged positions attractive for U.S.-dollar investors. We are cautious on subordinated financial debt despite cheaper valuations.
EM debt
We prefer hard-currency over local-currency debt and developed market corporate bonds. Slowing supply and broadly strong EM fundamentals add to the relative appeal of hard-currency EM debt. Trade conflicts and a tightening of global financial conditions call for a selective approach.
Asia fixed income
Stable fundamentals, cheapening valuations and slowing issuance are supportive. China's representation in the region's bond universe is rising. Higher-quality growth and a focus on financial sector reform are long-term positives, but a sharp China growth slowdown would be a challenge.
Other
Commodities and currencies
*
A healthy inventory balance underpins oil prices. Trade tensions add downside risk to industrial metal prices. We are neutral on the U.S. dollar. Rising global uncertainty and a widening U.S. yield differential with other economies provide support, but an elevated valuation may constrain further gains.

* Given the breadth of this category, we do not offer a consolidated view.
This post originally appeared on the BlackRock Blog.