"When companies with outstanding businesses and comfortable financial positions find their shares selling far below intrinsic value in the marketplace, no alternative action can benefit shareholders as surely as repurchases."
--Warren Buffett, 1984 Berkshire Hathaway Annual Report
"Pay attention to the cannibals."
-- Charlie Munger
Introduction
Stock buybacks are set to reach an unprecedented $1 trillion this year, and it seems most of the financial media completely misunderstands stock buyback programs and the motivations behind them. Buyback programs are often given the derisive label of "financial engineering," and described as a poor management practice on CNBC. While it is true that buying back stock at an expensive valuation is one of the worst things management can do, there is almost nothing more beneficial to the individual shareholder than a stock buyback executed when the company's stock is selling at a discount to intrinsic value. This shrewd practice of capital allocation was labeled "cannibalism," by Berkshire Hathaway's Charlie Munger, and the average investor can profit from investing in a company that is buying back stock at a discount to intrinsic value.
The Buyback Pioneer: Henry Singleton, CEO of Teledyne
"Henry Singleton has the best operating and capital deployment record in American business. If one took the top 100 business school graduates and made a composite of their triumphs, their record would not be as good as Singleton's."
--Warren Buffett, 1980 Berkshire Hathaway letter to shareholders
Although his track record as CEO is arguably one of the most impressive in business history, Henry Singleton is still a relative unknown to most investors. His record is comparable to Warren Buffett and John Malone, and he should be on anyone's Mount Rushmore of CEOs. As described in William Thorndike's excellent book The Outsiders: Eight Unconventional CEOS and Their Radically Rational Blueprint for Success, Singleton produced an annual return of 20.4% to investors during his 30 years as CEO of Teledyne. Every dollar invested in Teledyne when Singleton began his tenure as CEO would have been worth $180 dollars when he retired in 1990. The same dollar invested in the S&P 500 over the same amount of time would have only grown to $15. In other words, Singleton outperformed the S&P 500 index by an incredible twelve times.
The skill that set Singleton aside from most CEOs was his shrewd approach to capital allocation, a skill that many CEOs lack. One of the main ways Singleton allocated capital was to repurchase stock when it was undervalued. In October of 1972, when Teledyne announced its first tender offer for 1 million shares, 8.9 million shares came in, and Singleton bought them all, thinking this was a one-time fluke and it wouldn't happen again. Singleton continued to purchase stock during his tenure as CEO, and at a time when buybacks were uncommon and loathed by Wall Street, he eventually repurchased 90 percent of Teledyne's stock. Singleton was an especially shrewd buyer of his company's stock, generating an annual compound return of 42 percent across all tender offers during his tenure as CEO. The table below outlines the impact of Singleton's stock repurchases, which were executed when Teledyne was selling at a low P/E ratio while still growing revenues and net income.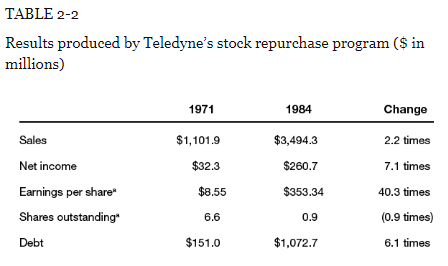 Source: The Outsiders: Eight Unconventional CEOS and Their Radically Rational Blueprint for Success by William Thorndike
The Theory and Practice of Buybacks
"Executives should follow the golden rule of share buybacks: A company should repurchase its shares only when its stock is trading below its expected value and when no better investment opportunities are available."
--Michael Mauboussin; "Assessing Buybacks from All Angles"
"In Theory there is no difference between theory and practice. In practice, there is."
--Yogi Berra
One of the best studies on the practice of share buybacks was done by Patrick O'Shaughnessy at the Investor's Field Guide, which you can read here. In the study, he emphasizes the importance of looking at a company's net buyback yield, or buybacks net of stock issuances during the same period. His examination of buyback programs from 1987 to 2014 showed that a properly executed buyback program delivered outsized returns to shareholders. Buybacks were examined in three different ways:
Net share buyback yield vs gross buyback yield. Net buyback yield takes share issuance into account, while gross buyback yield doesn't.
Buyback yield done with valuation in mind, focusing on earnings to price, sales to earnings, and "similar measures."
Buybacks done with earnings management in mind, focusing on earnings quality (year over year change in accruals.)
The first study took all U.S. stocks and divided them into deciles (10% buckets) based on the two measures of buybacks and shows excess returns earned by each decile vs. the market from 1987-2014. As you'll see below, the decile of stocks with the highest repurchases outperformed the market by 3.87% in the following year, while those with the lowest underperformed the market by 7.42%, a gap of 11.29% per year. By focusing on the worst decile of this study, you can see that the net version is far more useful. The wider spread indicates this is a much stronger factor, and provides a much stronger signal. Historically, companies that issue large amounts of stock have underperformed the market by a wide margin.

Source: Investor's Field Guide, Patrick O'Shaughnessy
The next part of the study was done to see if value was a crucial component to a company's buyback strategy. The table below compares stocks that are expensive and issuing shares with stocks that are cheap and repurchasing shares: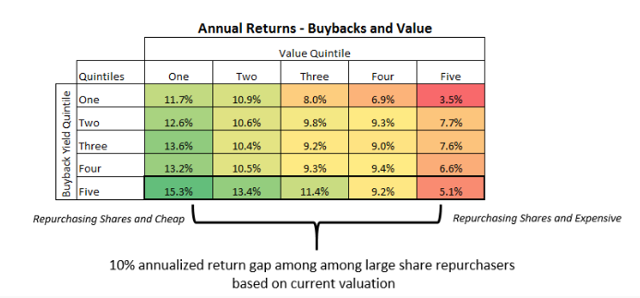 Source: Investor's Field Guide, Patrick O'Shaughnessy
As shown in the above table, there is a 10% difference between the top share repurchasers that are cheap (15.3%), and the top share repurchasers that are expensive (5.1%).
The final study focused on earnings quality instead of value and showed similar results. Strong buybacks and strong earnings quality produced a superior result (14.5%) to strong buybacks and poor earnings quality (9.0%).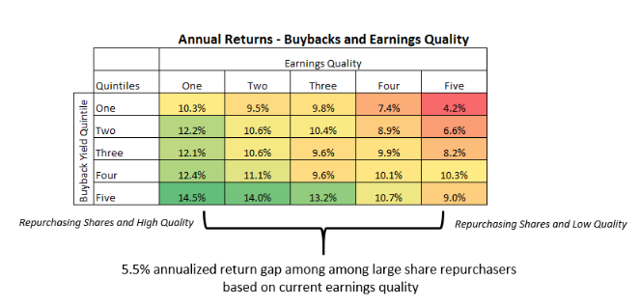 Source: Investor's Field Guide, Patrick O'Shaughnessy
One important thing investors need to be wary of is that the average CEO tends to pursue buybacks at market peaks when their stock is expensive, rather than at market troughs when stock is cheap. Debt-financed corporate buybacks have peaked at market highs of 1999-2000, 2007, and the present bull market. As such, it is very important to maintain a keen eye for valuation when investing in company that is buying back stock.
The Uber Cannibals
Mohnish Pabrai, a Buffett disciple and incredibly successful hedge fund manager, wrote an article for Forbes Magazine in 2016 outlining his "Uber Cannibal" strategy. He created a five stock portfolio based on the following factors, and examined its performance from 1992-2016:
Minimum market cap of $100 million.
Price/sales ratio less than 2.5.
The share buyback percentage over the dividend yield for the last one year is required to be greater than 2.
No insurance companies.
Must have a minimum of 5% increase in trailing twelve month revenue over the previous year and 20% over the last five years.
The company must have reduced its share count by 3% in the previous year.
The Uber cannibal portfolio returned 15.5% annually vs. and S&P return of 9.2% over the same period, an excess return of 6.3% annualized. $100,000 invested in the Ubers in 1992 and rebalanced every year would have delivered $3.6 million, while the same $100,000 invested in the S&P 500 would have yielded $904,314.
One word of warning, this is not a strategy for those that can't handle some bumps along the way. The Ubers underperformed the S&P 500 in about half the quarters studied, and in 10 out of the 25 years studied. It's important to remember the wisdom of Warren Buffett here, "Charlie and I would rather earn a lumpy 15 percent over time than a smooth 12 percent."
The good news for the average investor is that Pabrai is updating this strategy in real time going forward on his blog. He posts the five stocks once a year, and anyone can follow along for free. The first year was a success, as the portfolio posted in 2017 generated a return of 30.6% from 1/3/17 to 3/29/2018, while the S&P 500 generated a 20.9% return over the same period. You can find the updated list for 2018-2019 here.
The Uber Cannibal Case Studies – AutoZone and NVR
Two companies who routinely made the Uber cannibals portfolio were AutoZone and NVR. The Fortune article outlines some interesting statistics about these companies over the past 20 years.
In the past 20 years AutoZone has repurchased approximately 80% of its shares in the past 20 years. This helped the company increase its basic earnings per share from $1.10 in 1996 to $40 in 2016, a gain of 36x, while net income only increased 7.5x. AutoZone's buybacks have been incredibly rewarding for shareholders, increasing the company's stock price from $25.5 in January of 1996 to around $700 per share in 2018. While some critics may call this strategy "financial engineering," it is actually an incredibly thoughtful and effective means to return capital to owners when done properly.
NVR management has followed a path very similar to AutoZone. Over the same 20 year period, NVR repurchased 75% of the company's stock, and increased earnings per share from $1.13 at the end of 1995 to $98.15 in 2016, a nearly 100x growth in earnings per share over the 21 year period. This has led the company's stock to increase from a share price of $10.32 in 1996 to a price of $2,645 per share in 2018.
Assessing Buybacks from All Angles: Michael Mauboussin
One of my favorite articles on buybacks is Assessing Buybacks from All Angles, written by Michael Mauboussin. You can find a copy of the full article here. If you haven't already, I highly recommend reading all of his books/articles, and following him on twitter, you won't be disappointed.
In the article, Mauboussin examines buyback from four distinct points of view: management, shareholders, prospective shareholders, and the media. Below, I've highlighted some of the most important lessons for investors from his article:
The purpose of a company is to maximize long-term value…There are cases where buying back shares provides more value to continuing shareholders than investing in the business does. Astute capital allocators understand this.
There is research that shows that corporate events that contract assets, including spinoffs, buybacks, debt repayments, and dividend initiations, are followed by good shareholder returns.
In theory, dividends and buybacks are equivalent assuming no taxes, identical timing of cash receipts, and an efficient market. In practice, they are very different. This is because a shareholder can choose to defer tax payments by not selling shares today— think of this as refusing a "dividend" today in exchange for a potentially larger dividend down the road. Paying a tax bill in the future is better than having to pay one today.
Shareholders who want a dividend today can create one by selling a pro-rated amount of stock each year for the same effect.
Executives should always seek to allocate capital to the highest returns. Buybacks can:

Be more attractive than investing in the business. Executives don't want to hear this because they think their primary role is to grow the business. But the objective of growth can sometimes come into conflict with maximizing shareholder returns.
Be more attractive than M&A. Most M&A is value neutral, earning something close to the cost of capital for buyers

Executives should follow the golden rule of share buybacks: A company should repurchase its shares only when its stock is trading below its expected value and when no better investment opportunities are available.
If you believe a stock you own is undervalued you should always favor buybacks because they add value to existing shareholders at the expense of selling shareholders.
If the company of the stock you own is buying back shares, recognize that doing nothing is doing something – increasing your proportional ownership in the company.
Most members of the media have little or no training in finance. The problem arises when members of the media comment on how attractive or unattractive a buyback program is based on faulty facts or thinking. Unfortunately there is a good deal of this exposition.
Buybacks should not be derisively called financial engineering. If done properly they are an effective means of returning capital to investors. Some executives pursue buybacks for the wrong reasons, but evidence shows such moves have little to no lasting effect.
Case Study: Apple Gets Pressured by Activist Investors
"Typically our most egregious mistakes fall in the omission, rather than the commission, category." --Warren Buffett
In early 2013 two prominent activist investors felt that Apple was an undervalued, overcapitalized corporation and they decided to take action. In his excellent book, Deep Value: Why Activist Investors and Other Contrarians Battle for Control of Losing Corporations, Tobias Carlisle spends some time examining how Carl Icahn and David Einhorn put pressure on Apple, and the outsized returns that soon followed.
In 2013 Carl Icahn penned an open letter to Tim Cook, CEO of Apple and proposed that Apple should undertake a $150 million buyback. Icahn believed that if Apple proposed a tender offer of $525 per share (financed with $150 billion in debt at 3%), the result would be an immediate 33 percent boost to EPS, and a comparable increase of 33 percent in the company's share price. Icahn believed that this buyback would help the company's share price appreciate over the next three years from $525 to $1,250.
Around the same time, David Einhorn spoke at the Ira Sohn conference and also advocated for an Apple buyback. He noted that Apple had $137 billion in cash on its balance sheet and this revealed a basic flaw in Apple's capital allocation. The problem with holding so much cash was the opportunity cost. It only earned a small rate of interest, which meant it was earning less than inflation. He argued that the cash represented an opportunity cost of $13.7 billion per year, or $14 in earnings per share. Both Einhorn and Icahn believed Apple was committing a serious sin of commission by failing to execute a dramatic repurchase program.
Apple responded in April of 2014, announcing it would return $130 billion in capital through an increased buyback and dividend. Subsequent to the announcement there was a dramatic increase in Apple's share price, and the stock traded as high as $119.8 after a low of $70.5 (split-adjusted) in 2014.
Conclusion
I believe the lesson for investors is clear: it pays to invest in companies that buy back their stock at a discount to intrinsic value. In today's economy one needs to be very careful as executives tend to buy back overvalued stock at market peaks, but there are still significant opportunities for value if one looks carefully. A simple way to capitalize on this strategy is to follow the Uber Cannibals portfolio listed on Mohnish Pabrai's blog. Let me know in the comments below if you have a favorite stock that is making an efficient use of buybacks or has in the past.
Disclosure: I am/we are long BRK.B. I wrote this article myself, and it expresses my own opinions. I am not receiving compensation for it (other than from Seeking Alpha). I have no business relationship with any company whose stock is mentioned in this article.