Introduction
Dividend growth investors like myself tend to set specific goals for their portfolio. My goals are to have a stable dividend stream flowing into my account, and to achieve a high rate of dividend growth. When the dividends are safe, and they grow at a rate higher than the inflation I will be content. I don't focus on total return, as it means less towards my goals. If the dividend payments are stable and growing, the value of my portfolio is not my main concern.
However, total return is still an important metric that shouldn't be ignored by dividend growth investors. It may be a symptom that something is wrong, and your portfolio can do better to serve your goals. For example, dividend cuts will result in lower share prices that will lead to lower total returns. It may be a sign that your portfolio is not built upon stable dividend payers, and you may need to make some amendments.
Year to date I achieved a total return which is lower than the total return of the S&P 500. Firstly, I am going to analyze my portfolio, and try to understand the reasons behind it. The reasons may have to do with monetary and fiscal changes, or in weaknesses in several key factors.
Afterwards, I will consider possible ways to deal with it, without harming my main goals. I will try to understand whether there is a flaw in my strategy, or this is just a minor issue, since you cannot always beat the market. Personally, I believe that my portfolio is great for my goals, but being a cautious investor is important.
Reasons for the portfolio to lag
In 2018 many consumer staples lagged the stock market. 20% of my portfolio is invested in stocks from this sector, and when 20% of your portfolio lags, it is very hard to beat the market. Because of this setback right now my portfolio has less than 20% invested in the sector. A quick look at Consumer Staples Select Sector SPDR ETF (XLP) will show that YTD the return has been negative.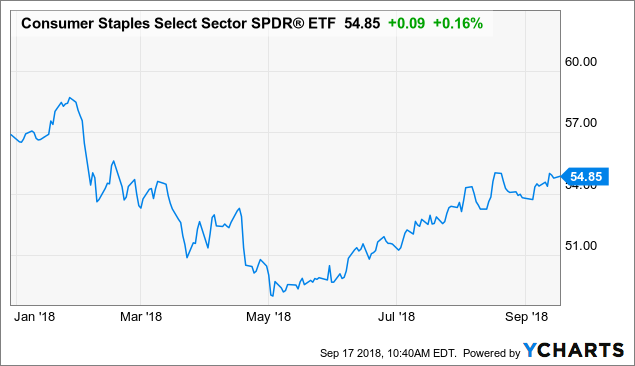 Two subsectors that underperformed were the packaged foods and the tobacco spaces. While the first one suffers from lack of growth as consumers look for healthier options, the second one suffers from tight regulation. These two sectors are prominent in most dividend growth portfolios, and therefore many portfolios may lag the market. I believe that companies like Altria (MO) and Kellogg's (K) are dealing well with the challenges, and the setbacks will be resolved in the long term.
The telecommunication sector is lagging as well. AT&T (T) is down year to date, and Verizon (VZ) is flat. They are also very popular among dividend growth investors. Both are working right now on deleveraging their balance sheet, so the dividend growth is slow, and investors are looking at other investment options. Again, once these two pay down some of their debt, I believe investors will appreciate them more. As a long-term investor, I am willing to wait and collect the dividend in the meantime.
The Nasdaq is breaking record after record, and the information technology sector enjoys their stock prices appreciating to all time highs. Many companies in the sector are not paying dividends, and therefore dividend growth investors allocate less funds to the sector. This is the reason why the portfolios are not taking advantage of the fast growth in the sector.
Dividend growth investing is considered a relatively conservative approach to equity investing. Many investors look at dividend payment as a fixed income substitute, and now that the interest rate is on the rise, conservative investors prefer to invest in fixed income again, as it is safer than investing in blue chip companies which pay dividends.
The true meaning for dividend growth investors
Now that I know the reasons for my portfolio lag, I need to achieve some insights that will allow me to find my best course of action. Firstly, as a long-term investor, I should ignore the changes in the market and the business environment. Analyzing my portfolio while looking at the interest rate environment, and the different growth and valuation of different sectors is important.
At the same time, I should not be overly concerned with short-term weaknesses and short-term problems. I for sure should follow them to make sure that they don't turn into long-term problems that may damage my portfolio's durability. When you lag in total return, but still maintain your goals it's bearable, but still means you could do better.
The goal should be to achieve market returns while executing your plan, while the total return is less important, I don't think that an investor will be able to achieve his long-term results by constantly lagging the market. Dividend growth will usually result in stock price appreciation, and therefore lower total return should be noticed.
What should I do
The first thing I am going to do is to keep adding funds to the information technology sector. I am willing to wait for a pullback to start positions in companies like Texas Instruments (TXN) and Microsoft (MSFT). Both are very reliable dividend payers which showed impressive growth in the past several years. They have both been on my watchlist for several months, since I can't find an attractive valuation to initiate my position.
I will keep buying consumer staples companies. The pullback in the sector left many companies with attractive valuation and higher than average initial yield. I will not be scared of the share price declines, and I will take advantage of what I see as short-term weakness in order to buy some great long term assets.
I also took another look at my sector allocation. I decided that for the time being I am not going to change is as it achieved my goals. Making such a significant change to my portfolio based on the total return in the past nine months doesn't make much sense to me. I will consider it if I see that I keep lagging the stock market for two years or more. Even If I do change it in the future, I believe that the shifts will not be significant, it will be fine tuning.
The higher interest rate will make me more cautious when I am analyzing stocks. From now on, I will request lower valuation, as the higher interest rate makes fixed income more attractive. If in the past I considered P/E lower than 20 as my threshold, I will now lower it in order to address the new monetary environment.
Conclusion
Beating the market is not the main goal, and even if it was my main goal, it cannot be done every year. I don't expect my portfolio to beat the market every year, but I do expect it to be competitive while still achieving my main goals of durable dividend income that grows at a pace higher than inflation.
Lagging the market may be a sign that you should look at the broader market, and make sure that your portfolio suits the current market environment. It may also only be a sign for you to analyze your portfolio and try to understand whether your current plan is the best plan to achieve your financial goals. The key here is to look at your personal goals; your stock portfolio is only a means to an end.
I did it, and I found out that I still have full confidence in my portfolio. It is still suitable for the current business environment, and it does work well to achieve my goals. I had no dividend cuts, and the dividend growth was higher than average. However, I am going to fit my strategy to the environment, and require lower valuations going forward.
Disclosure: I am/we are long T, VZ, MO, KHC. I wrote this article myself, and it expresses my own opinions. I am not receiving compensation for it (other than from Seeking Alpha). I have no business relationship with any company whose stock is mentioned in this article.