The narrowing US yield curve may not be a sign of an imminent recession after all.
The media has been breathlessly covering the narrowing US yield curve1 as a "flashing red" signal of an imminent recession and a reason to reduce equity exposure. I think both notions are off base.
First of all, the US continues to see robust economic activity, constructive fiscal policies, and solid corporate profits, all of which support an overweight to US stocks, in my opinion. Yes, the conventional long-term yield spread between 10-year and two-year Treasuries has narrowed to around 0.3% from a high of 1.25% in January 2017.2 And yes, an inverted yield curve has historically preceded recessions by about a year. But another metric may be a better, more reliable near-term indicator.
Recent research from two US Federal Reserve (Fed) economists shows that a different measure of the yield curve, which they call the "near-term forward spread," is an empirically and intuitively better recession signal, and it does not currently suggest a pullback in the next 12 months.3 In fact, their work indicates that the probability of recession is 15%–20% in the next year, roughly the average probability of the last 45 years.
Why is the yield curve used as a recession signal?
An inverted yield curve implies that investors expect the Fed to cut interest rates in a response to weaker economic conditions. As a result, the curve is seen as a forecasting tool because it accounts for market expectations before recession actually takes place. A common misperception is that an inverted yield curve causes recessions. This is not the case; the yield curve simply reflects market expectations of future economic conditions.
Why is the near-term forward spread a potentially better indicator?
The near-term forward spread reflects what investors think the federal funds rate will be in 1.5 years. Mathematically, it is the spread between the current three-month Treasury bill yield (which is close to the federal funds rate) and the expected three-month Treasury bill yield 18 months from now, which is reflected in the futures market. If the spread inverts, it means investors think that the Fed will ease in response to weaker economic conditions, suggesting - in some cases - recession. A close proxy for this metric is the spread between three-month and two-year yields.
The near-term forward spread is likely a more accurate predictor of recession than the long-term spread, which is influenced by many factors. For example, after the global financial crisis, the Fed purchased approximately $3.5 trillion of long-term government bonds. Academic studies estimate that these purchases suppressed 10-year yields by approximately 1%. Structural factors like the aging US population and low inflation expectations may have also helped suppress longer-term yields.
Today, as FIGURE 1 shows, although the long-term yield spread has narrowed markedly since the end of the last recession, the current near-term forward spread remains at about its average historical level of 0.7%, meaning that the market is no more worried than usual about the potential for a rate cut. One caveat: If trade restrictions escalate, I would expect the risk of recession to rise and, for the near-term forward spread, to flatten significantly as a result.
FIGURE 1: THE NEAR-TERM FORWARD SPREAD DOES NOT APPEAR TO SIGNAL RECESSION
Long-term yield spread and near-term forward spread (%)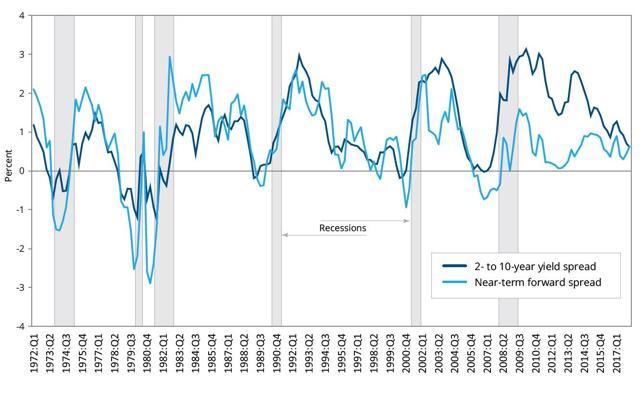 Source: Federal Reserve Bank of New York (Federal Reserve Board staff estimates); As of 3/31/18
Past performance is not a guarantee of future results.
Investment Implications
Given the low probability of a recession in the next 18 months, I believe that investors should retain a moderately pro-risk posture, favoring equities over bonds.
If the near-term forward spread flattens or inverts due to trade tensions or other factors, a more defensive asset allocation stance would likely be warranted.
By Nanette Abuhoff Jacobson

Managing Director and Multi-Asset Strategist at Wellington Management Company LLP and Global Investment Strategist for Hartford Funds.
---
1 A yield curve is a line that plots the interest rates, at a setpoint in time, of bonds having equal credit quality but differing maturity dates.3 Engstrom, Eric and Steve
2 A yield spread is the difference between yields on differing debt instruments of varying maturities, credit ratings and risk, calculated by deducting the yield of one instrument from another.
3 Engstrom, Eric and Steve Sharpe; "(Don't Fear) the Yield Curve," FEDS Notes. Washington: Board of Governors of the Federal Reserve System, June 28, 2018.
Important Risks: Investing involves risk, including the possible loss of principal. ● Fixed income security risks include credit, liquidity, call, duration, and interest-rate risk. As interest rates rise, bond prices generally fall. U.S. Treasury securities are backed by the full faith and credit of the U.S. government as to the timely payment of principal and interest.
The views expressed here are those of Nanette Abuhoff Jacobson. They should not be construed as investment advice. They are based on available information and are subject to change without notice. Portfolio positioning is at the discretion of the individual portfolio management teams; individual portfolio management teams and different fund sub-advisers may hold different views and may make different investment decisions for different clients or portfolios. This material and/or its contents are current as of the time of writing and may not be reproduced or distributed in whole or in part, for any purpose, without the express written consent of Wellington Management or Hartford Funds.
208044 MFGS_081518
Disclosure: I/we have no positions in any stocks mentioned, and no plans to initiate any positions within the next 72 hours. I wrote this article myself, and it expresses my own opinions. I am not receiving compensation for it. I have no business relationship with any company whose stock is mentioned in this article.