Solaris Oilfield Infrastructure: An Overview
Solaris Oilfield Infrastructure (NYSE:SOI) provides supply chain management and logistics solutions to the energy industry, including mobile and permanent infrastructure that increases proppant throughput capacity. In 2018 so far, SOI's stock price has decreased by 20% and underperformed the VanEck Vectors Oil Services ETF (OIH), which declined by 9% during this period.
OIH represents the oilfield equipment & services (or OFS) industry. Despite achieving robust revenue growth based on the U.S. crude oil production rise and hydraulic fracturing revolution, its stock price took a beating following a sign of weakness in SOI's bottom line in 2018. I think Solaris, at the current level, presents a sound investment opportunity. Before we get into why SOI is poised to grow, let us understand the business first.
Why are proppants supply solutions essential?
SOI manufactures and provides patented mobile proppant management systems that unload, store and deliver proppant at oil and natural gas well sites. Hydraulic fracturing is used to stimulate hydrocarbon production. The process involves the injection of water, proppants, and chemical additives into the formation to fracture the surrounding rock, increase permeability and stimulate production.
So, a large amount of water and proppant are required to be stored close to the well site so that they may be used as needed. According to SOI's estimates, the current horizontal well completion designs require between 400 and 1,000 truckloads of proppant delivered to the well site per well.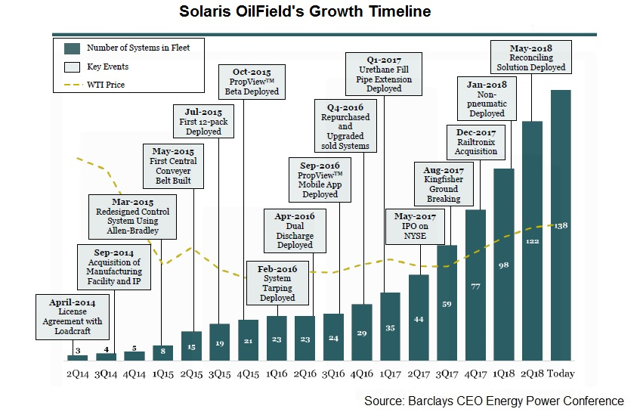 How do SOI's offerings add value? As of June 30, SOI had 131 systems in the fleet, all of which were deployed to customers. Storage-wise, Solaris' standard Solaris Mobile Proppant Management System has 2.5 million pounds of vertical proppant storage capacity. This is considerably smaller than traditional or competing well site proppant storage equipment. As an alternative, if proppants were to store in the same tractor-trailer rigs that delivered the materials to the well site, it would have been a cost-prohibitive solution. Typically, the efficient storage of materials at oil and natural gas well sites is a critical factor in the successful implementation of fracking operations.
Load-wise, SOI's systems can unload up to 24 pneumatic proppant trailers simultaneously. Also, SOI uses belly-dump trucks that provide additional proppant transportation flexibility to its customers. A combination of strategic storage silos and flexible trucking solutions means the proppant storage silos can be filled from trucks while simultaneously delivering proppant on-demand directly to the blender for hydraulic fracturing operations. This helps achieve a higher number of frac stages per day, driving operating costs down.
SOI is geared to tackle the boom in storage requirement
On top of the standard offering, SOI six-silo system contains three times the on-site sand storage capacity that occupies smaller space than a conventional SandKing system. For larger frac requirements, SOI has developed a 12-silo system that can store 5 million pounds of proppant and can deliver sand at an average rate of 23,000 pounds per minute. Increased proppant loadings and multi-well pad development activity have resulted in the development of an even larger 12-silo system.
According to SOI's estimates, as disclosed in its 2017 10-K, the increased storage capacity can achieve approximately 50% more frac stages per day and reduce completion time by three wells per day. Plus, the added storage capacity further alleviates logistics bottlenecks that are threatening crude oil production growth in shales like the Permian.
Presence in all key shales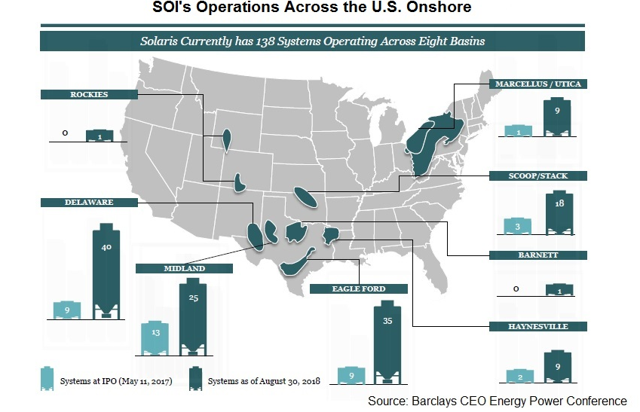 Solaris Infrastructure serves across the U.S. onshore oil and gas activity centers. As of June 30, 2018, approximately 28% of its systems are located in the Delaware Basin, 25% in the Eagle Ford, 21% in the Midland Basin, 13% in the SCOOP/STACK of Oklahoma, 7% in the Haynesville, 5% in the Marcellus/Utica and 1% each in the Rockies and the Barnett. It plans to foray into new basins including the Bakken in Canada. So, SOI has positioned itself to benefit the most from the flurry of activities in the unconventional shales.
The key resource shales in the U.S. have been prolific in crude oil production in the past years. In July 2018, the most significant year-over-year production growth took place in the Permian (38% up), Niobrara (28% up), Anadarko (23% up), and the Bakken (21% up). Continued growth in the tight oil shales will keep demand for proppant flowing as a result of increased horizontal drilling and hydraulic fracturing.
According to a report from Black Mountain Sand, on average, horizontal shale wells in the Permian Basin require around 5 million pounds of proppant in total. Some wells need up to 5,000 pounds of frac sand per lateral foot. A recent EIA report shows a continued increase in well completions in the second quarter over the first quarter as well as a rise in drilled but uncompleted (or DUC) wells.
However, focusing entirely on the U.S. and overlooking the growth prospect in the international energy markets is not free of risks if the U.S. energy market goes south. Although the current drivers will propel SOI forward in the medium term, geographic concentration can become a problem in the long run.
How Solaris helps save costs: As discussed in the September conference, Solaris Proppant Management Systems lets its customers have a total savings of ~$200,000 per well. While Solaris takes away $46.3 thousand of that savings (or one-third), the customer effectively retains ~75% of that savings. In other words, Solaris System costs less than 5% of the total Proppant costs, which includes sand price, transportation, and Solaris Systems costs.
Robust revenue growth
Solaris Oilfield Infrastructure has had a tremendous revenue growth over the past three years. From FY2015 to FY 2017, its revenues grew 558%. Increase in the number of revenue days coupled with an increase in rental rates charged to customers led to such steep revenue growth. In the past three years until FY2017, SOI's number of proppant management systems in the fleet increased 237%, while fleet utilization jumped to 98% from 51% earlier.
In 2018, too, the growth has not flattened. In Q2 2018, SOI's revenues increased 252% over Q2 2017 following an increase in the number of systems (177% up) and an increase in total system revenue days. In addition to Proppant management system rental and service growth, SOI has started to generate revenues from Transloading services in Q2 2018. This brings us to the new teeth SOI has added in 2018, called the Kingfisher facility.
Transloading – SOI's latest revenue source: SOI's Kingfisher transloading facility became operational at the first stage in January 2018. SOI has seven-year sand storage and transload agreement with a third-party customer for Kingfisher. SOI will provide certain rail-to-truck and high-efficiency sand silo transload and storage services for the customer's proppant volumes at the facility. The facility is located at the strategically important SCOOP/STACK formations in Oklahoma. Because of its location a Class I rail line, Kingfisher will have an ability to unload a unit train of 120 rail cars and load more than 10,000 tons into trucks in a 24-hour period.
Transloading revenue at the Kingfisher facility in Q2 more than doubled compared to Q1. In Q2, SOI has begun filling the permanent silos for the anchored customer that provides 30,000 tons of storage capacity. The facility is also equipped to receive sand by truck to the extent its anchor customer can forward-stage regional sands. On top of that, SOI now has four different customers delivering proppant to this facility.
SOI receives a base fee per ton that is transloaded at the facility on a commitment of minimum quarterly service and storage volume obligations from the customer. Because of the nature of the agreement with the customer, SOI will have a relatively stable revenue source for the next seven years from the business originating out of Kingfisher facility. Plus, additional customers and value-added services like forward-staging of regional sands can generate additional revenues for SOI, going forward.
Between all the positive boosters, some issues can dampen SOI's profitability in the short-run. Also, sudden changes in the top raise concern over management's stability. Below I discuss these in details:
Steel price rise and tariff hike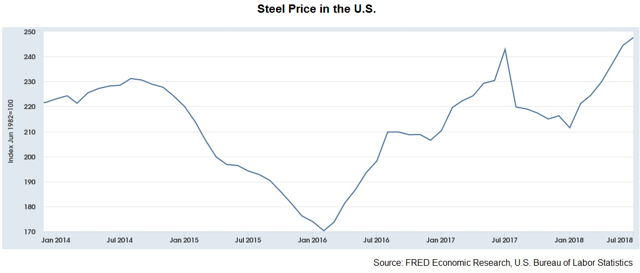 Steel is SOI's primary raw materials used. It requires steel in the form of plate, bar stock, and square and round tubing. As noted in the graph above, cold rolled steel sheet and strip prices increased 12% in the past year until July 2018.
On top of that, in March 2018, the U.S. imposed Section 232, which meant a 25% tariff on all steel imports and 10% on all aluminum imports into the U.S. The tariff targeted steel and aluminum imports and related quota measures on countries like South Korea, Canada, Mexico, and EU. SOI's cost of production rises if steel price continues to climb as a result of the policy changes, as we discussed. In effect, either SOI's margin will take a hit or the company will try to pass on the additional cost through higher prices, which can negatively affect sales volume.
SOI faces stiff competition in the market: Investors may note that SOI faces competition from proppant producers, pressure pumping companies, transloaders, and proppant transporters. Some of these companies have developed efficient last mile logistics management solutions. Such solutions include on-site proppant storage, handling delivery, and others use silo-based storage. Let's take the example of U.S. Silica Holdings (SLCA).
SLCA produces and sells commercial silica in the U.S. ship product by truck, barge, and rail with an ability to connect to short-line railroads as necessary to meet its customers' in-basin product needs. It also acquired Sandbox in 2016 to extend delivery capability directly to its customers' wellhead location in Texas, West Virginia, North Dakota, Oklahoma, and Ohio and Pennsylvania.
Sudden changes in leadership: On July 30, 2018, SOI brought changes to the management team, when the founder and Chairman Bill Zartler resumed his role as the CEO. The former CEO Greg Lanham resigned on July 30 with immediate effect. Kyle Ramachandran, SOI's CFO, was given the additional duty of the President on the same day. Such abrupt changes raise concerns over any simmering issue between the board and the management.
Long-term debt and cash flow
SOI has no long-term debt. Its net debt was negative as of June 30 as a result of positive cash & cash equivalents balance. However, the cash balance is insignificant. Being a debt-free company is an attractive feature. When energy price nosedives, the company's earnings dip, and servicing of debt becomes difficult. SOI is better equipped to survive a downturn compared to many of its OFS industry peers. Compared to SOI, its peers ProPetro Holding Corp.'s (PUMP) net debt stood at $78.6 million as of June 30, while Select Energy Services' (WTTR) net debt was $70.1 million as of June 30.
SOI's free cash flow was a negative $104 million in the past four quarters until Q2 because its capex exceeded cash flows from operations in the past four quarters. In 2018, SOI has been using significant amount in investing activities due to an increase in the manufacturing rate of new systems and construction of the Kingfisher Facility. So, SOI's management plans to use its operating cash flow, cash balance and partly borrow under a credit facility to fund the remainder of the 2018 capex. SOI aims to improve its free cash flow from 2019.
Revenues and EBITDA estimates

For Q3 and Q4 of 2018, I expect SOI's revenue growth rate to fall compared to Q2. For that, I have built on the management guidance on the number of systems in the fleet. SOI's management expects 144 to 146 systems in the fleet in 3Q, and between 160 and 170 systems in the fleet in Q4. Although there was no price hike for SOI's offerings in Q2, I have also assumed a nominal price increase in Q3 and Q4, based on upstream energy companies' need to ramp-up production quickly. I also considered the Kingfisher transloading facility reaching full capacity utilization by Q4. I expect revenues to slow down in Q1 2019 because seasonality factor negatively affects energy production in the winter.
I expect the adjusted EBITDA margin to decline marginally in Q3 and Q4 of 2018 following the steel cost escalation and tariff on imported raw materials, and then improve in Q1 and Q2 of 2019, as margin pressure eases. Adjusted EBITDA includes based compensation expense and certain non-cash charges and unusual or non-recurring charges.
What does SOI's relative valuation say?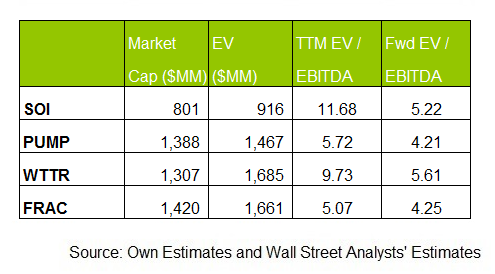 Solaris Oilfield Infrastructure is currently trading at an EV-to-adjusted EBITDA multiple of 11.7x. Based on my EBITDA estimates in the next four quarters, SOI's forward EV/EBITDA multiple is 5.2x. Between Q2 2017 and Q2 2018, SOI's average EV/EBITDA multiple was 37.4x. So, SOI is currently trading at a discount to its past five-quarter average.
Solaris Oilfield Infrastructure's forward EV-to-EBITDA multiple contraction versus its adjusted trailing twelve months EV/EBITDA is steeper compared to the industry peers' average multiple compression, as noted in the table above. This is because I expect SOI's EBITDA to improve more sharply compared to the peers' average in the next four quarters. This would typically reflect in a higher current EV/EBITDA multiple compared to the peers' average. SOI's TTM EV/EBITDA multiple is higher than its peers' (PUMP, WTTR, and FRAC) average of 6.8x. For PUMP, WTTR, and FRAC, I have used sell-side analysts' estimates provided by Reuters Thomson.
What's the take on SOI?
The vigorous growth in crude oil production in the unconventional resource shales and the use of hydraulic fracturing techniques in horizontal drilling has led to the swift and dramatic rise of proppants and logistics solutions in the U.S. shales. This has put infrastructure providers like Solaris Oilfield Infrastructure in a fast growth trajectory.
In 2018, it has added a significant transloading infrastructure capacity, which complements its logistics business. SOI's profitability margin is also quite high. SOI is a debt-free company, which further increases its attractiveness. Although its trading multiples are not cheap, investors looking for growth should consider investing in SOI.