I compiled important metrics on all the big mREITs for your convenience. This data was collected using Bloomberg terminal on 9/13/2018. Data visualizations were generated using Tableau. Below is a list of the conclusions I found. These are my opinions. I'm hoping the community can also give me their opinions on the data. I will add an attachment of the raw data.
List of mREITs Below:
| | | |
| --- | --- | --- |
| Company Name | Ticker | Market Cap (Billions) |
| Annaly Capital Management | (NLY) | 13.19 |
| AGNC Investment Corp. | (AGNC) | 9 |
| Two Harbors Investment Corp. | (TWO) | 3.88 |
| Chimera Investment Corp. | (CIM) | 3.51 |
| MFA Financial Inc. | (MFA) | 3.47 |
| Invesco Mortgage Capital Inc. | (IVR) | 1.81 |
| Redwood Trust Inc. | (RWT) | 1.4 |
| Starwood Property Trust Inc. | (STWD) | 5.94 |
| PennyMac Mortgage Investment Trust | (PMT) | 1.23 |
| New Residential Investment Corp. | (NRZ) | 6.21 |
| Blackstone Mortgage Trust Inc. | (BXMT) | 4.08 |
Source: Data from Bloomberg Terminal 9/13/2018
My data includes the following metrics: annual revenue growth, net interest margin, quarterly net income, annual EPS growth, dividend yield, 3-year dividend growth, 5-year dividend growth, price to earnings, price to book, book value per share, quarterly EPS, dividend per share, credit rating (Moody's), financial leverage, and annual beta.
If there are any metrics that I didn't include that you would like please comment below and I will see if I can provide them.
It's important to note that I did this analysis based on common shares. ROE is the return on equity for common shares. EPS is the earnings available to common shares.
It's also important to note that mREITs can vary a lot in their business model. Annaly uses mainly agency MBS whereas New Residential uses MSRs. These two models require different leverage and have different risks. That being said, let's get into the numbers.
Returns:
The first graph is the return on common equity.

Source: Data from Bloomberg Terminal 9/13/2018
As seen above, the agency MBS models generate the most return for common shareholders. The highest being AGNC, NLY, and TWO.

Source: Data from Bloomberg Terminal 9/13/2018
NLY has the highest dividend yield almost reaching 12%. This is probably due to their recent equity issuance which caused shares to drop by around 3%. Most mREITs have dividend yields over 10% because the amount of leverage being employed making them a riskier investment.
The next graph analyzes the sustainability of dividends.

Source: Data from Bloomberg Terminal 9/13/2018
On the right, I took the EPS per common share minus the dividend per common share. For example, TWO is at $0.13. What this means is that TWO had an EPS of $0.60 and paid common dividends of $0.47. If this metric is negative, then it raises a red flag about dividend safety.
NLY has the highest dividend yield but is maintaining it on a razor-thin margin. AGNC has a large dividend yield and EPS outweighs common dividends paid by $0.2. The other notable mREIT with a high dividend yield and lots of safety is NRZ. NLY, AGNC, and NRZ are the mREITs with high dividend yields and ones that can be maintained. AGNC being the "best of breed" in this category.
Let's take a look at the recent trends for these dividends.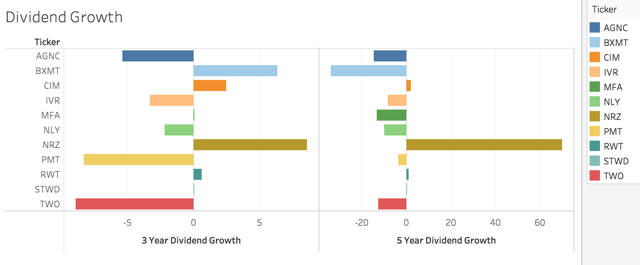 Source: Data from Bloomberg Terminal 9/13/2018
Above is a look at the 3-year and 5-year dividend growth rates. NRZ jumps off the page in this graph. NRZ's early adoption of the MSR business model paid off big time. As you can see growth has slowed for NRZ by looking at 3-year dividend growth. But they are still growing the fastest. Also, BXMT has had a turnaround in recent years growing its dividend. Agency mREITs have struggled in dividend growth. Some have struggled more than others like AGNC. CIM also has steadily grown dividends.
Returns Conclusion:
NRZ is the obvious winner in the category. They have a high dividend yield, it's sustainable looking at the current data, and it has grown. It is important to note that the growth has slowed in recent years. AGNC has a high dividend yield and it seems to be sustainable. AGNC hasn't grown in the last couple years, but it seems its dividend seems to have stabilized. NLY has the highest dividend yield but is maintaining it under a razor-thin margin.
Profitability:
Net interest margin is very important for mREITs. mREITs use short-term financing usually in the form of repos to purchase various mortgage securities.

Source: Data from Bloomberg Terminal 9/13/2018
Notice that mREITs have a very thin net interest margin or NIM except the obvious outlier. The dot all the way at the top is NRZ with a NIM of above 7%. NRZ was the first to employ the MSR strategy. MSRs really allow for higher margins. On top of this MSRs have negative duration, so NRZ's book value increases in a rising rate environment.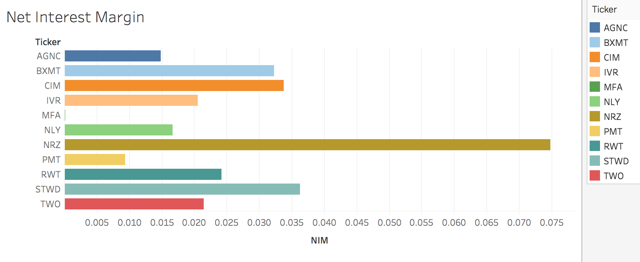 Source: Data from Bloomberg Terminal 9/13/2018
Other notable mREITs in the category are STWD with a 3.6% NIM. Last, AGNC has a fairly low NIM below the 2nd quartile at 1.4%.
Ok, so what about growth, and what does growth mean for mREITs?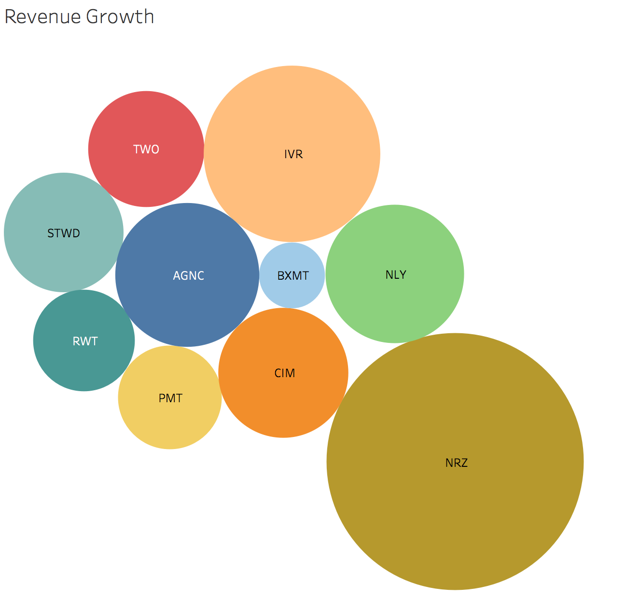 Source: Data from Bloomberg Terminal 9/13/2018
MFA is not listed here because it has negative revenue growth. NRZ once again showing its strength with that giant pool colored bubble. NRZ has about 70% revenue growth. The average revenue growth for these mREITs is 19%.
Growth is not always a great indicator for mREITs. What are more important is the risk and interest margins related to the revenue growth. mREITs have been diversifying as rates rise in an attempt to maintain dividends. Keep an eye on the assets acquired to make sure the associated risk and return fits in your portfolio.
Profitability Conclusion:
NRZ is the obvious winner again. Not because of its insane growth but its healthy NIM. AGNC looks risky in this category with a low NIM. Most mREITs came in at about the same with a NIM between 2% and 3%. This is very low due to a flattening yield curve.
Value: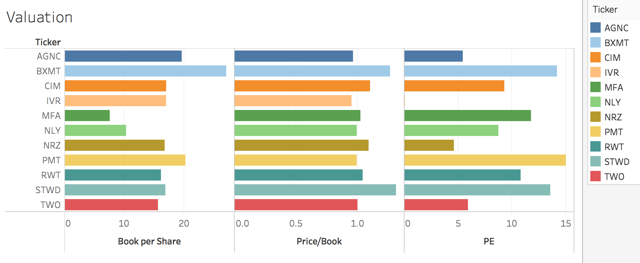 Source: Data from Bloomberg Terminal 9/13/2018
I have book per share, price to book, and PE. Price to book is my favorite showing if you're paying a premium for the companies' assets. This is where NRZ is weaker. The market is paying a premium for NRZ's negative duration MSRs. mREITs that use an agency model are selling for a discount because book value continues to drop as rates rise.
Risk:
This is one of the more important categories. Dividend yields for mREITs are very high because of the inherent risk in the mREIT model. Financial leverage is very high.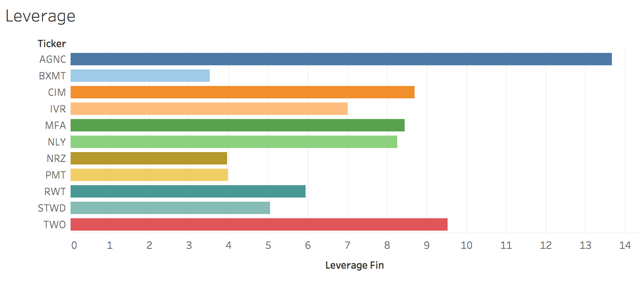 Source: Data from Bloomberg Terminal 9/13/2018
The MSR model allows for lower leverage. That is why NRZ and PMT are lower. BXMT is also very low. BXMT has a different model entirely that mainly provides loans for office buildings. This model also allows for lower leverage. AGNC is extremely high. Be cautious of high leverage. This is more likely to result in margin calls in a downturn and lead to liquidity issues.

Source: Data from Bloomberg Terminal 9/13/2018
This is beta calculated annually. The beta for mREITs is typically a little lower. It's always nice to get more sleep at night owning an equity with low beta. NRZ comes in with the lowest beta and AGNC has the highest.
Overall Conclusion:
Keep in mind that these are only my opinions. Before the purchase of a stock, you should do your own research or consult your financial advisor. These opinions also only compare mREITs. These opinions don't cover the overall risk of mREITs. Anything with 10+% dividend yield is risky.
Annaly Capital Management; Buy
Annaly is a mREIT that has been in the business a while. Its market cap is easily the biggest. One of the biggest strengths is that lots of the returns generated by Annaly go to common shareholders with an ROE of around 24%. In the rising rate environment, Annaly has transitioned fairly well compared to its competition by diversifying in a variety of lending models. Right now its huge dividend yield of almost 12% is sustained but not by much. A dividend cut is possible in the future. The good news is that Annaly is trading below book especially after its recent equity issuance caused its shares to drop.
AGNC Investment Corp.; Sell
AGNC is a mixed bag. The company has a high dividend yield that's sustainable. AGNC is also trading at a solid discount to book. The bad news though is that NIM is very low and leverage is sky high. Overall, AGNC employs a similar business model to Annaly, but with higher leverage, a lower NIM, and a lower ROE. Annaly might have a dividend cut soon, but it has the superior model in the agency MBS space.
Two Harbors Investment Corp.; Buy
Two Harbors has a business model similar to AGNC and Annaly investing a lot in agency MBS. The company has a higher NIM but with higher leverage. ROE for Two Harbors is also high. All this success comes with a higher valuation and a slightly lower dividend yield. This dividend yield is still fairly high though and warrants a buy in my opinion.
Chimera Investment Corp.; Sell
Chimera has a slightly different business model. The company still invests in agency MBS but the majority of its holdings are in a securitized loan portfolio. Basically, Chimera buys non-agency MBS and then securitizes the non-agency MBS and sells it to a third party. Chimera takes the gains and losses for this non-agency MBS. This model is a little riskier because non-agency MBS is not backed by GSEs and Chimera is on the hook if the underlying mortgage doesn't pay up. Chimera uses high leverage with this model as well. On the bright side, the NIM is higher at about 3.5%. Chimera trades at a premium to book. This strategy is too risky for the return. Being at the mercy of non-agency MBS defaults is not the model I want in my portfolio.
MFA Financial Inc.; Strong Sell
MFA is paying $0.20 for dividends and only received $0.17 in income. I expect the dividend to be cut soon. MFA invests in a whole mess of things: CRTs, non-performing loans, agency MBS, MSRs, and a variety of derivatives. This company is complicated and the metrics aren't speaking well about it.
Invesco Mortgage Capital Inc.; Hold
Invesco owns a lot of agency MBS and commercial credit. The leverage for this company is lower compared to competitors. It's trading at a large discount to book. Invesco's NIM is almost as large as Two Harbors with almost 3.5%. The problem is that Invesco might have to cut its dividend. Have this company on your radar though.
Redwood Trust Inc.; Hold
Redwood Trust takes mortgages that are originated by a third party and securitizes them through Sequoia Securitizations. Redwood holds some of these securities. Most of these securities are fixed rate jumbo prime. A lot of these are mezzanine which poses some risk. The good news is the prepayments are down to 6% for Redwood. Redwood sells for a premium and has a below average dividend yield. At the end of the day, the inherent risk in Redwood's assets in a rising rate environment is not worth buying for a premium.
Starwood Property Trust Inc.; Buy
Starwood has an interesting model with mostly commercial lending. This commercial lending is mostly to energy companies.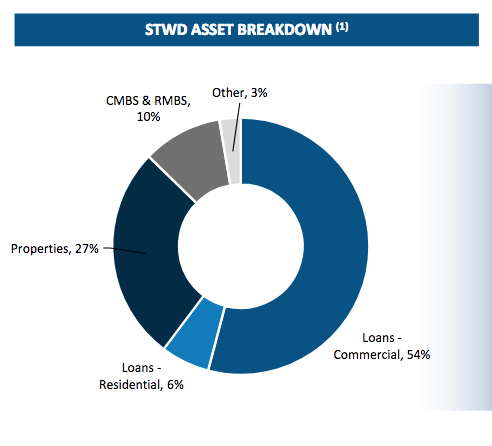 Source: August 2018 Investor Presentation
This commercial loan portfolio is almost all floating rate which is good in a rising rate environment. The majority is lent to natural gas and renewable power. For this unique lending model, you get below average leverage of about 5x. You have to pay a premium to book and get a dividend yield of about 9%. The dividend is safe and steady. Starwood has the second highest NIM of over 3.5%. The extra premium is worth it. The dividend yield is still large.
PennyMac Mortgage Investment Trust; Sell
PennyMac has been transitioning its portfolio over the years into MSR and CRT.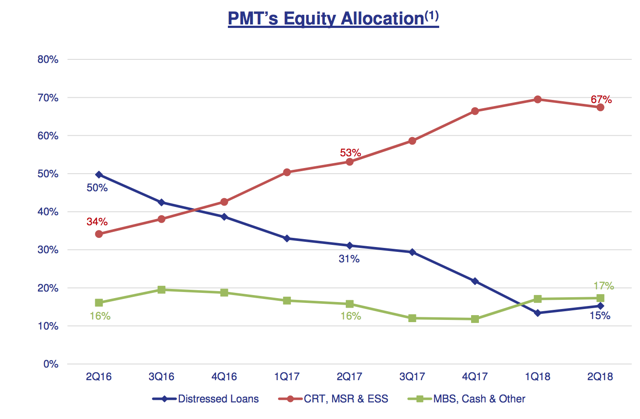 Source: Q2 PennyMac Investor Presentation
PennyMac has not had the same success as New Residential. That is because PennyMac only recently started investing heavily in MSR. This MSR strategy does come with lower leverage. Unfortunately, the dividend yield is not as high as some alternatives. This lower dividend yield doesn't come with higher returns. PennyMac has a low NIM at less than 1%. Time will tell if the MSR strategy pays off for PennyMac, but the current metrics don't warrant a buy.
New Residential Investment Corp.; Buy
This mREIT is really popular right now and for good reason. The MSR model generates great returns in rising rate environment and NRZ started buying MSRs when they were cheap. This strategy allows New Residential to use less leverage. With rates steadily increasing it should raise New Residential's book value. Be aware that there is liquidity risk in the MSR business model. FICO scores are high for NRZ's MSRs. Cash flows are relatively secure for this company. That being said, I highly recommend using a stop loss on this stock.
Blackstone Mortgage Trust Inc.; Buy
Blackstone has a different mREIT business model than its competition. Blackstone participates in a myriad real estate lending.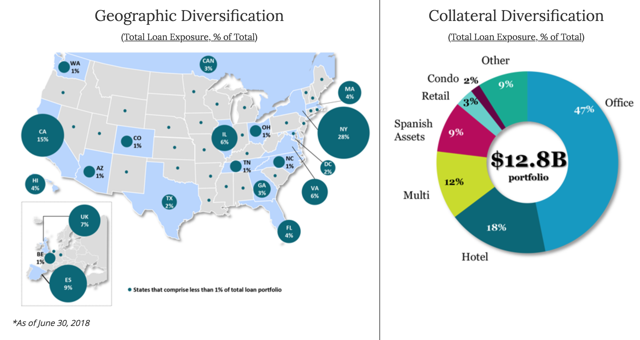 Source: Blackstone Website
This business model allows Blackstone to be less risky with only about 3x financial leverage. The lowest of all the big mREITs. Blackstone has above average NIM at about 3.5%. The downside is that the dividend yield is lower at about 7%. The dividend is safe though and has been growing for the past 3 years. Blackstone trades for a premium to book but it's worth it. Blackstone has lower risk and a higher margin, that is worth the premium.
Are my opinions right or dead wrong? Please let me know in the comments below. If you'd like to see the raw data please click here.
Disclosure: I am/we are long NRZ.
I wrote this article myself, and it expresses my own opinions. I am not receiving compensation for it (other than from Seeking Alpha). I have no business relationship with any company whose stock is mentioned in this article.