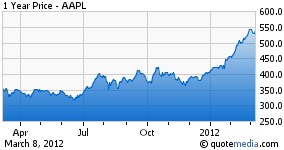 The big press event is over and it's time to think about who wins and who loses in the latest Apple (NASDAQ:AAPL) iPad announcement.
The big changes are a faster chip and much better screen, along with support for 4G LTE, which should boost wireless carriers like AT&T (NYSE:T) and Verizon (NYSE:VZ). The new product will be a "wow" for power users, but is unlikely to lead families with an iPad 2 to rush into upgrades.
Losers will be the PC industry, companies like Dell (DELL) and HP (NYSE:HPQ) that don't have competitive tablets, and it could turn the Intel (NASDAQ:INTC) Ultrabooks launched with such great fanfare at CES into 2012's netbooks, another mini-laptop form factor that went nowhere in the market. Other losers will be the camera industry, which now faces a mass-market alternative that edits as clearly as it photographs and shoots video.
Apple chose to differentiate the iPad from its iPhone line by not adding the Siri voice interface. While putting in a dictation feature that will let reporters conduct interviews and get text output for their stories, among other things. It's not the "iPad 3" or the "iPad HD" but just "the new iPad," a new top end for the global tablet line that leads from a top price of $829 (for the new iPad with 4G) down to the Amazon (NASDAQ:AMZN) Kindle Fire's $199. I fully expect to see middle-market tablet makers like Samsung (OTC:SSNLF) squeezed in that environment, with the Fire unthreatened if it can maintain its low price point.
Will the new iPad justify Apple's stock price? Signs point to yes. Will it justify a boost toward $700 or even $1,000, Steve Wozniak's prediction? Signs point to no. VentureBeat's Jolie O'Dell detected small signs of "a brand unraveling," including a tie-dyed Apple logo, CEO Tim Cook's inelegant, untucked shirt and a certain sloppiness in presentation, like the term "resolutionary" she thinks Steve Jobs would never have green-lit.
Elvis has left the building. How long can his momentum last? That's the question Apple shareholders should be asking today. Leave your answers below.
Disclosure: I am long AAPL, INTC, AMZN.
Additional disclosure: I sold out my position in Dell about a month ago.