Richfield, Minnesota-based Best Buy's (NYSE:BBY) bonds have been losing value, amid a recent rise in U.S. interest rates, intensified competition, as well as sector headwinds, tariffs, and reports of customer dissatisfaction.
Although traditional brick-and-mortar electronics retailers such as BBY generally face an uphill battle against e-commerce companies such as Amazon (NASDAQ:AMZN), it appears shoppers continue to flock to physical stores.
While online retailers have lured a loyal base of customers to their platforms, many shoppers continue to frequent concrete locations for their latest technology, telecom, media and appliance needs.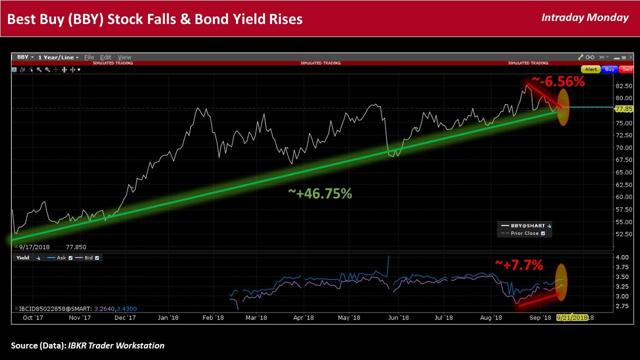 In fact, weekly store visits have been trending upwards, as consumers have increasingly viewed the activity as less of a physical errand and more as a "sensory and social experience," according to advisory firm PwC's 2018 Global Consumer Insights Survey, which polled roughly 2,500 persons.
PwC noted that 'order online, pick up in store' options may also be contributing to physical stores' continued popularity.
However, despite the uptick in traditional, in-store shopping, products such as personal computers have seen a 7% drop-off to 20% over a six-year period, and buyers of tablets rose only 4% to 12%.
GreatCall, '2020' strategy and earnings
PwC's figures may provide a salient backdrop for BBY's recent '2020' strategy, which focuses on its customers' needs, as well as building relationships.
Aligned with this strategy, the company said in mid-August it agreed to acquire GreatCall for US$800m, with an aim to exploit the health space by focusing on the aging population.
GreatCall is a provider of connected health and personal emergency response services to the aging population, with more than 900k paying subscribers.
The purchase was made amid upbeat earnings results for the second quarter ended August 4, 2018 (Q2 FY19), but a downbeat outlook for Q3 FY19, which generally spurred jitters among investors.
The electronics icon had beat analysts' estimates for Q2 FY19, but said it expects earnings per share in its fiscal third quarter to fall within the range of between US$0.79-0.84, representing growth of 1-8%— and disappointing market expectations for EPS of just north of US$0.90.
Moreover, the firm's domestic growth profit rate had slowed somewhat to 23.8% from 24.0% in the prior year, driven primarily by higher supply chain costs, including for investments, higher transportation expenses, as well as the national rollout of its total tech support offer.
Also, from a merchandising angle, BBY said positive drivers that contributed to comparable sales growth across "multiple categories," included home theater, computing and appliances, which were partially offset by declines in digital imaging and tablets.
It also does not bode well for BBY's customer-focused strategy to have incurred a long list of customer complaints against its Geek Squad technical service segment.
To date, of the 119 ratings on the Consumer Affairs website, the division received an overall 1 ¼ stars out of five. A whopping 91.6% of its ratings on the site were comprised of the lowest one-star rating, mainly due to length of service time, inflexibility to meet customers' needs, as well as a general lack of employee knowledge and expertise.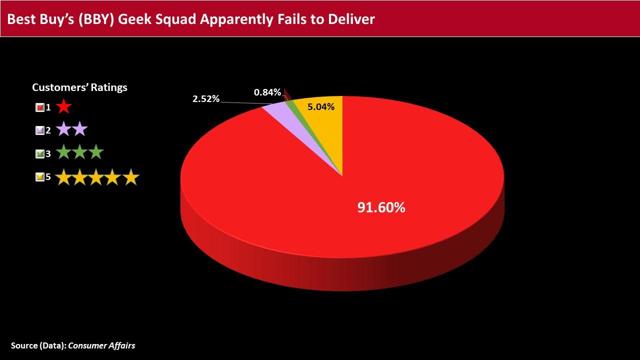 While BBY's stock has gained more than 46.75% year-over-year, the firm's shares have lost more than 6.5% of their value from their 52-week high set August 23. The company's stock was last quoted down around 0.90% intraday Monday.
Sector headwinds
Conditions in the electronics sector, a softer retail environment, and escalating global trade feuds, may also be leading to a more pessimistic view about the company.
Analysts at Fitch Ratings recently noted that while BBY's position as the remaining national consumer electronics retailer "allows it several advantages," its efforts have fallen against the backdrop of a still-challenged industry.
Fitch said increased penetration of key categories, including laptops and tablets, combined with "less pronounced product innovation cycles and device convergence have caused stagnant-to-negative sector growth." The ratings agency added that products such as flat panel TVs and computers will "likely remain in secular decline until a significant innovation cycle occurs."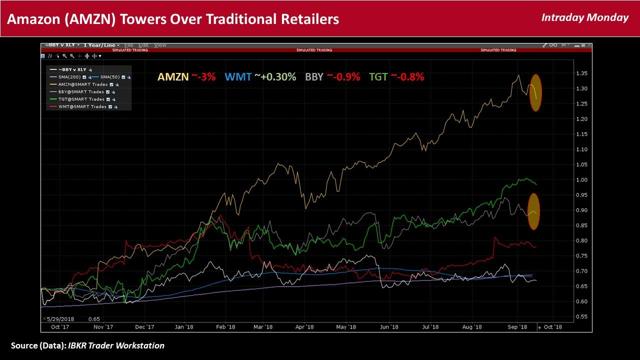 Fitch anticipates industry sales growth to remain flattish through the latter parts of 2018 or 2019.
However, BBY appears to have defied Fitch's outlook with an increase in its sales growth guidance.
Best Buy CFO Corie Barry said that for the full year, FY19 comparable sales growth will come in at around 3.5-4.5% compared to BBY's original guidance of flat to growth of 2.0%, and the firm also anticipates EPS to fall within the range of US$4.95-5.10, up from its initial guidance of US$4.80-5.00.
Barry noted that similar to the past several years, the company remains focused on "managing the business for long-term success rather than ensuring a straight-line quarterly operating income rate performance." However, he added that he continues to expect a non-GAAP operating income rate of about 4.5% for the full year, which is flat to FY18 on a 52-week basis.
Macro concerns
In the meantime, while BBY is monitoring global trade dispute-related tariffs, it appears U.S. President Donald Trump will likely impose around US$200bn in new duties on imported Chinese goods, against which China has vowed to retaliate.
The potential added costs may place a wet blanket on consumer appetite should the tariffs lead to inflationary pricing at BBY, adding to increased softness in U.S. retail sales.
U.S. retail sales for the month of August had dropped to the lowest level in six months, according to the U.S. Census Bureau, hampered by a decrease in auto purchases.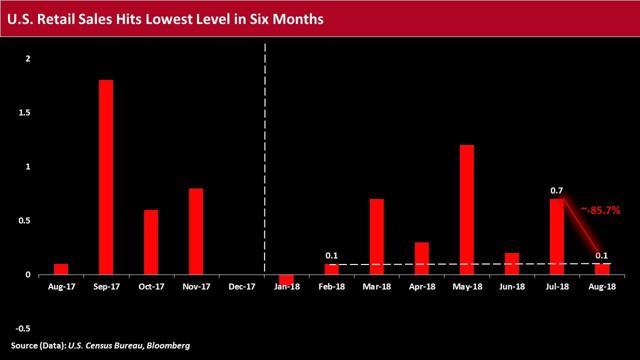 Against this landscape, holders of BBY's 5.5% notes due March 2021 have grown a little nervous. Yields on the bonds were bid almost 7.7% higher at 3.43% since mid-August, according to the IBKR Trader Workstation (TWS).
The rise compares to an uptick in the yield of the 10-year U.S. Treasury note of around 11bps over the same timeframe. The yield on the 10-year was last hovering at around 2.99%, amid mild risk aversion.
Overall, the perception of BBY's creditworthiness remains squarely intact despite the headwinds. The firm's 5-year CDS spreads have narrowed about 16bps over the past three months, with almost 1.1bp of tightening on the day Monday.

Note: This material was originally published on IBKR Traders' Insight on September 18, 2018.
The analysis in this material is provided for information only and is not and should not be construed as an offer to sell or the solicitation of an offer to buy any security. To the extent that this material discusses general market activity, industry or sector trends or other broad-based economic or political conditions, it should not be construed as research or investment advice. To the extent that it includes references to specific securities, commodities, currencies, or other instruments, those references do not constitute a recommendation by IB to buy, sell or hold such investments. This material does not and is not intended to take into account the particular financial conditions, investment objectives or requirements of individual customers. Before acting on this material, you should consider whether it is suitable for your particular circumstances and, as necessary, seek professional advice.
Disclosure: I/we have no positions in any stocks mentioned, and no plans to initiate any positions within the next 72 hours.
Business relationship disclosure: I am receiving compensation from my employer to produce this material.