We'll often hear comments such as …
Indexing is a good option for those that don't know what they're doing or don't want to put in the time to best manage their own portfolio.
Ahhh, I just love comedy. This from those that typically underachieve those that 'don't know what they're doing.' Of course, many of those index investors have put in the time to study how to invest and on what might be the most successful investment style available. Of course the undisputed champion is index investing. Most of us know that according to the DALBAR Studies, even the most seasoned professional investors who have all the time in the world and access to extensive research and even access to management at times, largely underperform the 'passive' indices over longer periods.
I'd say that those indexers are quite smart. They might also be smart enough to consider their risk tolerance level and then in turn create portfolios that are designed to perform within their comfort level. Take a trip to the sites and investment platforms of the leading index-based ETF providers such as Vanguard and BlackRock (NYSE:BLK) and you'll find balanced model portfolio solutions, plus personal investor profile tools that help investors discover their risk tolerance level and find the appropriate asset mix.
Net, net, you have smart investors that are more than likely to invest with greater regularity within their risk tolerance level compared to the typical investor who embraces active management by way of mutual funds or individual stock portfolios. It might lead to investors who are more inclined to stay the course during major market corrections. On that, we checked in with 2008 - a year that was right in the heart of the last major market correction.
This Bloomberg podcast takes a look back at the 2008 market crash and the performance of ETFs as an investment asset class and investment style. Please have a listen, it's more than fascinating given all the stones that are thrown at indexers and index investing and ETFs. The podcast features Joel Weber and Eric Balchunas. They also brought in a big gun by way of Christine Harper who is the editor of Bloomberg Markets Magazine and in 2008 was covering banking for Bloomberg News. Ms. Harper is also the co-writer on the upcoming Paul Volcker memoir.
The crux of the matter is that in 2008, while the stock markets were collapsing, index-based ETFs took in $184 billion, while index mutual funds took in an additional $90 billion. The folks who doubled down were the likes of the Bogleheads as Vanguard took in net new monies every month in 2008. Vanguard monies and investors are stickier than most. The Bogleheads won.
Meanwhile, those investors in actively managed funds removed over a quarter of a trillion dollars with net redemptions of $259 billion. Also, two-thirds of active funds underperformed the passive ETFs. So much for active management and that suggestion that during periods of market turmoil - that's when we need that active management and eyes on the prize. Turns out that not looking is a little better, or let's say a lot better.
This is consistent with my personal finding from working at Tangerine as an advisor on the index-based Tangerine Portfolios. The Portfolios did not experience a down month, week, or day in 2008-2009. Flows were all positive.
Now certainly, according to the podcast, it was the largest trading activity period ever for ETFs as trading volume amounted to an incredible $25 trillion. And that was during a period when the ETF market was 1/6th the size of what it is today. Many traders, and those looking to hedge on either side were attracted to ETFs for their liquidity and ease of access. But when the dust settled, there was a very considerable net inflow. The positive performance of index-based mutual funds (that don't trade during the day) offers evidence that the longer term investor was behind the eventual positive inflow.
Other items of interest from the podcast; gold (GLD) showed the meaning of zero correlation, it went up 3%. It has zero correlation to most assets. They did offer that it's correlated to inflation fear, and that of course is not an asset.
EDV was the best performing ETF up the most at 50%, due to owning the longest duration and price sensitivity. I often write that longer dated funds such as TLT might once again do their thing if we get a major market meltdown. Investors rush to safety and liquidity. VIX (the fear index you might say) was up 77% in 2008.
The commentators were surprised that junk bond ETFs (HYG) had positive inflows. While HYG was down 30% over a 10-week period, there were buyers who came in on the bottom and scooped up those higher yields. The fund more than survived what many feel is a major challenge for the junk bond area - lack of underlying liquidity.
Smart Beta was around in 2008 and PRF was an example that the commentators examined. The fund took advantage of what they called the 'immaculate rebalance.' The fund is rules-based and operates in robotic fashion; it takes out the human emotion and second-guessing. Given that, the bank stocks met the criteria and at one point, those bank stocks that went 'on sale' were bought up on the cheap and the fund was 50% banks. That delivered alpha for many years.

And here's what happens when we introduce investor behaviour and investing on a regular schedule, sticking with an investment strategy through the ups and downs. Here's an investor with a starting amount of $10,000. That investor then adds $1000 on a monthly basis. Portfolio 1 is the smart beta PRF. Portfolio 2 is the benchmark Russell 1000 (IWB).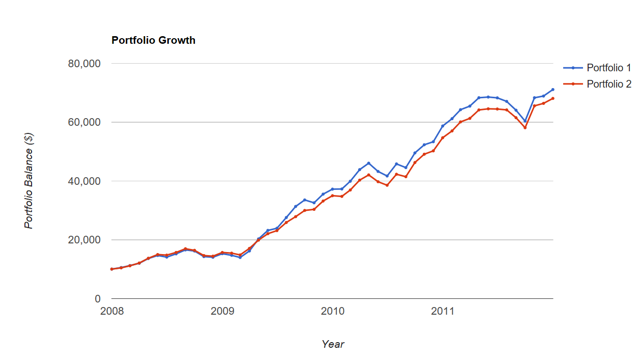 We see meaningful alpha generated in 2010 and into 2011. That alpha then continued for many years. The smart beta fund had the 'blind courage' to go where others feared to venture. The fund ran into the burning barn. Not looking beat-looking. Smart beta was true to its name. Removing the emotion can be smart.
The podcast commentators conclude that ETFs (generally) have a good record for meeting the challenges to date. There have been some events in 2016 and 2017 that demonstrated the potential weaknesses of ETFs (even Vanguard Dividend ETFs fell victim) but the ETF providers and regulators have taken measures in the attempt to shore up any weaknesses. We should always keep in mind that the risks of pricing and liquidity exist. And not all ETFs are the same. Some ETFs are more than exotic and they (and their investors) may pay the price for that when 'the time comes.'
That might be the reason to stick mostly with the massive core offerings such as the IVV, SPY, VOO, VTI, VIG, VYM, DVY, EFA, EWC, AGG, to name a few. The potential of massive underlying real liquidity behind the assets and the measures and safeguards of the leading ETF providers may come into play.
Net, net from this article we might conclude that with index investing and index investors we have a better investment style and better investor behaviour. That's more than a wonderful 1-2 punch. That's quite the argument for why index investors might continue to win the day in periods of sun and warmth - and for when the storms arrive again.
Author's note: Thanks for reading. Please always know and invest within your risk tolerance level. Always know all tax implications and consequences. If you liked this article, please hit that "Like" button. If you'd like notices of future articles, click the "Follow" button.
Happy investing.
Dale
Disclosure: I am/we are long AAPL, NKE, BCE, TU, ENB, TRP, CVS, WBA, MSFT, MMM, CL, JNJ, QCOM, MDT, BRK.B, ABT, PEP, TXN, WMT, UTX, LOW, BNS, BLK. I wrote this article myself, and it expresses my own opinions. I am not receiving compensation for it (other than from Seeking Alpha). I have no business relationship with any company whose stock is mentioned in this article.