Investment Thesis
After the recent sell-off in the precious metals market, many companies can be purchased at attractive prices. GoGold Resources (OTC:GLGDF), Barrick Gold (ABX) and Polymetal International (OTCPK:AUCOY, OTC:POYYF) offer great value, and the companies also have reasonably good downside protection if the turnaround takes longer to materialize.
I think the companies have been excessively punished despite offering characteristics that would allow them to fare much better than most mining companies at these levels.
Figure 1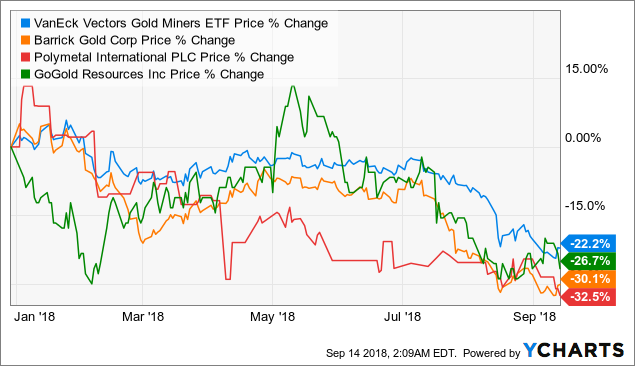 GoGold Resources
GoGold is micro-cap company presently focused on tailings operations in Mexico and is also actively pursuing other opportunities in Mexico. During the last quarter, about 55% of revenues came from silver and 45% from gold production. With GLGDF's current stock price of $0.25 (Cad$0.33 on the Toronto Stock Exchange), the company has a market cap of $42.9 million.
The management team has a great track record of buying assets cheap, developing the assets and selling them for multiples above the initial investment.
Figure 2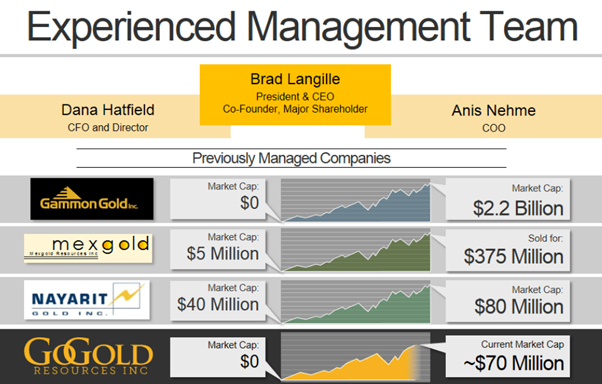 Source: GoGold April 2018 Investor Presentation
The most recent success is the Santa Gertrudis sale in November 2017 for $76.8 million and a 2% net smelter royalty, which was recently announced to be sold for an additional $12 million. Much of the amount received was used to repay all the outstanding debt.
There is about 30% insider ownership in the company and limited dilution, as most options are far out of the money. If we include the announced $12 million sales of the net smelter royalty, $11.9 million in cash as of Q3 2018 (June), 475,000 deferred share units and 1,025,000 options which have an exercise price below Cad$1.2, the company has an enterprise value of $19.4 million. The processing facility is already in place, so there will be limited capital investments required going forward. As the below chart illustrates, GoGold Resources is extremely cheap with regard to book value, both in general terms and compared to the company's history.
Figure 3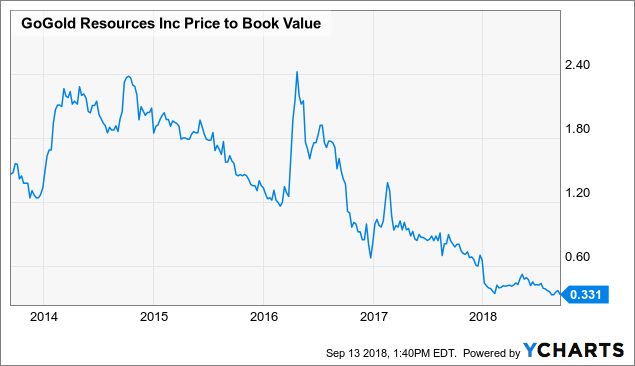 The Parral tailings site is not yet generating positive earnings or free cash flows, but isn't far off. The company has earlier claimed (40 mins. in) it is looking to move towards 750,000 ounces of quarterly silver equivalent production and an AISC of $10/oz. Whether GoGold can achieve those numbers is yet to be seen. Production has been climbing, and adjusted AISC has been decreasing. During Q3 2018, production dropped off due to testing and concluding that additional drainage pipes were required before the second lift was placed to maintain a shorter recovery time.
Figure 4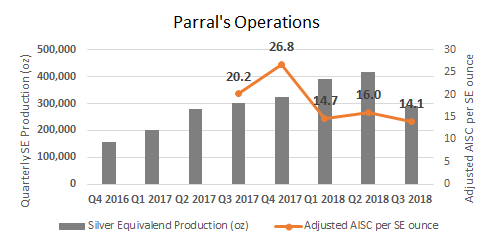 Source: Quarterly MDA reports
The profitability is naturally affected by precious metal prices. Although, the cost per ounce will not have to come down a lot to start generating positive free cash flows. I expect quarterly production of 500,000 SE ounces and AISC around 13/oz is not more than a couple of quarters away. Parral has life of mine around 10 years depending on how high annual production goes. It is difficult to see how an investment in GoGold at this level will lose money short of extreme outlier events or management accruing large amounts of debt on new exploration projects. The somewhat depressed silver market and the recent sale of the net smelter royalty could indicate that the company is closer to new exploration assets.
Figure 5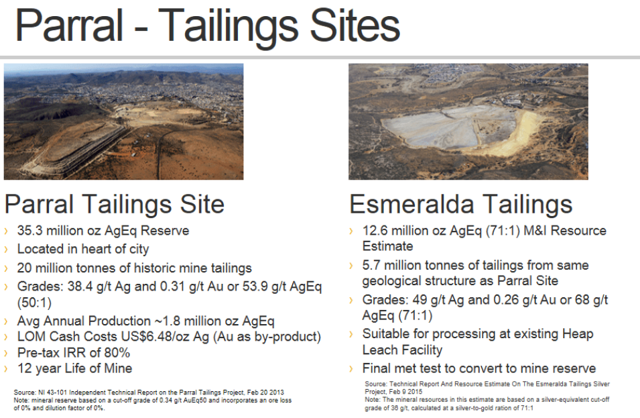 Source: GoGold April 2018 Investor Presentation
Polymetal International
Polymetal International is a Russian gold and silver mining company that trades at very attractive valuations. I wrote a more comprehensive article about it a few months ago, but since then the company has had great H1 2018 results. Revenues for H1 increased 16% year on year, and net earnings increased 32%.
One of the concerns has been sanctions against Russian companies, but Polymetal has not been affected either directly or indirectly via partners by the sanctions. Even in a scenario when it would be affected, which nothing points towards today, the effect could be minor. The company is to some extent financed by the global market, but Polymetal also has significant credit guarantees from Russian banks.
One of my concerns which got relatively little attention was the discussed windfall tax on metals, mining and chemical companies. It seems like the government ministries have now realized this was a bad idea, at least under the present market environment, and have agreed not to take the discussion further.
Polymetal has been trading lower together with the Russian ruble lately, which has been declining against the U.S. dollar like many emerging market currencies.
Figure 6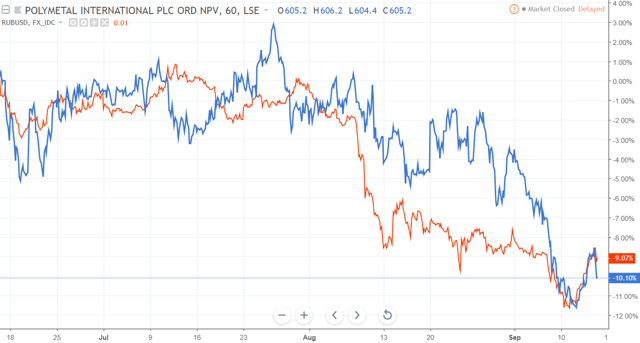 Source: TradingView
I don't think this is entirely justified. We will naturally see non-favorable adjustments to assets and liabilities. However, from a cash flow perspective, the weaker currency will be beneficial, as a significant portion of costs are denominated in Russian rubles. Interest expense for H1 was, for example, $28 million, which was 3.5% of total revenues for the period.
The below tables show a breakdown of operating costs from the annual report. Even if the individual items aren't fully transparent, I don't think it is a stretch to assume the majority of labor and services rendered will be denominated in the local currencies. Which would render more than 50% of total cash operating costs unaffected by the currency decline. Senior management have also referred to the weaker currency as having a significant positive impact during conference calls.
Figure 7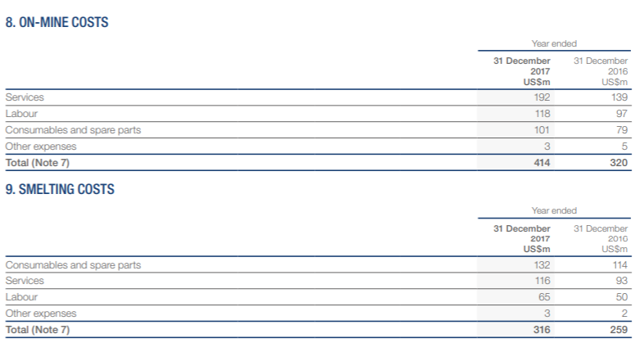 Source: 2017 Annual Report
We have seen an increase in the inflation rate over the past few months, but the effect is still relatively muted compared to what we have seen in the past.
Figure 8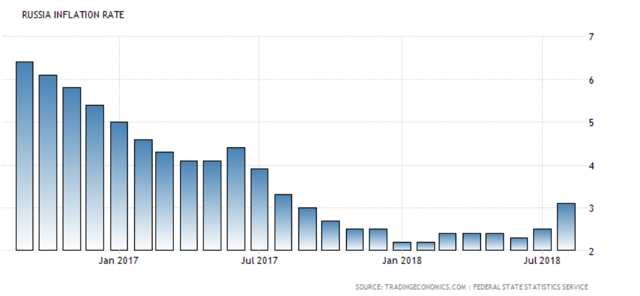 Source: TradingEconomics
Net income for 2017 was $354 million, and given the higher production volume and lower local currency during H1, I had projected annual earnings to be at $407 million given flat precious metal prices. Considering the below factors, I do think a fair earnings estimate is somewhere in between the 2017 number of $354 million and my earlier estimate of $407 million, probably closer to the $407 million number.
H1, which is historically always lower than H2, came in strong, with better production, profitability and higher precious metal prices compared to the prior year.
2018 production is expected to be above 2017 numbers with Kyzyl in production.
The current gold price is now below the 2017 average of $1,257/oz.
Higher oil price will decrease the profit margin marginally.
The lower Russian ruble will be a net positive for cash flows and likely for earnings as well.
The current market cap of $3,596 million gives us a P/E range of 8.8-10.2 based on the above estimates. This offers an interesting upside if Polymetal returns to trading at a historical P/E 15. The company also offers interesting growth projections.
Figure 9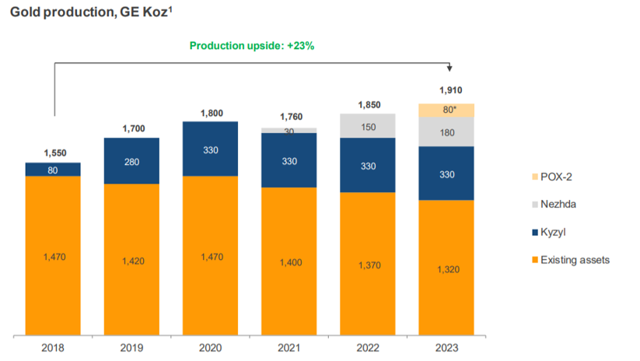 Source: Investor Day, April 2018
Polymetal has a policy to pay out 50% of net earnings, with payments made semi-annually. Given the above earnings estimates, the forward-looking dividend yield is around 5%.
Barrick Gold
Barrick Gold has made some big mistakes in the past, but let's take a look at the company for what it is today. Barrick is a low-cost gold producer with most assets in safe regions. Over the past few years, it has been focused on divesting non-core assets and paying down debt. The company now has $5.76 billion left in debt outstanding, with most in fixed rate bonds not maturing until after 2032.
Figure 10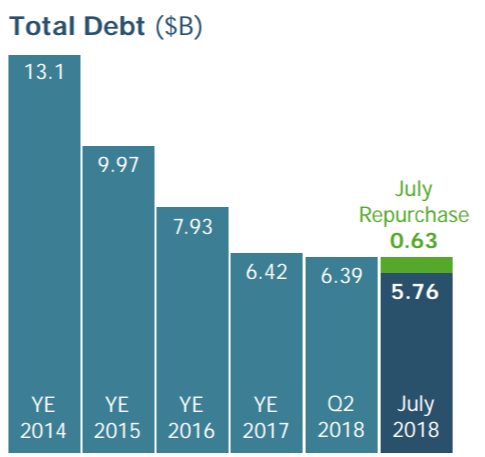 Source: Q2 2018 Presentation
The company's primary goals are free cash flow generation and capital discipline. It will consequently not invest in projects just to grow, unless the investments can be justified by an internal rate of return. We are, in turn, unlikely to see production growth in the short term with annual production around 4.5 million ounces going forward. Guidance for 2018 is for 4.5-5.0 million ounces of gold.
Figure 11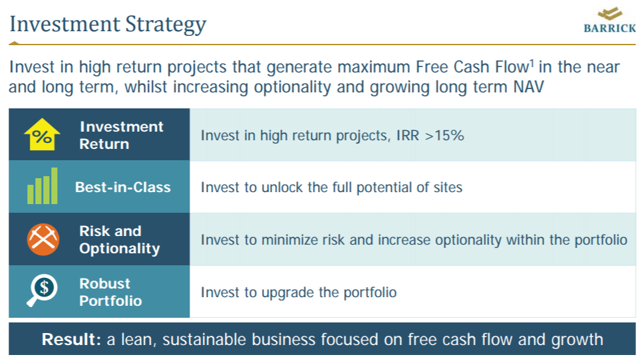 Source: 2018 Investor Day Presentation
Barrick Gold has consistently communicated that production will be higher towards the second half of the year. So, I am less concerned about the poor Q2 result, which had lower revenues due to scheduled maintenance and higher costs because of lower volumes.
I like the company for the discipline it has shown recently, its debt maturity profile and the base of operations. While we are presently seeing many other currencies under pressure, I am less bullish on the long-term fundamentals of the U.S. dollar, where Barrick is good way to play it. The stock price decline over the past few months has made the investment more attractive.
Figure 12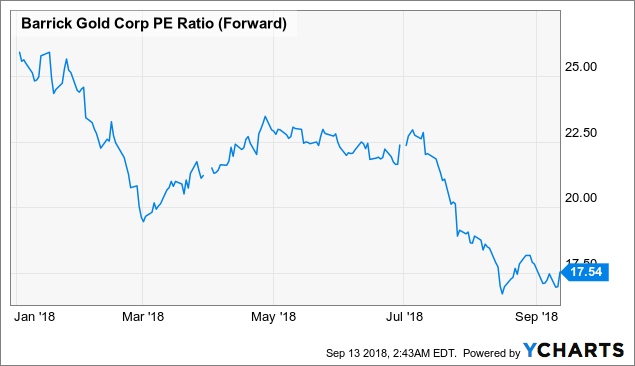 Figure 13
Source: YCharts
Barrick Gold pays quarterly dividends with an annual dividend yield of 1.2%. As the company is close to reaching its debt goal, less money will be spent on debt repayments and interest expense. I consequently expect the dividend will increase going forward.
I also think there is a lot of potential for Barrick Gold in the Nevada region, which the recent high-grade discovery at Fourmile testifies to.
Risk
Like all mining stocks, there are commodity price risks embedded in the stocks. If we see significant declines in the price of gold below $1,100/oz, the stocks will trade significantly lower. Polymetal International and Barrick Gold specifically are, however, able to generate positive earnings and free cash flows at the current levels, compared to a number of marginal producers that are now drawing down cash or building up debt.
The political risk for Polymetal is more pronounced due to the base of operations, but I don't think a P/E below 15 is justified when the expected production growth is considered as well. There have been a lot of concerns over Russian companies, but nothing points towards sanctions against Polymetal. The company has a net debt-to-adjusted EBITDA of 2.08, which is certainly not on the low side. The number is likely to come down after H2 2018, as seasonal cash flows are significantly higher then. Polymetal is also in the process of divesting some non-core assets.
My main concern for Barrick Gold is the continued delay in Tanzania, where the company now looks to be leveraging Chinese partners, which will have more political influence in the region. It is important to remember that most of Barrick's mines are in reasonably safe and mining friendly regions though.
GoGold's balance sheet is extremely strong, with no debt and a lot of cash, but the stock's liquidity is very low. On the Toronto Stock Exchange, the average daily volume is only around 100,000 shares, and likely significantly worse over the counter. So, any major purchases or sales have the potential to move the stock significantly.
Conclusion
GoGold has the potential to be a fantastic investment. I expect the exact upside can be more accurately estimated within a few quarters. Waiting until the upside can be quantified more precisely has the potential to offer a very different entry price though.
Barrick Gold and Polymetal are two companies which can generate positive earnings and free cash flows even at the current low precious metal prices, which makes them attractive if the turnaround in the market takes longer to materialize.
Did you like this article? Please consider giving me a "Follow" by clicking the button above, or check out some earlier articles.
Disclosure: I am/we are long ABX, GLGDF, AUCOY. I wrote this article myself, and it expresses my own opinions. I am not receiving compensation for it (other than from Seeking Alpha). I have no business relationship with any company whose stock is mentioned in this article.
Additional disclosure: I am long all three investments and have been adding to my positions over the last week. Please note that I am long Polymetal International on the London Stock Exchange and GoGold on the Toronto Stock Exchange, where the liquidity is better.
Editor's Note: This article covers one or more microcap stocks. Please be aware of the risks associated with these stocks.