Traditional reinsurance and alternative or insurance-linked securities (ILS) markets are only expected to take a small share, perhaps just a maximum of 15% to 20% of the overall industry-wide losses from Hurricane Florence, although that could help to reduce some price pressure, analysts suggest.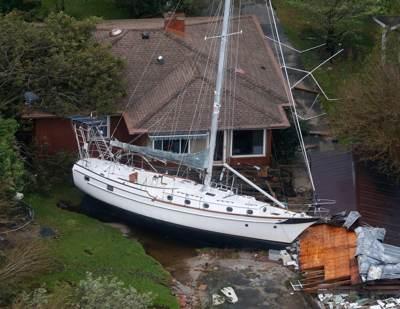 Photo from AP, by Steve Helber (via Accuweather)
Analyst Amit Kumar at Buckingham Research evaluated the exposure of the property & casualty industry to Hurricane Florence as the storm was making landfall and expects that primary insurers and the National Flood Insurance Program (NFIP) will bear the lion's share of losses.
Kumar looked at how losses were spread from 2017 hurricanes and found that reinsurance and ILS markets each took as much as 20% from these storms.
However, the 2017 hurricane season resulted in well over a hundred billion dollars of insured losses, whereas Hurricane Florence is expected to be a much smaller event of around $5 billion to $10 billion in private market losses, plus the NFIP, hence the share for reinsurance and ILS will be much smaller as fewer retentions will be breached.
One wild-card is the NFIP reinsurance program, given Florence became a water-focused loss event, which if breached could see the reinsurers' share of losses increasing a little. So too for the ILS market, the breaching of the trigger for the FloodSmart Re cat bond could result in a greater proportion of losses falling to the capital markets.
Kumar also looked at the wind pools in the region and found that reinsurer exposure there is limited by contract terms, meaning only a certain level of payout can be expected.
For the North Carolina wind pool this could be as little as $100 million, while for the South Carolina wind pool this could be $740 million.
Meanwhile, analysts at Morgan Stanley (NYSE:MS) said to expect an industry loss in the $5 billion to $15 billion range, suggesting that the reinsurance and ILS investment market's share will be minimal (perhaps $2bn to $4bn - our estimate).
Morgan Stanley's analysts explain that the level of losses resulting from Hurricane Florence will not move industry-wide pricing, the loss is far too small (our recent reinsurance market survey suggests a loss of $200 billion or more is required to move the market).
But the analysts do think that even the smaller loss expected from Florence could be enough to support P&C re/insurance pricing on the margin and that as a result "material losses from Florence could mitigate some of the pricing pressure."
But that's the best that can be hoped for so far, for those hoping for rate hardening. Even with the impacts of typhoon Jebi and other 2018 catastrophe events around the world, the most Florence's contribution will do is help to reduce some of the downward pressure on pricing at the next reinsurance renewals.
We're not so confident that a smaller loss like this will reduce the pressure on pricing, at a time when ILS capital continues to grow and is likely to seek to expand its market share in January.
Rating agency Moody's also provided some analysis of the potential market-wide loss, importantly noting that it will be some time before it becomes clearer.
"Insured losses are likely to be split among homeowners, commercial property and business interruption. However, flood damage is typically not covered by homeowners' policies. This often becomes a point of dispute when the immediate cause of loss (wind versus flood) is unclear. However, commercial lines insurers could face losses from flooding, which is typically an optional coverage. Flooding could also cause losses for commercial and personal auto as well as agricultural insurance lines. It will take weeks for insurers to have reliable estimates of losses," Moody's explained.
The rating agency also said that, "some reinsurers and insurance-linked securities investors (e.g., collateralized retro) could face losses on contracts with low attachment points." However, how much remains to be seen and it could be merely attritional for all but the highest risk strategies.
Moody's also said that overall, any pricing effect after Florence would be local and primary in nature, "We do not expect Hurricane Florence to change the overall pricing environment within the property and casualty or reinsurance sector. However, catastrophe-affected regions could experience higher insurance rates."
Editor's Note: This article discusses one or more securities that do not trade on a major U.S. exchange. Please be aware of the risks associated with these stocks.