By Gary Alexander
It really is getting out of hand - crazy, uncontrollable, borderline lunatic. I'm talking about headlines.
The latest edition of The Atlantic - one of the most prestigious journalistic institutions in American history, one I have subscribed to for decades - crowded 10 negative headlines onto its October cover, which I received in the mail Saturday afternoon as I was about to enjoy a neighborly home tour on my small island. Reading from top to bottom in the October 2018 Atlantic, the 10 headlines read like this:
"Trump Builds His Autocracy"
"What Getting Shot Taught Me About Politics"
"Is Democracy Dying?" (that's the main headline in the biggest type, below)
"A Warning from Europe: The Worst is Yet to Come"
"How AI Could Give Rise to Tyranny"
"James Madison vs. the Mob"
"The Slow-Motion Crisis in America & the World" (the second-biggest headline)
"The Descent into Tribalism"
"Racism's Threat to the American Idea"
"Stephen Breyer on America's Isolated Courts"
Looking for some balance on the inside of The Atlantic's Table of Contents, I only found more dismay, including articles like "The Killer in the Cubicle" and how "Office workers murder each other more than you think." I quickly turned to that article on page 34 hoping for some actual facts, but the author said that the FBI doesn't track these crimes, "nor does OSHA," yet they must be "more prevalent than most people suspect." But how does he know what we expect, and why doesn't he know any real statistics?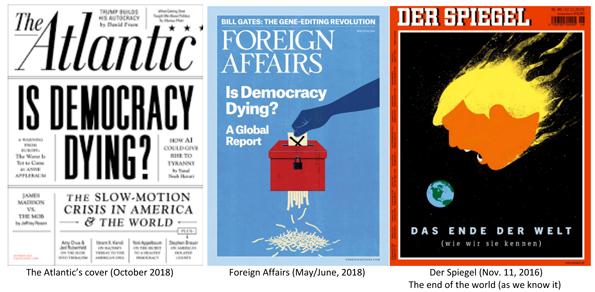 It seems to me that these covers became more apocalyptic after Trump won the 2016 election, carrying the clear implication that "since our least favorite candidate won, Democracy must be dying."
What bothers me most in The Atlantic's swath of negativity is the articles on "tribalism" and racism, in which Ibram X. Kendi asserts that "the country remains divided by racism - and the threat is as existential as it was before the Civil War," a claim which seems preposterous when you consider the great advances made by all segments of American society since 1968 or 1953, much less 1853 - "before the Civil War."
A report published by the Census Bureau last Wednesday showed that the minority segments of America have increased their wealth faster than the rest of U.S. society over the last five years - under both Obama and Trump - reaching record levels of employment, wage income, and real household income in 2017.

Graphs are for illustrative and discussion purposes only. Please read important disclosures at the end of this commentary.
Real median household income rose 1.8% to a record-high $61,372 in 2017, and Hispanic income rose at twice that rate, by 3.7%. The black unemployment rate is still higher than the white rate, but this year it reached an all-time low of 5.9% in June. There is still room for improvement, but the progress is clear.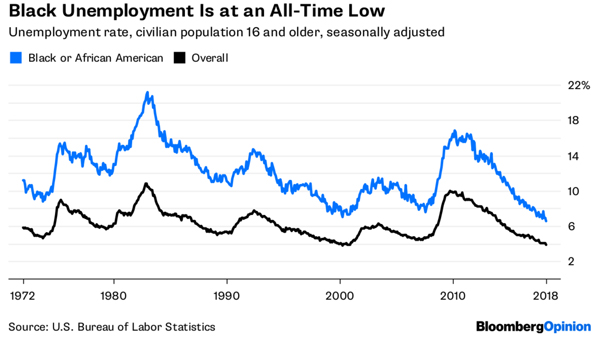 Graphs are for illustrative and discussion purposes only. Please read important disclosures at the end of this commentary.
The focus of media anger seems to be aimed at Donald Trump, but the first half of this recovery under President Obama was fairly slow for everyone, according to Census Bureau data. From 2009 to 2014, median household incomes stagnated, poverty increased, and welfare programs expanded. For instance, over 1.5 million workers were added to the disability rolls. But since 2014, family income is up strongly.
Headlines Tell Us What to Think - And We Mindlessly Obey
The reason these negative headlines are destructive is that they are misleading the public. A 2015 survey asked 18,235 adults in the U.S., Australia, and Europe if "All things considered, do you think the world is getting better or worse, or neither...?" Only 6% of Americans said "better," but that was rosier than the 4% who said the world is getting better in Great Britain and Germany, and 3% in Australia and France.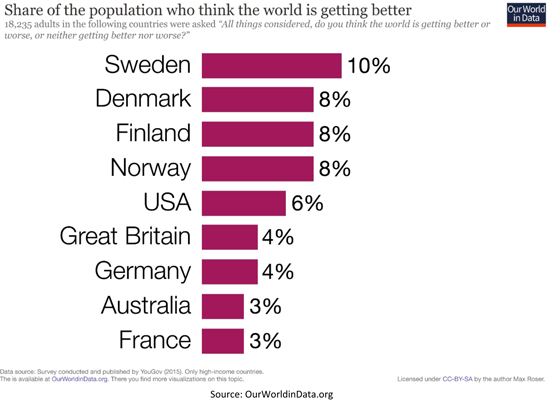 Graphs are for illustrative and discussion purposes only. Please read important disclosures at the end of this commentary.
In a similar survey, only 8% of respondents in Germany and the U.S. thought that extreme poverty had declined in the world over the last 30 years (55% thought it had increased and 33% thought it was the same), when in fact, the proportion living in extreme poverty in those years (1981-2011) had declined from 40% to 10%. Similarly, most people believe crime has increased, when it has actually decreased, and most people think more millions die from war and terrorism now than ever before, but that's not true.
This is mostly due to the negative drumbeat of the press and our inner willingness to believe the worst.
Turning to investing, the negative drumbeat has convinced the majority of Americans that stocks have been flat-to-down for the last decade. A survey by Betterment Research from July 31 to August 6, 2018, polled 2,000 Americans over age 18 and found that 48% believed that stocks had been flat (had gained nothing) over the past 10 years. Another 18% believed stocks had declined. The truth? The S&P and the Dow are both up over 120% from July 31, 2008, to July 31, 2018, and the Nasdaq is up 230%.
Investor sentiment has been fairly low throughout this 9.5-year "unloved" bull market. Back in April 2018, a survey by Bank of America Merrill Lynch found that 58% of global money managers thought the market had already peaked or would peak later in 2018. The majority think the bull is dead or dying.
That's actually good news. A bull market climbs a "wall of worry," and sentiment is a contrary indicator. The American Association of Individual Investors (AAII) has only polled about one-third bulls over the past three years, as this chart shows (the 29.35 bullish reading was taken last November, at S&P 2,585).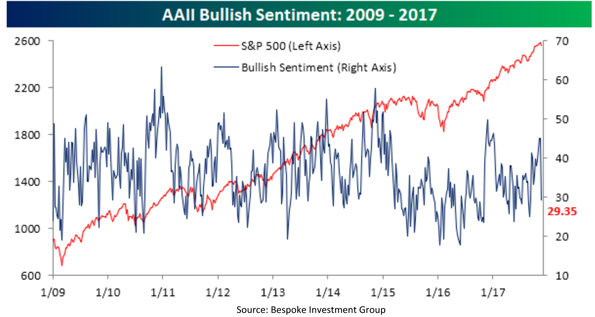 Graphs are for illustrative and discussion purposes only. Please read important disclosures at the end of this commentary.
Partly because of the negative press and partly due to normal human fears, a May 2018 Gallup poll found that only 55% of American households owned stocks - after a full nine years of bull market growth - versus 65% of households owning stocks at the previous market peak in 2007. The younger generation is even more spooked. Over half (52%) of those under 35 owned stocks from 2001 through 2007, but only 38% of that younger-age cohort owned stocks from 2009 to 2018, due to the psychological scars from 2008 and the unending scare stories from the bears and the downbeat press. Don't believe them. Dare to be bullish.
Disclosure: *Navellier may hold securities in one or more investment strategies offered to its clients.
Disclaimer: Please click here for important disclosures located in the "About" section of the Navellier & Associates profile that accompany this article.