Author's note: Following my latest article on the 2020 Sulfur Cap, I received quite a few questions about scrubber technology and if fleets opting to install this equipment presented a better investment than those going the compliant-fuel route. It seemed prudent to review the pros and cons of this technology, in the hope that investors would have more information available to aid their decision-making.
The decision to implement a global sulfur cap of 0.50% m/m (mass/mass) in 2020, revising the current 3.5% cap, was announced by the International Maritime Organization, or IMO, the United Nations regulatory authority for international shipping on October 27, 2016. This will affect as many as 70,000 ships.
The IMO provided guidance on how the maritime industry might comply:
Ships can meet the requirement by using low-sulphur compliant fuel oil. An increasing number of ships are also using gas as a fuel as when ignited it leads to negligible sulphur oxide emissions. This has been recognised in the development by IMO of the International Code for Ships using Gases and other Low Flashpoint Fuels (the IGF Code), which was adopted in 2015. Another alternative fuel is methanol which is being used on some short sea services.
Ships may also meet the SOx emission requirements by using approved equivalent methods, such as exhaust gas cleaning systems or "scrubbers," which "clean" the emissions before they are released into the atmosphere. In this case, the equivalent arrangement must be approved by the ship's administration (the flag state).
Background
Originally, the IMO expected between 2,000 to 3,000 vessels would undergo scrubber retrofits but according to BIMCO, just around 450 vessels have scrubbers installed - less than 1% of a global merchant fleet.
The uptake has been significantly less than expected as many owners have either committed to using low sulfur fuel or adopted a "wait and see" approach. The wait and see approach makes sense as there is little advantage to being a first mover while risks of doing so are amplified. Many cite the fact that while scrubbers have been around on land for quite some time, the technology is largely unknown and unproven at sea.
Reuters recently reported that Wartsila's director of exhaust gas cleaning, Sigurd Jenssen, said that installing 2,000-3,000 scrubbers by 2020 is "doable", however, the window for that is rapidly closing.
The principal advantage of scrubbers is that they allow shipowners to continue burning fuel oil while remaining compliant with the new global sulfur cap. With the vast majority of the fleet set to switch over to more expensive 0.5% sulfur bunkers, prices for compliant fuel are expected to rise and talk of shortages has emerged.
According to a study by consultancy Wood Mackenzie earlier this year, the shipping industry's annual bunker costs could rise by 25% in 2020. With bunker costs typically making up the vast majority of on the water operational costs for a vessel, the decision that shipowners face is extremely important.
As the spread between fuels is projected to widen some assume that scrubbers will offer owners the best returns. But others are not so sure that this is the best solution.
Here we examine the growing debate to help investors better understand this complex issue.
Scrubbers
A scrubber is a device installed in the exhaust system after the engine or boiler that treats the exhaust gas with a variety of substances. For vessels, those substances are typically seawater, chemically treated fresh water, or both, otherwise known as open loop designs, closed loop designs, and hybrids, respectively.
An open loop system uses ambient seawater for exhaust gas scrubbing. The seawater is filtered for heavy metals and particulate matter and then discharged into the sea containing all the sulfur cleaned from the exhaust. These are simpler systems and do not require large amounts of waste storage and handling on board, but there are issues of water intake quality and more importantly, some ports and areas may not permit the discharge of the wastewater containing sulfur.
A closed loop system uses fresh water that is chemically treated usually by caustic soda injection to effect scrubbing. Most of the scrubbing agent is re-circulated with only minimal water intake and effluent discharge. These systems avoid the issues of wastewater discharge but are more complex, more costly to run and create waste storage and handling issues on board.
A variation on the closed loop system is a hybrid system, which can operate as an open loop system while outside special areas.
Scrubbers remove most of the SOx from the exhaust and reduce particulate matter to some extent. After scrubbing, the cleaned exhaust is emitted into the atmosphere.
There are numerous companies that offer a variety of designs. Since the IMO has left it up to the "ship's Administration (the flag State)" it will not be a one size fits all arrangement.
It is this variety and ambiguous wording that will probably lead to owners delaying implementation of this technology until approval is assured and costs perhaps come down due to greater adoption.
Pro-Scrubbers
I liked the 'scrubbers' so much, I bought the company.
Frontline Ltd. is one of the world's largest tanker companies with a live fleet of 46 owned vessels and two on order. On June 28th they announced a MOU to acquire a 20% ownership interest in Feen Marine Scrubbers Inc., a leading manufacturer of exhaust gas cleaning systems. Additionally, Frontline agreed to order FMSI exhaust gas cleaning systems for 14 vessels, with options to order an additional 22 systems at fixed prices.
Robert Hvide Macleod, CEO of Frontline Management said:
The economic case to install scrubbers is very compelling, particularly for larger vessels. Scrubbers installed on existing vessels provide the same benefit as those delivered from the yard on newbuildings and our solution comes at a much cheaper cost. Additionally, this transaction allows Frontline to secure the capacity to source a large volume of scrubbers, which we believe will present a challenge to many owners as the deadline for sulphur emissions compliance approaches.
Just days later DHT Holdings, another major tanker operator, entered into agreements to install scrubbers on 12 of their vessels. These systems are in addition to the two others being installed on the newbuilds DHT Bronco and DHT Mustang.
The company stated:
We look at the upcoming IMO Sulphur Cap as an opportunity for DHT rather than a threat. We come well prepared and are very pleased with the timely project we have put in place. This project could potentially create a super-profit for the ships in question and boost the already significant operational leverage in DHT.
One interesting point since we mentioned the DHT newbuilds is that currently over 30% of the current VLCC order book has been reported to include scrubbers, while another 9% is scrubber ready. Trafigura has announced its intention to install scrubbers on all its newbuild tankers arriving in Q1 of 2019 and beyond.
Finally, Dutch specialist vessel owner Spliethoff Group has just fitted its 24th vessel with a scrubber and plans to install exhaust gas cleaning systems on 30 more vessels in its fleet.
Arne Hubregtse, technical director of Spliethoff Group stated:
Thanks to scrubbers and with the support of our customers, Spliethoff Group will lower the impact of shipping on the environment and at the same time cope in a cost-efficient way with the cost increase caused by the stricter sulphur regulations.
Currently, the spread between HFO 380 and MGO is about $237/mt. Of course, many expect this to increase, but to what degree is still largely up for debate. Gibson was kind enough to show the payback period for an investment in scrubber technology utilizing a variety of prices and operating conditions.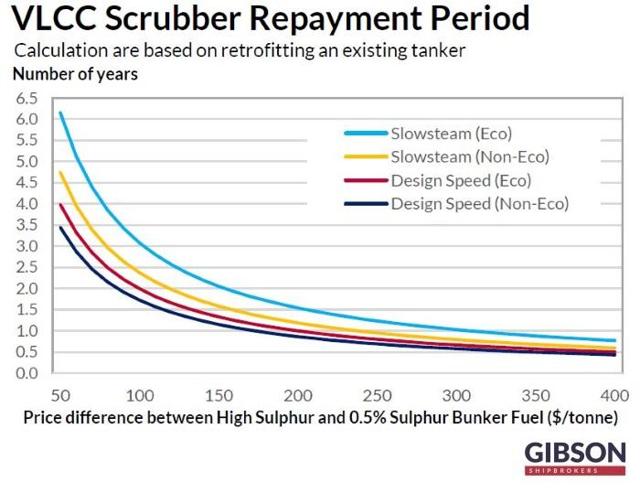 Source: Gibson
Obviously, an increasing spread bodes well for those opting for scrubbers. Currently, the payback period is approximately one year in most scenarios given current bunker prices but that could drop just a half year for spreads around $300/mt.
After the cost of investment is repaid, an owner can achieve significant savings, enjoying a strong competitive advantage compared to tonnage without scrubbers.
For a while, shipping companies saw that their competitors were not investing in scrubbers, therefore it wasn't as threatening that fuel costs will rise because it will affect everybody. But with the latest round of orders, it has become apparent that some will be seeking out these cost savings and potentially benefiting from an economic advantage. This changes the way owners are viewing the playing field.
But aside from a potential economic advantage that scrubbers present, Gibson reports that charterers have been seeking out scrubber equipped vessels and paying a premium.
Gibson reports:
Charterers are showing strong interest to time charter tonnage fitted with the technology. Recently, there have been several T/C deals with all oil majors, where a notable premium has been paid for tonnage fitted with scrubbers compared to tankers without the technology on board. A new trend is starting to emerge where newbuild tankers are being ordered fitted with scrubbers or being "scrubber ready", in other words the equipment could be installed at the later stage.
Though many might be reluctant to admit it, shipowners believe that the higher fuel costs are the "charterers' problem" since fuel costs are usually for their account.
Finally, let's not forget that many ships on the water were designed to burn HFO which is fundamentally different than compliant fuels. Burning a different fuel than what was typically intended leads to different viscosity, different thermal output, and different lubricating needs, just to name a few. By installing a scrubber a vessel can avoid these additional costs and potential problems brought on by switching fuels. Which leads us into our next section in the pro/con debate.
Scrubber Cons
Shipping companies at large have been suffering from dismal returns over the past few years. Cash-strapped companies may find it hard to come up with the initial capital investment required for their fleet, then they must factor in the cost of taking the vessel to dry dock for about a month to install the equipment.
The length of payback time, along with the time needed in dry dock, means that scrubber retrofits would not be cost-effective for any vessel likely to be scrapped within a few years. Whereas newer vessels, many of which carry the "eco" title are significantly more efficient than those built just a few years prior. Their fuel efficiency has led owners to conclude that installing costly and unproven technology on their modern vessels might not be in their best interest.
Already some technological concerns have come up. We addressed potential problems and costs arising from switching fuels already, but there are others.
Scrubber units and the full system components face very corrosive products at high temperature. Increased wear and tear along with the need for greater monitoring is a chief concern.
Additional electric power is required to run seawater and process pumps. Other loads include possible exhaust fans, separators, dosing units, control processors, sensors and monitoring equipment.
Some exhaust gas scrubber units may produce back pressure. With increased back pressure, the engine needs to use more power to overcome it.
Finally, crews will need to be fully trained to handle the system and hazardous chemicals associated.
Aside from technological issues, there are also environmental policy, economic, and compliance concerns.
The issue of CO2 emissions was the next topic taken up by the IMO. This past April, the International Maritime Organization revealed its strategy for cutting the industry's carbon output as member states pledged to reduce greenhouse gas emissions from shipping by at least 50% by the middle of the century. The strategy also proposes an objective to reduce average carbon intensity from shipping - the amount of CO2 emitted for each unit of transport - by at least 40% by 2030, and 70% by 2050.
But unlike LNG, or LSFO, scrubbers will not reduce greenhouse gas emissions leaving owners open to how they will comply with this new mandate. Will additional mechanical add-ons be the solution leading to another round of costs?
Also, there is the fact that scrubbers do nothing to reduce the level of sulfur, they simply transfer it from the air to a disposal unit which is then discharged, or simply dump it into the sea. If that discharge is contained in an environmentally safe manner that is a good thing, but that entails a cost. Unfortunately, the oceans may see increasing sulfur laden discharges.
Furthermore, open-loop scrubbers also tend to be considerably cheaper to install, with a price tag as much as $800,000 lower than closed-loop versions in some cases. But open-loop systems come with a regulatory risk: lawmakers concerned about ocean acidification may seek to prevent shipowners from simply removing the sulfur from their emissions and then dumping it in the sea. Owners may install an open loop system only to find out it may be targeted down the road by policymakers.
Economic assumptions could be impacted by a potential narrowing of the spread between high and low sulfur bunkers, which could erode expected savings.
Shipping chair professor at Norwegian School of Economics, Roar Adland (Ph.D., MICS), recently published a thought-provoking analysis on the subject.
Appearing to refute DHT's claims that scrubbers will bring "super profits", Dr. Adland argued that there is "no such thing as sustainable economic advantages in shipping. There never was, never will be."
He argues:
With the world's enture deep-sea fleet making the same calculations on fuel switching versus scrubbers, and the refinery sector making large investments in blending and desulphurization capacity, this will make the distillate and HFO market more integrated post-2020 than it has been in the past. More competition and distillate/ULSHFO availability will push spreads towards the cost of desulphurization or blending, which are more in the $60 - $100/tonne range than the $300+ price differentials currently being thrown around.
If this does indeed become reality, the economics of scrubbers begin to look much different. The lower spread means a longer payback period and with increased costs associated with scrubber use (maintenance, increased wear and tear, costs of disposal, increased crew training, etc.) the economics become even less attractive.
Additionally, the scrubber approach could be seen as wildly uneconomic for the overall market. CEO of A.P.Moller Maersk, Soren Skou stated:
It makes sense for refineries to remove sulfur from fuel and sell it to us instead of us setting up refineries aboard ships.
In 2017, Maersk said that it was not on the scrubber team, but opted instead to replace its bunker fuel with fuels with lower sulfur content.
Finally, there is the issue of compliance. While the IMO tried to address this through the carriage ban of high sulfur fuel aboard vessels not outfitted with pollution abatement technology, there is still the potential for different operators to choose not to run their scrubbers when outside the port limits.
Penalties for non-compliance with the new regulations seem to be minor when compared to investment costs to become compliant. The USA has some of the highest penalties across the board for various maritime infractions. According to research by Laura Blewitt of Bloomberg, "the biggest fine that can be imposed by the US Coast Guard is $71,264, far below the likely differential between conventional fuel and the price of low sulfur" - and you have to get caught first.
Conclusion
At the onset of the 2020 Sulfur Cap, it could be expected that those with scrubbers will indeed benefit from using lower cost HFO. Additionally, they also could attract charterers willing to pay a premium, which according to Gibson, appear to be developing a preference for equipped vessels.
However, as time goes on and more vessels are expected to install scrubbers, the price gap between fuels will likely narrow, and the increasing maintenance costs begin to add up. All of this erodes the competitive advantage of the first movers and therefore benefits will likely shrink over time.
The expected increasing price gap between fuels appears to be one of the biggest arguments for installing scrubbers. If there is a compliant fuel shortage and prices spike as a result, those with scrubbers will be in a very enviable position.
But, as Dr. Adland argues this is neither guaranteed nor sustainable. In fact, he contends that the price gap may actually narrow over time beyond what we currently see now.
Furthermore, it has been pointed out in the past that refiners chase margins thus large price increases for compliant fuels will likely be met with an increasing supply as refiners attempt to capitalize. As analysts have noted, the capacity is out there to supply the fuel, so it comes down to refinery utilization.
Additionally, While pre-2020 scrubber installation slots are reaching capacity some believe that eventually one-third of the global fleet will eventually have these systems installed. If that does come to fruition this will be another way for the price gap between fuels to narrow over the coming years. As demand between the two fuels equalize, so too will the prices.
Therefore, it looks as though those with scrubbers may indeed have a window for increased profitability over those without, but I hesitate to believe they will lead to what DHT termed "super profits". Additionally, that window may close more quickly than they would like and in the end, they are left with aging equipment which will require greater maintenance and impose more wear and tear on a vessel as they see a competitive advantage shrink.
Yes, at the onset of the 2020 Sulfur Cap, those with scrubbers will be at an advantage, but just how much and for how long is another story.
Thank You
If you found this article helpful and/or would like to easily refer back to it in the future, please click the "Like" button, and it will be saved to your favorites.
If you would like to stay up to date on my latest analysis, I invite you to follow me on Seeking Alpha (click the "Follow" button next to my profile picture at the top) as I continue to cover all aspects of maritime trade.
Value Investor's Edge
If you are looking for the best ways to invest in maritime trade, please visit Value Investor's Edge, a top-rated research service dedicated to offering actionable trades and strategic income opportunities. We now cover a variety of deep value and income-driven sectors, while maintaining our focus and very profitable record of shipping industry coverage.
Members receive exclusive access to over a dozen reports per month, including regular shipping and commodity macro analysis from James Catlin, exclusive content by top-tier deep value analyst J Mintzmyer, industrial and MLP ideas from Michael Boyd, and international insights from Ian Bezek. This winning team has developed a dedicated following of highly knowledgeable investors and industry professionals who also share their own thoughts and ideas.
Editor's Note: This article covers one or more microcap stocks. Please be aware of the risks associated with these stocks.