What Steve Chazen said this time...
Stephen Chazen is currently President, CEO, and Chairman at Magnolia Oil & Gas (MGY). Chazen had worked in many lines of business. According to his executive profile, he has a strong finance credential. He worked for Merrill Lynch as the Managing Director in Corporate Finance and Mergers and Acquisitions before joining Occidental Petroleum (OXY). He was the CFO at Oxy from 1999 to 2010 before being promoted to the CEO position. He also has a strong geology background. He earned a Ph.D. in geology at Michigan State. Naturally, when he speaks, people listen.
In a recent interview with Forbes, he said
he can continue to improve the economics of their south Texas acreage by systematically buying royalty interests from the landowners from whom the land is leased. In Texas it's standard for the owners to receive royalties, free of cost or encumbrance, of 25% off the top of any oil or gas produced from their land. Buying even slivers of royalty interests can dramatically improve the economic life of a field. "If you pay a reasonable price they'll sell," says Chazen. "If not, I won't drill there."
To achieve superior economics of a field, Chazen's secret sauce is buying royalty interests. He went as far as saying that he won't drill a property in which he doesn't own the royalty interest, further driving home the economic superiority of the royalty interest relative to other types of interests.
Chazen has a proven track record of leading a company to profitable growth, so his afore-described strategy should be especially illuminating. If buying "even slivers of royalty interests can dramatically improve the economic life of a field", then it naturally follows that a portfolio purely of royalty interests, unblemished by cost-burdened working interests, is supposed to deliver superior economics. If you can have all the good stuff, nothing but the good stuff, why bother to own the inferior stuff? The good stuff here is the royalty interest, while the inferior stuff is the working interest (Fig. 1).
This is where the royalty companies come in.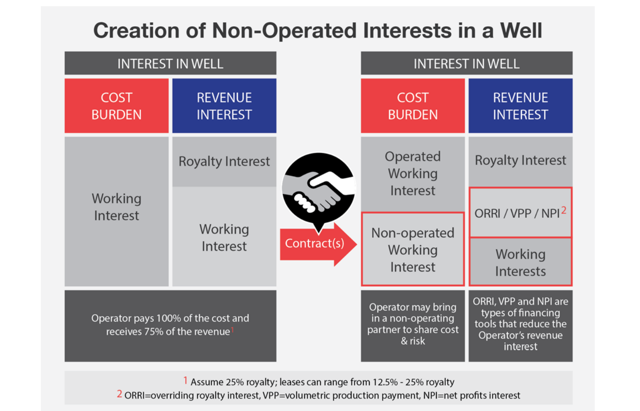 Fig. 1. Various types of interest in a well. Source.
Royalty companies
Royalty companies first appeared in the oil and gas industry. Then, the concept was picked up by the gold mining industry, whose innovation was growth-oriented royalty firms such as Franco-Nevada Corporation (FNV). Interestingly, growth-oriented royalty companies appeared in the oil industry as well in recent years (Table 1).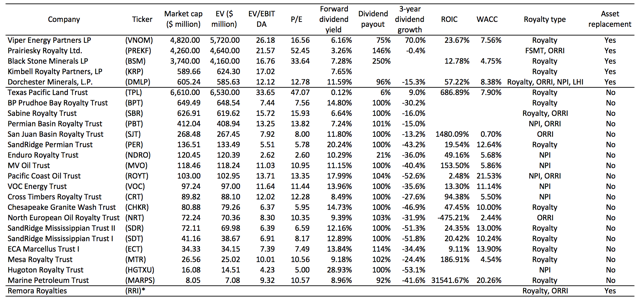 Table 1. Oil and gas royalty companies. Please note, ORRI, overriding royalty interest; NPI, net profit interest. The author's compilation, with financial data sourced from here.
Oil royalty firms fall into two distinctive groups, i.e., the royalty trusts and the limited partnerships.
The oil royalty trusts typically produce from and gradually deplete the royalty-interest-bearing properties without asset replacement until their exhaustion. Examples of the royalty trusts include Texas Pacific Land Trust (TPL), BP Prudhoe Bay Royalty Trust (BPT), Sabine Royalty Trust (SBR), Permian Basin Royalty Trust (PBT), San Juan Basin Royalty Trust (SJT), SandRidge Permian Trust (PER), Enduro Royalty Trust (NDRO), MV Oil Trust (MVO), Pacific Coast Oil Trust (ROYT), VOC Energy Trust (VOC), Cross Timbers Royalty Trust (CRT), Chesapeake Granite Wash Trust (CHKR), North European Oil Royalty Trust (NRT), SandRidge Mississippian Trust II (SDR), SandRidge Mississippian Trust I (SDT), ECA Marcellus Trust I (ECT), Mesa Royalty Trust (MTR), Hugoton Royalty Trust (OTCQX:HGTXU), and Marine Petroleum Trust (MARPS).
The limited partnerships acquire new royalty interests to replace the depleting assets in hope of growing the dividend distribution. The growth-oriented royalty companies include Viper Energy Partners (VNOM), Prairiesky Royalty Ltd. (OTC:PREKF), Black Stone Minerals LP (BSM), Kimbell Royalty Partners, LP (KRP), Dorchester Minerals, LP (DMLP), and Remora Royalties (RRI).
Royalty actually comes in a number of types, including, in the order of rising (capital and operating) costs and decreasing duration, crown royalty (Canada only), fee simple mineral title (i.e., FSMT), gross overriding royalty interest (i.e., ORRI), streams, net profit interest (i.e., NPI), and volumetric production payment (Fig. 2). These terms are defined in Note 1 at the end of the article.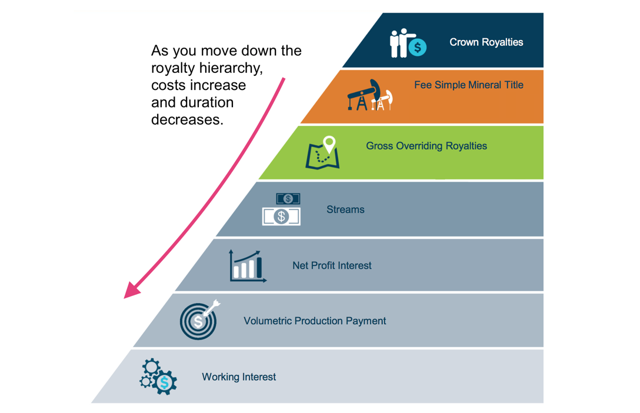 Fig. 2. The types of interest. Source.
The advantage of royalty companies
EV/EBITDA
On average, the royalty partnerships capture a median EV/EBITDA of 17.02X, while the royalty trusts have a lower valuation metric of 8.30X probably due to their depleting assets and lower-hierarchy of royalty types (Table 1).
Still, both types of royalty companies leave the E&P operators in the dust. According to a recent study, as of 1Q2018, the median EV/EBITDA for a selected group of E&P companies was 7.7X, although those operating in the Permian Basin, Eagle Ford trend, and Bakken play received slightly better metrics - 11.0X, 10.4X, and 10.1X, respectively.
The E&P companies studied therein are considered to be a good representation of the E&P landscape, with a wide section of the publicly-traded large independent E&P companies included: Encana (ECA), Devon Energy (DVN), Enerplus (ERF), QEP Resources (QEP), WPX Energy (WPX), EQT (EQT), Ultra Petroleum (UPL), Chesapeake Energy (CHK), Newfield Exploration (NFX); Continental Resources (CLR), Whiting Petroleum (WLL), Oasis Petroleum (OAS), Crescent Point Energy (CPG); Range Resources (RRC), Cabot Oil & Gas (COG), Antero Resources (AR), Gulfport Energy (GPOR), Southwestern Energy (SWN); Concho Resources (CXO), Parsley Energy (PE), Diamondback Energy (FANG), RSP Permian (RSPP), Halcon Resources (HK), Laredo Petroleum (LPI), Pioneer Natural Resources (PXD), Cimarex Energy (XEC), Energen (EGN); Carrizo Oil & Gas (CRZO), SM Energy (SM), EOG Resources (EOG).
Complementing the above-listed E&P operators are the DJ Basin pure plays, which feature an EV/EBITDA ranging between 5.05X and 6.72X (see here). GeoPark (GPRK), the king of Latin American E&P independents, only gets an EV/EBITDA of 8.08X (see here); other international E&P players fared even worse, e.g., Gran Tierra (GTE) at 5.74X, Ecopetrol (EC) at 5.72X, Petrobras (PBR) at 6.87X, TransGlobe Energy (TGA) at 4.67X, according to Gurufocus statistics.
A case in point for the differing levels of valuation is the pair Diamondback Energy and Viper Energy Partners (VNOM), the latter being majority owned by the former and the designated receiver of royalty interest drop-downs. While Viper captures an EV/EBITDA of 26.18X, Diamondback only receives a valuation metric of 11.13X; that is to say, Viper is valued at 2.35X of Diamondback in terms of EV/EBITDA.
EBITDA
The E&P operators as working interest holders have to spend capital to explore for, develop, and operate oil and gas reserves, thus typically incurring large quantities of capital expenditures, i.e., F&D cost, and operating costs, i.e., Opex, before the royalties hit.
Compared with the E&P operators, the holders of the various types of royalties incur little to none Capex and Opex, although they do have to cover the post-wellhead-production costs and pay production and mineral taxes, which are minimal anyway. Therefore, the royalty companies tend to capture a much higher operating margin than the E&P operators (Fig. 3).
The high operating margin, often in excess of 90%, lends the royalty companies a torque when the oil price is high and antifragility as the oil price tanks. This is why the royalty companies tend to give the investors a much smoother ride across the oil industry cycles.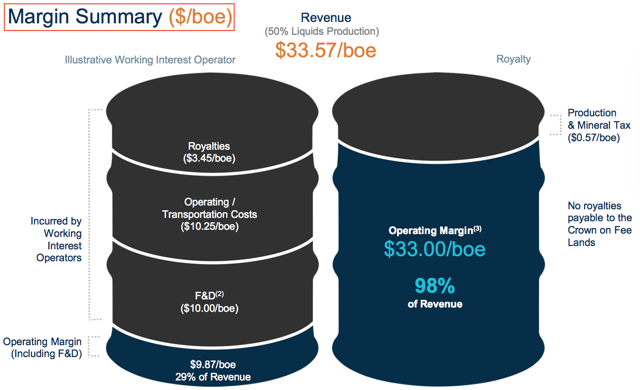 Fig. 3. A comparison of the operating margins of the working interest operator and royalty interest. Source.
Investment criteria
Since the enterprise value of a royalty company is defined as in the following equation,
EV = (EV/EBITDA) X EBITDA = (EV/EBITDA) X (EBITDA/Revenue) X (Production) X (Average realized price)
a high operating margin and an ensuing high EBITDA margin (i.e., EBITDA/Revenue), coupled with an advantageous EV/EBITDA ratio, tend to result in a high valuation, benefitting investors.
From the above equation, in stock picking, it follows we should favor those royalty companies:
which offer production growth prospect;
which boast low costs and higher EBITDA margin; and
which own more durable classes of royalties.
Growth
As for the oil and gas trusts which milk a depleting asset base until its exhaustion, they are, prima facie, quite attractive with dividend yields averaging 12.93%. However, those dividend yields were an artifact of a dividend distribution and unit price, both of which are in a long-term decline. Lack of production growth to offset depressed commodity prices over the past three years, they had to cut dividends by an average of 35.8%. Because they pay out 96.5% of the net profit and invest little capital, they can have an irrationally high return on invested capital or ROIC, which means little (Table 1).
In contrast, a royalty partnership invests part of the net profit to replenish or even expand its asset base. Its dividend yield and ROIC may be lower, but its net royalty acres, net production, and EBITDA grow, enabling the company to increase dividend distribution, as exemplified by Viper Energy Partners (Fig. 4). In the meantime, the unit price is to be driven up by the expansion of the intrinsic value of its underlying assets.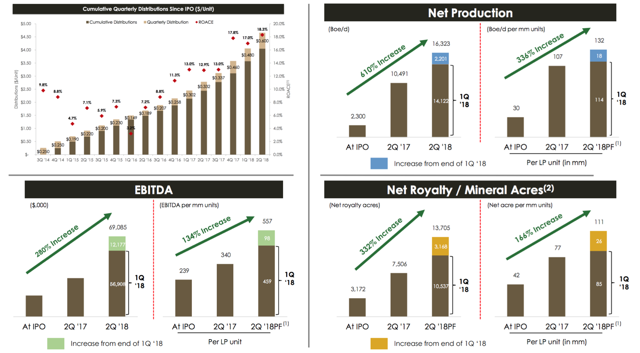 Fig. 4. The growth posted by Viper Energy Partner. Source.
Low costs and high operating margin
Firstly, higher hierarchy royalty interests incur neither capital expenditures nor operating costs, barring a minimal amount of post-wellhead marketing expenses and production and mineral taxes (Fig. 3). Therefore, companies holding higher-hierarchy royalty interests are preferred over those owning higher-cost royalty interests. For example, Dorchester Minerals, L.P.'s (DMLP) asset quality is diluted by its net profit interests (Table 1).
Secondly, however low-cost a royalty company may be, it still incurs fixed costs such as administrative expenses. These fixed costs, measured on a per boe/d basis, clearly favor a larger scale in operation. Everything else being equal, we prefer a bigger royalty company over a smaller one.
Thirdly, there can be transactional costs associated with acquisitions for growth-oriented royalty companies.
If a royalty company acquires its royalty interests in the market, we cannot expect it to negotiate each and every deal to its advantage. On average and over time, the royalty company is expected to transact at the fair market value and incur transactional costs.
On the other hand, MLPs are structured in a way to receive drop-downs of midstream assets from its parent company - the general partner. Viper Energy Partners is one of few upstream MLPs. It receives royalty interest drop-downs from Diamondback Energy free from transactional costs.
Fourthly, capital inefficiency results in costs for a royalty company. An active asset acquirer faces the challenge of picking the right places to purchase royalty interests: royalty interest on stranded assets which are left undeveloped is a waste of capital while piling on a hot play often means paying a dear price for the royalty interest.
Some royalty companies diversify to mitigate that inherent risk in royalty interest acquisition. However, in practice, diversification may backfire. For example, after having accumulated a diversified portfolio of assets across the U.S., Black Stone Minerals LP (BSM) has had to take up the role of operator now and then to accelerate the pace of development of its otherwise dormant properties, which inevitably increases its capital and operating costs (Fig. 5).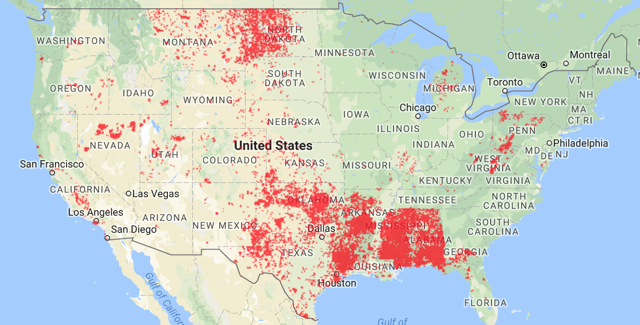 Fig. 5. A map showing the assets of Black Stone Minerals. Source.
In contrast, Viper Energy Partners concentrated in building a royalty interest portfolio in the Permian Basin where its parent company Diamondback operates. With a small foothold in the core of the Eagle Ford trend, Viper limits its footprint to two of lowest-cost unconventional plays in the onshore U.S., thus not only benefitting from a high capital efficiency but also enjoying relative safety in oil depressions. For Viper, there is really no reason to let lower-quality assets dilute its advantage (Fig. 6).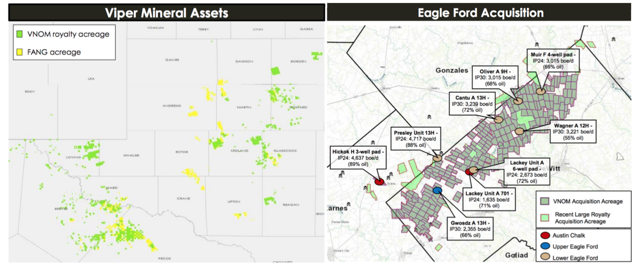 Fig. 6. Maps showing the assets of Viper Energy Partners in the Permian Basin and the Eagle Ford trend. Source.
Asset durability
Fee simple mineral title and overriding royalty interest last forever, while net profit interest and volumetric production payment expire along with the underlying leasehold (see here). Perpetual ownership enhances the intrinsic value of the royalty interest immensely.
Texas Pacific Land Trust (TPL) is one of the largest landowners in Texas with 890,000 acres in the much-prized West Texas, which were previously held by the Texas and Pacific Railway Company. By retaining perpetual non-participating oil and gas royalty interests, the trust generates revenue from royalties from oil and gas and from pipeline easements and leases. The trust also generates revenue from royalties on sales of water and direct sales of water. Generally, we avoid trusts, but Texas Pacific's sheer size makes it an exception (Fig. 7).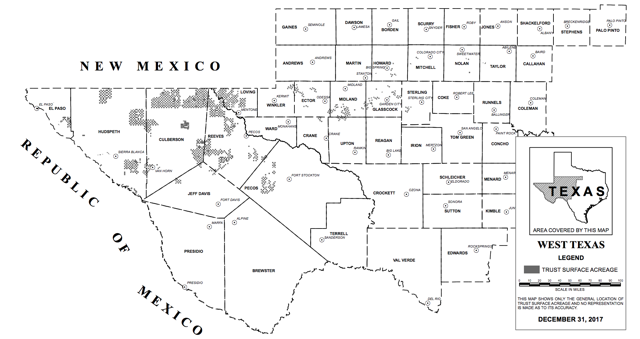 Fig. 7. The land holdings of Texas Pacific Land Trust. Source.
In contrast, Dorchester Minerals holds a fair amount of net profit interests. To maintain and grow its dividends, Dorchester will be under pressure to have to replace its expiring royalty interest base and to replenish the depleting assets, thus incurring more and more capital spending (Table 1).
Risk
The growth-oriented royalty companies usually pay a variable dividend distribution. This means the company can stop paying dividends, e.g., when an oil price crash diminishes its cash flow. This may not be ideal for the investors who are in the stock for a constant income stream.
The oil royalty companies are part of the natural resource extractive industry. The bane of the natural resource extractive industry is the inevitable depletion of assets. The oil trusts just let the underlying assets to deplete until their exhaustion; the growth-oriented limited partnerships seek to replace the depleted assets. Like in all other acquisitive businesses, the oil royalty partnerships have the risk of debt or equity dilution, of making the wrong acquisitions, and of losing operational efficiency.
Even though royalty companies are better protected than the E&P operators from the double whammy of having to shut in high-cost production just when commodity prices crash, their revenues are affected by volatile fluctuations of the market prices of oil and gas. Local constraints in takeaway capacity can negatively impact the realized oil and gas prices, as seen in the Permian Basin in recent months (see here).
In addition, their revenues are subject to the E&P operators' decisions on whether to develop and produce from the acreage. Only does an increase in E&P activity deliver benefits to the royalty companies. When the E&P operators cut spending, nothing the royalty companies can do to stymie production decline or to effectuate production growth.
Lastly, the rising tide of environmental activist movement can threaten any royalty interest. For example, the 2018 ballot include Initiative 97, which if passed will essentially kill off oil exploitation in Colorado (see here and here), rendering any royalty interests attached on the acreage in the DJ Basin worthless.
Investor takeaways
Royalty companies provide an exposure to the rising oil price at a mitigated risk. A royalty company can reap the benefit derived from the continued development of the properties in which it owns a royalty interest without the need for it to invest additional capital. It is not obligated to fund drilling and completion costs, lease operating expenses, plugging and abandonment costs at the end of a well's productive life, or any environmental liability costs. Such a situation enables a royalty company to provide increasing dividends to stockholders resulting from acquisitions and from organic growth through the continued development of the properties in which it owns an interest.
Such a tilted risk-reward profile may work for risk-averse investors who like the positive effect of a rising oil price but are wary of the full impact of an oil crash.
However, the oil royalty space is a complicated one. Royalty companies vary in whether they replace depleting assets and may hold a variety of royalty interests which differ in cost requirements and duration. Our discussion, I hope, has demonstrated that the growth-oriented royalty companies, especially those holding high-hierarchy royalty types, should be picked (Fig. 8). An in-depth analysis of the royalty companies that meet these criteria is beyond the scope of this article and will be covered in future pieces.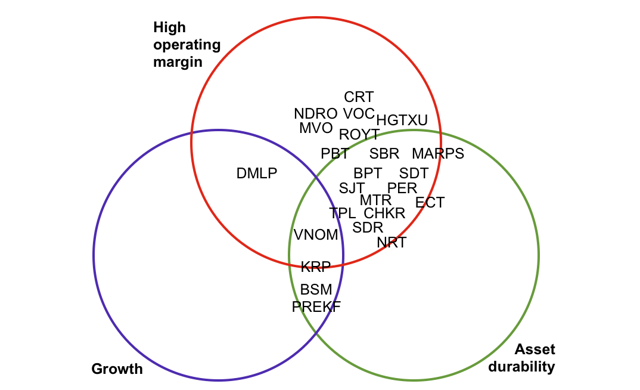 Fig. 8. The investment criteria for royalty companies. The author's illustration.
Note 1
Crown Land in Canada is a designated territorial area belonging to the Canadian Crown. About 89% of Canada's land area is Crown Land, of which 41% is federal crown land (mostly in Northwest Territories, Nunavut, and Yukon) and 48% is provincial crown land; the remaining 11% is privately owned.
Fee simple is the most basic type of ownership. The owner has the exclusive and effectively perpetual right to the surface, the subsurface and the air above a property. The owner also has the freedom to sell, lease, gift or bequest these rights individually or entirely to others.
Surface estate, often referred to as surface rights, is the ownership of the surface of the land. It implies the right that the owner may do whatever he wishes to the land as far as law permits.
Mineral estate, often referred to as mineral rights, includes rights to all solid minerals of special value and oil and gas, with the exception of sand, gravel, bedrock such as limestone which are normally considered part of the surface estate as is subsurface water.
Mineral rights are often severed from the surface estate.
Overriding royalty interest, or ORRI, is the fractional right of participation in the production volume, or in the proceeds from the sale, of the oil and gas produced from a leasehold in the duration of the lease, free from any expense of development, operation or maintenance. Please note, as opposed to fee land which is effectively perpetual and will never expire, an ORRI only last until the expiry of the underlying lease; however, as long as the lease is held by continual production (aka, HBP), the lease remains in good standing and will not expire. Furthermore, an ORRI is paid by the lessee to the ORRI holder in addition to the royalty paid to the lessor hence the term overriding.
An ORRI is created when, e.g., a party farms out the working interest to another party in exchange for retaining an ORRI on the production from the lease under the farm-out agreement, the lessee receives capital from another party in exchange for an ORRI, or a fee landowner gets an ORRI on an offsetting acreage from its lessee in exchange for allowing it to drill longer-lateral horizontal wells through a portion of the fee land.
A stream is a contract to purchase from an oil and gas producer a percentage of the production from a specific license or a field, without taking any interest in the license. A stream is similar to a royalty except it is created to solve a funding need. A stream lasts until the expiry of the underlying license.
A net profit interest, or NPI, is a non-operating interest carved out of the working interest of a lease and paid in form of a percentage of the net profit generated from the operation of the lease. A NPI owner is paid only when the operations yield a net profit, i.e., when the revenue associated with the production exceeds the Capex and Opex (see here).
Please note, an NPI is after costs, while an ORRI (or a volumetric production payment, see below) is measured by a fractional share of the production free of costs.
A volumetric production payment, aka, VPP, involves the owner of an oil and gas producing property selling a percentage of the production from that property in exchange for an upfront cash payment. The buyer of the VPP - usually a hedge fund, bank, insurance company or oil company - receives a stated monthly quota or a specified percentage of the monthly production, without getting involved in the operation. As a financing tool, a VPP transaction is typically set to expire after a certain length of time or after a specified aggregate total volume of the commodity has been delivered.
A working interest is defined as a percentage of ownership in an oil and gas lease which grants its owner the right to explore for, develop and produce oil and gas from a lease. Naturally, a working interest owner is obligated to pay a corresponding percentage of the cost of leasing, drilling, and operating the lease. After royalties are paid, the production revenues are shared among the working interest owners in proportion to their respective percentage of working interest.
If you like the general idea of oil royalty companies as presented above, you may want to know which specific stock is the best pick in the entire oil royalty space. Then you may want to take advantage of the FREE TRIAL currently offered at The Natural Resources Hub:
Join The Natural Resources Hub and get immediate access to our high-alpha investing ideas in the natural resources sector and beyond, including those behind the paywall.
Check out our high-performance model portfolios and trading alerts;
Experience our chat rooms - the best sounding board ever;
And much more...

Disclosure: I am/we are long VNOM. I wrote this article myself, and it expresses my own opinions. I am not receiving compensation for it (other than from Seeking Alpha). I have no business relationship with any company whose stock is mentioned in this article.
Additional disclosure: For a full disclosure, please find:
seekingalpha.com/...