Introduction
In part I, I gave some commentary on the status of the natural gas (NG) market. I expounded upon the uses of NG and analyzed regional markets. I also made a bunch of Bob Dylan references. In part II, I will further the supply side analysis by examining three new areas that will be adding large, incremental gas supply to an already crowded market. I am of the belief that natural gas prices do not reflect the importance of these new plays and that the market is mispricing futures contracts due to the lack of knowledge surrounding them. Oh, I will also cease and desist from the Bob Dylan references. But before I do, let me impart upon the reader one last little nugget from a different Dylan song "Mississippi"…
Well, the emptiness is endless, cold as the clay. You can always come back, but you can't come back all the way."
For natural gas, the shale age has ushered in consistent domestic supply which does not look to abate anytime soon. Supply growth has continued to depress prices to a point where most gas plays have razor thin or negative margins. The reality in the US is that we have much more shale gas than shale oil. Although shale gas drillers pine for the days of high gas realizations, they are often their own worst enemy. In this article, I will highlight three areas which are either new discoveries or improvements on old plays. These areas are attracting capital and threatening new supply. Just don't call it a comeback.
In the analysis to come, I will spend some time using decline curve analysis to estimate per well recoveries in these new plays. HOWEVER, in this chapter, I will be refraining from making any economic estimates about the commerciality of a particular play.
Alpine High
I remember reading the 2016 article in the Wall Street Journal where Apache Corp. (APA) announced the Alpine High (AH) discovery- touting the find as 2 Billion barrels of oil equivalent (I believe there has been a dubious upward revision.) Ahh, there is that word again… equivalent. What they really found was a whole bunch of gas with some liquid make-up in various stratigraphically and geographically isolated areas. Alpine High is contemporaneous to the Scoop/Stack Plays in Oklahoma in terms of depositional timeframe. It is also relatively analogous in terms of production intervals and stacked-pay potential.
As is the case with most young plays, the well results are not homogenous and thus tough to decipher in terms of product mix and potential profitability. Apache has amended the field rules for Alpine High, to form nearly 3,000' of consolidated reservoir. The Barnett/Penn, Mississippian, Woodford, Devonian (occurring from shallowest to deepest) are separate compartmentalized reservoirs with individual geologic characteristics. Most wells correlate to the Woodford -but at this stage, it is nearly impossible to analyze each bench separately even when the existing production is depth-registered and associated with an interval. So, I am not going to do that. Holistically, Alpine High is a gas play. I have divided it into two distinct sections: Northern AH and Southern AH.
Northern Alpine High
Northern AH is a pure dry gas play. The Woodford is around 14,000' in total vertical depth. It should come as no surprise that it is dry gas as this is deep, over-pressured, and thermally mature reservoir. The image below shows current production from Northern AH.
Northern Alpine High Area of Interest
Source: DI Analytics, Author's Creation
The pie chart references wells as classified by the Texas Railroad Commission (TXRRC). To receive a "gas well" designation a well must display a high Gas to Oil ratio. All wells in this area are classified as gas.
Using DCA, I have made a preliminary Type Curve forecast for Northern AH.
Northern Alpine High Type Curve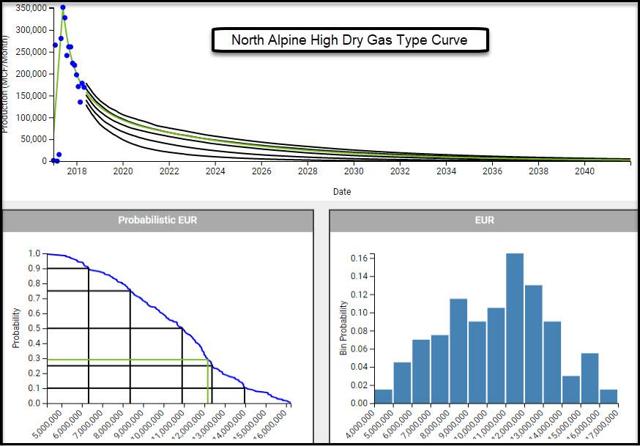 Source: DI Analytics, Author's Creation
Southern Alpine High
Southern AH has a bit more variance to the production mix. Completions occur from 9,000' to 12,000'. Predictably, higher liquid cuts occur in the shallower depths. While more completions in this zone are classified as oil-rich gas is the more common component of the production profile.
Southern Alpine High Area of Interest

Source: DI Analytics, Author's Creation
Southern Alpine High Oil Type Curve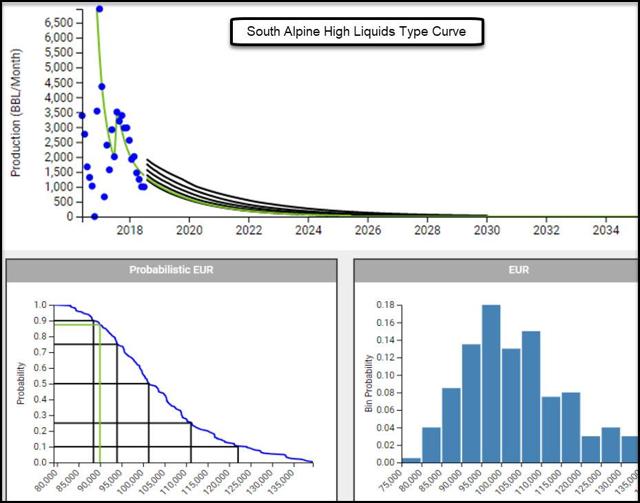 Source: DI Analytics, Author's Creation
Southern Alpine High Gas Type Curve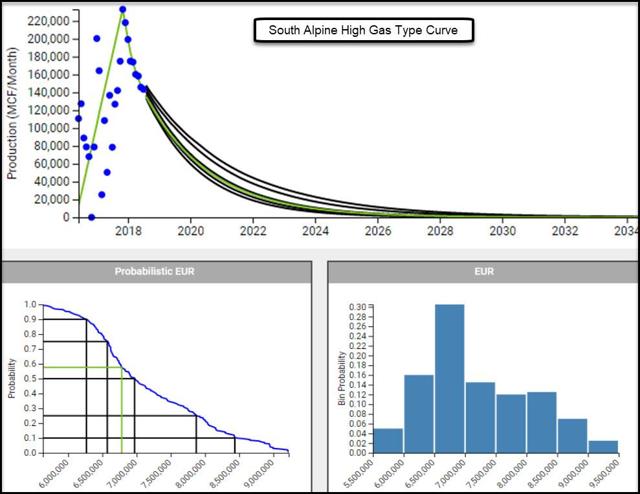 Source: DI Analytics, Author's Creation
I will present some thoughts on the commerciality of Alpine High in the last segment. By extension, I will analyze the investment potential of Apache and their latest spin-off -Altus Midstream.
Southern Eagle Ford Shale Revival
The Southern Eagle Ford Shale gas window is by no means a new play. PetroHawk's (later BHP Billiton (BHP), now BP) Blackhawk Field in Southern La Salle County was one of the first EFS areas to draw attention and capital. It was not much for profitability and largely became ignored once the commerciality (or lack thereof) was defined. A combination of factors has conspired to bring it back from the grave. Namely, higher intensity completions, longer laterals, and the allure of selling to the Mexican gas market.
Some smart oil and gas attorneys have had a hand in this as well. This area of South Texas is made up of some extremely large ranches. Most investors are aware of the concept of "Held by Production." Whereby a well or maybe a few wells can hold the lease indefinitely or until hydrocarbons are no longer produced in "paying quantities." This is a gross oversimplification of lease terms. Oil and gas leases are not created in a vacuum- especially as they pertain to large ranches. The attorneys representing these large landowners have designated amounts of land and vertical stratigraphy that any given horizontal well can hold. For example, on a 12,000-acre ranch in Webb County, Texas- one horizontal eagle ford well may only retain one 160 acre unit and it may be limited to depths within a range of the lower and upper strata. These leases also specify that an operator must continue to drill these wells at a certain rate past the primary term of the lease (often 180 days between last completion and new spud) or be forced to release the lease subject to the units that the operator can retain around the well. On a large ranch, this forces the operator into a capital-intensive situation and often one that they cannot shoulder.
Due to the lack of commerciality of early completions and the draconian nature of the lease development, the Southern EFS has seen a high rate of lease turnover. Many of the new operators have been able to establish large land positions on the cheap. The improved EUR's combined with new well commitments ensure that new supply will be coming from this area.
Southern Eagle Ford Area of Interest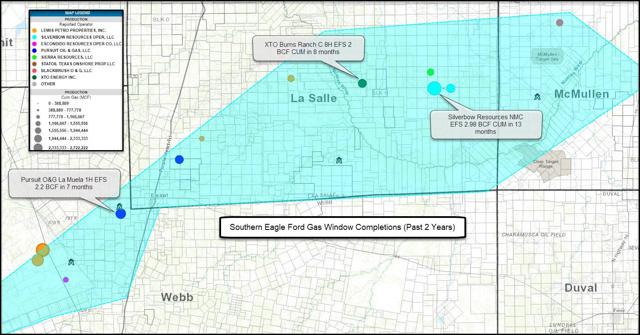 Source: DI Analytics, Author's Creation
Of further note, this area possesses stacked pay much like the highly touted Permian Basin. Formations such as the Upper Eagle Ford, Austin Chalk, and Olmos sandstones will likely be co-developed with the more reliable Lower Eagle Ford. Right now, it is mostly small fish in a small pond (not sure how big XTO's position is). As the larger pond to the north dries out, expect some of the bigger fish to grow legs and walk on down to this fishbowl. Picture the Australian Climbing Perch- they have lungs AND gills. I do not see any investment potential in this area but do expect it to add meaningful gas supply. Most of which will go to Mexico or Cheniere Corpus Christi (LNG.)
Southern Eagle Ford Gas Type Curve Normalized to 8,000' Lateral Length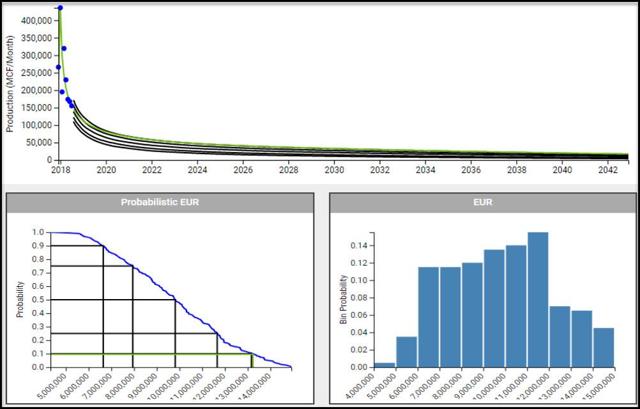 Source: DI Analytics, Author's Creation
Giddings 2.0
Just about the time, the early 1970s oil embargo was driving the price of crude oil up from $3 per/barrel to $12, a Texas Wildcatter named Chuck Alcorn, Jr. was working up a salvage job on the No. 1 City of Giddings well in Lee County, Texas. Halliburton's (HAL) "Big Red" unit had just finished pumping acid into the old "chalk dog", and much to Alcorn's surprise the well began flowing 300 barrels per day of honey-colored oil.
The story of the Austin Chalk has many chapters. The Giddings field is one of the rare success stories. Once thought to be drilled out, the field is experiencing a revival. The old paradigm of open hole completions strategically placed through natural fracture swarms is dead. Behold the new concept- Frac' the snot out of thick, hydrocarbon-charged intervals in the down-dip area of the field. The original Giddings oil field has largely been drained. However, the reservoir continues to the south and gets progressively deeper and gassier. Operators are now keying in on these areas and results look, well… good.
Giddings 2.0 Area of Interest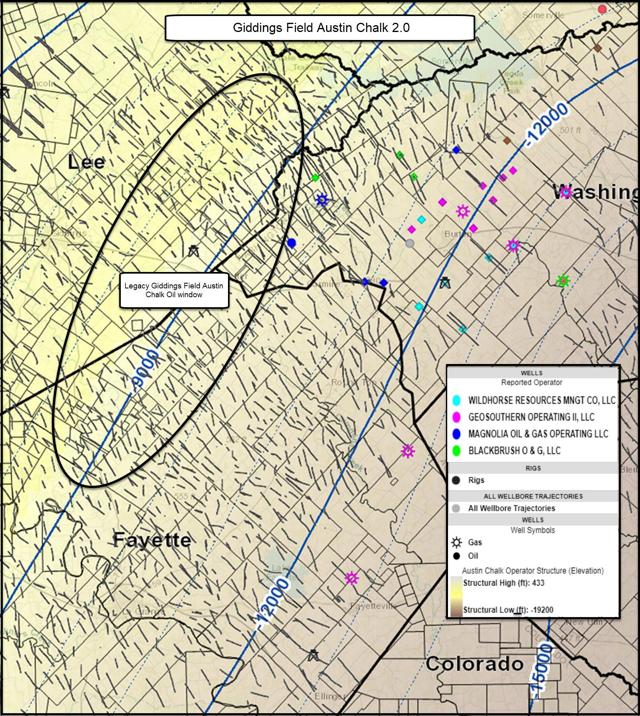 Source: DI Analytics, Author's Creation
Insufficient data points exist to model a long-term EUR for these wells. The Type Curve cited below is limited to 12 months of initial production. In Chapter III, I will add some definition to the oil to gas phase window for this play. It occurs along the structure contours and can be easily delineated for purposes of visualizing which operators are situated in the phase windows.
Giddings 2.0 Type Curve Liquids & Dry Gas

Source: DI Analytics, Author's Creation
The money finally showed up to this play with TPG Pace Energy's (NYSE:TPGE.U) formation of a blank check company headed by former OXY CEO Steve Chazen. Chazen consummated the business by purchasing Enervest's South Texas Division in a $2.66 Billion (cash and stock) deal earlier this year. The new company is now called Magnolia Oil and Gas Corp. (MGY).
Of the three areas mentioned, New Giddings excites me the most. In part III, I will look to dedicate some space to investable names who are tied to the fortunes of this field.
In totality, these plays represent well over one million acres of high cum gas locations. Hey, at least your heating bill may be cheap next winter! More money to invest, right?
U.S. Shale Gas: The Times They Are A-Changin' Chapter I: Markets
Disclosure: I am/we are long MGY. I wrote this article myself, and it expresses my own opinions. I am not receiving compensation for it (other than from Seeking Alpha). I have no business relationship with any company whose stock is mentioned in this article.