Introduction
Last month, after all of the housing data had been reported, I summarized the state of the housing market as having turned slightly negative, saying:
To sum up, we have:

Two (weakly) positive metrics (housing starts and permits)

One neutral metric (nominally measured private residential investment), and

Four negative metrics (purchase mortgage applications, real private residential investment, new and existing home sales).
Let's update this by examining housing permits and starts for August, which were probably the most significant single housing report in the last 6 years.
That's because, over the last year, the big question has been how increased interest rates and ever-escalating prices may finally be taking a bite out of the market. In order to examine this, and to put this morning's report on housing permits and starts in context, let me first step back and give you a "big picture" look at housing data - because there is a pattern to the order in which housing trends change.
That order is as follows:
Interest rates lead sales

Sales lead prices

Prices lead inventory
I don't mean to suggest that the above sequence is inviolable, nor that causation is singular. It is clear, for example, that demographics has an important effect. But as I have pointed out in the past, even if prices that are "too high" cause sales to slump, sales will turn first, even as prices rise for a while.
Housing permits turn from positive to neutral
With that in mind, let's turn to the August report on housing starts and permits. Last month, I wrote that:
Since the lead time [of mortgage rates to permits] tends to average about 6 to 9 months, this strongly suggests that issuance of permits should stagnate.
Here's an update graph of mortgage rates (inverted) and permits (red) for the last 6 years, showing the relationship: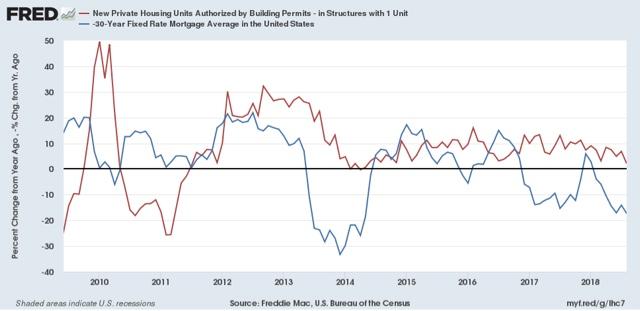 As shown in the graph below, permits this month did more than stagnate, with single-family permits falling to an 11-month low, over 7% below their peak of 6 months before in February (red, right scale). Total permits (blue, left scale) fell to a 12-month low, down -5.5% YoY and -12% off their peak from March: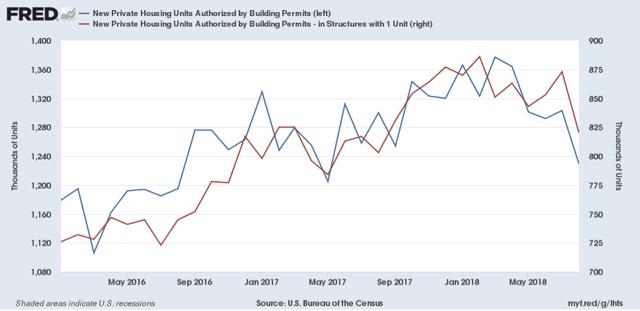 I focus on single-family permits because they are the least volatile of all the housing data, and are just as leading as permits overall (first graph below) and slightly more leading than starts. They are also much less volatile than new home sales, which are also very heavily revised.
While the news in permits was poor, this hardly means that a recession is around the corner. It has always been the case for the last 50 years that housing permits, both total and single-family permits, turn negative significantly before a recession hits: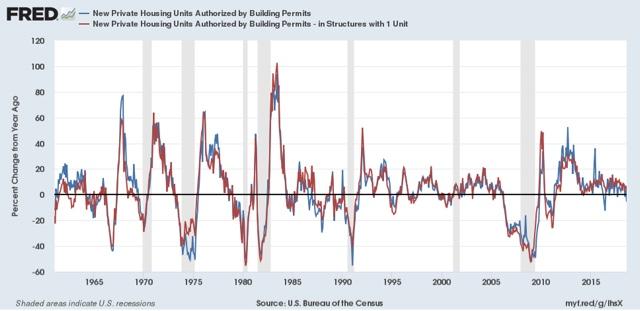 As of August, total permits are now negative YoY. But single-family permits are still up 2.1% YoY.
Further, before a recession hits, total permits typically decline by at least -200,000 units and single-family permits decline by at least -150,000 units: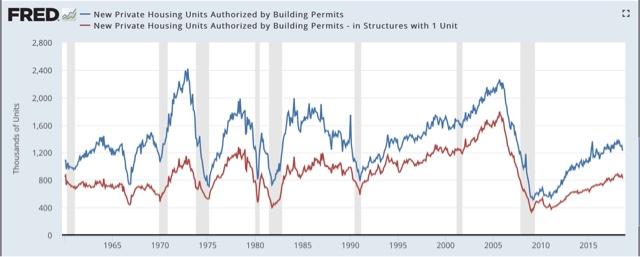 As of August, total permits were down -148,000, but single-family units were only down -66,000 from their peak.
Finally, it bears repeating that because these are both long leading indicators, they typically peak at least 1 year before a recession hits.
Put the information together, and permits have not gone negative enough for long enough for me to change their rating to negative. But because the less-volatile single-family permits have gone for 6 months without making a new high and are very close to turning negative YoY, a downgrade from (weakly) positive to neutral is in order.
Housing starts remain a weak positive
Turning to the more volatile housing starts data, last month I also forecast that:
[B]ecause permits tend to lead starts by a month or so, I expect starts to improve toward the good permits numbers next month.
That is exactly what happened: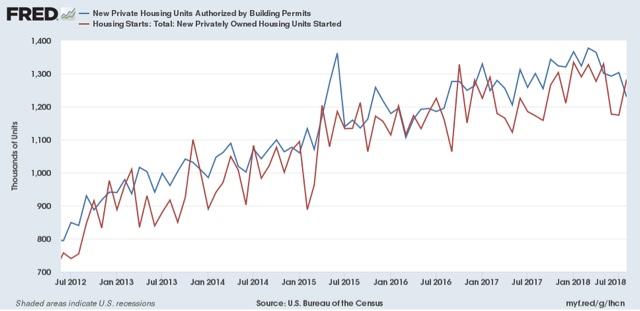 Housing starts last made a new high on both a monthly and 3-month rolling average basis 6 months ago. Because of their volatility, the 3-month moving average is the best way to view this metric, and so doing, starts made a 9-month low.
But starts are still positive YoY. Further, they have generally declined by -400,000 before a recession has begun: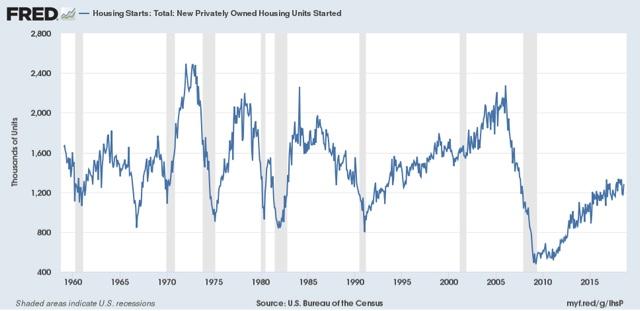 Needless to say, we are nowhere near meeting that criterion.
Thus, housing starts remain a positive. That being said, in the next month or two, I expect this month's weakness in permits to show up in starts.
Conclusion: Housing has turned negative for the first time since this expansion began
To summarize, this changes the ratings of the 7 housing indicators to the following:
One (weakly) positive metric (housing starts),

Three neutral metrics (nominally measured private residential investment, housing permits, and purchase mortgage applications), and

Three negative metrics (real private residential investment, new and existing home sales).
While we are not yet on any recession watch status, that housing is now a slight negative has been reinforced by the August housing permits and starts report.
As I write this, mortgage rates just rose to a new 7-year high of 4.82%. The increase that began in March is just now showing up in housing. Thus, I do not expect any meaningful new highs in any housing sales metrics during this economic expansion unless and until these mortgage rates abate.
Disclosure: I/we have no positions in any stocks mentioned, and no plans to initiate any positions within the next 72 hours.
I wrote this article myself, and it expresses my own opinions. I am not receiving compensation for it (other than from Seeking Alpha). I have no business relationship with any company whose stock is mentioned in this article.