By Jharonne Martis
The latest Nike (NKE) commercial featuring its new spokesperson, NFL player Colin Kaepernick, has caused an explosion of reactions on social media. Some of Nike's customers are upset, have taken to social media and have gone as far as destroying their Nike gear. Meanwhile, other customers are supporting and embracing the campaign.
Recent stories say that Nike's sales are stronger this year than last. However, most retailers' sales are stronger this year. What would really tell us the direct effects of the campaign is how things significantly changed since it was launched.
Although the initial ad might have caused negative reaction among investors, Nike maintained its product pricing structure, offered less discounting and sold out of 61% more merchandise since the ad began running. Additionally, its stock is trading at a new high, and StarMine model scores are robust, suggesting the company's operating efficiency looks good. These strong statistics reinforce the notion that Nike is standing firm - and not just in a social context. The company doesn't need to participate in the discounting that tends to plague other retail brands.
Spike in sold-out items
Thomson Reuters discovered, in a collaboration with StyleSage Co., that since the launch of the commercial, there have been some changes on Nike's e-commerce site. For starters, the percentage of shoes and apparel on discount has decreased from 32% to 30% from the ten days prior to the 30th anniversary ad launch versus the 10 days following. The average discount did not change at all. The average discount of all products is only 8%. Nike generally doesn't do the discounting traditionally seen in other channels like department stores, because it doesn't have to.
What's more interesting is that the number of products sold out in the 10 days before the ad came out, compared to the ten days after (September 3-13), increased by 61%. The number of items sold out went from 703 for the 10 days prior to 1131 for the 10 days after the ad went public (See Exhibit 1). Please note, "sold out" includes items that went completely out of stock at any point during that period, even if they were then restocked - it is still counted as sold-out.
Among the top sold-out categories were shorts (13%), intimates/sports bras/base layers (12%), and pants (11%). The Colin Kaepernick women's jersey sold out on September 17. The Dick's Sporting Goods (DKS) e-commerce channel told a similar story, and its Nike sales stats align with these.
Exhibit 1: Number of Products Sold Out on Nike's E-commerce channel: 10 Days Before and After the Ad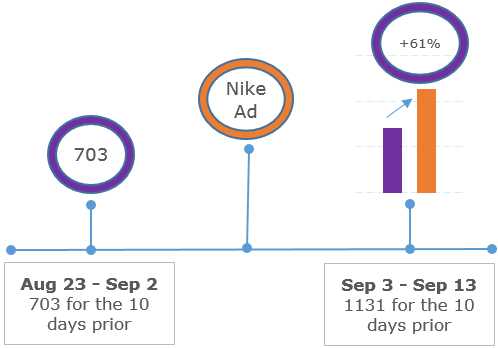 (Source: StyleSage Co.)
Social media investor sentiment
Colin Kaepernick first tweeted the ad on the Labor Day weekend and caused a social media frenzy. Using our Thomson Reuters Eikon Social Media Monitor App, we are able to track investor opinion tweets when Nike's ticker was mentioned before and after Labor Day. Please note: This Eikon App only tracks mentions of company stock tickers in the tweet (meaning when $NKE was mentioned).
It's easy to see from the Thomson Reuters Eikon charts that social media volume jumped during the holiday weekend. There were more than 4,000 tweets mentioning Nike's ticker symbol that day versus less than 200 on September 17.
Right after the ad, Nike's investor sentiment went from positive to mostly negative, and the stock price took an immediate hit. This week, however, is a different story; although stock tweets volume and investor sentiment are still low, the stock is trading at a new high (Exhibit 3).
Exhibit 2: Nike Investor Sentiment and Stock Price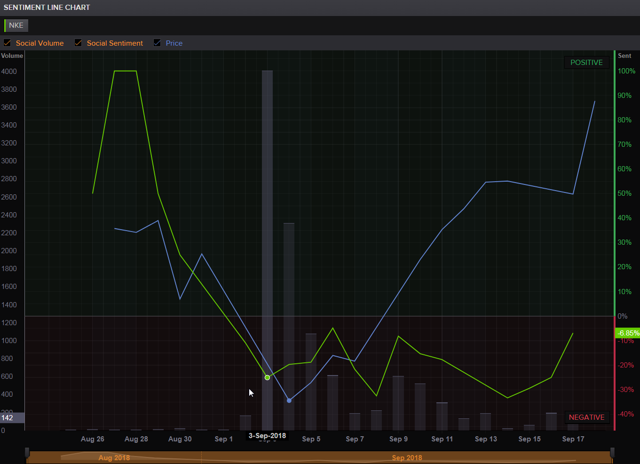 (Source: Thomson Reuters Eikon)
StarMine's judgment
Moreover, according to the StarMine Price Momentum high score of 84, Nike stock is showing positive momentum.
The StarMine ARM Model is highly predictive of both the direction of future revisions and price movement. Nike scores an 87 out of a possible 100, suggesting that analysts polled by Thomson Reuters are likely to revise earnings upward. The company is set to report Q1 2019 earnings on September 25, and currently has a 9.83% estimated earnings growth rate.
What's more, earnings are of good quality. The StarMine Earnings Quality Model gives Nike a score of 94 out of a possible 100. This high score suggests that profits could be from sustainable sources. The company's cash flow and operating efficiency also look robust.
Exhibit 3: Nike's StarMine Model Scores

(Source: Thomson Reuters Eikon)