Many companies of various sizes serve the oil and gas drilling and producing industry. After some pullback of Permian drilling due to lack of pipeline capacity and continued pressure on service costs from both the producers themselves and their investors, squeezed oilfield service companies are beginning to return to profitability. These four companies - Halliburton (NYSE:HAL), Nabors Industries (NYSE:NBR), Patterson-UTI Energy (NASDAQ:PTEN), and Schlumberger (NYSE:SLB) - illustrate the opportunities and risks in this sector.
A third-quarter malaise in both the stock and the oil markets has been suggested. Investors who consider this true may find these less-flashy companies, ones not currently at the top of their price cycles, to be of interest.
Oilfield Service Industry Challenges
Oilfield service (OFS) companies rely on healthy oil and natural gas prices; however, their stock prices haven't tracked oil prices exactly. The issue, ironically, is a result of drilling success.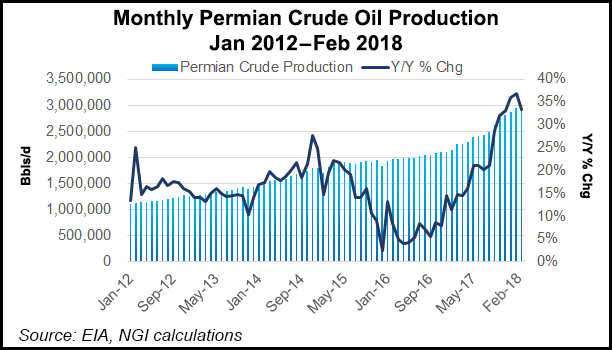 As the graph above shows, Permian oil production tripled in six years; since February 2018, it has increased further to 3.4-3.5 million BPD.
The surprise concern several months ago became Permian logistics: the Permian Basin in west Texas and eastern New Mexico simply doesn't have enough oil and gas pipeline capacity to transport the massive volume increases producers have accomplished in the past few years.
Producers, who with their OFS partners had already become more efficient at drilling and focusing on core areas, thus reducing oilfield service demand, began to slow drilling plans, reducing OFS demand further. Service companies were able to pass through some cost increases, like for labor and trucking. However, OFS companies could not increase prices on other components, with sand becoming a particular trap, so to speak. Too much sand, especially regional sand breaking into the market, has been keeping sand costs low. Similarly, according to Tudor Pickering Holt, the shift to multi-well pads caused completions scheduling confusion for the service companies.
Additionally, more pressure pumping capacity and reduced demand due to some backoff in completions also reduced oilfield service company profitability.
Note on Two Other Oilfield Service Companies
Many companies provide oilfield services. Two others considered for this review were Weatherford International (NYSE:WFT) (see below, too much debt) and Baker Hughes, a GE company (NYSE:BHGE). BHGE was not included, first because General Electric currently owns 62.5% of the company, while the public only owns 32.5% of BHGE, so GE has a predominant say in operations, and second because in June, GE announced that it was divesting its Baker Hughes stake; however, the divestment will take 2-3 years.
Graph of West Texas Intermediate Crude, Left Axis is $ per barrel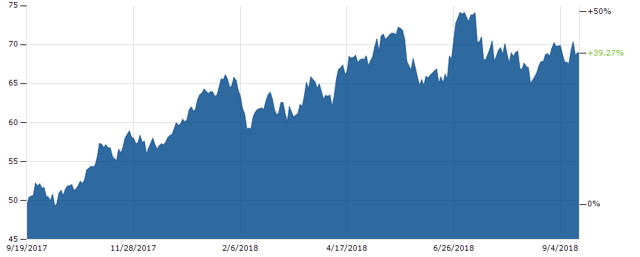 Oil Prices
The September 18th closing oil price was $69.83 per barrel for West Texas Intermediate (WTI) crude oil at Cushing. Similar-quality international crude, Brent, was $78.90 per barrel. Meanwhile, the price of transport-constrained WTI in Midland has been reported to be as much as $24 per barrel below Brent. At today's Brent close, that would put WTI-Midland at $55 per barrel.
Oil prices have strengthened recently over news that Saudi Arabia is comfortable with oil prices above $80/barrel. Supply is expected to tighten as Iranian sanctions kick in further.
Capitalization, Stock Price, and Current vs. 52-week High
Among the market capitalizations for these four companies, Schlumberger is the monster at $84 billion. Halliburton ranks second at $34 billion, and Patterson-UTI Energy and Nabors are far behind at $3.8 and $2.2 billion, respectively. All is relative, but in the (literally) Texas-sized oil & gas sector, market capitalizations less than $1 billion are "small".
| | | | |
| --- | --- | --- | --- |
| | 9/18 | Yr. | Current |
| Company | Price | high | to high |
| Halliburton | 39.16 | 57.86 | 68% |
| Nabors Industries | 6.09 | 8.87 | 69% |
| Patterson-UTI Energy | 17.46 | 25.03 | 70% |
| Schlumberger | 60.99 | 80.35 | 76% |
As the chart above shows, these companies are priced at a variety of levels, from $6/share to $61/share; however, they are all at less than 52-week highs, ranging from 68% to 76% of their 52-week maxima.
Current, Dividend, and Price-to-Earnings Ratios
The current ratio is the ratio of a company's current assets to its current liabilities. A ratio of 1.0 is a minimum desired level. All of the companies meet this standard, with current ratios ranging from 1.1 for Schlumberger to 2.2 for Halliburton.
Although each pays a dividend, their dividend yields range from a fairly minimal 0.9% for Patterson-UTI Energy to 1.8% for Halliburton, then up to 3.3% for Schlumberger and 3.9% for Nabors.
However, the price-to-earnings ratios reflect recent dismal quarters, with the current P/E ratios not applicable due to negative trailing twelve-month earnings (Schlumberger and Nabors), stratospheric due to meager earnings (356 for Halliburton), or merely high, in the case of Patterson-UTI Energy's level of 34.
For 2019, earnings per share are projected as much more positive for Halliburton and Schlumberger, giving them forward P/Es of 15 and 22, respectively. For Nabors, 2019 earnings per share is projected to be less negative at -0.23/share than the trailing twelve months' result of -2.01/share. An average 2019 EPS estimate for Nabors is not available.
Liability-to-Asset and Short Ratios
Debt levels also vary between the companies, with the lightest liability-to-asset ratio of 35% for Patterson-UTI Energy and the heaviest one for Halliburton at 66%. Nabors is close to Halliburton at 60%, and Schlumberger is in between at 47%. Note that another company considered, Weatherford International, was sidelined in this analysis because of its outsized liability-to-asset ratio of 115%.
The ratio of shares shorted to float is small, 1-5% for all but Nabors, whose ratio is 15%. For reference, a more heavily shorted stock is Tesla, at 28% for a $49 billion market cap company.
Governance
Three of these four companies have weak governance rankings from the Institute for Shareholder Services, ranging from 7 to 9. In all three, the audit sub-scores are the strongest at a level of 1, but the compensation sub-scores are the weakest at a level of 10. The exception is Patterson-UTI Energy, with an overall governance ranking of 4 and sub-scores of audit (1), board (4), shareholder rights (3), and compensation (8).
Average Analyst Ratings
All four of these stocks cluster tightly around an average analyst rating of Buy at between 1.8 and 2.1, where 1 is a Strong Buy and 5 is a Strong Sell.
EV/EBITDA Ratios
EV/EBITDA ratio is the ratio of a company's enterprise value divided by its earnings before interest, taxes, depreciation, and amortization. A ratio below 10 suggests a prospective investment. Patterson-UTI Energy comes in as the most attractive at 6.5, Nabors not far behind at 8.4, Halliburton at 9.7, and Schlumberger at 14.4.
Recommendations
As always, I recommend investors identify and weight the factors they consider most important in making short- and long-term buy, wait or sell decisions.
Dividend-focused investors will want to consider buying Schlumberger with its 3.3% yield or Nabors with its 3.9% yield.
Bargain-hunting investors should look at Patterson-UTI Energy with its enterprise value-to-EBITDA ratio of 6.5, followed by, again, Nabors at 8.4.
Growth investors will evaluate the big earnings per share increases in 2019 that are expected for Halliburton and Schlumberger, although Nabors notches slightly in this category with its smaller expected loss.
Down-rankings on the governance compensation sub-score affect all of the companies; however, Patterson-UTI Energy has the strongest overall governance score.
While you're here, consider subscribing to Econ-Based Energy Investing, a Seeking Alpha Marketplace platform. Weekly in-depth articles provide you with recommendations for long energy investments.
Subscribers get actionable ideas, make decisions with larger industry context, and save time on research. My service focuses on publicly-traded small & mid-cap oil producers (by basin) & refiners (by area) drawing from a public energy space spanning more than 400 companies.
I'm an industry insider with +30 years' experience working for & investing in energy companies. As you plan your research and investing strategies for the year, consider Econ-Based Energy Investing.
Disclosure: I/we have no positions in any stocks mentioned, and no plans to initiate any positions within the next 72 hours. I wrote this article myself, and it expresses my own opinions. I am not receiving compensation for it (other than from Seeking Alpha). I have no business relationship with any company whose stock is mentioned in this article.