By Hakan Kaya, PhD, Senior Portfolio Manager - Quantitative Multi-Asset Class
It seems counterintuitive that risk parity can outperform when rates are rising - we explain why it is not.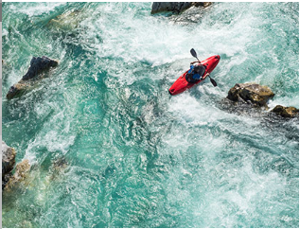 Whenever it appears that interest rates are rising, commentators warn of the reckoning that awaits risk parity investors.
That is understandable. In essence, risk parity is an approach to portfolio construction that attempts to get the most possible benefit from the diversifying characteristics of different asset classes by weighting them so that their contribution to the risk of a portfolio is roughly equal. It can define risk simply as volatility, or with some more sophisticated measure or combination of measures.
Because equities tend to be riskier than bonds (two or three times riskier, in volatility terms), the performance of a capital allocation split equally between equities and bonds will be determined mainly by equity risk - the bond characteristics will be largely drowned out. To get the benefit of the bonds, risk parity investors add to the bond allocation until its risk contribution is equal to that of the equities. To do that without compromising return expectations, however, it is necessary to leverage the resulting risk-balanced portfolio so that its overall exposure is greater than 100%, rather than simply switching some of the equity allocation for bonds. In this paper, when we build a model risk parity strategy, we leverage the portfolio to reach a volatility target of 10% - but once the risk parity portfolio is constructed, it can be leveraged to any calibration of risk or return objective.
That is why risk parity is often characterized as "leveraged bonds": because it involves adding more bonds and then leveraging the portfolio. And if you think of risk parity as "leveraged bonds," rising yields will seem like bad news.
We argue that this is a mischaracterization. Risk parity is not just leveraged bonds: it is a route to genuine multi-asset class diversification via the equalization of portfolio risk exposures. Moreover, most risk parity approaches do not confine themselves to equities and bonds, but add asset classes such as credit and commodities, also with equalized risk contributions. In most environments of high or rising yields, one or more of these other asset classes will perform well enough to balance negative performance of bonds. Finally, rising yields do not necessarily result in negative total returns to bonds - losses occur only when yields rise further than bond market expectations.
Add all of this together and we can begin to explain how risk parity portfolios can generate positive returns during high and rising-yield environments, as we will demonstrate in this article. We will show how a simple model risk parity portfolio might have fared, relative to a traditional 60/40 portfolio, through a range of scenarios, and explain some of the dynamics behind that performance.
Risk Parity Can Help Tame Drawdowns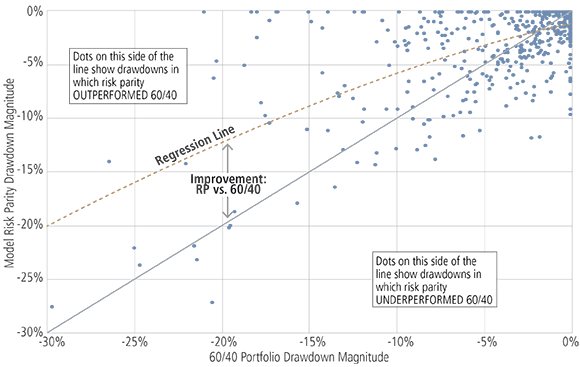 Source: Ibbotson Associates, Neuberger Berman. Drawdowns experienced between January 1963 and June 2018.
This material is provided for informational purposes only and nothing herein constitutes investment, legal, accounting or tax advice, or a recommendation to buy, sell or hold a security. No recommendation or advice is being given as to whether any investment or strategy is suitable for a particular investor. It should not be assumed that any investments in securities, companies, sectors or markets identified and described were or will be profitable. Information is obtained from sources deemed reliable, but there is no representation or warranty as to its accuracy, completeness or reliability. All information is current as of the date of this material and is subject to change without notice. Any views or opinions expressed may not reflect those of the firm as a whole.
This material may include estimates, outlooks, projections and other "forward-looking statements." Due to a variety of factors, actual events or market behavior may differ significantly from any views expressed. Investing entails risks, including possible loss of principal. Indexes are unmanaged and are not available for direct investment. The use of tools cannot guarantee performance. Diversification does not guarantee profit or protect against loss in declining markets. Past performance is no guarantee of future results.
Hypothetical Backtested Performance Disclosures
The hypothetical performance results included in this material are for a back-tested model portfolio and are shown for illustrative purposes only. Neuberger Berman calculated the hypothetical results by running a model portfolio on a back-tested basis using the methodology described herein. The results do not represent the performance of any Neuberger Berman managed account or product and do not reflect the fees and expenses associated with managing a portfolio.
The model risk parity strategy includes bonds, equities and commodities, with volatility contributions equally weighted based on two-year trailing realized volatility, and a target portfolio volatility of 10% annualized; bonds are represented by the Ibbotson U.S. Intermediate-Term Government Bond Index, equities by the S&P500 Index and commodities by the GSCI Commodity Index after 1970, and commodity futures data from Bloomberg pre-1970.
There may be material differences between the hypothetical back-tested performance results and actual results achieved by actual accounts. Back-tested model performance is hypothetical and does not represent the performance of actual accounts. Hypothetical performance has certain inherent limitations. Unlike actual investment performance, hypothetical results do not represent actual trading and accordingly the performance results may have under- or over-compensated for the impact, if any, that certain economic or other market factors, such as lack of liquidity or price fluctuations, might have had on the investment decision-making process or results if assets were actually being managed. Hypothetical performance may also not accurately reflect the impact, if any, of other material economic and market factors, or the impact of financial risk and the ability to withstand losses. Hypothetical performance results are also subject to the fact that they are generally designed with the benefit of hindsight. As a result, the back-tested models theoretically may be changed from time to time to obtain more favorable performance results. In addition, the results are based, in part, on hypothetical assumptions. Certain of the assumptions have been made for modeling purposes and may not have been realized in the actual management of accounts. No representation or warranty is made as to the reasonableness of the assumptions made or that all assumptions used in achieving the hypothetical results have been stated or fully considered. Changes in the model assumptions may have a material impact on the hypothetical returns presented. There are frequently material differences between hypothetical performance results and actual results achieved by any investment strategy. Neuberger Berman did not manage any accounts in this manner reflected in the models during the backtested time periods shown.
The GSCI Commodity Index, published by Standard & Poor's, is a world production-weighted index of the most liquid futures contracts in 24 commodity sectors.
Ibbotson U.S. Intermediate-Term Government Bond Index is a one-bond index that tracks the total return of the shortest non-callable bond with a maturity of not less than five years for one calendar year, before choosing a new bond on the same criteria.
The S&P500 Index is a float-adjusted, market capitalization-weighted index of the 500 largest companies listed on the New York Stock Exchange or the Nasdaq Stock Market.
This material is being issued on a limited basis through various global subsidiaries and affiliates of Neuberger Berman Group LLC. Please visit www.nb.com/disclosure-global-communications for the specific entities and jurisdictional limitations and restrictions.
The "Neuberger Berman" name and logo are registered service marks of Neuberger Berman Group LLC.
© 2009-2018 Neuberger Berman Group LLC. | All rights reserved