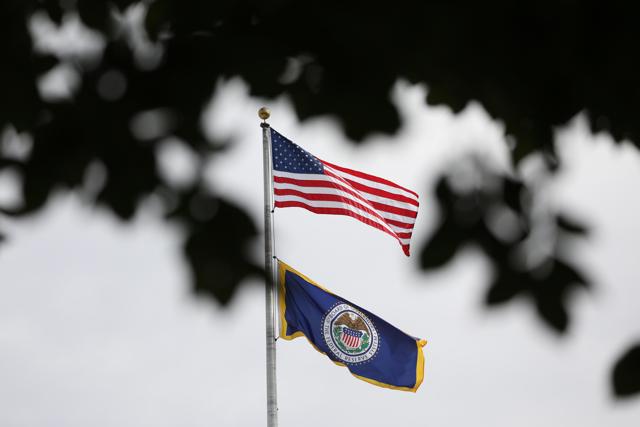 Photo Source: REUTERS/Chris Wattie. Flags fly above the Federal Reserve building in Washington, DC, U.S., August 22, 2018.
For the second consecutive month investors were net purchasers of mutual fund assets, injecting $7.5 billion into the conventional funds business (excluding ETFs) for August. Also for the second month in a row, money market funds witnessed net inflows, taking in $28.6 billion for August. Despite Federal Reserve Chair Powell's outlining the Fed's plans to hike its key lending rate, for the sixth month running the fixed income funds macro-group also witnessed net inflows, taking in $11.7 billion for August. However, for the fourth consecutive month stock & mixed-asset funds witnessed net outflows (-$32.8 billion for August).
For the second month in a row ETFs in general witnessed net inflows, taking in $24.9 billion for August. Authorized participants (APs, those investors who actually create and redeem ETF shares) were net purchasers of stock & mixed-asset ETFs—adding $18.7 billion to the equity ETF coffers. And for the thirty-eighth consecutive month they were net purchasers of bond ETFs—injecting $6.2 billion for August. APs were net purchasers of four of the five equity-based ETF macro-classifications: USDE ETFs (+$15.0 billion), World Equity ETFs (+$3.7 billion), Alternatives ETFs (+$498 million), and Mixed-Asset ETFs (+$76 million), while for the first month in six they were net redeemers of Sector Equity ETFs (-$618 million). In this segment I highlight the August fund-flow results for both types of investment vehicles.
Disclosure: I/we have no positions in any stocks mentioned, and no plans to initiate any positions within the next 72 hours.
I wrote this article myself, and it expresses my own opinions. I am not receiving compensation for it. I have no business relationship with any company whose stock is mentioned in this article.