Editor's note: Seeking Alpha is proud to welcome L. Myron Clark as a new contributor. It's easy to become a Seeking Alpha contributor and earn money for your best investment ideas. Active contributors also get free access to the SA PRO archive. Click here to find out more »
Emerging market stocks have dipped into bear territory twice recently, as measured by a 20% fall in the MCSI index of shares from its January peak. A bear may sound scary, but its appearance is becoming almost routine. Since the 2008-09 financial crisis there have been two 30+% drawdowns in the EM index: from April to October 2011, and from April 2015 to January 2016.
Over the same interval the S&P 500 index has sustained a long bull market, outperforming emerging markets by a wide margin. The gap between the two indices is about 19% year-to-date, which negates EM's outperformance during 2017. Is this another garden-variety bout of volatility, typical of emerging markets and likely to reverse, or a portent of deteriorating fundamentals?
While the latest move is not drastic by historical standards, it does represent a big revision in the prevailing macro story. 2017's gains in EM stocks and bonds rode a narrative of synchronized global growth. That lowered the perceived risk of higher yielding assets, so macro strategies favored value trades. EM built on its recovery from the commodity-driven valuation lows of early 2016. Bond yield spreads narrowed, currencies rose, and stock P/E ratios climbed but remained well below U.S. stocks.
Notably, the relative strength of EM stocks did not end abruptly at the January peak in the U.S. market when volatility spiked. This shows that a simple toggle from risk-on to risk-off does not explain the reversal of fortunes. Sustained relative weakness of EM stocks got under way in April, along with declining currencies and widening yield spreads.
It might be more reassuring – in a contrary mode – if the latest emerging market declines were accompanied by a washout in sentiment. In the Bank of America Merrill Lynch survey of fund managers, allocations to emerging markets have fallen sharply since February and are now slightly underweight. Yet they remain less than one standard deviation below their long-term mean, well above the lows of 2015.
Figure 1: Fund Manager Allocations to Emerging Markets, July 2018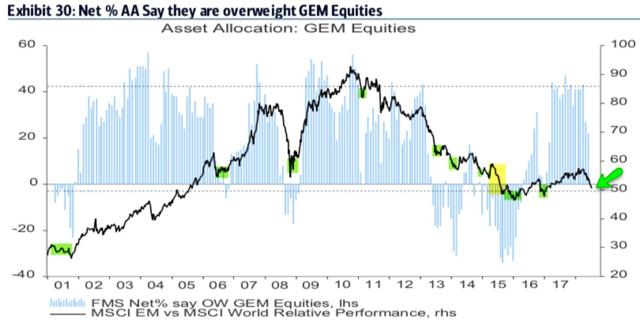 Source: Bank of America Merrill Lynch (BAML) survey of global fund managers
Image credit: Urban Carmel, The Fat Pitch blog
The options market likewise does not evince extreme pessimism toward the sector. Gunjan Banerji wrote in Barron's that skew, which measures the cost of protecting against falling prices, was relatively low for emerging market funds as of late August. Her column quotes analysts who were positioning for an end to the decline and a subsequent rebound.
Fund flows also indicate a change in sentiment, or at least a lull in pessimism. FactSet and EPFR both tracked large and sustained net redemptions from EM equity funds around midyear, a sharp reversal from January. In August, though, some weekly reports showed net inflows – even to a Turkey ETF, according to XTF data. Even with EM flows going moderately negative again in September, there is little sign of capitulation, according to Bank of America Merrill Lynch. It estimates that less than 20% of the inflows during 2016-18 have been redeemed.
Triangulating the sentiment signals from fund managers, options pricing, and fund flows, the "blood in the streets" indicator is inconclusive. Absent outright investor panic, one possible reading of the recent market declines is that they reflect actual deteriorating fundamentals of emerging economies. This would be consistent with an aging credit cycle after a sustained buildup of debt – especially if U.S. interest rates rise further. Stock prices might also correctly anticipate damage from tariffs and less-favorable trade agreements with the U.S.
The "good bad news" is that these risks are already in the price to some extent. Valuations of EM stocks, by some measures, are near historical lows relative to the S&P 500. This is one reason for a favorable view of EM by astute market observers including BlackRock, Urban Carmel, Research Affiliates, and asset manager GMO. Of course there is always the risk that richly valued U.S. stocks could crash and drag down their high-beta EM counterparts, or that a rising dollar hurts emerging assets in general. That might bring capitulation in the sentiment indicators. A more encouraging development would be restrained optimism during an early phase of recovery in emerging markets.
Disclosure: I am/we are long EEM, VWO. I wrote this article myself, and it expresses my own opinions. I am not receiving compensation for it. I have no business relationship with any company whose stock is mentioned in this article.