We follow the athletic apparel industry closely, and we believe that with athleisure trends still on the rise and consumer strength and confidence at decade highs, now is as good as time as ever to own names in this space. While many investors may immediately think of Nike (NKE), Adidas (OTCQX:ADDYY), Under Armour (UAA), and Lululemon (LULU) as some of the quality investments in this space, we actually think the best name to own in this red-hot sector is Skechers (SKX).
Skechers is one of the fastest growing names in this space, with huge international expansion drivers and a small revenue base that implies healthy growth for several years. Gross margins are strong and rising. Brand relevance and awareness is growing both domestically and internationally. Perhaps most importantly, SKX stock trades at a huge discount to peers and intrinsic growth potential. For all these reasons, we see SKX stock as a winning investment at the right price, and the best stock to own in the athletic apparel space.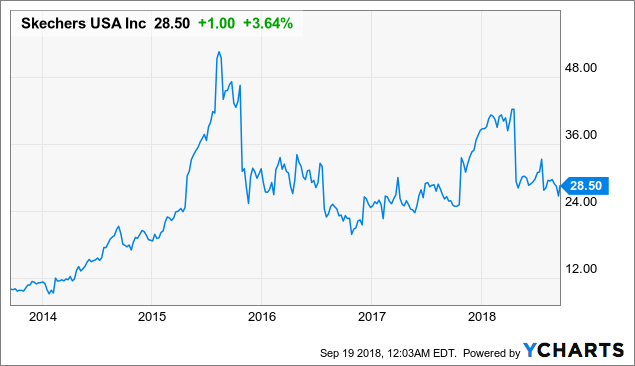 The story of Skechers isn't a hard one to understand, and we will do our best to briefly recap where this company has been, where it is today, and where it will likely go tomorrow.
Skechers has long been the forgotten little brother in the athletic apparel space. The brand hasn't historically commanded the respect or coolness that peer brands have commanded, nor has the company ever been that big or been supported by headline athletes. Nonetheless, Skechers has quietly dominated a niche of the athletic apparel industry that isn't the target of Nike, Under Armour, Adidas, or Lululemon's efforts. Specifically, Skechers is going after consumers who don't care all that much about trendy brand appeal, don't want to pay top dollar for sneakers, and care more about comfort than the name of the shoe.
As it turns out, this market is quite big, and Skechers has been quite successful at dominating it. Skechers has grown revenues from less than $2 billion five years ago to almost $5 billion projected this year, and has consistently been one of the athletic apparel industry's fastest growers during that stretch.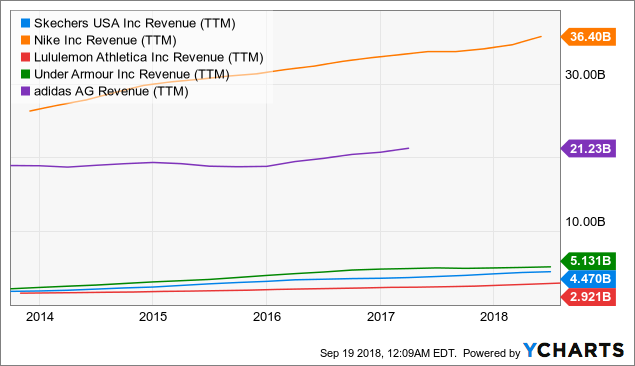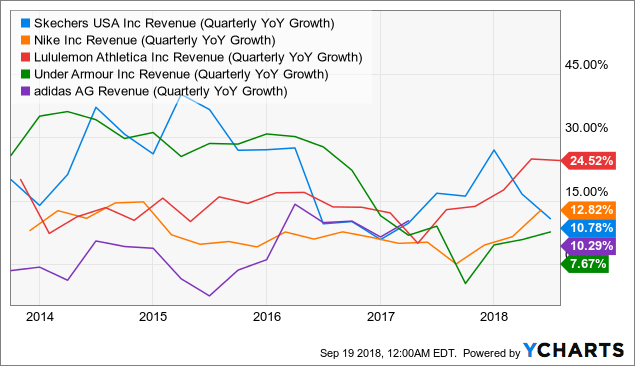 When this big revenue growth trajectory started back in 2014, SKX stock took off like a rocket ship. Investors realized that this company had big-time global growth potential through dominating the mid-price tier in the global sneaker market. SKX stock went from $10 at the start of 2014, to $50 by mid-2015.
But then revenue growth slowed from its 30%-plus rates due to domestic market saturation. To make matters worse, the company started investing heavily to reinvigorate growth, and operating margins fell. The combination of slowing revenue growth and margin compression caused material weakness in SKX stock. At the end of 2015, SKX stock dropped in a big way, and traded largely sideways around $25 to $30 for the subsequent two years.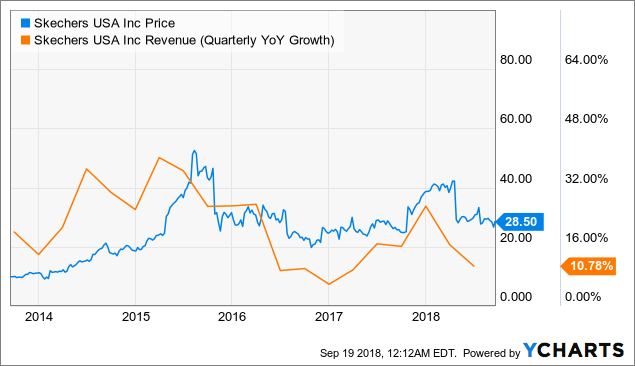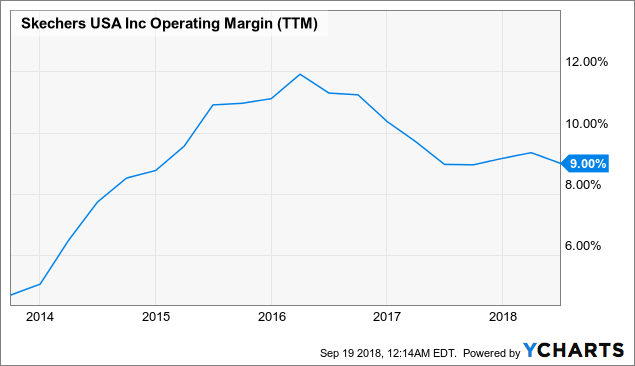 In late 2017, however, revenue growth re-accelerated thanks to a stabilized domestic business and red-hot international growth. Margins also came roaring back as the company stopped investing so much in growth. The market once again became bullish on SKX stock. Range-bound trading ended. SKX stock jumped to $40.
That run was short-lived because in the company's most recent earnings report, margins fell back again. The problem isn't with gross margins. It never has been. The problem today, as it has been since 2016, is that the SG&A rate continues to rise rapidly and offset all gross margin expansion. With the SG&A rate rising, big revenue growth isn't flowing down into big earnings growth, and without big earnings growth, investors don't want to own SKX stock.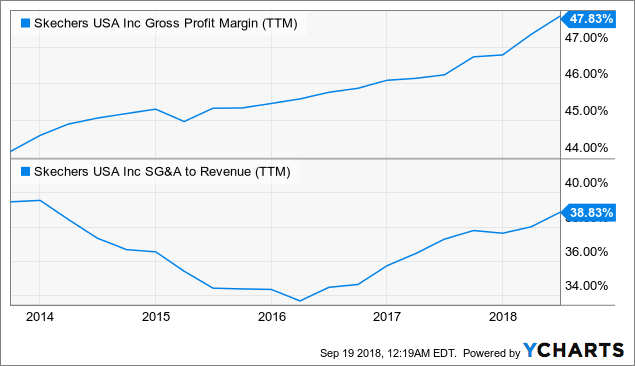 At these levels, however, we think the bull thesis on Skechers is compelling. That thesis is as follows:
Big revenue growth track record and potential. Skechers has a long history of double-digit revenue growth, continues to report double-digit revenue growth today, and has massive long-term potential considering a sales base of just $4.5 billion, versus $20 billion-plus for Adidas and Nike, and lack of competition in the mid-price point market.
Strong gross margins and potential for long term margin expansion. Although margins have been a problem lately, those problems stem entirely from a higher SG&A rate. Gross margins, which are more telling of the profitability of a sneaker company, have been consistently heading higher thanks to higher average selling prices and rising brand value. Thus, once management decides to stop spending an arm and a leg on SG&A, margins have huge potential to rebound. Indeed, management is targeting 12-13% operating margins by 2020, versus sub-10% today.
A massively discounted valuation. Despite being one of the bigger revenue growers in the industry and having one of the more promising margin expansion narratives, SKX stock trades a huge discount to its athletic apparel peers. No other headline name in this industry trades at less than 30X forward earnings. SKX stock trades at just 16X forward earnings, despite having industry-standard earnings growth potential.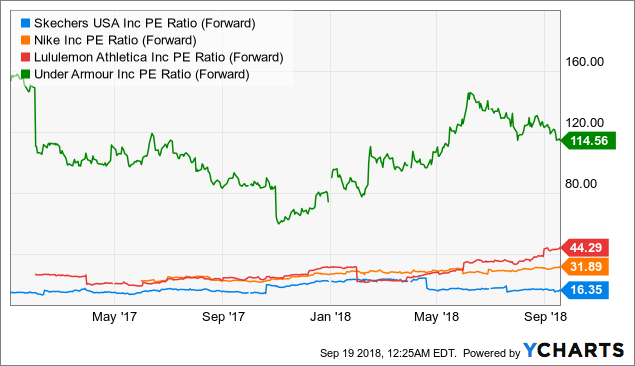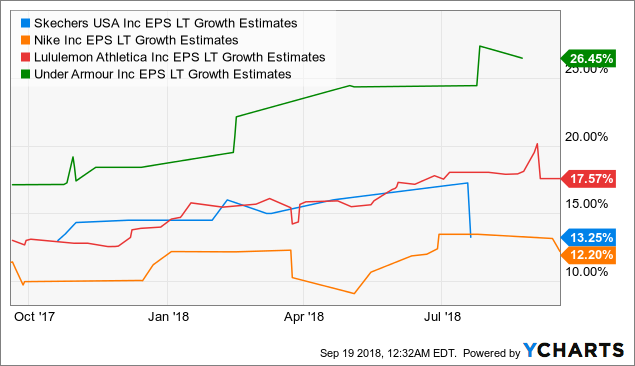 Overall, we think SKX stock is a winning investment at the right price. Revenue growth is big and promises to remain big for the foreseeable future. Due to strong gross margins, this company's earnings will roar higher alongside revenue growth once management eases on growth-related spend. And, above all else, the stock is dirt cheap at just 16X forward earnings for what analysts see as 13% earnings growth over the next several years.
In other words, at current levels, this is a big growth stock with a healthy narrative and a discounted valuation. That is a recipe for success.
Disclosure: I am/we are long SKX. I wrote this article myself, and it expresses my own opinions. I am not receiving compensation for it (other than from Seeking Alpha). I have no business relationship with any company whose stock is mentioned in this article.