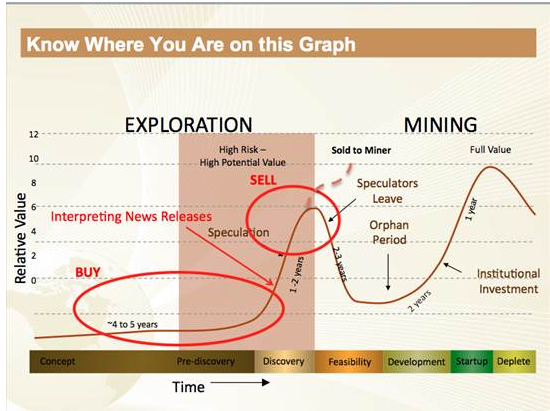 Source: Exploration Insights
Introduction
Welcome to the fifth edition of Gold Panda's weekly series of articles covering the best drill interception in the metals mining sector.
If you're into investing in the mining sector, you should know the above chart very well. Exploration and discovery can add a lot of value for a mining company across all stages of its life cycle although the greatest increases in the share price usually happen when a small company makes a major discovery and the hype arrives. However, great exploration results can also improve the economics of large projects of established global mining companies.
I'm planning on writing a weekly series of articles in which I will analyze the three projects with the most significant drill interceptions over the past week as well as the prospects of the companies which own these projects. I will use data from the weekly bulletin of RSC Mining and Mineral Exploration which can be found on their website. Note that the drill interceptions are converted into grades of gold equivalence using the following formula:

Source: RSC Mining and Mineral Exploration
RSC Mining and Mineral Exploration have chosen gold as the metal equivalent for all conversions as they consider it the most widely used and best understood benchmark to determine or appreciate the grade tenor of a drilling intercept.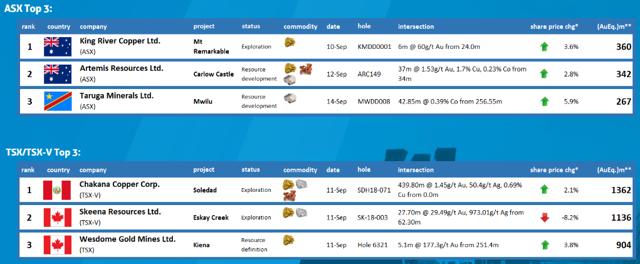 Source: RSC Mining and Mineral Exploration
1) Soledad copper-gold-silver project in Peru
The best result last week was 439m @ 0.69% Cu, 1.45 g/t Au and 50.5 g/t Ag from surface in hole SDH18-071 at the Soledad copper-gold-silver project of Chakana Copper (OTCQB:CHKKF). This is equal to 1,362m (AuEq.) and the company reported the results for three other holes. The aim of these four holes was to explore the limits of Breccia Pipe 1 at Soledad.
The project is located in central Peru around 35 km south of Barrick Gold's (NYSE:ABX) Pierina gold-silver mine. Chakana has so far identified 14 mineralized breccia pipes in two clusters within an area of 3,085 hectares: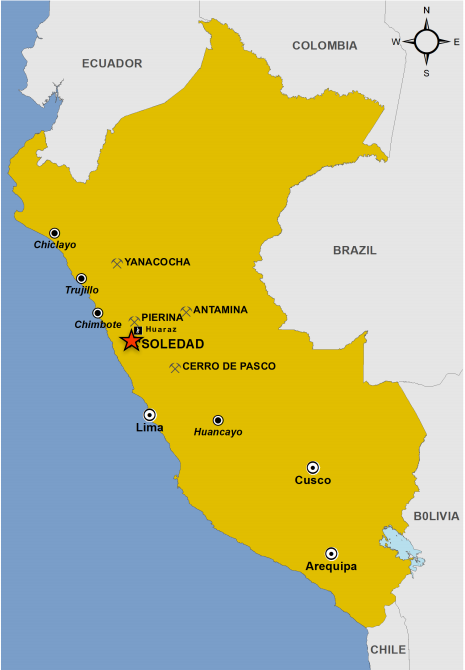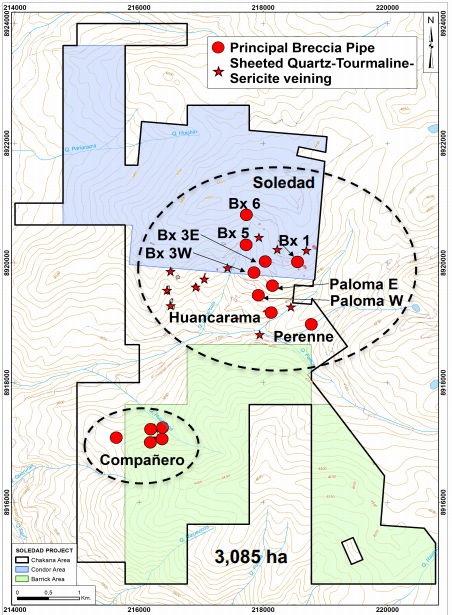 Chakana has been drilling Soledad since August 2017 and it has increased its Phase 1 drilling program to 18,863m in 70 holes from the original planned program of 16,660m after the discovery of a blind breccia pipe adjacent to Breccia Pipe 1. A Phase 2 drilling program for 20,000 meters was announced in August 2018.
In case you are unfamiliar with pipes, they are vertical bodies with cylindrical to oval shapes, which means that they have to be drilled from all angles to accurately define the geometry and grade variation. Most copper majors are not interested in them because they usually have relatively small tonnages. However, they can have a very high grade and tourmaline pipes often have vertical extents of more than a kilometer. Perhaps the best deposit of this type is Los Sulfatos in Chile which has an inferred resource of 1.2 billion tonnes grading 1.46% copper and 0.02% molybdenum.
The main things that I like about Chakana are its management, balance sheet strength, exploration potential and jurisdiction. The company's chairman is renowned geologist Douglas Kirwin and the Northern Miner reported that before the company got Soledad, he was impressed with the project's gold and copper drill intercepts, the tourmaline breccia pipe-style mineralization and the availability of various targets ready to drill right away.
Chakana has CAD 10 million cash on hand which will allow it do to a lot of drilling before having to raise funds.
Peru is a great place for copper mining as electricity is very cheap and cash costs are typically much lower compared to other major mining countries: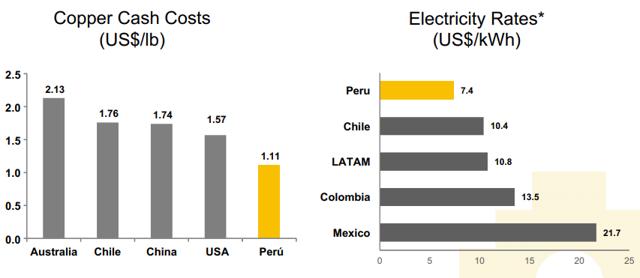 Source: Chakana Copper
Regarding the exploration potential, Soledad is unique due to the exceptional gold content of the pipes. Usually tourmaline breccia pipes are barren. In November 2017, Kelley said the initial target was a 75-by-75 meter pipe and that back-of-the-envelope calculations suggested that a pipe of those dimensions down to 600 meters could generate eight million tonnes per pipe.
Chakana plans to release an initial resource estimate on several pipes in 2019. If the company can find enough copper and gold at Soledad, I think that it could establish a very high-grade mine with low operating costs.
2) Eskay Creek gold-silver project in Canada
The second best drill interception for the week was 27.7m @ 29.49 g/t Au, 973.01 g/t Ag from 62.30m at the past-producing Eskay Creek gold-silver project of Skeena Resources (OTCQX:SKREF). This is equal to 1,136 m (AuEq.) and the reported drill interceptions formed part of the company's Phase I drilling program on the project's 21A, 21C and 22 zones which aims to infill areas with low drill density to sufficient drill spacing. This will allow Skeena to carry out economic analyses and collect fresh material for an upcoming metallurgical characterization and testing program. New material has to be collected for metallurgical evaluations because are no historical drill cores for any zones of the project.
Eskay Creek is located in the Golden Triangle of northwest British Columbia and it used to be the world's highest-grade gold mine and fifth-largest silver mine by volume. It produced around 3.3 million ounces of gold and 160 million ounces of silver at average grades of 45 g/t gold and 2,224 g/t silver and was closed due to depletion in 2008.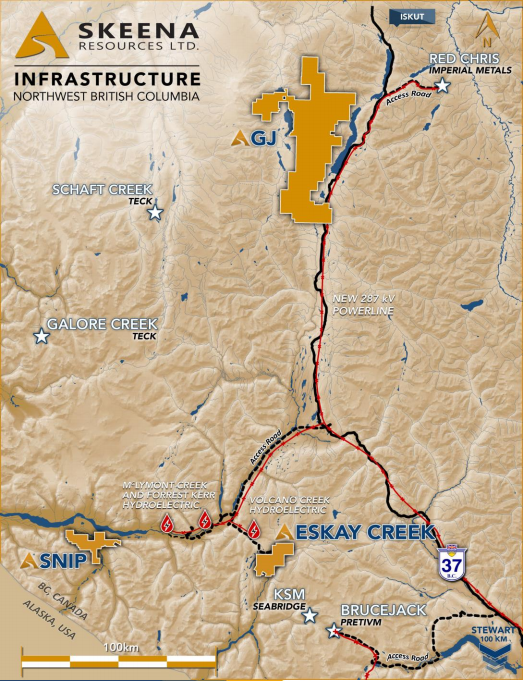 I find the reopening of large fold mines very interesting which is one of the reasons I'm invested in Equinox Gold (OTCPK:EQXGF) who own the Castle Mountain project. Typically, these projects come with great infrastructure and a lot of existing permits which means they are much easier and cheaper to put into production than a new mine. That course depends whether the new owners can delineate a large enough resource to make the project feasible.
On 17 September 2018, Skeena announced a Mineral Resource Estimate for Eskay Creek but the ongoing Phase I metallurgical and infill drilling program was not included: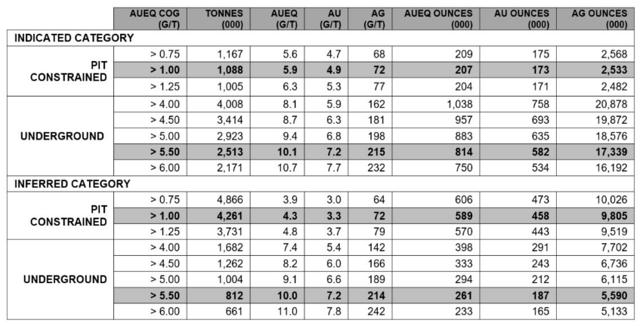 Source: Skeena Resources
While this resource is that not large, I think that drilling interceptions like the one that helped Skeena enter this week's article clearly demonstrate that the project has a lot of potential. I also like that future resource estimates will include base metal credits – the focus should be on zinc, lead and antimony. This one was focused solely on gold and silver. Also, the grades and the strip ratio are pretty good.
Skeena president and CEO Walter Coles Jr said that the ounces in the resource estimate were almost double the internal targets which comes to show the exploration potential of Eskay Creek. He added that the company could initiate a preliminary economic assessment next spring.
3) Kiena gold mine complex in Canada
On 11 September, Wesdome Gold Mines (OTCPK:WDOFF) announced results from underground exploration drilling at the Kiena Deep A Zone of its Kiena mine complex in Val d'Or and the best interception was 5.1m @ 177.3 g/t Au from 251.4m in hole 6321.
Just like Eskay Creek, Kiena is a high-grade past-producing mine in Canada. It has more than 2.8 million ounces of historic gold production. The project was put under care and maintenance in 2013 and it has a 2,000 TPD permitted mill as well as a 900-meter production shaft. The property consists of a contiguous block of mining claims and concessions covering more than 7,500 ha with eight shafts: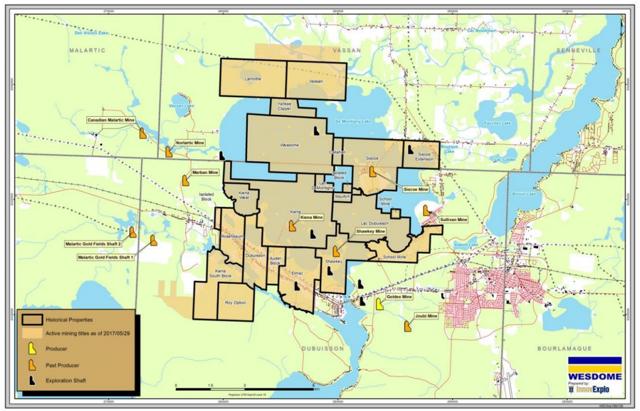 Over the past years, Wesdome has been investing an increasing amount in drilling at Kiena – it drilled 10,000 meters in 2016, 45,000 meters in 2017 and it plans to drill 62,000 meters in 2018.
According to the latest mineral resource estimate for the project from the end of 2016, it already had close to a million ounces of gold across all categories:

Source: Wesdome
I think that Kiena has an excellent exploration potential and Wescome seems to agree considering how much it plans to drill in 2018. The results announced on 11 September alone extended mineralization at the Kiena Deep A zone an additional 50 meters down plunge to the southeast. There are currently four drills in operation on the A zone and they are focused on definition drilling in advance on a resource estimate in the fourth quarter of 2018. The down plunge and portions of the down dip extension of this zone remain open.
Conclusion
Chakana has the drill bit spinning at Soledad and the recent drill interceptions have been very impressive. The company listed in February through a reverse takeover of Remo Resources and is led by renowned geologist Douglas Kirwin. I also like the strength of its balance sheet and the jurisdiction. I think that Soledad could become a very profitable high-grade mine if Chacana can delineate a large enough resource. I don't like to invest in companies that are in such an early stage so I'll pass for now but I think that Chacana has all the ingredients to join the ranks of the few successful junior mining companies – great management, enough funding and a good jurisdiction. Another way to invest in Soledad is through project generator Condor Resources (OTC:CNRIF) which has a 2% net smelter return royalty on the property.
Skeena and Wesdome have been reporting very good drilling interceptions at Eskay Creek and Kiena, respectively. With the resources of both projects growing rapidly, I wouldn't be surprised if Eskay Creek and Kiena get reopened in the not so distant future.
I think that the grades and strip ratio at Eskay Creek are very good and the next resource estimates for the project will also include base metals such as zinc, lead and antimony. Skeena is in my shortlist and I expect the company to release a preliminary economic assessment sometime in 2019.
I think that Kiena is a project with a lot of potential, but it's not Wesdome main project – the Eagle River gold project is. And I don't consider that the latter justifies such a high valuation for the company. Its reserves are running low (just over 500,000 ounces of gold) and costs are high (guidance for AISC of over $1,000 per ounce in 2018). Therefore, I prefer to stay away from Wesdome for now.
Disclosure: I am/we are long EQXGF. I wrote this article myself, and it expresses my own opinions. I am not receiving compensation for it (other than from Seeking Alpha). I have no business relationship with any company whose stock is mentioned in this article.
Additional disclosure: I am not a financial adviser. All articles are my opinion - they are not suggestions to buy or sell any securities. Perform your own due diligence and consult a financial professional before trading.
Editor's Note: This article covers one or more microcap stocks. Please be aware of the risks associated with these stocks.