One of the most resilient EMs
While Vietnam hasn't entirely insulated itself in the least from the EM turmoil YTD, as the headline Ho Chi Minh Stock Index remains 21.49% below the high reached at the beginning of April, the market remains one of the few EMs which maintains positive performance year-to-date at pretty much breakeven +0.34%.
Though the sell-off swept global markets at the end of March and precipitated in further macro consequences for the likes of Turkey, Argentina and Indonesia, it's the past few months which we'll focus on and illustrate how resilient the local equity market has been in the face of foreign liquidations, while maintaining currency stability through the State Bank's range-targeted USD peg, continued maintenance of solid trade and current account surpluses, and satisfactory FX reserves.
Stock market performance since April does not reflect underlying economic performance
The real economy looks incredibly healthy, with the most recent FDI reading = 11.25 billion in new investment from January to August, up 9.28% from the previous year (tradingeconomics.com) and GDP forecasts continuing at one of the highest rates in the world in the range of 6.5-7%, it seems inevitable that public market sentiment once again begins to catch up with fundamentals taking the market to new heights for the remainder of 2018.
Vietnam manufacturers continued to record new growth in August, with the headline Nikkei Vietnam purchasing managers' index posting its 33rd consecutive months increase, clocking in at 53.7.
Most notable has been the sound management of the currency by the State Bank of Vietnam, which controls capital flows and maintains regular intervention, ensuring the currency does not shed more than 3% in value annually vs the USD. Thus far it has been effective in 2018, cutting only -1% vs the USD officially YTD. This compares to ASEAN peers like Indonesia, whose Rupiah has lost close to 10% in value vs. USD.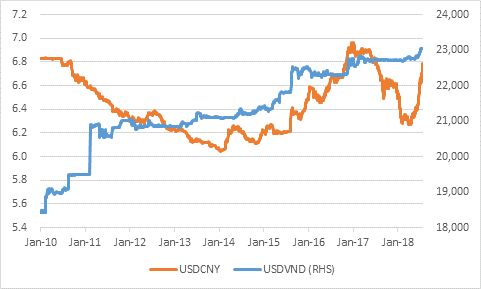 Source: VNDirect, Bloomberg
When comparing more macro data against a broader set of EM peers, we've found that Vietnam has improved the level of FX reserves since the end of 2017, and maintains a healthy current account surplus, adding defenses to the currency and protecting the stability of monetary policy.
Countries

Gov Debt (%GDP)

FDI (%GDP)

FX Reserve (%GDP)

Current Account (%GDP)

YTD vs USD

Since mid-august vs USD

2017 yearly

Dec 2017

Mar 2018

Dec 2017

Mar 2018

Dec 2017

China

47.6

2.3

2.3

25.7

24.6

1.3

-4.26

1.18

India

68.7

0.9

1.2

15.35

15.35

-1.9

-13

-5

Indonesia

28.7

1.9

1.5

12.22

11.61

-2.1

-10

-4

Malaysia

50.7

1.7

4

31.38

31.61

4.4

1.16

-0.93

Pakistan

67.2

0.9

0.9

5.56

3.48

-8.2

-16.3

0.98

Philippines

42.1

4.1

2.9

22.84

22.15

-0.8

-5.3

-0.93

Taiwan

31.2

0.4

1.3

78.75

78.25

14.7

-2.3

0.35

Thailand

41.8

1.5

3.6

42.55

43.52

10.6

1.6

2.33

Korea

38

1.5

0.9

24.75

24.6

3.9

1

1.9

Vietnam

61.5

6.3

8.2

21.75

25.7

2.9

-1.8

0.7
Sources: Trading Economics, Government Statistics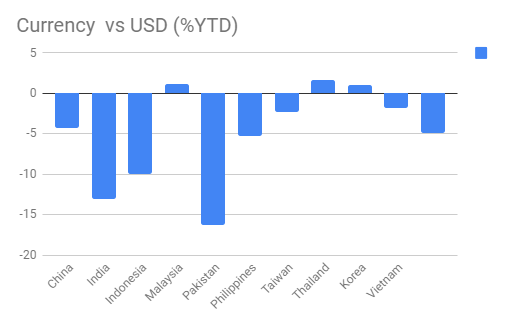 The debt bogeyman
While Vietnam maintains relatively high FOREX reserves, it also maintains an uncomfortably high level of debt to GDP, at 61.5%, to finance its fantastic growth story. However, unlike many emerging market economies whose external debt is financed primarily by bank loans, approximately half of Vietnam's external debt is financed through favourable terms with multilateral institutions like the World Bank, IMF and the Japan International Cooperative Agency.
Valuations
Vietnamese equities currently command a deep discount, at 21.32%, when comparing on a historical basis, and continue to look attractive when comparing on a number of EM peers:
Symbol

ETF name

Current forward P/E

Historical Forward P/E normalized

P0/E1
| | | | |
| --- | --- | --- | --- |
| | Global X China Technology | 23.00 | 27.73 |
| | iShares MSCI Turkey Investable | 6.30 | 13.44 |
| | iShares MSCI India | 18.00 | 16.46 |
| | iShares MSCI India Small Cap | 18.00 | 19.96 |
| | VanEck Vectors Vietnam ETF | 19.00 | 23.05 |
| | iShares MSCI Brazil | 12.10 | 16.62 |
| | iShares MSCI Brazil Small Cap | 11.60 | 19.56 |
| | iShares MSCI South Africa | 12.10 | 12.15 |
| | iShares MSCI China A | 17.00 | 13.22 |
| | VanEck Vectors Russia | 5.9 | 10.56 |
| | iShares MSCI Thailand | 12.7 | 8.78 |
| | iShares MSCI Malaysia | 14.9 | 21.38 |
| | iShares MSCI Philippines ETF | 14.9 | 19.7 |
| | iShares MSCI Indonesia Investable | 12.3 | 8.79 |
| | iShares MSCI Korea | 8.3 | 12.38 |
| | iShares MSCI Saudi Arabia Capped | 18.6 | NA |
| | iShares MSCI Qatar Capped | 12.3 | 14.44 |
| | VanEck Vectors Egypt Index | 10.7 | 22.37 |
Data obtained from MSCI, Damodaran online, Alta Vista Research
Since April, earnings continued to press upward...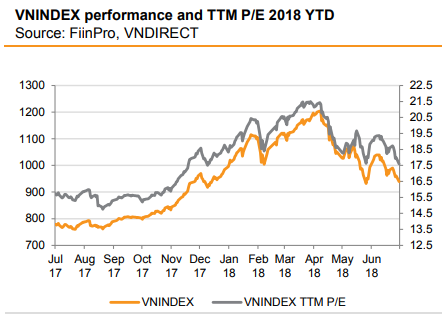 ...with every industry reporting in excess of 20% earnings growth YoY through to end Q1 '18.
Vietnam might actually benefit from US/China trade rift
One of the key reasons for the run on Asian EM currencies and assets YTD is the fact the tariffs in the range of 10-25% on Chinese exports to the US will have a spillover effect on regional economies, as Chinese trade is incredibly important to neighbours, and any harm to the sustained growth of the Chinese economy hurts regional partners. However, there was already evidence of a trend, pre-trade tensions, of multinational companies shifting Asian production centers from China to lower cost hubs like Vietnam. VinaCapital, one of the country's largest asset managers, believes workers in Vietnam are 66% cheaper than Chinese peers, and are just as productive, leaving firms with a very attractive labour arbitrage opportunity. Further cost pressures brought about by tariffs are likely to increase the opportunity and drive more direct FDI growth into primary industries like agriculture and manufacturing.
Would Vietnam become a target for tariffs from a largely hawkish Whitehouse? Perhaps, but the scenario seems unlikely, because, according to government statistics, Vietnam maintains a small 40 billion USD trade surplus with the US and the majority of exports to the US from VN are made up of low-end goods, like textiles, garments and agricultural products. Also, there is no geostrategic advantage that would stem from leveraging trade negotiations with the country.
How To Play Vietnamese Equities via International Accounts
Obviously, direct access to the local market can be quite complicated for international investors, but there are a number of liquid ETFs that trade internationally. Probably the most popular would be Vectors Vietnam (VNM) issued by Van Eck in New York. This is probably the most mainstream route for international allocations as it trades on the NYSE in USD, and looks to replicate as closely as possible, before fees and expenses, the price and yield performance of the MVIS® Vietnam Index (MVVNMTR®), which is comprised of securities of publicly traded companies that are incorporated in Vietnam or that are incorporated outside of Vietnam but have at least 50% of their revenues/related assets in Vietnam
There are also a few actively managed options, two of which are listed and tradable in London. The VinaCapital Vietnam Opportunity Fund (VOF) trades on LSE in GBP, which brings active management and the opportunity to capture excess return, with a steep discount to NAV, currently at -18.9%. Another active option is the Dragon Capital Vietnam Enterprise Fund (VEIL), which also trades in London. This option provides excellent opportunities to capture abnormal return, with historical Jensen's Alpha reading at 5.19, also trading at a discount to NAV at 12.94%.
Plenty of opportunities available in an underrated frontier, with easy-to-access allocations available through international accounts.
Disclosure: I am/we are long VNM.
I wrote this article myself, and it expresses my own opinions. I am not receiving compensation for it (other than from Seeking Alpha). I have no business relationship with any company whose stock is mentioned in this article.