The coffee market is heating up.
Worldwide consumption of coffee, tea, and other hot drinks is projected to grow at a CAGR of 6.4 percent through 2021, according to BMI Research. Emerging markets are expected to comprise the bulk of the gains, with China alone growing at 20 percent a year. Even developed markets such as the U.S. are expected to see a rise in demand for coffee as the millennial generation picks up a caffeine habit.
The investment world is relatively cool on java, though. Coffeehouse stocks, including Starbucks (SBUX), Tim Horton's (QSR), and Dunkin' Donuts (DNKN), trade at valuations that remain low compared with recent years. Over time, the attractive characteristics of the branded coffee business have made these companies outperformers, and the stellar returns are very likely to continue.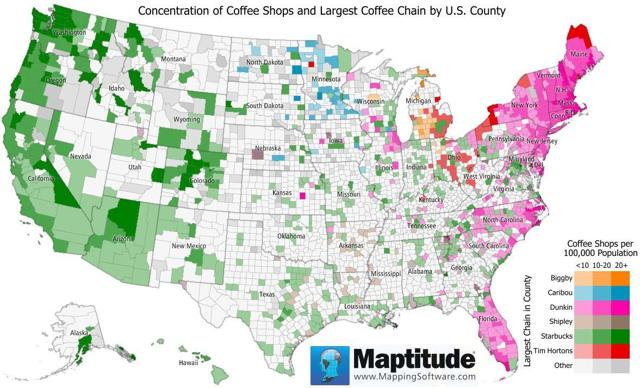 Source: Maptitude, 2017
Starbucks
Shares of the world's largest coffeehouse chain have remained flat over the last three years amid lethargic foot traffic and slower than expected growth in China. Even as Starbucks continues opening new U.S. stores at a robust pace, slipping growth in transaction count prompted analysts to warn that the company might be cannibalizing its own sales.
Even so, Starbucks seems to have learned its lesson after a previous over-expansion. Growth is stalled, but it is not cratering, either. In the face of the stock's lowered valuation (P/E of approximately 27, excluding benefits from recent tax legislation), the $70 billion company plans to return $20 billion to shareholders through dividends and buybacks through FY 2020. A large portion of this largesse stems from Nestle's (OTCPK:NSRGY) $7.2 billion deal to license the Starbucks brand for its coffee business.
The Nestle deal underscores another salient point: The Starbucks marque is still the most admired market coffee brand in terms of quality. Although some have criticized Starbucks for appealing to the mass market, the company's ability to continuously raise prices demonstrates strong pricing power.
Dunkin' Donuts
Since my January article on Dunkin' Donuts, shares of the Massachusetts-based chain have gained 17 percent. Unlike the other two chains mentioned here, investors have taken to Dunkin's ambitious three-year strategic plan. Still, the P/E ratio of 31 remains below the company's average since it returned to the stock market in 2011.
Over the next three years, the company hopes to add 1,000 stores to its U.S. footprint. Like other coffee brands, sales of branded k-cups and ready-to-drink iced coffees sold at retail have been a major growth category for Dunkin'. The $6.4 billion company also plans to repurchase $650 million of its stock.
As I argue in my previous write-up, Dunkin's appeal transcends coffee. The company is a cult favorite in New England, where half of the company's distribution points are located. Like In-N-Out in California or Bojangle's (BOJA) in the Carolinas, Dunkin' is about regional belonging. The brand fills a "moat" that other businesses cannot easily cross. Indeed, Krispy Kreme's ruination occurred in large part due to a failed attempt to take on Dunkin' in the latter's core market.
Tim Horton's
The quintessentially Canadian chain has been a sore spot lately for parent company Restaurant Brands International, which also owns Burger King and Popeye's. Although the latter two brands have grown robustly in recent years, Tim Horton's comparable sales have disappointed. Management blames an ongoing dispute with dissident franchisees for harming the perception of the brand and resisting proposed changes.
Even with these problems, though, the company's well-regarded managers provide reason for optimism. RBI is effectively controlled by the storied Brazilian firm 3G Capital, known for taking over and streamlining numerous consumer businesses. RBI CEO Daniel Schwartz, a former 3G executive who took the reins at the company at just 32 years old, is best known for masterminding the turnaround of Burger King.
Schwartz recently stated that he is "not happy with sales growth and overall results" at the coffee chain, and the CEO has promised to take a more proactive approach toward marketing and shoring up the Tim Horton's brand.
Meanwhile, the company sells for just 18 times earnings. With Tim Horton's comprising more than half the parent company's profits, any positive developments at the chain would be a boon for RBI stockholders.
Final Thoughts
Despite lackluster enthusiasm for coffee stocks on Wall Street, some big companies are betting on coffee as a growth engine. Coca-Cola (KO) recently made headlines when it acquired U.K.-based Costa Coffee for $5.1 billion. German conglomerate JAB Holding has spent the last few years consolidating a global coffee empire, with majority stakes in or full ownership of Peet's Coffee & Tea, Caribou Coffee, Keurig Green Mountain, and Krispy Kreme.
The bull case for coffee is about long-term trends that seem unlikely to reverse. Competition from fast food giants such as McDonald's (MCD) McCafe has not seriously dented the likes of Starbucks, Dunkin' Donuts, and Tim Horton's, all of which possess entrenched brands that remain culturally relevant. Now is the time to take a closer look at coffee – before Wall Street warms up to the idea.