"The secret to winning is constant, consistent management." Tom Landry
Part One of Two Articles
This article examines what we believe to be the two best bets in the casino space to achieve the fastest ramp up in sports betting as legalization unfolds. In a subsequent article we will look at the online gaming platforms and equipment space picking among companies we have extensively covered relative to sports betting.
Since the historic US Supreme Court decision May 6 that struck down the PASA law and threw open the flood gates to legalized sports betting, the sector has been engulfed by a game of musical chairs. Dozens of operators from every subsector of gaming and media have weighed in, dancing around the rapidly decreasing line of empty chairs. All have their eye on the fattest potential seat ever to be dangled before the gaming industry since the breaking of the Nevada monopoly on legal casinos in Atlantic City in 1978.
The American Gaming Association estimates that illegal sports gambling is a $150 billion a year business. That assessment is not scientifically demonstrable since there's no realistic way you can count the noses or handle of a representative sample of illegal bookmakers now operating in the US. But you can make an educated guess. And mine is that the AGA number is about as good as there is out there.
To get a grasp on the implications for the business, consider this: A Price Waterhouse Coopers 2012 study projected global casino revenues to rise to $182bn by 2017. The primary regional growth engine is of course Asia, attaining the lead position with 44% of all revenue. Now assume no more than 20% of the presumed illegal $150bn sports wagering play is transformed legally. As US states, one by one, approve sports betting, we think up to 14 states will be legal within three years, and around 30 within the next five to seven years.
Margins on sports betting are slim. On average the house keeps about $3 for every $100 bet. But this is a volume business and one that's consistent. NFL betting, the biggest piñata in the entire space, affords gamblers 16 regular season games to bet on, the playoffs and of course, the mother of all events, the Super Bowl. Also, the imagination of bookmakers over the decades has been dazzling in their creation of dozens of types of exotic bets to entice laydowns by the regulars aimed at building volume of play.
Oddsmaking has become a science, sports information services are abundant, legal bets will now even include the ability to wager during a game. NFL volume leads, followed by college football and the NBA. Much lower on the volume food chain are MLB and NHL. But events also pop volume: The Final Four, The World Cup, World Series, NBA finals and college football championship games. So sports betting is by any measure a consistent, daily business that relies on grind volume. VIPs who can be realistically classified as professional gamblers with big money weekly laydowns comprise a small, but clearly important segment of the market.
All the frenetic jockeying for position, acquisitions and partnerships that have exploded ever since the court decision proves that the race always goes to the swift indeed. The question for investors now is this: Who will be the swiftest, who will have the smartest plan, who is best positioned to glom off the biggest potential market share of sports betting business? In prior posts we have attempted to break down the subsectors and present them to investors. We now share who we think will be sitting prettiest when the music stops.
We'd named a few early favorites right after the court decision. Now that we have a firmer sense of the general strategic landscape in which the business seems to be moving, we can pinpoint our best picks for what a smart, well-balanced sports betting portfolio should contain for the highest and speediest possible return.
Our criteria:
This is not standard security analysis focused entirely on numbers, ratios, etc. That's part of our boxes to check, but these considerations are industry centric and specific to these shares. We've boiled our picks down to the stocks meeting these criteria:
1. Proven management quality and capacity to execute for shareholders over time.
2. Share prices that are either near fully valued that still have run room in our view.
3. Elements that will cohere that the market has yet to fully bake into the trade.
4. Occupation of one of these key sub sectors of gaming: Casino, or online real money wagering platforms. We have not included gaming equipment/tech companies in this portfolio because we will cover them in Part 2 of this review.
5. Geographic scale encompassing a wide and diverse spread across the US's most potentially lucrative sports betting regions.
The companies included here are few, but in our opinion represent the most well-managed, strongest positioned and savviest companies likely to build a strong market share and the business model most potentially accretive to earnings.
Our Picks
El Dorado Resorts (NASDAQ:ERI)
Price at writing: $48.30
52wk range: $23.95---$50.00
ROE: 17.7% vs. 15.5% for industry.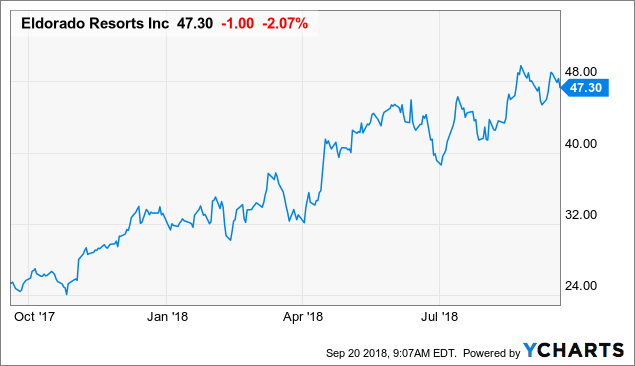 In our Nov 2017 we guided strongly bullish on the stock which was trading that day at $25.60. We based our outlook on high conviction over many years that placed ERI management quality and execution far above many peers.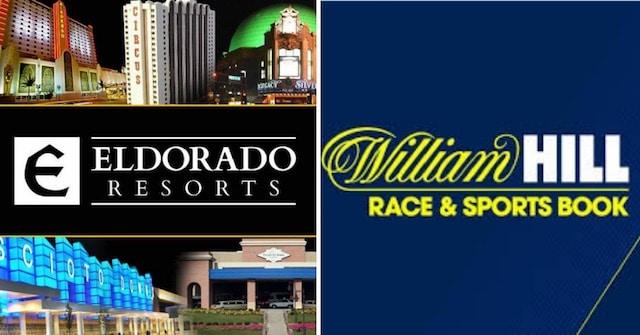 The company is moving fast and deftly to expand its geographic reach and immediately dive into sports betting deals.
1.The Carrano family has radiated out of its core Reno home to 21 properties in 13 states. Most recently, it acquired from Carl Icahn his seven-property Tropicana portfolio for $1.85bn which includes its Atlantic City flagship, currently holding second position in gaming revenue in that market. Five of the Icahn properties were quickly lateralled into the Gaming & Leisure Properties REIT (NASDAQ"GLPI).
2. On September 5, ERI announced a partnership deal with William Hill plc (OTC:OTCPK:WIMHY). The deal is among the most elegant in the space. Hill will pay ERI $50m in stock and a 20% stake in its US business for the right to run the entire sportsbook operation in all 21 properties. Five will begin immediately taking action in states where it's already legal.
What this means: ERI gets Hill's long expertise, tech know how, platform features and mostly its consummate skill in marketing to sports bettors over decades in the UK, as well as its US operations in Nevada and New Jersey. It also opens the possibilities if and when free standing betting shops are legalized that Hill, long in that business, can step up to that potential faster than most. The Hill stock ERI gets has room to run as legalization unfolds in the US. It's a brilliant, no cash, no debt deal.
3. ERI already is licensed by gaming commissions in all the states in which it owns casinos. This materially short cuts what could be a lengthy licensure process that can last for more than a year for companies without licenses. This means speed to market — a key here.
4.ERI will continue to concentrate on its core casino business, leave the sports betting to Hill and participate in Hill's success as shareholders outside the ERI portfolio. Hill already has an ongoing business in Nevada and New Jersey at other casinos and racetracks.
Our view: While we believe ERi at $48.30 comes close to be fully valued at the moment, we do see enough upside ahead in both casinos and sports betting to justify consideration of an entry point now. It has nearly doubled since our last recommendation, fulfilling our expectation that it knows how to execute, deliver superior customer service, and keep an eye on costs. With sports betting now a reality we see the company leveraging its enlarged asset base and achieving the kind of scale that will make the business highly accretive to EBITDA over the next three years.
We have included ERI not because we see the stock as cheap now, but because we see it as a solid, imaginative, tightly managed company, which makes consistently savvy asset allocation decisions. Our PT aims at $63 by 2Q of 2019 on ERI, bearing in mind its participation in an upside we see for Hill itself during that period.
It's a "sleep tight" stock that belongs in a model portfolio skewed with a sports betting upside.
Boyd Gaming Corp. (NYSE:BYD)
Price at writing: $37.97. 52-week range: $24.53--$40.44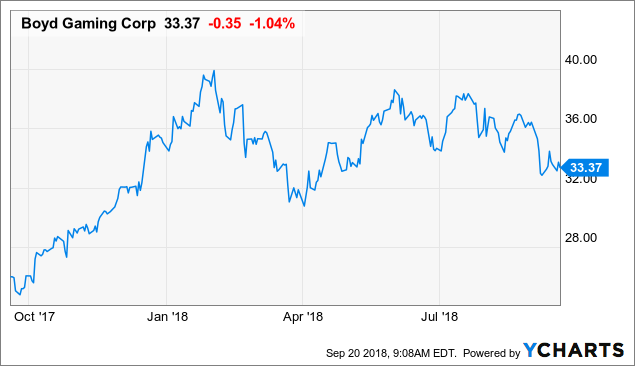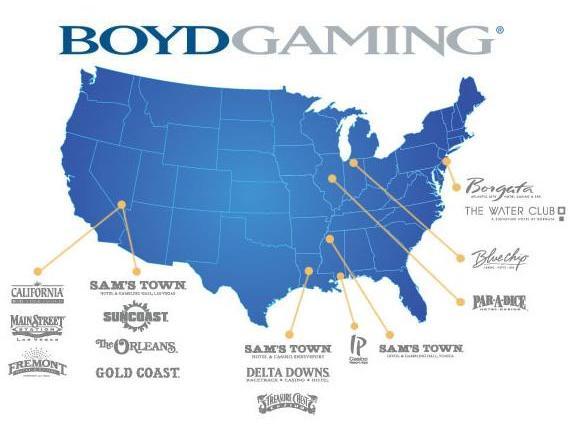 We have long been fans of BYD as well as ERI fundamentally due to our conviction that like ERI, its management culture was superior to many peers. In 2016 the shares were trading at $19.80. I put a PT on the stock of $26 to $30 and then a short-term hold. I wanted to see how its expectations for its Las Vegas locals business played out. Having liked what I saw, I reiterated my call that this stock had runway. It too has about doubled since my initial call.
I included it in my best picks in the casino space because like ERI I like the management andtheir savvy response to sports betting. I also like their aggressive move to stay visible on the East Coast even after they sold their 50% of the Atlantic City Borgata to their partner MGM Resorts International (NYSE:MGM) for $900m. The company announced it would use the proceeds to reduce debt and expand its portfolio in a Las Vega locals market. And it has done just that.
Boyd operates 25 properties in eight states with a strong lynchpin in the Vegas locals market. I like that diversity. They increased it most recently by acquiring the Valley Forge, PA, property which sits 20 miles from metro Philadelphia. And here's the kicker: Sports betting is now a go in that state so BYD can immediately begin ramping up its sports betting palate there.
Here's the key: The Valley Forge deal dovetails with a partnership BYD signed last month with MGM to jointly develop the entire online gaming space as it becomes legal. It will encompass joint development and operation of platforms in casino, poker and sports betting. BYD will offer the amenity in its properties, and where it has no presence MGM will be the operator. In this way the two companies, which have a positive history in the development and partnership of the Borgata, are once more united in a deal that avoids culture clash. I like that a lot. They will share databases by jurisdictions and jointly market. It leverages the strengths of both companies to build a robust online and mobile presence following legalization as it unfolds.
Our view: Even though it's now trading near its 52-week high, we see upside runway by 2Q next year emanating from the incremental revenue flow from the MGM online partnership. A word of caution: Expectations are that Q3 numbers from the Las Vegas strip are likely to be soft due to high comps from 2017 created by a more robust convention schedule. This could drive some short-term jitters on the Las Vegas gaming space even though BYD is minimally dependent on the strip. But our information now is that Q4 is tracking positive in bookings and that by 1Q19 we expect to get a good sense of how well sports betting is taking hold in Valley Forge with nearly a full season of NFL football behind it. For that reason we think that BYD needs to be in a gaming portfolio because its prospects in the local, regional and sports betting space are very strong. For that reason we're putting a PT of $55 on the stock by the end of 1Q19.
Disclosure: I/we have no positions in any stocks mentioned, and no plans to initiate any positions within the next 72 hours.
I wrote this article myself, and it expresses my own opinions. I am not receiving compensation for it (other than from Seeking Alpha). I have no business relationship with any company whose stock is mentioned in this article.