The U.S. Treasury's auction today of $11 billion in a reopened 10-year TIPS generated a real yield to maturity of 0.910%, the second highest yield for this term at auction since 2011.
This is CUSIP 912828Y38, a Treasury Inflation-Protected Security that was first auctioned on July 19 with a real yield of 0.762% and a coupon rate of 0.750%. It has a remaining term of 9 years, 10 months.
Because today's auction generated an after-inflation yield higher than the coupon rate of 0.750%, investors got it at a discount. The adjusted price was about $98.89 for about $100.39 of principal, after accrued inflation is added in. The real yield of 0.910% was a bit below the 0.938% generated at a May 17 reopening, but otherwise it was the highest of 43 auctions of this term since May 2011.
Real yields (meaning the yield above inflation) have been rising steadily over the last 12 months, as shown in this one-year chart for the 10-year real yield:
Inflation breakeven rate
With a 10-year nominal Treasury trading today with a yield of 3.06%, this reopened TIPS gets a 10-year inflation breakeven rate of 2.15%, on the higher end of recent auctions. Essentially, that rate means this TIPS will outperform a nominal Treasury if inflation averages higher than 2.16% over the next 10 years. Although U.S. inflation is currently running at 2.7%, investors are betting that it will stabilize at a lower rate in future years.
At this point, the inflation breakeven rate is in the "neutral zone," meaning that TIPS yields are fairly balanced against nominal yields. Here is the one-year trend in the 10-year inflation breakeven rate, showing a dramatic surge higher early in 2018, but a stabilizing trend since then:
Reaction to the auction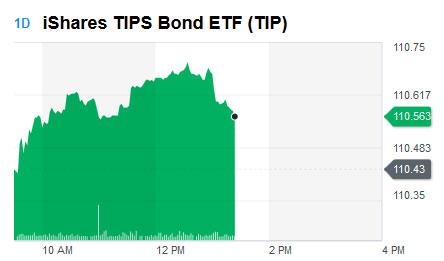 For investors, today's auction offered an attractive rate of return (at least by recent standards) at a reasonable cost versus nominal Treasurys. The yield of 0.910% was slightly higher than where this TIPS was trading in the secondary market just before the auction closed. Likewise, the price of the TIP ETF, which holds a broad range of maturities, dipped a bit after the auction close at 1 p.m. This also indicates that the auction yield came in slightly higher than expected.
One interesting factor in the overall TIPS market is that even as yields have climbed for 10-year TIPS, the yields for 5-year TIPS have risen higher. Just after the auction close, a 5-year TIPS was trading on the secondary market with a real yield of 0.93%, versus 0.91% for CUSIP 912828Y38.
This tilted yield curve is probably causing investors to look harder at shorter yields, and could have slightly depressed demand at today's 10-year auction.
Here are the results of 9- to 10-year auctions so far in 2018: