The focus among precious metals investors right now isn't on gold, but on the gold mining stocks. In the last few sessions the actively traded gold and silver mining shares have experienced a comeback of sorts. This bullish performance was signaled last week by a big spike in the 4-week new highs-new lows indicator for the miners and is still supported by short covering. In today's comments, I'll argue that the gold price itself will soon benefit from the surging gold stocks.
The NYSE Arca Gold Bugs Index (HUI) added to its recent gains by closing 2.25% higher on Wednesday. The HUI index has now closed more than two days higher above its 15-day moving average, a feat it hasn't managed to do since early July. The July breakout signal above the 15-day MA was quickly reversed and wasn't confirmed by the internal momentum indicators utilized in this report. This time around, however, HUI is a fighting chance at continuing its rally and retracing its August-September losses.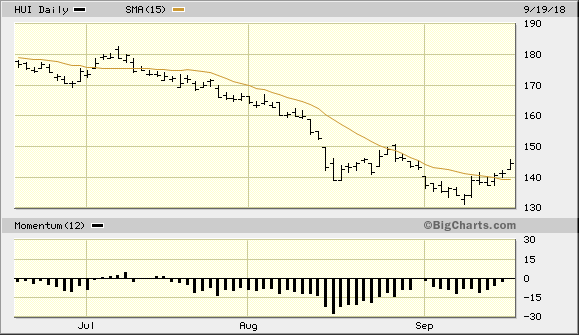 Source: BigCharts
My basis for believing that HUI can have a meaningful rally is based on the 4-week rate of change (momentum) indicator for the gold stocks. This indicator is based on the cumulative new highs and lows for the 50 most actively traded U.S. and Canadian gold mining and exploration companies. With this indicator currently rising in a linear fashion, the immediate-term path of least resistance for the gold shares is currently up. As long as this indicator continues rising, the rally in the HUI index should continue.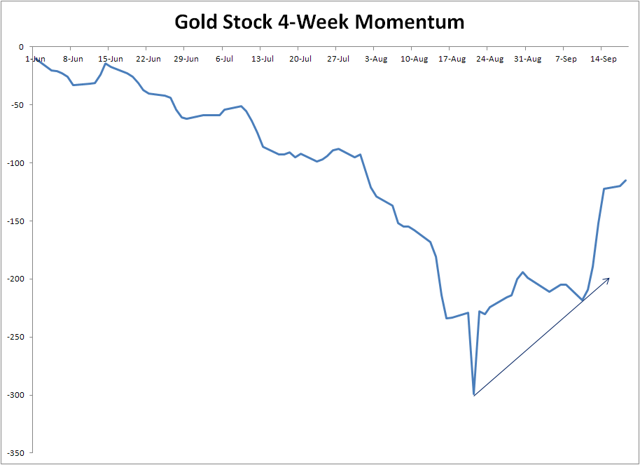 Source: WSJ
As we've talked about in recent commentaries, the bullish reversal in the internal momentum profile for the actively traded gold mining and exploration stocks has finally brought some good news to the sector. Not only have the beaten-down mining stocks gotten a much needed lift, but it also appears that even the bullion price will benefit from the improvement in the miners. This is based on the historical tendency for an extended rally in the gold mining stocks to lead rallies in the physical gold price.
It's not just the mining stocks which are signaling a possible reversal for gold, however. Another possible support for a gold turnaround is the long position that a major investment bank has reportedly taken in the yellow metal. According to a Sharps Pixley report, it appears that JPMorgan has initiated a long position in gold after being net short for a prolonged period. The buzz this rumor has generated has been enough by itself to increase interest in gold among retail traders recently. Of greater importance, however, if this report is true then gold will have a strong institutional backing from which a meaningful turnaround can be launched.
From a technical perspective, a 2-day higher close above the 15-day moving average is needed for gold to confirm an immediate-term (1-4 week) bottom. This hasn't happened yet, but Wednesday's suggest a breakout attempt is now underway. The iShares Gold Trust (IAU), my favorite gold ETF, closed slightly above its 15-day MA on Wednesday and is below the $11.60 level as of this writing. You'll recall from our previous discussions that the $11.60 level is the pivotal high from the Aug. 25 session. This serves as IAU's highest closing price in the last five weeks since its bottoming attempt first began. A close above $11.60 would technically confirm a bottom for IAU based on my trading discipline. It would also likely serve as a catalyst for additional covering of the huge short interest which has built up in the gold market in recent months. The gold bears must surely be getting nervous right now after the latest run-up in the gold mining shares and it's not hard to envision them covering their shorts after gold shows the first sign of strength.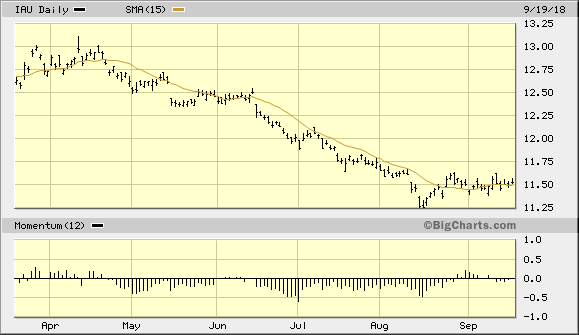 Source: BigCharts
Meanwhile the U.S. dollar index (DXY) is still technically in an intermediate-term (3-9 month) uptrend and hasn't yet shown persistent weakness. However, the dollar index has spent the last six consecutive sessions below its widely watched 50-day moving average. While there is nothing inherently magical about the 50-day MA, the fact that so many traders and investors pay homage to this trend line gives it a psychological significance. To date, the fact that DXY remains slightly under its 50-day MA hasn't resulted in a rush to the exits for dollar bulls and move into gold. But the fact that DXY is under its 50-day MA is sufficiently significant to shine a spotlight on gold as a potential value play given how beaten down and "oversold" it is on an intermediate-term basis. For perspective, gold prices have declined 12 percent since peaking in April.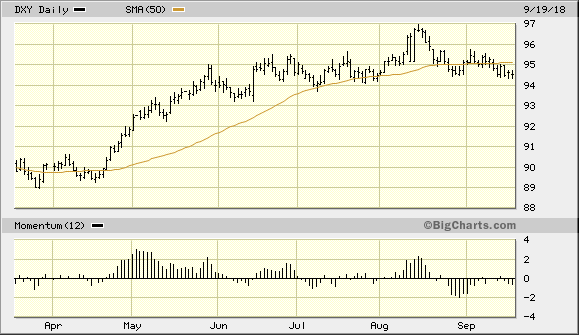 Source: BigCharts
After several weeks of a torpid market environment with little action, things are finally starting to heat up again in the precious metals arena. The gold stocks are showing definite signs of liveliness, and even the gold price itself is inching higher day by day in response to the bullish short-term momentum shift in the mining stocks. Moreover, if rumors of a major U.S. investment bank reversing its bearish position on gold are true, gold will have a strong basis for a meaningful short-covering rally in the coming weeks.
In the mean time, no action need be taken among gold investors just yet. While a gold short-covering rally could easily ignite at any time in the coming days, I still recommend a defensive posture for now. To reiterate my assessment from last week, the iShares Gold Trust (IAU) also must close above the $11.60 level to complete an immediate-term bottom signal per the rules of my trading discipline before it can be safely purchased. For now I recommend that investors remain in cash.
Disclosure: I/we have no positions in any stocks mentioned, but may initiate a long position in IAU over the next 72 hours.
I wrote this article myself, and it expresses my own opinions. I am not receiving compensation for it (other than from Seeking Alpha). I have no business relationship with any company whose stock is mentioned in this article.