U.S.-based telecom sector stocks have been soaring amid progress towards advancing 5G (next generation) technology and despite global competition.
Telcos have been ramping up their efforts recently to achieve an edge in rolling out nationwide 5G networks, which are widely expected to open up a vast array of services, including for broadband, mobile, and Internet of Things (IoT), as well as the necessary bandwidth and low latency for 3D and virtual reality (VR) applications.
Verizon (NYSE:VZ), for example, said it is opening additional 5G Labs on the East and West Coasts, where live 5G networks will enable local startups, universities, and technology companies the opportunity to develop and test the next gen tech.
VZ had said it would be first to launch 5G residential broadband service in four markets in the U.S. - Los Angeles, Sacramento, Houston, and Indianapolis - in the second half of 2018, followed by a mobile 5G solution in early 2019.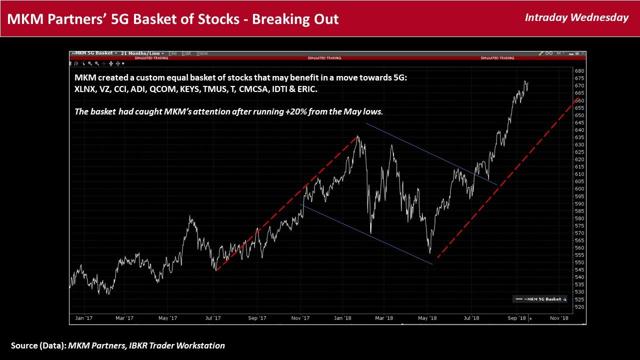 Other telco giants have been busy laying out the groundwork for 5G by exploiting opportunities for small cell deployment, including AT&T's (T) recent discussions with the City of Los Angeles to form a public-private partnership.
T said that it has more than 222 petabytes of data running over its global network on a given day, and small cells will proactively help meet the demands of its LA-based, as well as international, customers.
Also, T-Mobile (NASDAQ:TMUS) and U.S. towerco Crown Castle (NYSE:CCI) agreed to expand their long-term strategic relationship. Under the agreement, CCI will deploy additional small cells within their existing footprint and light up small cells in new markets, helping TMUS enhance 4G LTE network capacity and prepare for 5G deployments.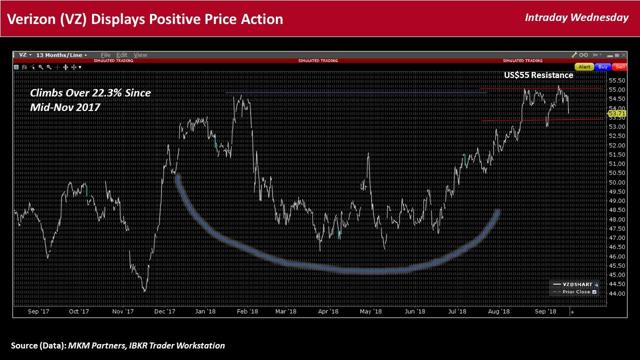 Against this backdrop, telecom shares have been surging.
MKM Partners observed not only positive price action from VZ and T but a whole basket of stocks that may benefit in a move towards 5G, including CCI, as well as chip makers Analog Devices (NASDAQ:ADI) and Qualcomm (NASDAQ:QCOM), telecom conglomerate Comcast (NASDAQ:CMCSA), Xilinx (NASDAQ:XLNX), and telcos VZ, T, and TMUS.
MKM noted that their custom equal basket of stocks has increased by more than 20% off its May lows and has shown "little signs of slowing."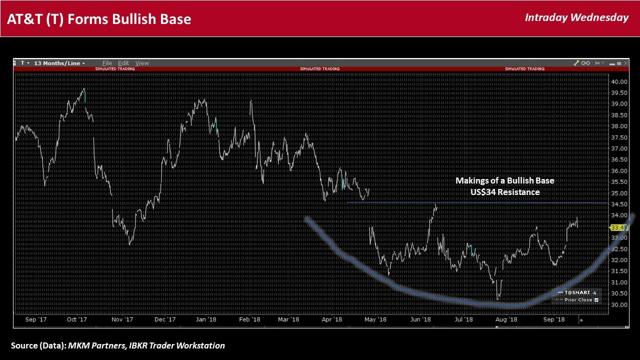 China still touted as forerunner in 5G race
Although the U.S.'s major carriers are shifting their 5G ambitions into higher gear, some analysts think they may fall short of China's likely dominance in the ring.
According to UK-based telecom research firm CCS Insight, while U.S.-based carriers are gearing up to launch the first commercial 5G networks, possibly as soon as later in September, their initial focus will be on fixed wireless technology, which will enable early deployment in the absence of supporting smartphones.
CCS Insight noted that it views the activity as "only a niche opportunity," given that even in the long term, it will represent only 1% of all global 5G connections by 2025.
Kester Mann, principal analyst at CCS Insight, said that the intentions of major U.S. carriers to launch 5G in late 2018 have been "clear for a while," but recently "we've seen greater urgency to deploy networks from providers in Europe, the Middle East, and China."
China remains the biggest source globally of 5G adoption by far, and several factors have prompted CCS Insight to raise its expectations still further, including the country's largest operator, China Mobile's (NYSE:CHL) aim to launch ahead of its previous expectations, in 2019.
Furthermore, CCS Insights suggested that local infrastructure suppliers Huawei (SHE:02502) and ZTE (HK:0763) "may sharpen their focus on the domestic market following recent geopolitical tension that has led to more challenging environments in several markets, including the U.S. and Australia."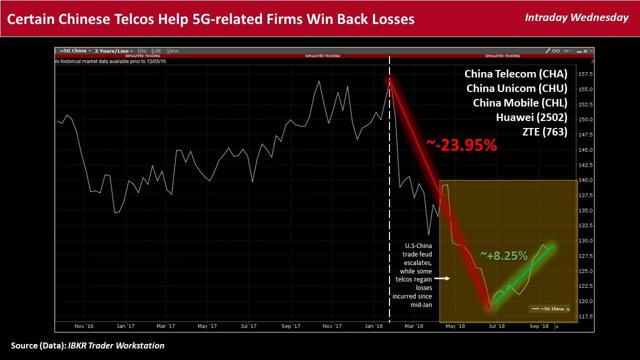 Moreover, a potential merger of China Telecom (NYSE:CHA) and China Unicom (NYSE:CHU) has been in the rumor mill recently, which has been widely considered to be driven by a desire to achieve global 5G dominance.
CCS Insight added that it expects China to overtake the U.S. to become the biggest 5G market in 2020, with 40 million connections. By 2025, connections in China will surpass one billion, accounting for nearly four connections in every ten worldwide.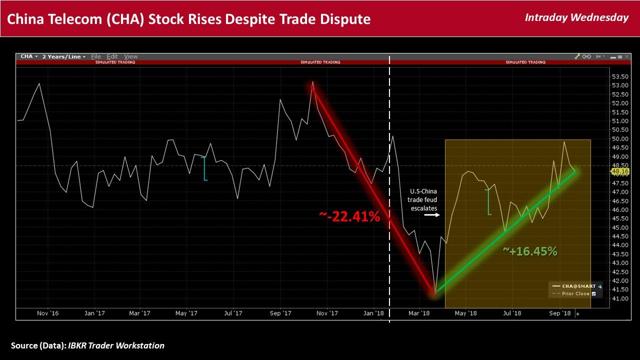 First 5G spectrum auctions
Meanwhile, China's rapid development of 5G networks has apparently struck a chord with the U.S. and its ability to compete on the next gen tech stage.
To aid in the promotion of the next generation of wireless connectivity, for instance, the Federal Communications Commission (FCC) in August said it established procedures for its first 5G spectrum auctions.
FCC chair Ajit Pai noted that maintaining "leadership in wireless technologies is critical for our country; it will boost economic growth, job creation, and our global competitiveness. And given that the world is going wireless, it will dramatically improve the consumer experience, including in ways we can't today anticipate."
The communications regulator said it finalized procedures in the 28 GHz band auction, which will begin November 14, and soon after its conclusion, the 24 GHz band auction will commence.
"The 1.55 gigahertz of spectrum in these two high bands will be critical in deploying 5G wireless, Internet of Things, and other advanced spectrum-based services," Pai added.
Note: This material was originally published on IBKR Traders' Insight on September 19, 2018.
The analysis in this material is provided for information only and is not and should not be construed as an offer to sell or the solicitation of an offer to buy any security. To the extent that this material discusses general market activity, industry or sector trends or other broad-based economic or political conditions, it should not be construed as research or investment advice. To the extent that it includes references to specific securities, commodities, currencies, or other instruments, those references do not constitute a recommendation by IB to buy, sell, or hold such investments. This material does not and is not intended to take into account the particular financial conditions, investment objectives, or requirements of individual customers. Before acting on this material, you should consider whether it is suitable for your particular circumstances and, as necessary, seek professional advice.
Disclosure: I/we have no positions in any stocks mentioned, and no plans to initiate any positions within the next 72 hours.
Business relationship disclosure: I am receiving compensation from my employer to produce this material.