Elliott R. Morss ©All Rights Reserved
Introduction
There has been a spate of articles written about when the US bull market will end. A number of them have focused on the diminishing role of stock markets in corporate financing. For example, Bloomberg's Businessweek reporter Chris Nagi notes:
Companies are staying away from public markets in droves. From an annual rate of almost 700 new listings in the last half of the 1990s, the average has fallen 75 percent…. Right now, venture firms have about half a trillion dollars under management, roughly equivalent to all the money raised in IPOs over the last 10 years. Companies that would've gone public within a few years of being created in the 1990s aren't even thinking about it…
Nagi quotes a recent academic study:
What we are really witnessing is an eclipse not of public corporations, but of the public markets as the place where young successful American companies seek their funding,"
These comments interested me, so in what follows, I look at how the assets of US individuals are being invested using the Federal Reserve's flow of funds database.
The Financial Investments of Households
The database breaks out household investments by vehicle. Table 1 provides data on US household assets. It is notable that funded pension entitlements are $3.5 trillion greater than funded entitlements. $3.5 trillion is a lot. If and when it becomes necessary, how will this shortfall be dealt with?
The table indicates that US households are also heavily invested in corporate equities and mutual funds. Households can choose on their own what equities to invest in but have to leave actual investment decisions on mutual funds, ETFs, pensions, and life insurance to others.
Table 1. - US Household Investments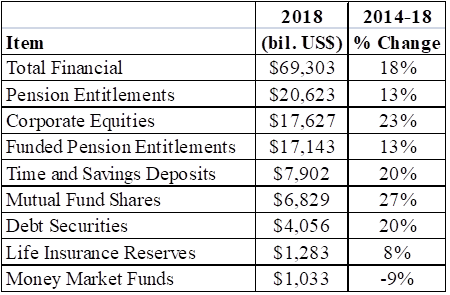 Source: Federal Reserve
Nagi again:
U.S. investors have plowed money into U.S. stock exchange-traded funds at a rate of almost $12 billion a month since the start of 2017, five times as much as seven years ago.
This statement has to be seen in context. Relative to direct holdings of stocks and mutual funds, households' holdings of ETFs are small but growing rapidly. The Fed does not break out households holdings of ETFs, but they do provide data on all ETF holdings. Table 2 indicates that total holdings of ETFs are $3.4 trillion and growing rapidly.
Table 2. - Total ETFs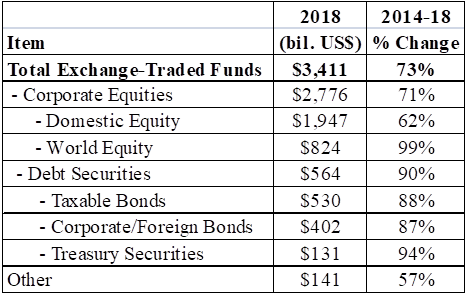 Source: Federal Reserve
Why Are Equity Listings Down?
Many say listings are down because it is a hassle and costly to do an IPO, SEC reporting requirements are burdensome and dealing with activist investors is becoming problematic.
Companies have to be careful about shunning IPOs on the equity markets. Those who take venture capital and other sorts of funding say that they use a pretty heavy hand on the companies they invested in. But a growing number of companies are doing their own "IPOs" via informal markets/crowdsourcing.
Share Repurchases
Coming off the Trump tax reductions, some are criticizing companies for share repurchases rather than improving their workers' incomes. A good example of this is Walmart (NYSE:WMT) (I quote from NH Labor News):
Wal-Mart just announced a $20 Billion stock buyback. $20 Billion is a whole lot of money.

It's equal to almost $8,700 per full-time Wal-Mart employee. It's more than three times what taxpayers spend each year on health care, food stamps and other forms of public assistance for Wal-Mart employees. It's 50% more than Wal-Mart's total profits last year. It's equal to about half of the company's total long-term debt.
But this is nothing more than capitalism in action: smart owners are going to ask how to get the best returns. And share repurchases will sometime be the answer. Just like when owners have to decide between hiring workers or technologies. Increasingly, they will choose technology and thereby, contribute to higher unemployment, lower paying jobs, and to growing income inequalities.
Why the Long Bull Market?
It is important to see this in a global context. Until recently, emerging market equities did not exist and most investors stuck to real estate. This was very apparent when I was working in China. These countries are only now developing stock markets and getting people to invest in them. But the emerging market investors will see local stock markets as risky, so they will invest instead in the US.
Table 3 provides data on US securities held by non-US investors. It is notable that foreign equity holdings are $8.1 trillion or 46% of US equity holdings. And the overseas holdings are growing, up 22% since 2014. This overseas growth is an important reason for the long US bull market. Note how a number of countries, probably aware of the huge deficits the US will run coming out of the Trump tax cut have reduced their holdings of Treasuries.
Table 3. - Foreign Residents Holdings of US Securities (bil. US$)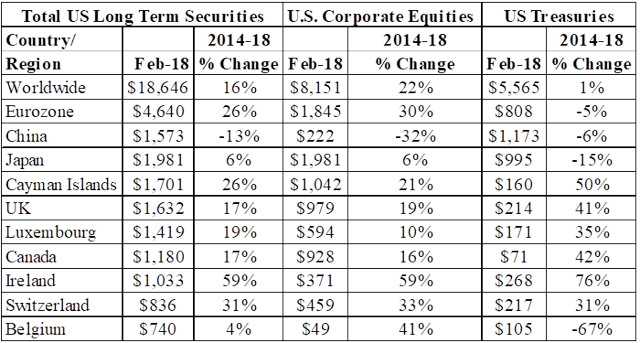 Source: Federal Reserve
Conclusions
According to the Fed data, households are holding the largest segment of their financial assets in pension funds - $19.9 trillion. So, one asks how do pensions invest their monies. And as I have noted from data in Pensions and Investments, this is pretty wild and the structure is an open invitation for corruption as we have seen with CalPERS over the years.
Pensions invest in all sorts of non-equity vehicles. They bear watching. It is probably time to find a new fund when you find that your fund is investing in:
private state government-leased real estate;
global equity long/short hedge funds;
mortgage-backed securities funds or;
distressed debt funds.
I close with a quote from Warren Buffett:
Over the years, I've often been asked for investment advice, and in the process of answering I've learned a good deal about human behavior. My regular recommendation has been a low-cost S&P 500 index fund. To their credit, my friends who possess only modest means have usually followed my suggestion."
Disclosure: I/we have no positions in any stocks mentioned, and no plans to initiate any positions within the next 72 hours.
I wrote this article myself, and it expresses my own opinions. I am not receiving compensation for it (other than from Seeking Alpha). I have no business relationship with any company whose stock is mentioned in this article.