Stocks wobbled a bit in advance of the implementation of the new round in the trade war with China, but rallied back when the escalation turned out to be less than feared.
Instead of a 25% tariff on another batch of $200 billion worth of imports from China, the tariff turned out to be "only" 10% with a few exceptions (notably not affecting Apple (NASDAQ:AAPL)).
While investors rejoiced, there were two kickers in the news:
If there is no progress in the negotiations, these tariffs will go to 25% at the end of the year.
If China retaliates, a next round will ensue with tariffs slapped on much of the remaining US imports from China (some $267 billion worth).
China has retaliated with tariffs varying between 5% and 10% on $60 billion worth of Chinese imports from the US, and these tariffs were also less than feared (25%).
Investors seem to think that the tariffs that are implemented do insufficient harm to spoil the party on Wall Street, and whilst the proposed measures almost certainly would, as long as these are not "facts on the ground" (actually implemented) the party can last.
Plenty of time to get some sort of agreement, investors seem to be thinking, and indeed, that is what the Chinese seem to hope as well (from the FT):
One person briefed by Chinese officials on Tuesday said the White House decision to hold off from 25 per cent tariffs for now could still provide room for the two sides to manoeuvre. "A 10 per cent tariff is not going to be earth-shattering for the Chinese economy," the person said, adding the Chinese authorities were "still trying to figure out" the "many different signals" from the US.
Trade agreement?
How likely is that hope of investors and Chinese officials? It really depends on what it is that the US wants from China.
In previous articles (here and here), we argued that the US has little to win and much to lose from its trade war with China. So why is it pursuing one? Here are a few options:
Mostly for political, not economic, reasons.
It is working on the assumption that the damage done to China exceeds the potential damage to the US, and hence, China will be the first to cave.
The US government is purposely trying to diminish Chinese economic growth, alarmed by the economic progress it has made and its plans for dominating high-tech industries ("China 2025").
It isn't rational.
The fourth option is perhaps most disturbing. Yet, there are numerous clues pointing in that direction, which we have described earlier.
If the US government isn't rational, clearly all bets are off - we could have a really bad escalation of the trade war, which causes significant damage to the economy, some corporate earnings, and stock market sentiment.
This could even escalate further if the tariffs boost inflation, forcing the Fed on a higher interest rate path while the economy starts to slow. Higher interest rates and the flight to safety could very well boost the dollar and sparkle another round of emerging market rout. Things could get really nasty.
However, if this is merely, or at least mostly, political posturing, things are unlikely to escalate along these lines and some beaten-down stocks could actually offer pretty decent buying opportunities right now.
Chinese pain
A middle case would be if the government works on the assumption that the pain is greater in China and, therefore, they are more likely to offer concessions. As a matter of fact, these are actually two separate assumptions:
The pain in China exceeds that in the US.
China is therefore more willing to offer concessions.
First, there is actually some evidence that the US position is at least partly based on these assumptions. Here's what the President has to say:
"They are under pressure to make a deal with us," Trump tweeted on Thursday, referring to China. "Our markets are surging, theirs are collapsing. We will soon be taking in Billions in Tariffs & making products at home. If we meet, we meet?"

(Source: The Hill)
This is a mix of the irrational and the rational (or it could all be political posturing, as it happens) - the latter is the belief that the Chinese are under pressure to make a deal.
And indeed, a couple of months ago, there were Chinese offers to buy more agricultural products and LNG from the US, but this was rejected as insufficient.
The fact that the US didn't take them up on that offer also tells you a little:
They think China will make bigger concessions if they pile on the pressure.
Or, this is simply political posturing, so they have to keep the show on the rails at least until the mid-term elections.
Take your pick. But let's look at the two assumptions about China: the hurt and their willingness to concede. What is visible is that the Chinese stock market is indeed hurting, and that is what the President was referring to. But we don't think the stock market matters all that much to the Chinese, nor is there much potential for the stock rout to produce much economic damage.
As a side note, we also doubt how much further downside there really is in Chinese stocks, as valuations have come down a lot and it is getting into territory where one has to start assuming a major downturn in the Chinese economy. In fact, as China's markets tumbled, average estimates for Chinese growth actually went up a bit (from Bloomberg):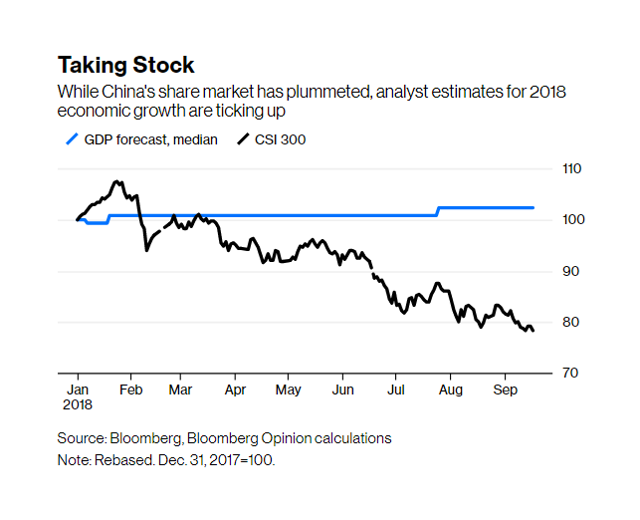 If it's hurting, it doesn't (yet?) show in economic figures or even projections. Can it derail in a more serious fashion? We're not sure that's likely, and the Chinese are not without countermeasures:
They could make life difficult for US companies selling to, and operating in, their own market.
They could embark on more stimulus for the economy.
They could (and indeed, some would argue they already have) let the currency depreciate further.
Elections
One thing one has to keep in mind is that China's government isn't really elected. While serious economic pain would cause serious problems, the government can blame much of that on the US and stir nationalist sentiments (one might want to read the linked Bloomberg article for a perspective on that).
Speaking of elections, China could also opt to hunker down and just sit out the Trump presidency, as this lasts a maximum of six more years and could be over in two.
The US are politically more vulnerable, as any serious economic costs are likely to cause trouble at elections sooner or later. So far, the damage is local, probably not enough to have much impact. But the fact that the new round of $200 billion worth of imports from China was met with a 10% tariff (and with the exclusion of some high-visibility items like the Apple Watch) suggests the US government is aware of potential electoral damage.
Apart from the electorate at large, there is also another constituency the US government should worry about: the US corporate sector. Here is what the US Chamber of Commerce said:
The U.S. Chamber of Commerce calls tariffs "counterproductive" and says they "will not effectively address concerns" that the U.S. has about unfair Chinese practices.

(Source: Bloomberg)
Indeed, the misgivings about the trade war are widespread in the US corporate sector, leading Bloomberg to conclude that:
The consequence, though, is that the administration has effectively, if inadvertently, transformed these businesses into pro-China lobbyists against its own policies... In retrospect, the Trump administration should clearly have worked more closely with those CEOs to design an approach to China the U.S. business community could embrace.
How ill-thought-out the US trade strategy is really becomes clear after considering that the US government has alienated its own business community as well as potentially strong international allies like the EU and Japan which share some of the same misgivings about Chinese trade practices.
What to do?
If you assume a rational government, we are pretty comfortable arguing that the new round of tariffs on $200 billion of Chinese imports, its automatic increase from 10% to 25% by the end of the year if no progress is booked, let alone another round of tariffs $265 billion, isn't rational, as the possible upside from that is dwarfed by the (economic and political) downsides.
So, if you think the US government is a rational actor, you tend to expect this not to happen, and then, pullbacks on the markets should be bought. This is indeed what has happened, as the 10% tariff on the $200 billion of Chinese imports was less than the market had feared. It could have been 25%.
However, while perhaps the immediate economic fallout will be limited, we're really getting closer and closer to the edge, and while it could very well be that the damage done to China is bigger than that to the US economy, this really doesn't mean China is about to give in to major concessions.
But we can't entirely count on this government being rational, given all that they've said about trade and the way they neglected important constituencies and allies. What's more, there might indeed be a hidden agenda to cripple the Chinese economy on purpose.
So, further escalation seems a real possibility, and given the potential economic fallout, combined with the present market euphoria, it isn't easy to deal with that. There could come a point where this will get close to a binary option where further escalation can't be shrugged off by the markets any more. One might want to keep that in mind and raise some cash levels.
Disclosure: I/we have no positions in any stocks mentioned, and no plans to initiate any positions within the next 72 hours. I wrote this article myself, and it expresses my own opinions. I am not receiving compensation for it (other than from Seeking Alpha). I have no business relationship with any company whose stock is mentioned in this article.