By Tom DeLong, CFA; Brian Recht
Key Takeaways
Global tech companies expect that distributing content on their digital platforms will reinforce their core businesses, keeping customers wedded to their ecosystems.
Given many tech companies' global reach, they can spread programming expense across a wider base, potentially enabling them to outbid traditional media companies for talent.
Recent investments by tech and media companies, including acquisitions, indicate a shift toward vertically integrated content-creation and distribution models, with digital platforms playing a growing role.
For years we have stated our belief that "all companies have become tech companies." The other side of that coin is also proving to be true as technology stalwarts venture into other industries. This trend is especially evident in media where tech companies are capitalizing upon the digital platforms they have built to distribute content. This development magnifies the disruption experienced across the media landscape brought on by the digitally driven forces of "over-the-top" content delivery, which circumvents traditional pay-TV operators, and the shift toward mobile viewing. The foray by tech companies - and possible countermoves by media incumbents - merits watching, as entering new markets tends to invite risk as well as opportunity.
Fueling the Flywheel
The goal of tech companies is not to become traditional media providers but rather use content to draw new users into - and keep existing customers engaged in - these companies' ecosystems. Becoming a provider of programming stands to reinforce tech companies' economic flywheel as viewers potentially become more wedded to a company's core business, whether it be Internet search, e-commerce or deploying a particular operating system. That "stickiness" may lead to higher levels of monetization on core products and possibly higher margins as companies can spend less on customer acquisition.
The blurred line between technology and media is perhaps best illustrated by the evolution of streaming service Netflix. Only a small portion of current Netflix subscribers were likely around when customers had to march to their mailboxes to fetch rented DVDs. Yet, even though Netflix initially relied upon snail mail, its customer interface was its website, where subscribers could browse movie titles and place orders. Even as the company began streaming third-party content, users considered the company primarily as a digital platform aimed at meeting their entertainment needs. Only after customer loyalty was accrued and the company honed its digital distribution platform did management move into content creation with the aim of giving subscribers what they craved most - quality programming - and in the process further reinforcing the company's standing among its customer base.
Other digital platforms are following suit, with the likes of Amazon (NASDAQ:AMZN), Alphabet (NASDAQ:GOOG) (NASDAQ:GOOGL), Facebook (NASDAQ:FB) and Apple (NASDAQ:AAPL) all moving to create or procure content. A parallel shift is the growing share of media consumption occurring in the shorter-form digital feeds that are often viewed on mobile platforms such as Alphabet's YouTube or on Facebook's Instagram.
Leveraging a Global Audience
Many of these tech companies have a global reach and, therefore, can amortize the content production expense across a larger customer base. This matters as it enables global companies to spend more liberally than domestically focused content creators that have a limited reach. The result has been an accelerating arms race for talent as deep-pocketed tech companies have muscled their way into an already competitive content-creation marketplace.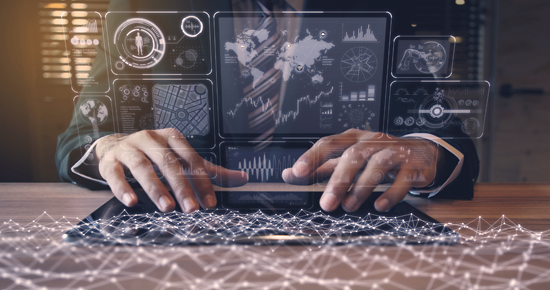 Media's Countermeasures
Shifting sector boundaries can move in the opposite direction, as well. Establishing a foothold in media is difficult, but so too are traditional media companies attempting to construct digital platforms to distribute content. Yet this is occurring as some legacy content creators seek to defend their positions against tech interlopers. Achieving global scale in distribution, in our view, would likely prove daunting for many U.S. media companies. Foremost, many lack relationships with foreign pay-TV operators and have little experience in navigating the nuances of overseas markets. Second, there is always the risk that much domestically focused content would not resonate with an international audience. It is our view that only media companies with strong, internationally known franchises can make inroads with global audiences, and, therefore, only these companies could earn a sufficient return on the investment required to go global, whether it be partnering with foreign content distributors or establishing their own digital platform.
A Push Toward Vertical
This scramble for repositioning is likely behind much of the consolidation activity occurring across the media landscape. Domestically, AT&T's (NYSE:T) acquisition of content-rich Time Warner is one example, as is Disney's (NYSE:DIS) and Comcast's (NASDAQ:CMCSA) recent jostling for the assets of Twenty-First Century Fox (NASDAQ:FOX) (NASDAQ:FOXA), which includes Fox's 39% stake in Europe's Sky. Both are examples of content creation and delivery going "vertical," with digital platforms playing an ever-increasing role in distribution.
Winners? Losers? Converging Business Models?
The future media landscape is far from settled, and the rails between content creation and digital distribution are not firmly established. Investors may be attracted to tech companies expanding their ecosystems, but also may have concerns about the low margins generated by these nascent forays into programming. It bears watching whether margins can expand or if content acts as a sufficient "loss leader," with higher core business revenues making up for less profitable content production.
For traditional media companies, the encroachment by tech could lead to compression in their historically higher operating margins relative to the programming generated by tech companies. Still, media companies with attractive content may be well positioned to partner with tech players seeking content to distribute on their digital platforms. Others that have a lower likelihood of expanding their global footprint may forgo international aspirations but still seek to construct a more vertically integrated business model.
Disclaimer: Please consider the charges, risks, expenses and investment objectives carefully before investing. Please see a prospectus or, if available, a summary prospectus containing this and other information. Read it carefully before you invest or send money.
The opinions and views expressed are as of the date published and are subject to change without notice. They are for information purposes only and should not be used or construed as an offer to sell, a solicitation of an offer to buy, or a recommendation to buy, sell or hold any security, investment strategy or market sector. No forecasts can be guaranteed. Opinions and examples are meant as an illustration of broader themes and are not an indication of trading intent. It is not intended to indicate or imply that any illustration/example mentioned is now or was ever held in any portfolio. Janus Henderson Group plc through its subsidiaries may manage investment products with a financial interest in securities mentioned herein and any comments should not be construed as a reflection on the past or future profitability. There is no guarantee that the information supplied is accurate, complete, or timely, nor are there any warranties with regards to the results obtained from its use. Past performance is no guarantee of future results. Investing involves risk, including the possible loss of principal and fluctuation of value.
Janus Henderson Investors © 2001-2018. All rights reserved.