Savers, investors and retirees especially, would welcome a return to a time when low risk assets would once again yield a higher rate of return than the rate of inflation.
Over the past 15 years or so, it's become difficult to simply beat the rate of inflation in our savings accounts and our low risk investments.
Now that short term rates have been on the rise, it's becoming very close to where we could begin to see a real of return on our savings once again.
In order for this to happen, inflation needs to come down from this current rate of 2.68% and short term rates need to stay where they are or move higher.
A real bright spot in the most recent CPI report showed that the figure for medical care inflation rose just 1.54% year over year. This is the lowest year over year percent change since 1950.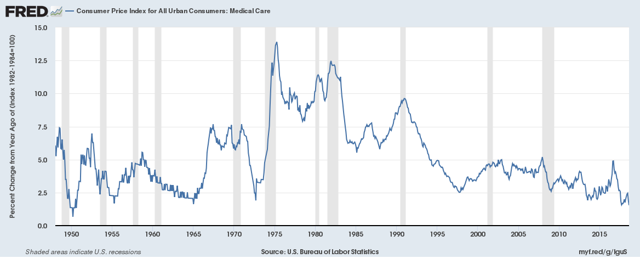 Doug Short's website, AdvisorPerspectives.com, provides these wonderful snapshots of the break down of inflation for us.
As you can see in the chart directly above, medical care costs have risen the most of all the sectors that make up the CPI index.
Medical care makes up 8.67% of the inflation index yet it makes up 17% of total personal consumption expenditures.
Housing meanwhile makes up 41.77% of the inflation index, yet it's 18.4% of total personal consumption expenditures.
The actual spending gap between the two has narrowed substantially over the last 60 years.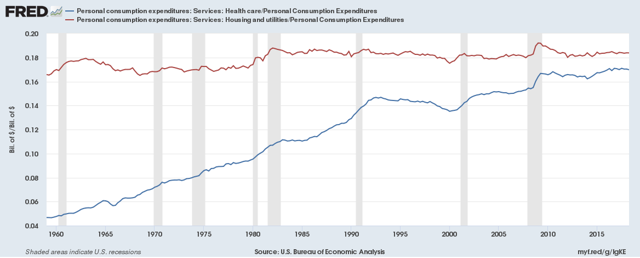 That is a substantial disconnect in the inflation index representation. I appreciate that these expenditures vary by age demographic as we do tend to spend a lot more on healthcare the older we get.
Regardless, medical care costs have been rising a lot more than the rate of inflation overall and that may be about to change going forward based on the current trends.
Medical Care Costs Tamed
Perhaps the time has come when America can begin to tamper the explosive costs of healthcare.
Let's say inflation for medical care was 5% and overall inflation was 3%. The difference would be positive 2%.
Over the past 40 years, medical care inflation has nearly always risen more than the overall rate of inflation.
However, in August, it was 1.14% less than overall inflation as shown in the chart below, where I take medical care inflation and subtract overall inflation.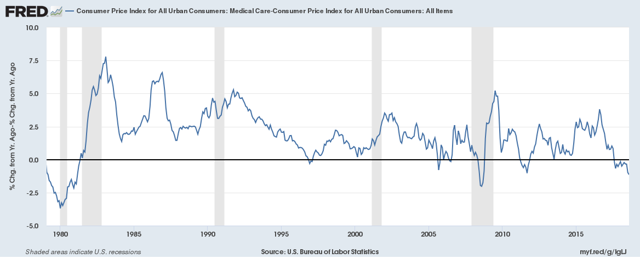 This is the 3rd such period of time now since 2008 when the inflation rate for medical care costs have risen less than the overall rate of inflation.
My observation of this is that it could be a trend that is in motion and could very well stay in motion.
Deregulations, fixing the components of Obamacare that need fixing, eliminating that requirement to have to buy health insurance may all be contributing factors to taming the cost of medical care in this recent period.
Benefits of a Tamed Medical Care Inflation
Overall inflation will be more subdued with the taming of the inflation that comes from the component that makes up 17% of our consumption expenditures.
Look at this chart below showing the yield on a 2 year treasury bond compared to the rate of inflation.
Throughout all of the 1980's and 1990's, you could always earn a real rate of return on your 2 year treasury bond investment.
Something happened after the dot com bubble burst starting in about 2003 that changed that case.
After the 2008 recession, yields on safer investments have been earning well below the rate of inflation, thus robbing savers of their wealth.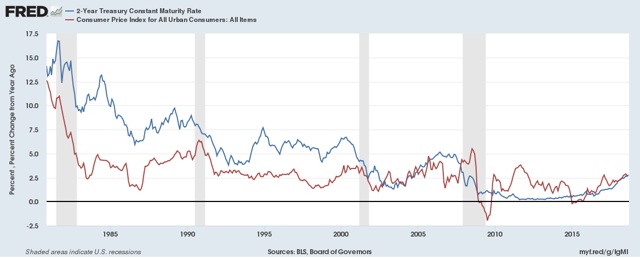 Short term yields are now rising with the recovery of the economy bringing it back to "normal" as we could say. Normal being, you earn a real rate of return on your savings Vs the rate of inflation like it was the first 24 years of my life growing up.
We are now at a crossroads where earnings on a 2 year treasury bond could be more than the rate of inflation!
This could be great for savers in this event.
Conclusion
The biggest animal of inflation over the past 40 years or so may have finally become tamed and we could very well be back to earning real rates of return again on our savings.
Savers and fixed income holders should pay close attention to this component of overall CPI.
A boost in real rates of return for savings coupled with higher real wage gains should prove to be very healthy for living standards of all working and investing Americans.
This will also prove very positive for overall GDP growth as well.
Disclosure: I/we have no positions in any stocks mentioned, and no plans to initiate any positions within the next 72 hours.
I wrote this article myself, and it expresses my own opinions. I am not receiving compensation for it (other than from Seeking Alpha). I have no business relationship with any company whose stock is mentioned in this article.