Welcome to Part 2 of the Best Pick and Shovel Cannabis Plays series. If you haven't, we suggest you check out Part 1 of the series "The Best 'Pick And Shovel' Plays Of Cannabis (Part I)" in order to learn about all the three opportunities we discussed last week. In this article, we will discuss three more companies that all focus on the technologies that can be used in the cannabis industry, from extraction to drug delivery to testing. We will discuss the strengths and risks of each of them and share our outlook.
Radient - CBD Extraction
Radient Technologies (OTC:RDDTF) is a company that we have covered in the past. Earlier this year we introduced the company through our Discover Cannabis Series and highlighted the stock as an interesting play as a technology provider focusing on CBD extraction. The firm uses a patented technology called Microwave Assisted Processing MAP™ which allows for more efficient extraction that minimizes losses, shortens processing time, and increases throughput. The company describes its technology in the annual filings as below:
[The MAP technology] selectively deposit microwave energy into a biomass, heat the target elements, while leaving other materials unaltered. The near-instantaneous "in-core" heating that occurs creates pressure that drives out the target compound exceedingly faster than the conventional extraction method.
Radient had previously tried to apply its technology to other industries such as cosmetics but failed to gain any traction. The firm was brought into the cannabis scene when Aurora (OTCQX:ACBFF) announced an investment in the company. Aurora initially invested $2 million through convertible debentures at a conversion price of $0.14 along with the same number of warrants exercisable at $0.33. In December 2017, Aurora made a further $12 million investment into Radient through a private placement at $1.37 per share with warrants exercisable at $1.71. Aurora and Radient also have a Master Services Agreement under which Radient will perform extraction work for Aurora using its MAP technology. The agreement runs for an initial term of 5 years with an option for Aurora to renew for another 5 years. Radient is currently expanding its extraction facility in order to meet demand once legalization sales kick off in October 2018. We think Aurora would be among its first customers.

The biggest asset for Radient is its MAP technology and its entire operation relies on it. However, what's concerning is that the technology is actually expiring very soon. The company would lose patent protection in 2018 and 2019 in the U.S. and Canada, respectively. Despite that the management dismissed the concern as unfounded in the MD&A, we still think other competitors could start offering similar technologies. We believe the technology itself has a low barrier to entry and is actually a very old technology. The other assets that Radient has besides MAP is its experience and data from using the technology in extraction for years, which we believe is very valuable for the company.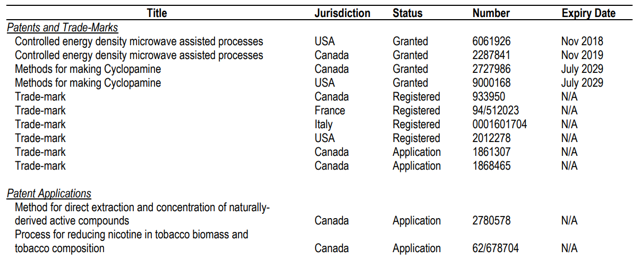 Radient currently has a market cap of $290 million, which is modest compared to some of the other cannabis firms despite its focus on technology rather than cultivation. We think its valuation has been inflated due to the Aurora affiliation and investors might be expecting an eventual tie-up of the two firms. We think the valuation going forward will be driven by the success of its technology in extraction and whether Radient can attract other customers besides Aurora.
Lexaria - Cannabinoids Delivery
Lexaria Bioscience (OTCQX:LXRP) uses its proprietary technology to improve oral drug delivery in the fields of cannabinoids, nicotine, and others. The company is relevant to our discussion because its DehydraTECH™ technology has been used by some cannabis edibles and beverage firms and is looking increasingly promising given the trend towards cannabis-infused beverages and edibles. The stock has a modest market capitalization of $187 million and represents an interesting peripheral play for cannabis.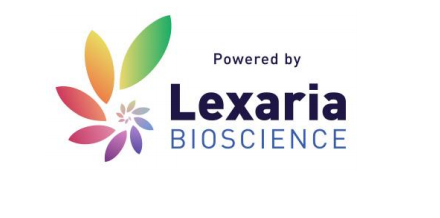 Lexaria relies on licensing its patented technology to other parties for a licensing fee. The company has the ambition to license its technology to several industries including cannabis, vitamins, medicine, and nicotine. Most of the company's revenue so far has come from the cannabis industry. All of the revenue came from licensing its technology to cannabis products companies but the company has an ambition to develop and sell its own products in the future, which would be interesting and potentially accretive.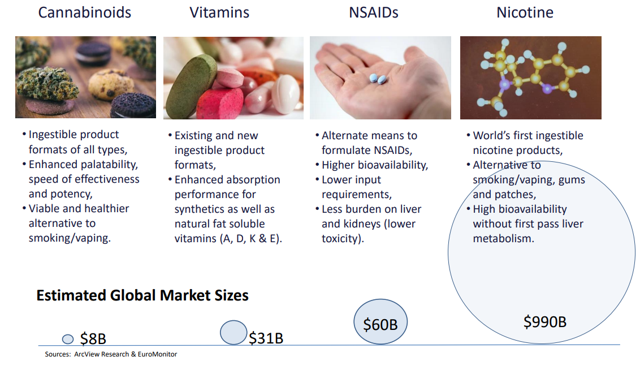 Some of the most recent license deals include:
7-year term with Cannfections Group for infused chocolates and candies
2-year term with NeutriSci for CBD based products
5-year term with Biolog for food and beverage infused products
5-year term with GP Holdings for infused beverages and topical skin creams
Renewed Nuka Enterprises' chocolate-only 2-year contract to 10-year and include chocolate, candies, beverages, capsules, pills, and topical creams.
The company has very little revenue based on the licensing deal it has in place so far and has incurred significant losses. However, sales have grown substantially and the company has indicated that there are a dozen or so letter of intent signed with interested potential licensing parties. However, before definitive agreements are signed we cannot get a sense of how robust the pipeline really it. The key takeaway is that Lexaria has a proven technology that potentially offers a competitive advantage to companies in the cannabis-infused drinks and edibles market. We see the end market potential as unlimited, however, execution is key and more evidence is needed to convince us that Lexaria's technology is a preferred solution for its clients.

With a modest market cap of $187 million, the stock still trades largely on the promise of its proprietary technology given revenue was only $140k last quarter. We expect any licensing deals with recognized cannabis firms will have a large impact on the share price, similar to what happened to IntelGenx (OTCQX:IGXT) when it announced a partnership with Tilray (TLRY).
EVIO Labs - Cannabis Testing Labs
EVIO Labs (OTCQB:EVIO) is a company that focuses on providing quality control testing and consulting services to the cannabis industry. The company has 11 labs that operate in California (3), Oregon (4), Florida (2), Colorado (1), and Massachusetts (1). The company owns 8 of these labs and has a licensing agreement with the labs in Florida and Colorado. The testing services include chemical testing, instrumentation and microbiological testing. The company will be able to work with the clients to design a testing process that is tailored to the state regulation and company specifications. Clearly, the services are designed to target smaller producers that lack the internal QA capabilities. Consulting services include assisting companies on regulatory issues, compliance, operational support, research etc.

Revenue in the second quarter this year has gone down materially, driven by significantly lower testing fees which are partially offset by higher consulting services. The revenue decline was driven by weakness in the Oregon market which has been battling with an oversupplied market. Revenue from Oregon declined 40% from last year. Other markets performed strongly but the Oregon market itself accounted for a decrease of $306,287! It seems like the Oregon market still accounted for the majority of EVIO's revenue and the current state of the Oregon market is extremely negative for cannabis producers and service providers, leaving us cautious on EVIO's near-term outlook. However, the company is ramping up operations in other states which have been growing quickly including California which increased 139% or $29,431. The company also acquired several labs that will start contributing revenue in the coming quarters.

The market cap of EVIO is only $17 million, which makes it a cheaper but rather more speculative play compared to others. The labs operated in Oregon is facing very difficult operating situation given the oversupplied market. On the other hand, the company generated $634k revenue in Q2 alone, which means that the annualized revenue of $2.5 million makes its valuation look a lot more reasonable. We think EVIO needs to prove that its business model can withstand the fluctuations in the supply and demand of cannabis market and it needs to find a way to scale quickly in order to obtain a higher multiple in the market.
Conclusion
The three names mentioned above are all technology service providers in the cannabis space. Radient and EVIO are similarly using their technology and labs to provide outsourced services in extraction and testing, which are essential services for the cannabis companies. Demand for Radient's services is driven by the growing demand for cannabis extracts used in infused drinks and edibles. EVIO, on the other hand, rely on compliance regulations and the need for quality control in the field of testing. Lexaria, on the other hand, uses its proprietary delivery technologies to improve oral intake of cannabinoids including in infused drinks and edibles. Risks are abundant for each company, as their technology is used only by a small number of customers currently. It is not guaranteed that these technologies will succeed or won't be replaced. EVIO's testing services are useful for companies and demand should be strong as long as states require a certain level of quality controls. The biggest risk for EVIO is the oversupply that is crippling the Oregon market and the glut could take years to clear. If other legalized markets experience similar difficulties, demand for EVIO's services could be reduced significantly.
In summary, we think investors looking for ancillary cannabis plays should carefully understand whether the demand for their products and services are exposed to the cannabis market directly. In the case of EVIO, the demand for their testing services is extremely sensitive to the overall market as shown in the case of Oregon. However, we would argue that Lexaria's technologies are better insulated from the general market movement given its revenue are from licensing fees which are more stable. The future of Radient's technology depends on its effectiveness and whether competition will catch up once the patent expires. Aurora's significant ownership in Radient also throws in another unknown which could make things interesting should they decide to pursue further consolidation of the company.
Next up, we will cover three more 'Pick and Shovel' cannabis plays: Growlife (OTCQB:PHOT), GrowGeneration (OTCQX:GRWG), Scotts Miracle-Gro (SMG). All of these are stocks related to cannabis through cultivation, hydroponics, and gardening.
Author's Note: Follow us to receive our latest publications on the sector. We also publish a widely read Weekly Cannabis Report, which is your best way to stay informed on the cannabis sector. Read Part I of the series here.
Disclosure: I/we have no positions in any stocks mentioned, and no plans to initiate any positions within the next 72 hours.
I wrote this article myself, and it expresses my own opinions. I am not receiving compensation for it (other than from Seeking Alpha). I have no business relationship with any company whose stock is mentioned in this article.
Editor's Note: This article covers one or more stocks trading at less than $1 per share and/or with less than a $100 million market cap. Please be aware of the risks associated with these stocks.