SPDR S&P Oil & Gas Exploration ETF (XOP) is an ETF run by State Street with $3 billion in net assets that has been in existence from the summer of 2006. It is a low turnover ETF with most recently reported turnover of 3%. It holds a broad cross section of sectors and stocks within the oil & gas industry. XOP is a top performing energy ETF, best of the seven included below, so I wanted to better understand its holdings and performance. It has easily beat other energy ETFs over the last year: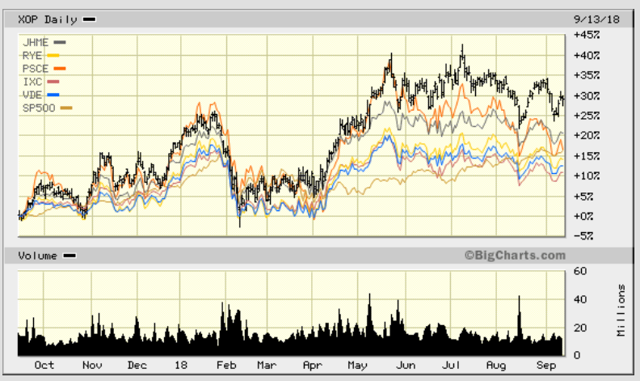 The individual price range was as low as -86% for Ultra Petroleum Corp. (UPL) and the high was 328% for California Resources Corp (CRC).
Only 5% of XOP's 9/13/18 holdings are large integrated companies with Occidental Petroleum Corp. (OXY), Exxon (XOM) and Chevron (CVX). Of these three, OXY delivered the strongest return across the measurement year ending 9/3/18 (Measurement year) with a 24% return, far exceeding the 3% and 1% provided by the other two companies. Many people buy the large integrated companies as a way to play energy but this is not the best way to play a strong energy rebound. While these three companies represent nearly half of the overall enterprise value of the stocks held out of the 70 stocks in XOP, they underperformed even the broad market as a group.
Here is the overall return of XOP against the S&P 500 for the Measurement year: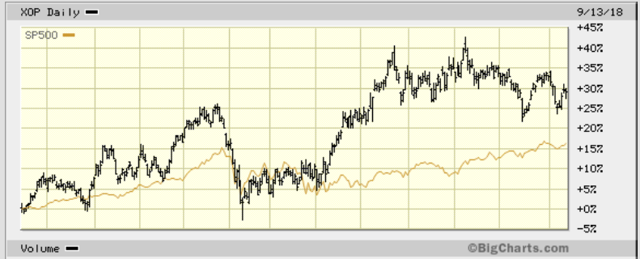 The strongest segment of XOP was the oil centric companies defined as approximately 25% or less in natural gas which has not had the tailwind of a rising commodity price over the same time period. For reference, oil has appreciated almost 50% over the Measurement year whereas natural gas is flat.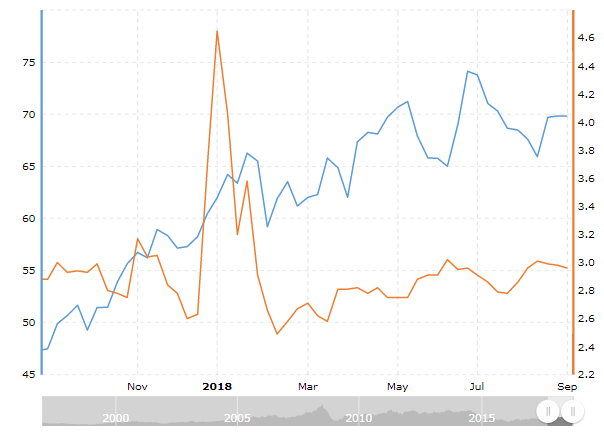 Key: Oil is blue, natural gas is orange.
Source: Crude Oil vs Natural Gas - 10 Year Daily Chart
Oil centric exploration companies of an estimated 41 companies represented 60% of the net assets of XOP at 9/13/18 and had an average return (simple average not weighted) of 54% with the two strongest returns of over 300% with Denbury Resources (DNR) and CRC as the top stocks.
Note all analysis data including price at 9/13/18, 52 week performance, EBITDA/EV multiple and EV were obtained from Yahoo Finance on 9/14/18.
The natural gas companies totaled about 20% of net assets or 15 companies but these dragged down the overall return of XOP with a simple average return of a negative 22%.
The remaining sector held in XOP is refining and marketing which holds about 15% of net assets and had a simple return of 46% with three top performers above 100% with PBF Energy (PBF), HollyFrontier Corp. (HFC) and Renewable Energy Group (REGI) ringing the bell with an average return of the three at 114%.
So the oil centric and refining and marketing companies represent 75% of the holdings and yet the integrated and gas centric holdings almost cut the overall return in half going from 52% for the two strongest sectors to an overall return of 30%. For investors that want a more targeted play on energy let's then look at the top 5 performers, which include W&T Offshore Inc. (WTI):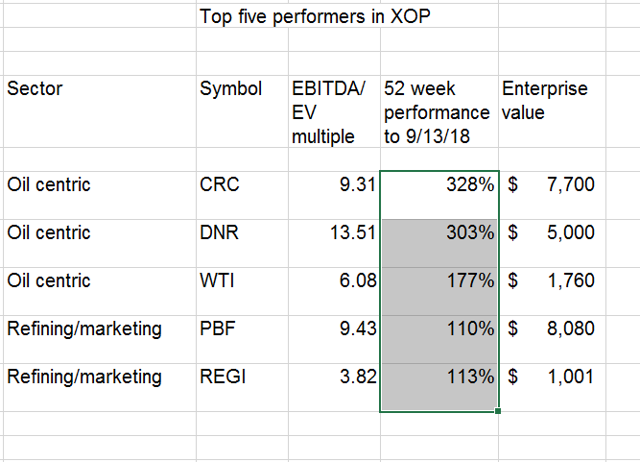 Source: Yahoo Finance and SPDR
Holding these five stocks produced a 206% return across the Measurement year, about 7X what the overall XOP returned.
XOP does offer an excellent array of oil & gas companies so for a diversified play it is easy.
For those investors who are looking for stronger returns and can tolerate more risk I'd invite you to review the top five performers above. I am also aware of two other oil & gas plays that have done very well and are not yet in the XOP, these are listed below and are Northern Oil & Gas (NOG) and Legacy Reserves (LGCY):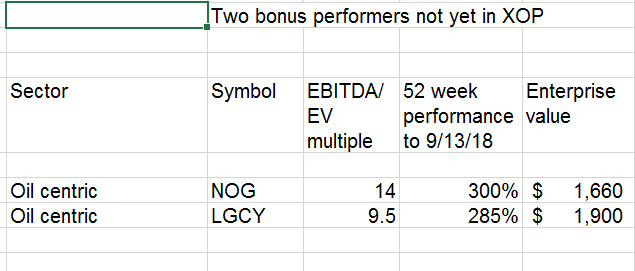 Source: Yahoo Finance
I've owned both of these bonus stocks and still own NOG. The listed EBITDA multiple for NOG is not correct in the company's view. It has reported adjusted EBITDA of $210.7 million for the trailing four quarters. It appears Yahoo did not adjust for some $90 million in debt extinguishment costs that by definition are one-time costs, which is the major bridge from the reported $210.7 million of adjusted EBITDA and the $117.5 million reported by Yahoo Finance. Further, NOG is really expanding its EBITDA while reducing debt as captured by its Chairman's statement on the Q2 earnings call included below:

For background here are the overall valuation metrics for XOP's holdings:

Source: Yahoo Finance and SPDR
Conclusion
Either go simple and buy the XOP and/or look at some smaller oil centric E&Ps with enterprise values less than $10 billion and strong upwards performance in revenues and EBITDA. I like NOG and LGCY as they are not yet mainstream stocks and they both have low institutional holdings of less than 40% and high insider holdings of more then 20%.
Disclosure: I am/we are long NOG,XOP. I wrote this article myself, and it expresses my own opinions. I am not receiving compensation for it (other than from Seeking Alpha). I have no business relationship with any company whose stock is mentioned in this article.